Some of my earliest memories involve family trips to the San Bernardino, California, Fedco in the early 1980s. It's an understatement to say that, as a child, I wasn't very excited about checking out the latest appliances or home furnishings. The real highlight of those shopping trips was excitedly browsing the VHS movie section. (And yes, I realize just how much this opening paragraph dates me.)
Each movie on display was a gateway to another world. This is where I first got a hold of VHS copies of the original Star Wars trilogy (for some reason, I watched them in the wrong order, but I digress). But most importantly, this is where I picked up Godzilla vs. Megalon, the film that sparked my fascination with kaiju (Japanese giant monsters) and one of my first introductions to Japanese pop culture. Back then, little did I know that my enthusiasm for a movie starring a man in a rubber suit would become the first domino to fall in the chain of events that led me to live and work in Japan, decades later.
Monster Hunting Since 2007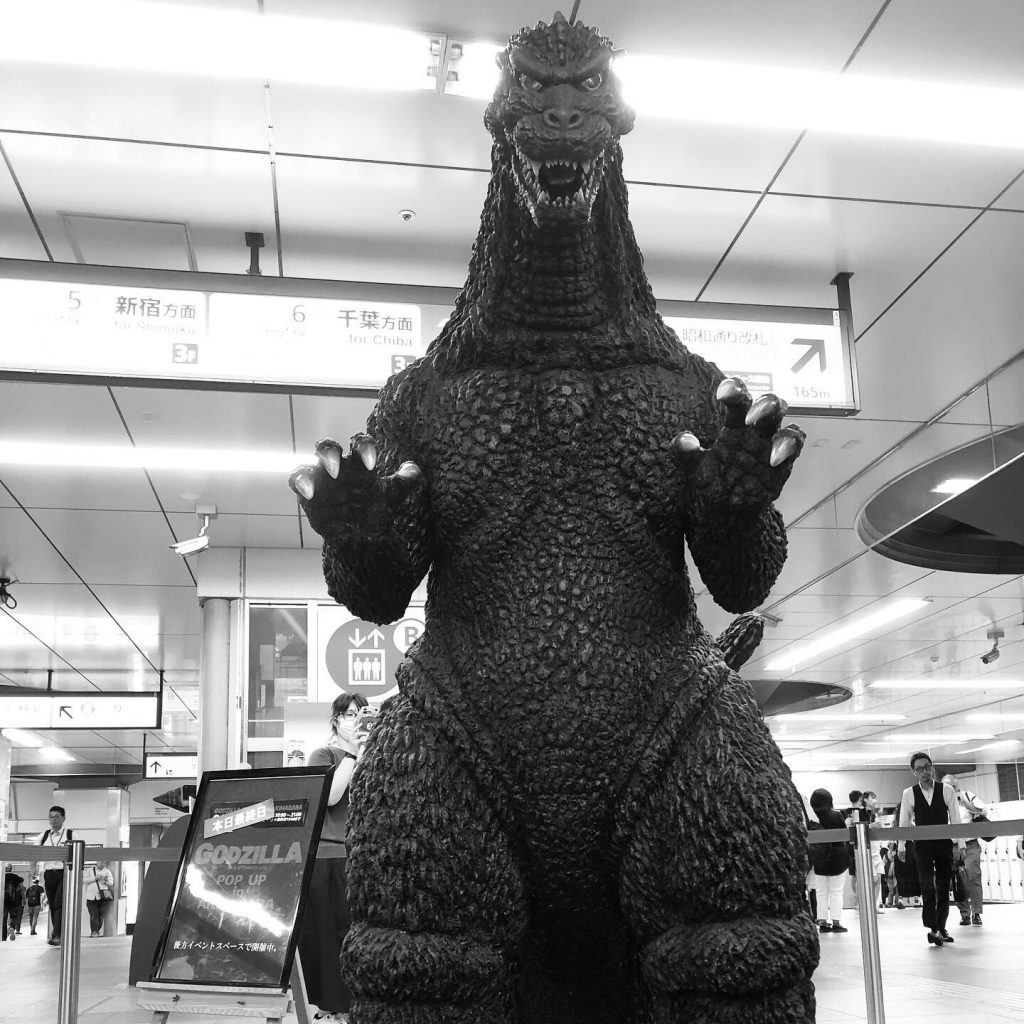 While my appreciation for Japan goes far beyond pop-culture these days, there's no denying that Godzilla, or Gojira as he is known here in his native land, remains a cultural icon and soft-power brand ambassador. An instantly recognizable theme song, unmistakable roar, and still-relevant symbolism of mankind's penchant for nuclear self-destruction ensure Godzilla's place as an ever-present fixture in the global zeitgeist.
In the U.S., Godzilla's popularity has had its ups (the 2014 movie) and downs (the 1998 movie), but here in Japan the character enjoys a rather consistent level of popularity, sometimes permeating society in unusual ways (Chibi Godzilla, for example). I've had the pleasure of tracking down Godzilla-related attractions since I first visited Japan in 2007, and in this article, I'll share my favorite experiences, and more, with you.
1. Toho Studios: Where It All Began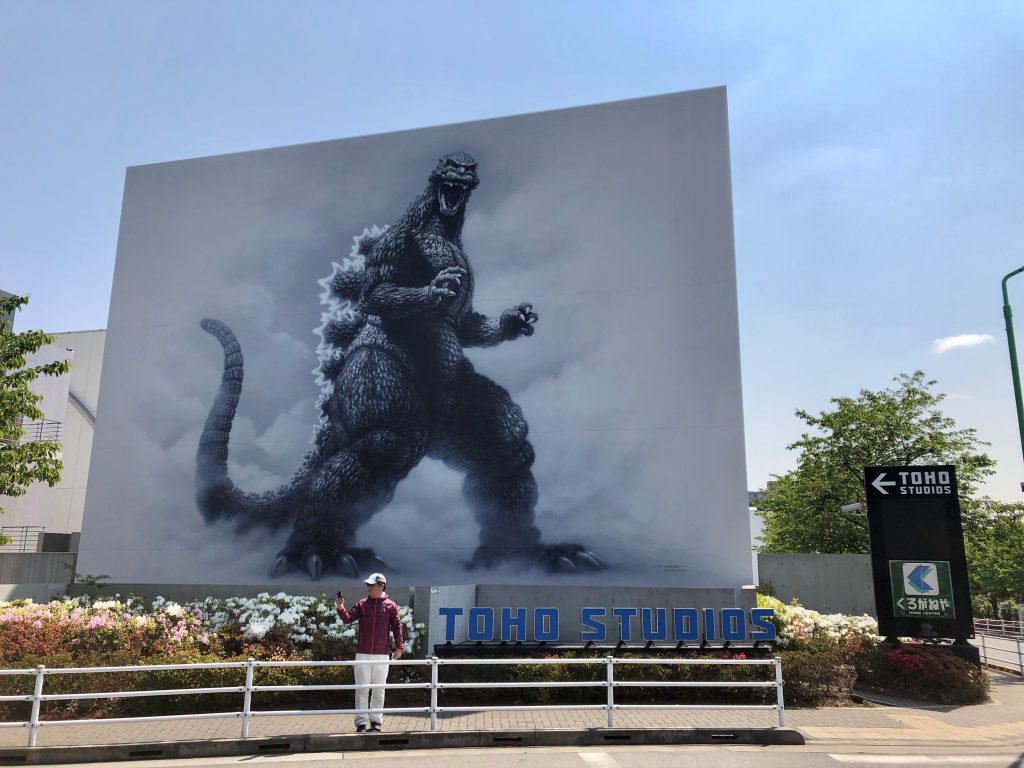 During one of my weekly bike rides through Tokyo, I randomly stumbled across Toho Studios, my most recent Godzilla-related discovery. This is where it all began. Toho, the studio behind the franchise, released the original Godzilla in 1954. At the time of this writing, the movie monster has appeared in 36 films, nabbing the Guinness World Record for longest continuously running movie franchise. Just outside of Toho Studios, you can take in a breathtaking mural depicting the King of the Monsters and check out a menacing Godzilla statue at the studio entrance.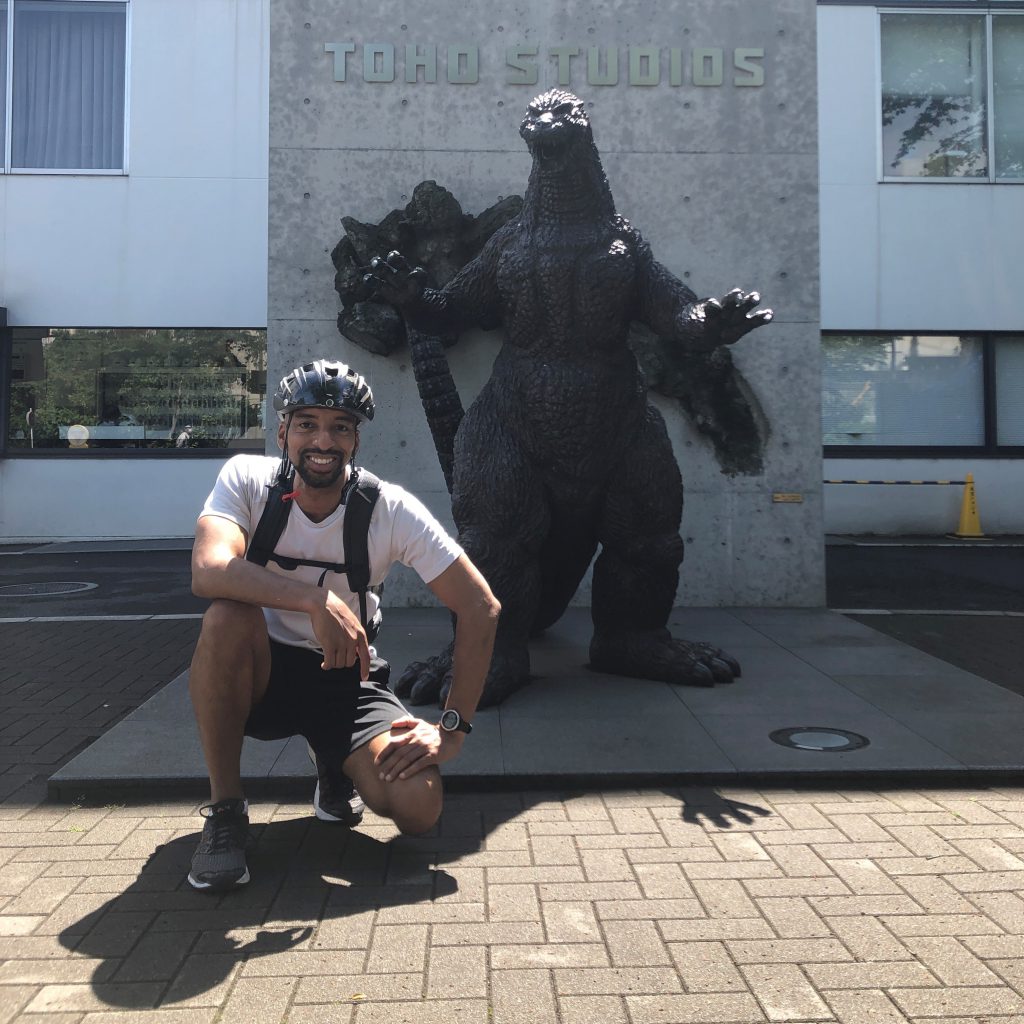 The security guard on duty when I stopped by was friendly and seemed to be used to dealing with the occasional wayward fan. He even encouraged me (in English) to take pictures with the statue. By the way, more discerning film buffs will also recognize Toho as the studio behind Akira Kurosawa's iconic Seven Samurai. There's a beautiful mural depicting the cast of that movie here as well.
2. Izu Oshima: Godzilla Island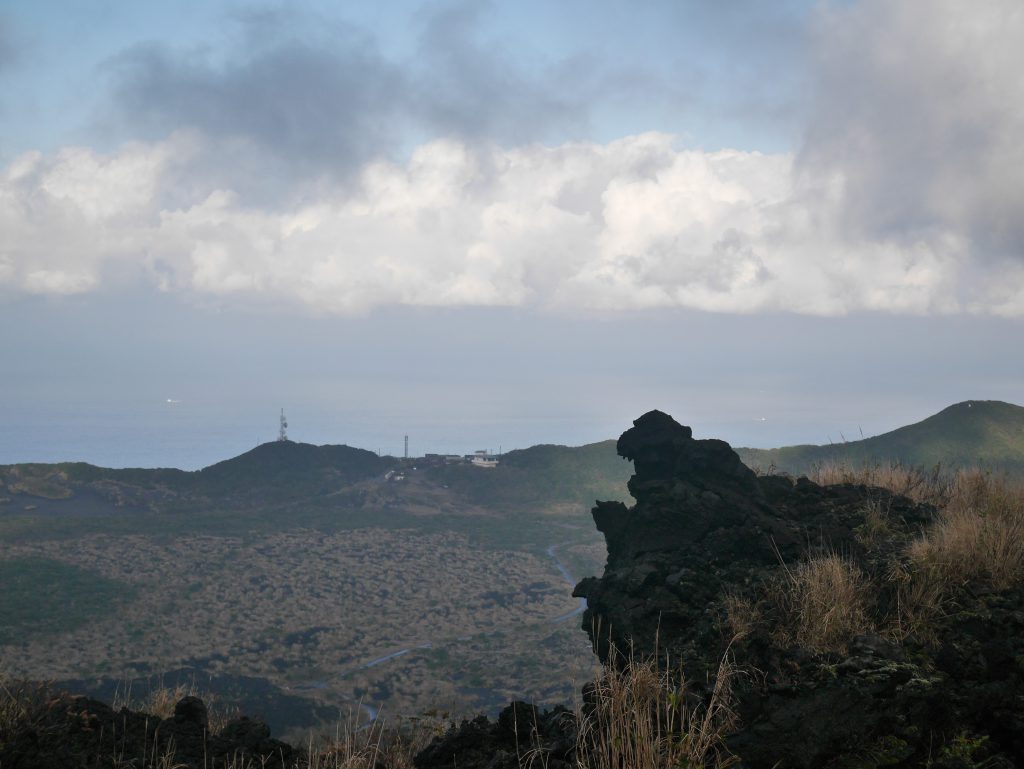 Risking the ire of hardcore Godzilla fans, I have to admit that I didn't visit the island of Izu Oshima solely for its place in Godzilla lore. Located about 100 kilometers from Tokyo, Izu Oshima is known for amazing hiking, pristine beaches, and delicious seafood.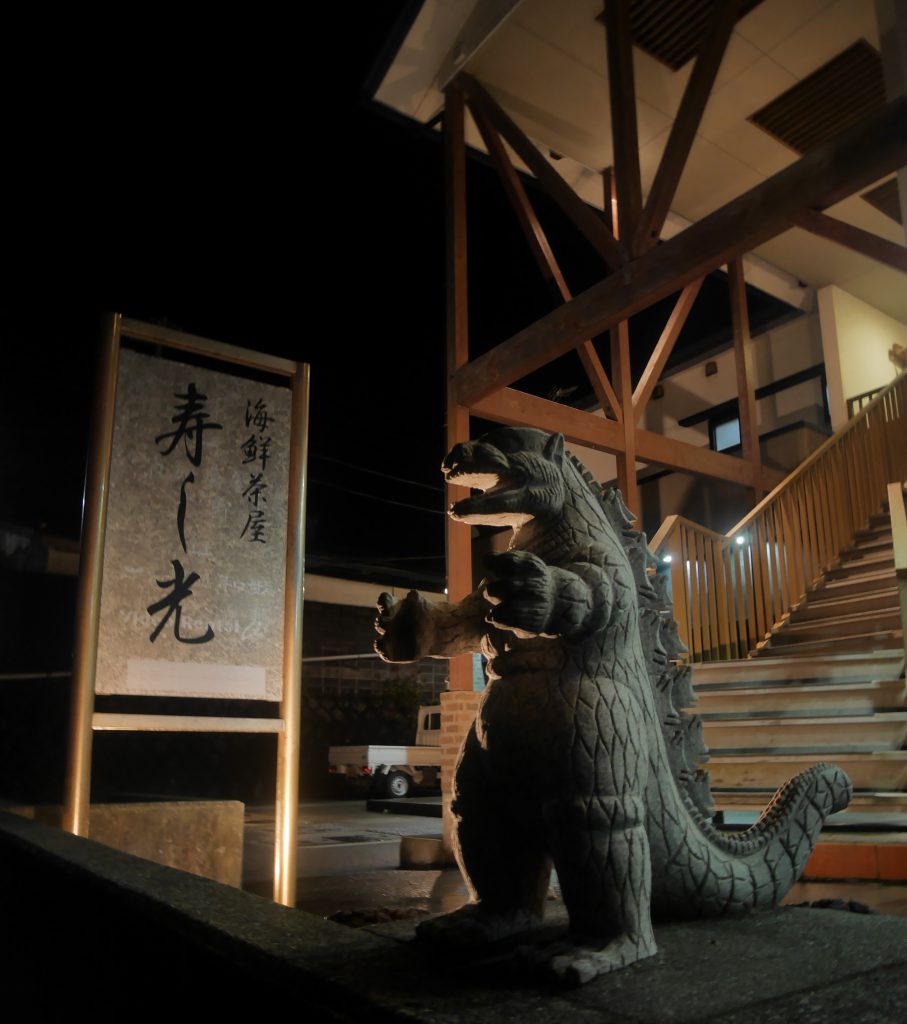 Only after I arrived did I learn just how much of a role this island, prominently featured in two movies, plays in Godzilla lore. With statues and various other objects around the island, the locals aren't shy about celebrating this fact. Learn more about this fascinating island here.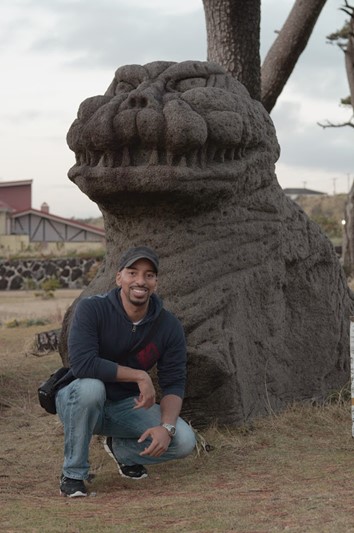 3. Shinjuku: Godzilla's Current Place of Residence
To commemorate the opening of the Toho Cinemas Shinjuku entertainment complex in 2015, Mayor Kenichi Yoshizumi made Godzilla an honorary resident and an ambassador to fans around the world. This complex—featuring a state-of-the art movie theater, restaurants, and a hotel—is topped with life-sized replicas of Godzilla's head and forepaw. The hotel even has Godzilla-themed rooms.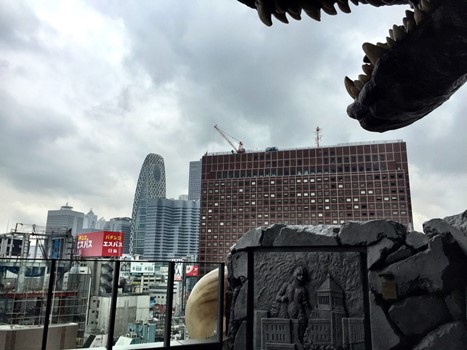 Fortunately, you don't need to rent a 50,000 yen-per-night hotel room to get a close-up look at Godzilla. All it really takes is the price of a fancy drink or Godzilla-themed dessert in the hotel cafe. After you've paid Godzilla a visit, don't forget to stroll over to the nearby Godzilla Store Tokyo for all kinds of memorabilia and merchandise.
4. Godzilla in Yurakucho: A Tale of Two Statues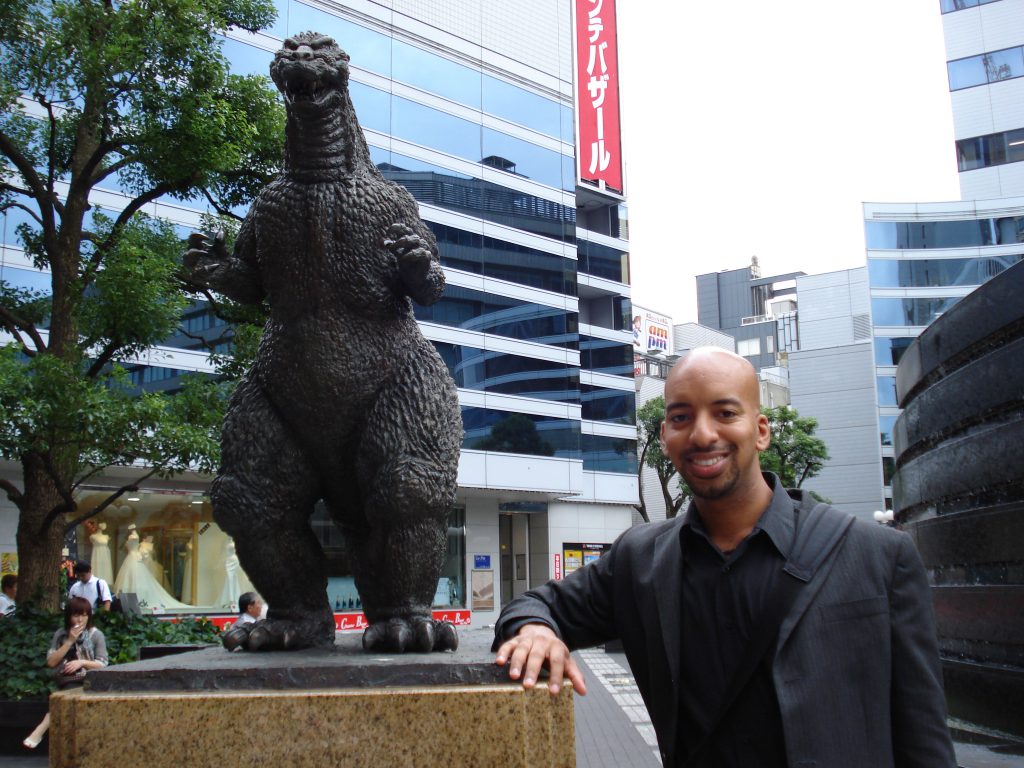 When it comes to the Godzilla statues of Yurakucho (near Ginza), it's out with the old and in with the shin (new). For most of my time in Japan, the Toho Theater here was marked by a small Heisei-era Godzilla statue. However, when the Tokyo Midtown Hibiya shopping, restaurant, and office complex opened in 2018, the classic statue was replaced with one that reflects Godzilla's most recent iteration: Shin Godzilla.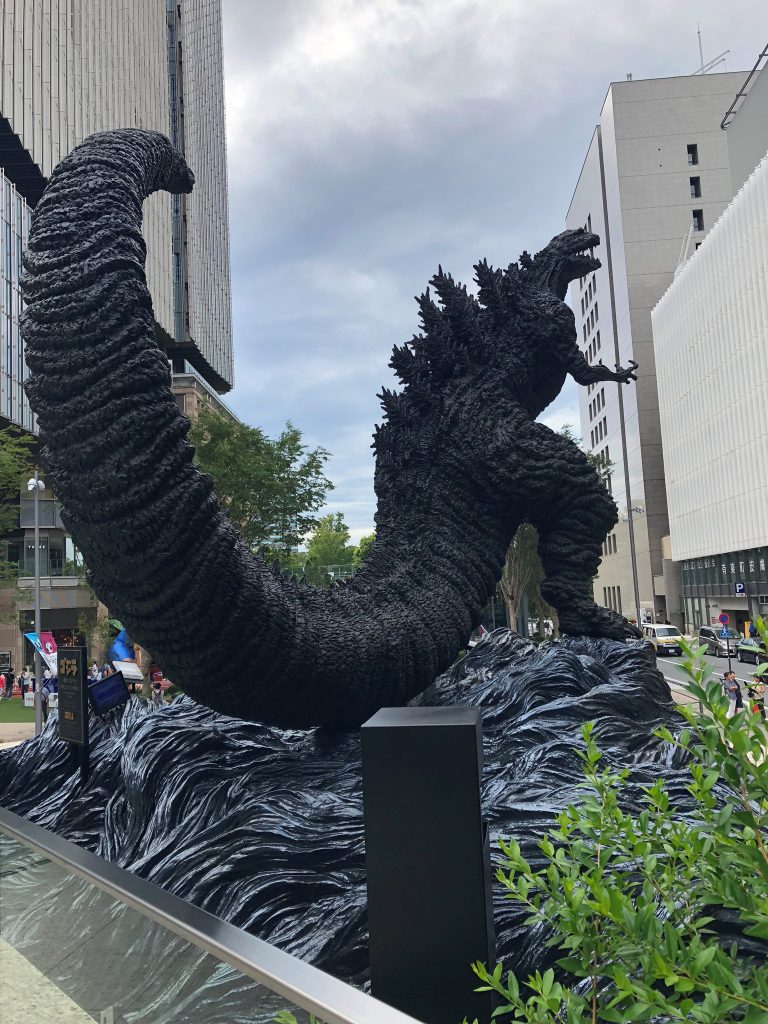 My Godzilla Bucket List
Although there are countless nods to Godzilla throughout the country (too many to cover in this article), there are two more attractions that I hope to check out in the near future.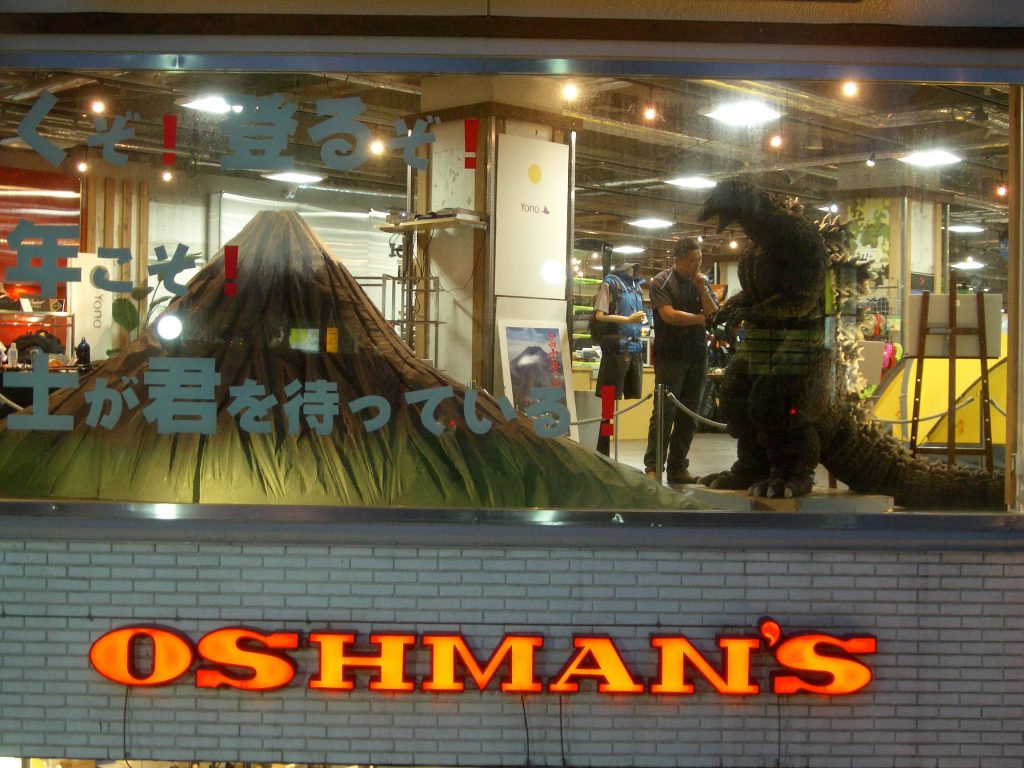 5. The Kurihama Flower Park Godzilla Slide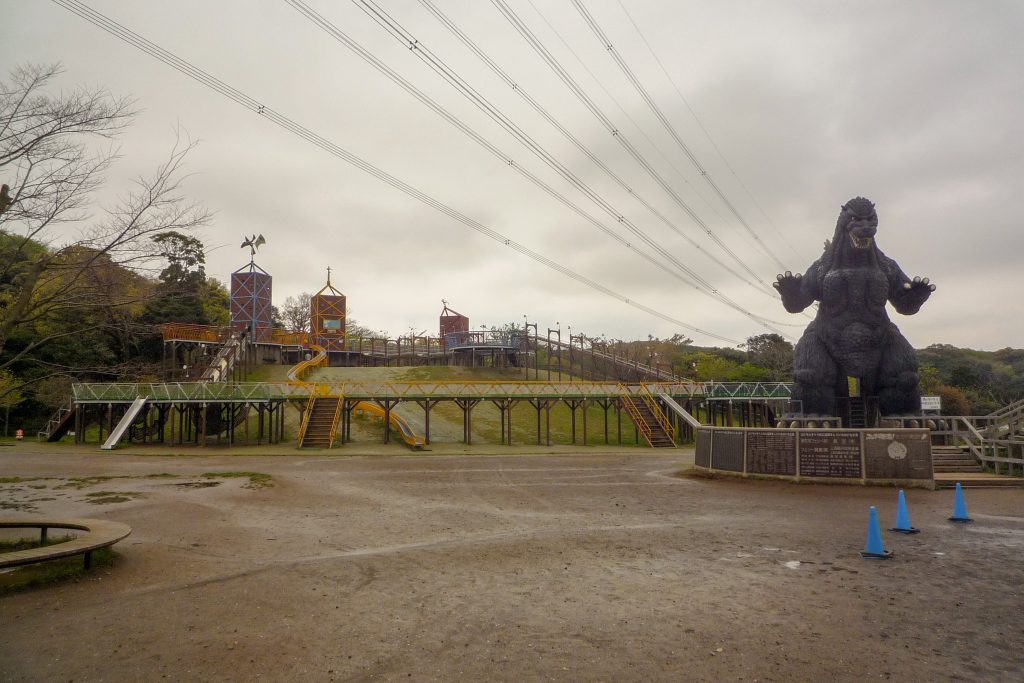 Although I'm far too old to actually use this slide (seriously, only children 12 and under are permitted), I'd love to visit Kurihama Flower Park just to check out this detailed homage to the King of Monsters, experimenting with camera angles to capture that perfect imposing shot of the beast. Out of all the potential places I would expect to find a giant Godzilla slide, a flower park would be at the bottom of my list. But, who am I to judge. After all, Japan is known for being a land of contrasts.
6. Godzilla Interception Operation Awaji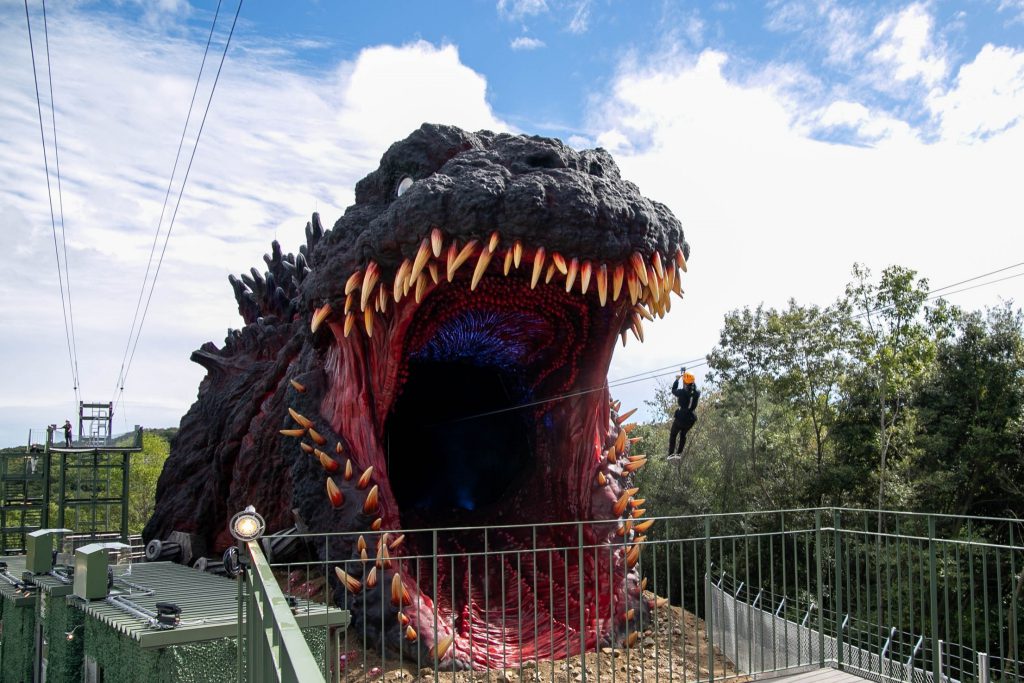 Perhaps the ultimate Godzilla encounter, especially now that the fantastic VR Zone experience is permanently closed, Godzilla Interception Operation Awaji is the brand-new epicenter for all things Godzilla. Part of a regional revitalization initiative spearheaded by the Pasona Group and local municipalities, Hyogo Prefectural Awajishima Anime Park Nijigen no Mori is the proud home of the "world's largest full-scale Godzilla" replica.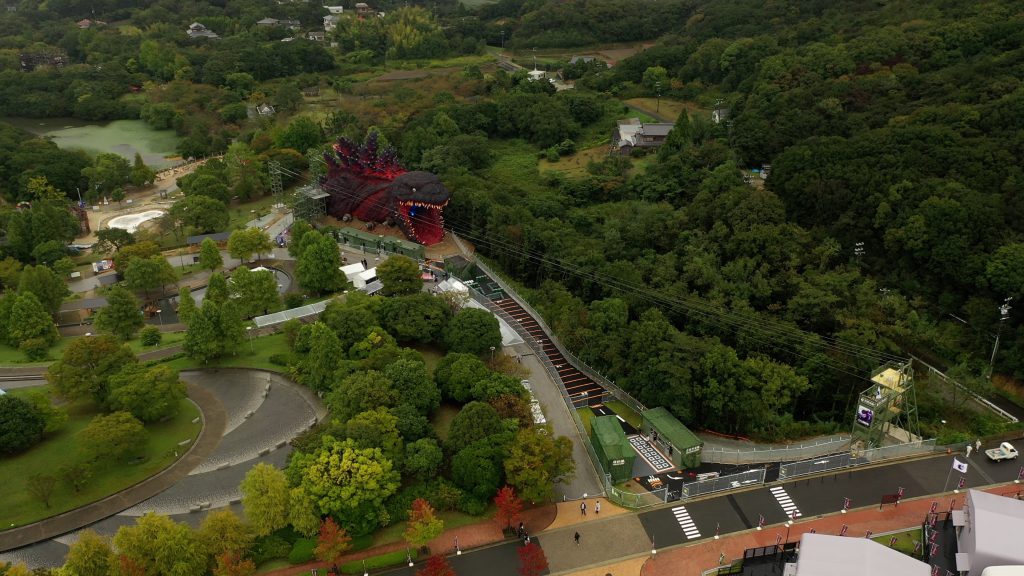 The highlight of this theme park is a zip line that flings brave adventurers right into the belly of the beast. Here, you'll also find the world's first permanent Godzilla Museum, filled with authentic reproductions of Godzilla suits and miniatures used in the movies.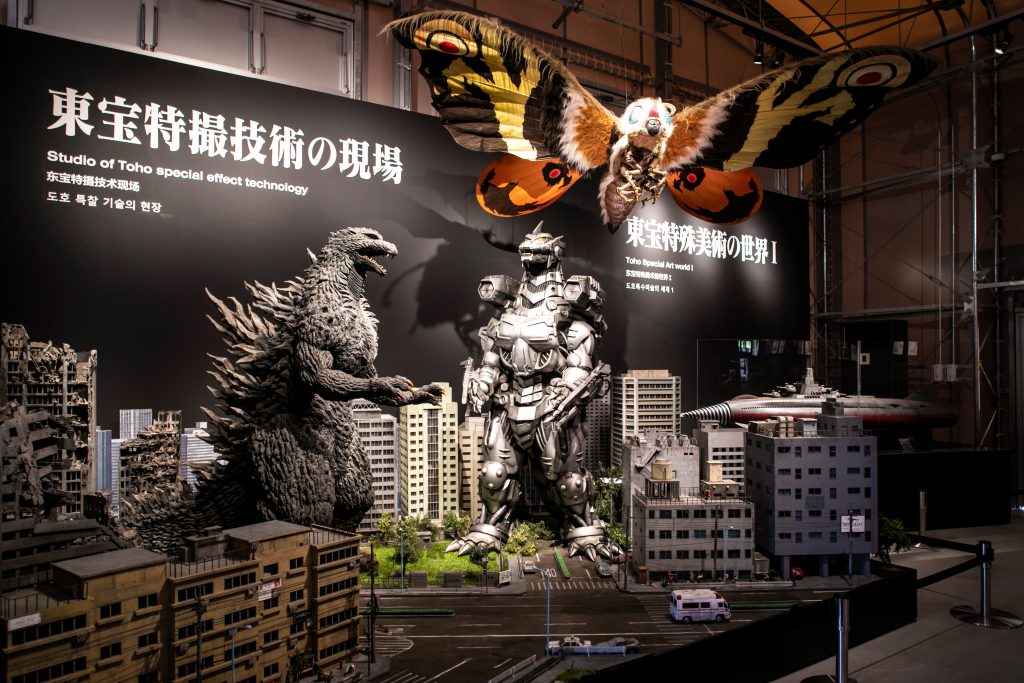 Long Live the King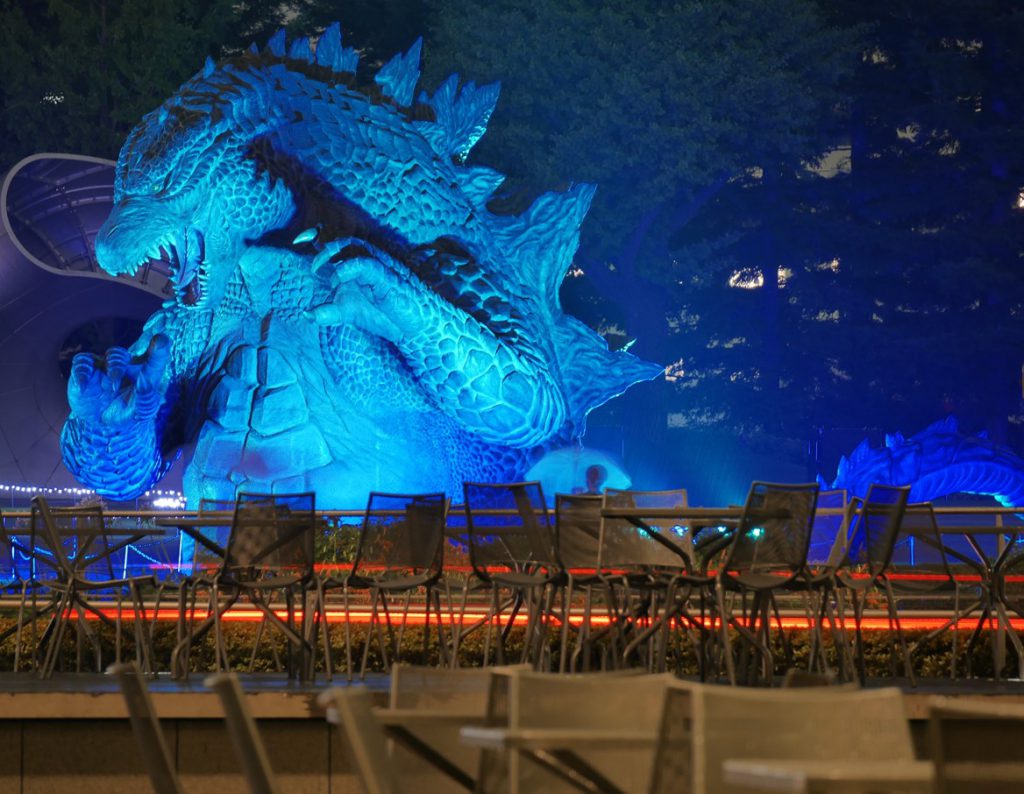 A Godzilla statue that was temporarily on display at the Tokyo Midtown Roppongi shopping complex in 2014 to mark the debut of the blockbuster Hollywood movie release of the same year.
Hopefully, all of these attractions will keep bright-eyed Godzilla fans occupied for quite some time. However, this list reflects my experience and is nowhere near exhaustive. Considering that Godzilla has been captivating audiences for over 66 years, I'm confident there will be many more Godzilla-themed attractions popping up in Japan and throughout the world for decades to come.