If you have been in Japan, you have probably noticed that at 5 p.m. every day, in most neighborhoods, a little music is broadcasted through speakers. Sometimes a voice is saying something in Japanese too. What is this music? What is its purpose? Is the phenomenon nationwide? Read on to find all the answers.
Why Is There Music at 5 P.M. on the Streets in Japan?
Here is the most popular tune that can be heard in Japan at 5 p.m. It is the one I can hear every day in my Tokyo ward:
Does that ring a bell?
This tune is called "Yuuyake Koyake" in Japanese, and is a popular children's song written by Shin Kusakawa, who lived in the beginning of the 20th century. Coming from Nagano, he studied music in Tokyo, where he became a composer and a high school music teacher.
Although the music played in the streets is instrumental, the original song lyrics are about Japanese children going home at sunset while the local temple's bell is ringing. As a matter of fact, the 5 p.m. tune is often broadcasted with a gentle voice telling the children playing outside that it is time to go home. However, the reason why this message exists is not only about children's security.
It is, in fact, a convenient way to test the town's disaster warning system every day! In a country where earthquakes, tsunamis, and typhoons occur on a regular basis, speakers are used in times of emergency to give directions and warnings to the residents. Since a catastrophe may happen anytime, it is crucial to make sure the system works perfectly, as they can make the difference between life and death.
If a buzzer sound was used, or if a simple test message was used every day, people would get annoyed and could ignore the real message in time of need. So, it was decided to use a more entertaining tune instead.
Other Times, Other Messages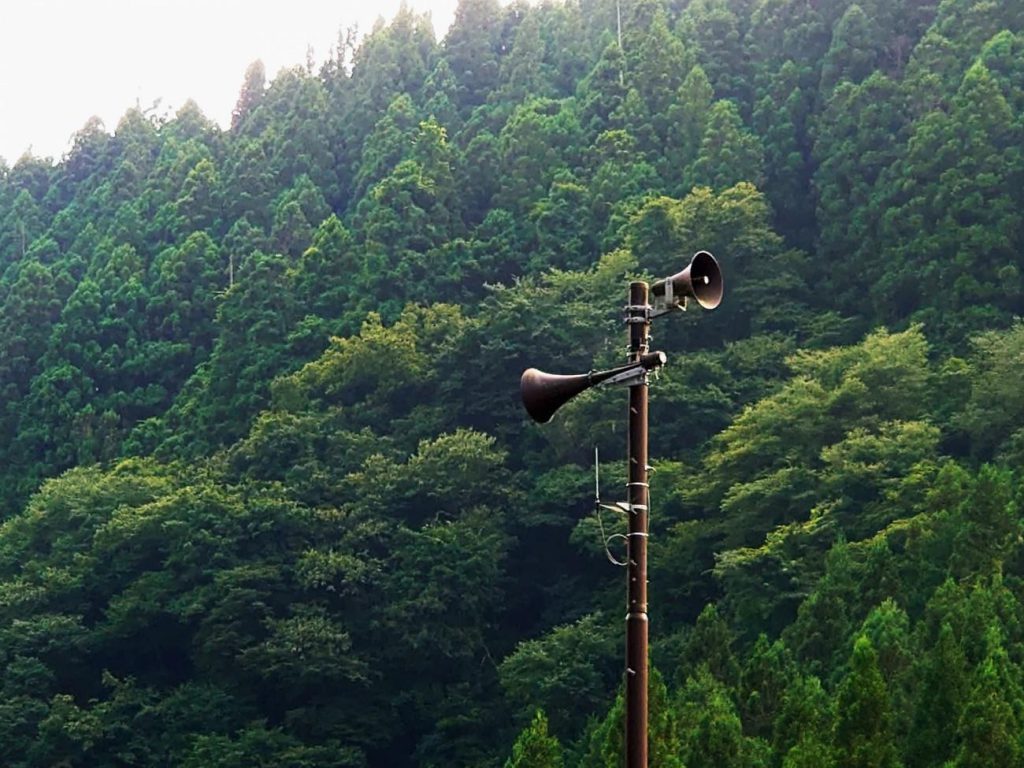 The chime is broadcasted most often at 5 p.m., but the time depends on each town. As a resident of Nerima Ward in Tokyo, as I am writing these lines in May, the chime rings at 5:30 p.m. every day. In winter, when the night falls early in Japan, it rings at 4:30 p.m. The funny thing is I am living next to a border with another town, and their chime rings exactly 30 minutes after the one from my ward.
The tune may change too. For example, some towns use other songs popular with children, or the town's anthem instead. Another popular sound is the Westminster chimes. I used to hear it when I lived in Koto Ward in Tokyo:
Depending on the municipality, especially in the countryside, music can be played at different times of the day to indicate the hour. For example, from personal experience, in a small mountain village in Kochi Prefecture, music was also played at 7 a.m. and at noon.
In a small village in Niigata Prefecture, a siren rings every day at 11:30 a.m. In older times, most villagers went to the mountains to weed around the trees, or worked in fields and rice fields outside the village. At a time when pocket watches did not exist, the siren allowed villagers to know it was time to go home for lunch—as for many of them it took 30 minutes by foot. Although times have changed, with people working in closer fields and technology is not the same, the siren still rings at the same time, carrying memories of a distant past.
Some smaller municipalities also use the disaster system speakers to broadcast messages regarding local events, news, warnings about suspicious activities, reminders of the local rules, asking for safe driving, etc. In my ward, during the coronavirus pandemic and Tokyo's state of emergency, the message asking for children to go home was replaced by a message asking us to stay home and comply with sanitary rules.
Reception from the General Public
Some people have been complaining that the 5 p.m. chime is noise pollution, since it is played at a loud volume. Some voices have raised the concern about it being used too many times (understandable if you live in a place where music is played three times a day). Others are doubting whether all the local messages are useful.
Nonetheless, many people living in Japan have grown fond of this little tune, especially the ones who are reminded of their childhood memories. So much so that there are even toys about it!
---