In early December 2021, I was invited to visit Temple University, Japan Campus (TUJ) by Justin Sanders, head of its Continuing Education Department and Kokoro Media reader. The visit focused mainly on the university's library, as I had been told it was packed with wonderful resources in the English language.
It was an occasion for me to learn more about the university and hear behind-the-scenes stories about its fantastic library, which I, in quality of book lover, am now going to share with you.
Temple University, Japan Campus
Temple University was founded in 1884 in Philadelphia, Pennsylvania, USA. It is a comprehensive public research university with about 39,000 students and two overseas campuses: one in Rome, Italy, and one in Tokyo, Japan.
The Japan Campus, now located in the Sangenjaya area, was established in 1982, with the aim to offer American education of the highest quality to all students. It gives them the possibility to earn an American university degree without leaving Japan. In 2005, it was designated by Japan's Ministry of Education as the country's first foreign university.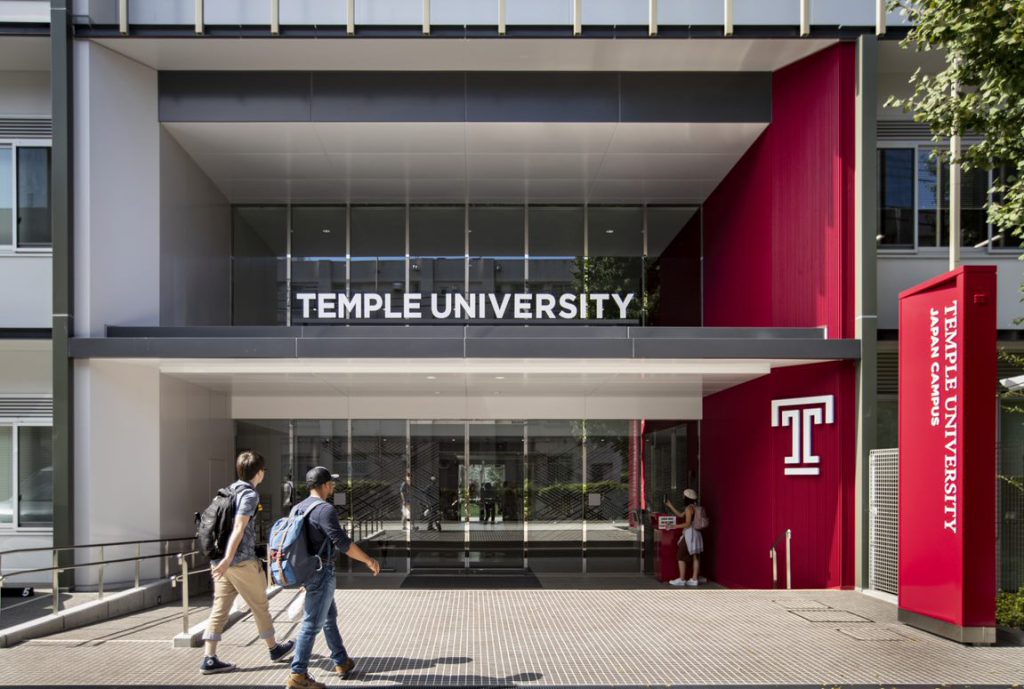 TUJ offers not only undergraduate education, but graduate programs in TESOL, Management and Law, as well as continuing education programs, corporate training, and free public lectures. Classes are taught in English only and the degree program curriculum is the same as the main campus in Philadelphia. The university operates on a three-semester academic calendar that allows students to enter into programs anytime, facilitating transfers between American and Japanese universities as well as global partnerships.
The campus is truly international with around 3,500 learners from many nationalities in its programs. Undergraduate students are roughly 40% of each US nationals and Japanese nationals, with around 60 nationalities comprising the remaining 20%. The university is promoting understanding between cultures through its international environment.
A Library with a 30-Year Long Eventful History
As I set foot in the library, it was difficult to contain my excitement. As a person who loves books, my instinct urged me to roam around each aisle, browse all the titles, and open as many books as possible, though that was not why I was here. I was then soon introduced to Tom Boardman, Librarian at TUJ.
Tom has been a librarian all his life. After working in Alaska and San Francisco, he has been taking care of the library of the Japan Campus for more than 30 years. He is the one who has selected every book added to the library collection and informs the students and faculty of new acquisitions. Inviting us to a seat, Tom proceeded to tell us more about the history of the library and what makes it so special.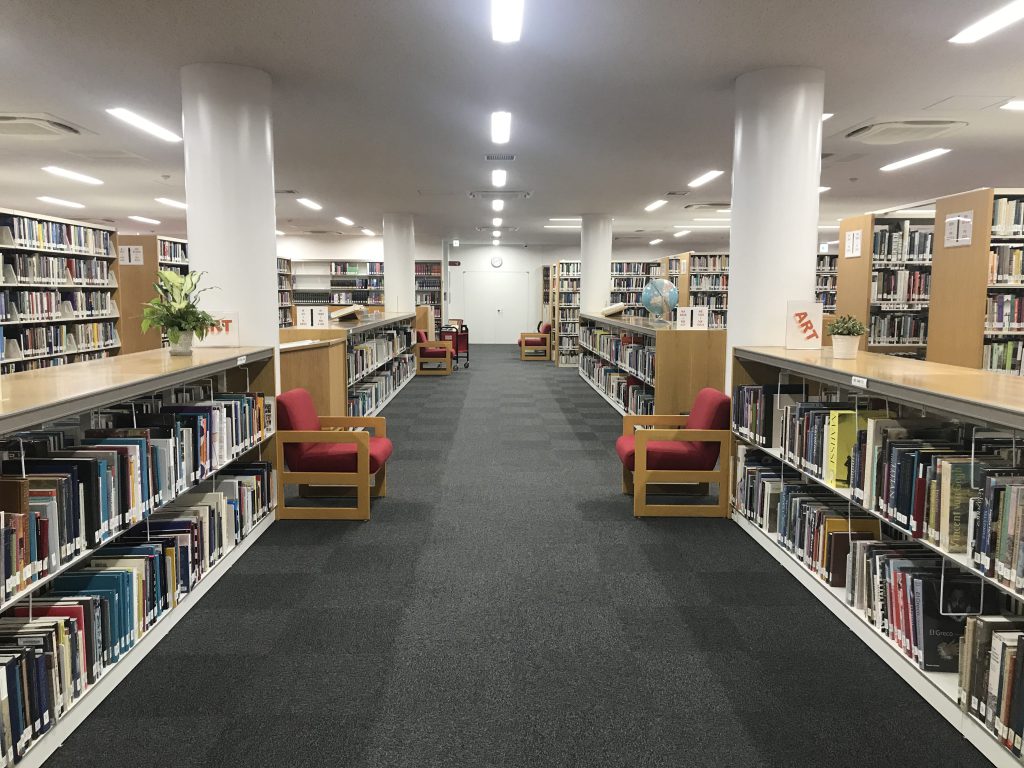 At the beginning of the history of Temple University, Japan Campus, the university had Japanese partners that supplied buildings, provided curriculums, and had partnerships with Japanese schools to provide books for the library. Although in 1992, there was a change and the library had to be built from zero again and the university had to put in a mass order of books.
A big book distributor in the US provided a list of all the books that had been purchased by a similar-sized university in the country with a matching curriculum, and faculty-selected books from it. "If I had to do it all over again, I would start with empty shelves and select everything from scratch, but I had just arrived at that time," regretted Tom. "It did not match our curriculum specifically."
In 2019, moving from Minami-Azabu, where the campus was located since 1996, to its brand-new campus in Sangenjaya proved to be a new challenge: moving all the books, shelves, and reconfiguring everything is no small task. The team was even able to keep and move the original shelves purchased in the '90s. "The shelves are all made of solid oak, and they are made to last forever," showed Tom. The same goes for the American-made library chairs purchased in 1996. Their quality and comfort are so great, I thought they were new.
Keeping the Library Relevant with the Times
"A library is in constant flux," explained Tom. "We used to have hundreds of journals, microfilms, and microfiches that have now been replaced by online services." These online services allow the library to spend less on journals, and to invest more money on expanding the permanent print collection, especially in purchasing more art and photography books.
Keeping the library up to date is a daily task. To select new acquisitions, Tom keeps an eye on the syllabuses for all the classes and what the teachers ask the students to read. He also uses a service called Choice, by the Association of College & Research Libraries. Every month, they put out 600 book reviews aimed at college libraries, and Tom goes through new reviews every day. He also checks the New York Review of Books, and book reviews in the paper journals they get for the TESOL students.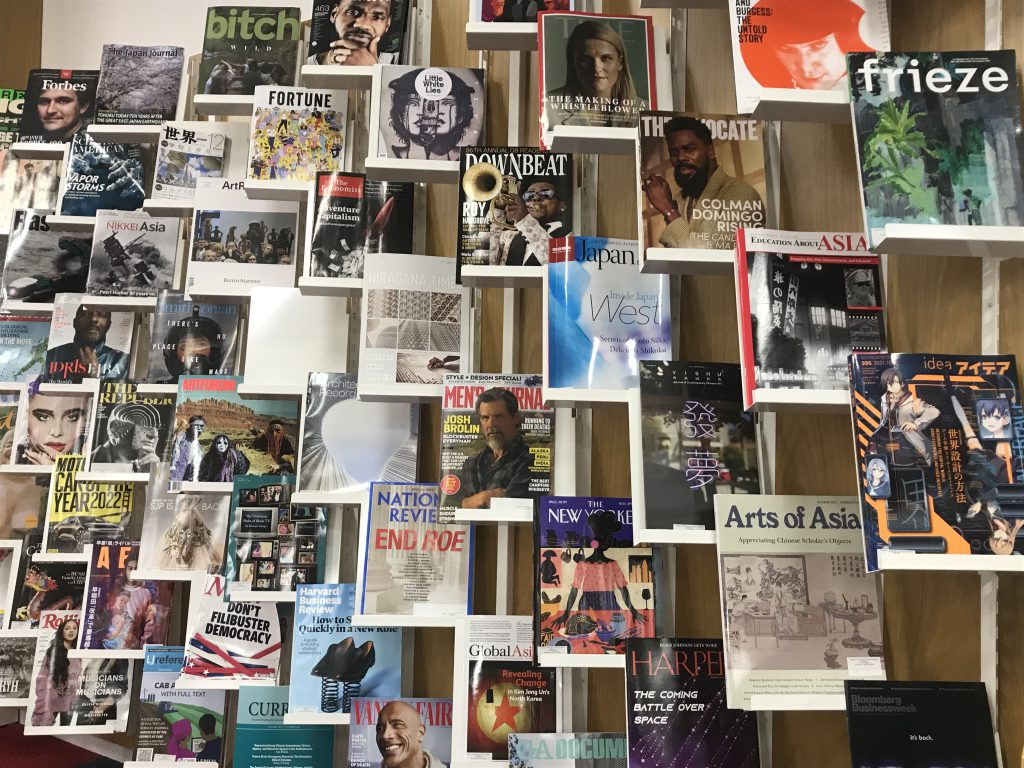 But that is not all: the human factor also plays a significant part in choosing books. "If faculty or students want something, we are going to look seriously at getting it for them. That is what we are here for!
Keeping a library relevant also means parting with resources that are not needed anymore, so books are regularly discarded too.
A Library with Multiple Purposes
The TUJ library has about 55,000 books, among which many unique resources, to the point that the library lends a lot of books to other Japanese universities. Design and art students, whose department is on the same floor, especially like to visit the library and open random books to find inspiration. "Lots of students tend to gravitate towards paper books to get away from their screens," remarked Tom. "They also seem to prefer paper textbooks over e-books."
However, on top of being a library with lots of academic resources, the library also acts as a public library for the students and staff, where they can find books for leisure reading. "Although we do not teach writing fiction here, we do buy fiction. From next semester, we will be turning one of the shelves into a leisure reading and popular reading section. That is when donations may come in handy," said Tom.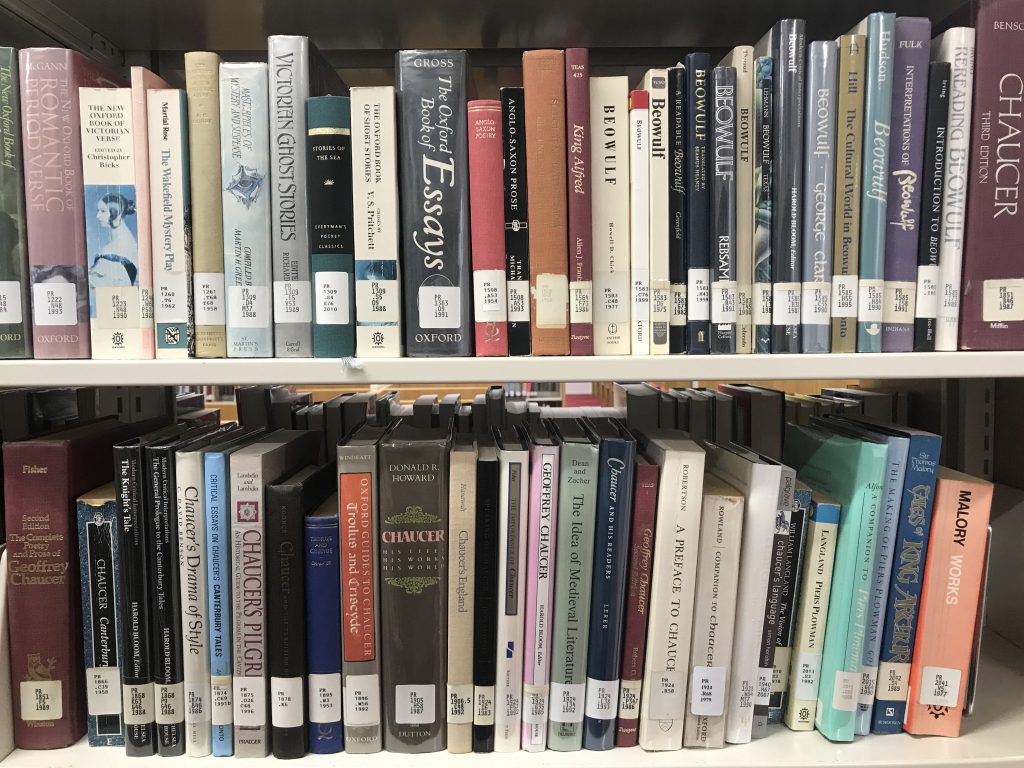 As a matter of fact, the library accepts book donations, and if you have to make space on your own shelves, you can donate your English books to the TUJ Library—under the agreement that once you donate your books, they become the library's property forever.
Only students related to Temple University are allowed to borrow books from the library. Luckily for many of our readers, being a student there does not necessarily mean a long-time commitment. As Justin Sanders, head of Continuing Education likes to say, "A university is a place where you can come to learn anytime in your life." Speaking of which, Continuing Education is one of the possible short-term commitments to learning something new at TUJ: the programs last between five to 10 weeks, with courses held in the evenings and on weekends. Designed as steppingstones towards personal goals, the program provides Business classes, Social Science classes, Translation classes, Art classes, and much more. For those who would like to improve their CVs, certificate programs are also available. Enrolling in even a single short-term continuing education course gets you full access to the library for the whole semester.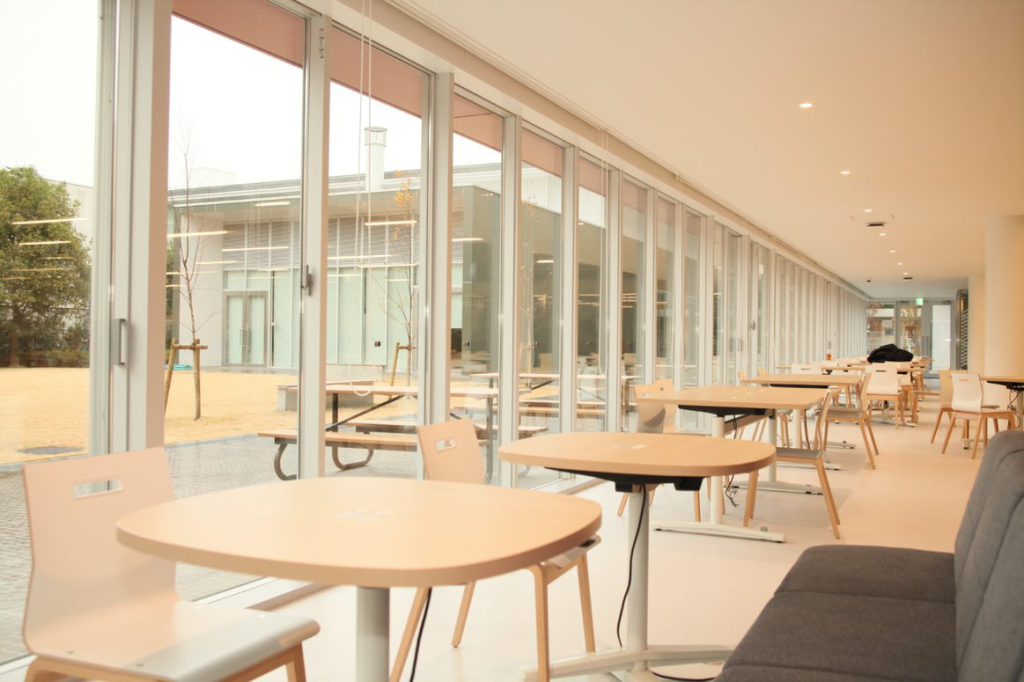 On our way out of the library, Justin told me a story of a past student at Continuing Education. He already had his own business and initially studied accounting at TUJ to improve his skills. He ended up using the library a lot, not only for his own studies but to read other resources related to business and get new ideas. He met with other students to exchange with them at the co-working spaces and made good use of the student networks too. "In the end, he spent a lot of time on campus and that helped him improve his business," recalled Justin.
It was very exciting for me to walk along the aisles of the campus, admire the brand-new and online-teaching-friendly classrooms, and peek at the students working in the art rooms. I wished I could spend hours browsing the library. I also wanted to grab a coffee and work in the common space. More than enough reasons to become a student again.
---