Every year, for a few days before and after August 15, trains and tourist resorts overflow with people. Not only are hotels and flights expensive, but they also become fully booked well ahead of time. For the Japanese, this period is the peak of summer vacation. But this period, called obon, is also much more.
Since ancient times, obon has been regarded as a period when the spirits of Japanese ancestors return from the afterlife to spend time with their families. For this reason, most people return to their hometown, thank their ancestors together with all their relatives, and hold a memorial service for them. Here is how the Japanese celebrate obon.
A Family Visit to the Cemetery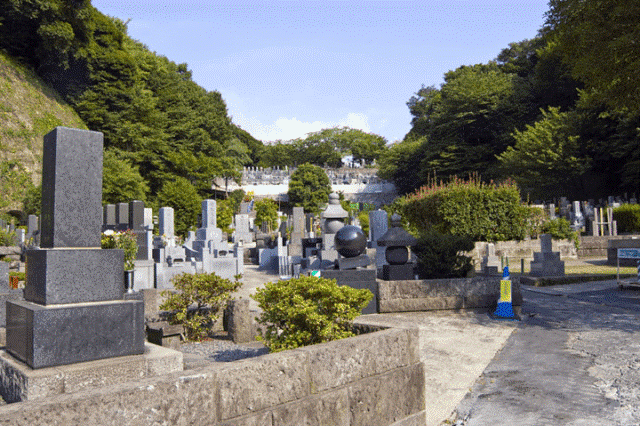 It is one of the customs of obon for all the relatives to share a meal while they're all gathered together. People look forward to presenting their newborn baby, bringing and introducing their fiancé/fiancée, and seeing their grown children. Then they visit the family grave together.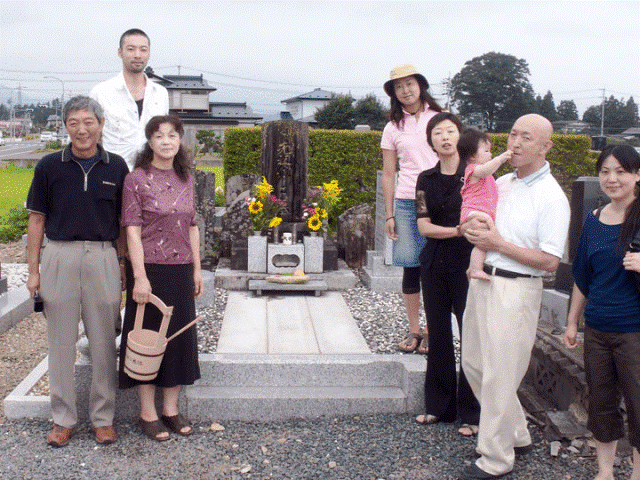 Visiting graveyards to rest your ancestor's soul is called ohakamairi in Japanese (haka meaning grave). It can be done anytime, but Japanese people will usually visit on the same day as the Buddhist memorial service or on the same day of the death of their ancestor.
Graves are not for one person only, but for many members of the family. Ancestors are believed to be enshrined in the graves, resting there. When they visit their graves, people pray for the rest of the souls of the deceased. They also talk to their ancestors, express their gratitude to them, and report to them about the latest news of the family.
Pouring Water on Graves and Other Customs
A visit to a grave starts by cleaning the grave. After washing and purifying your hands, you collect water in a pail and head to the grave. Pails can be rented free of charge. After joining your hands in prayer, you pour the water onto the tombstone a little bit at a time and carefully wash the tombstone.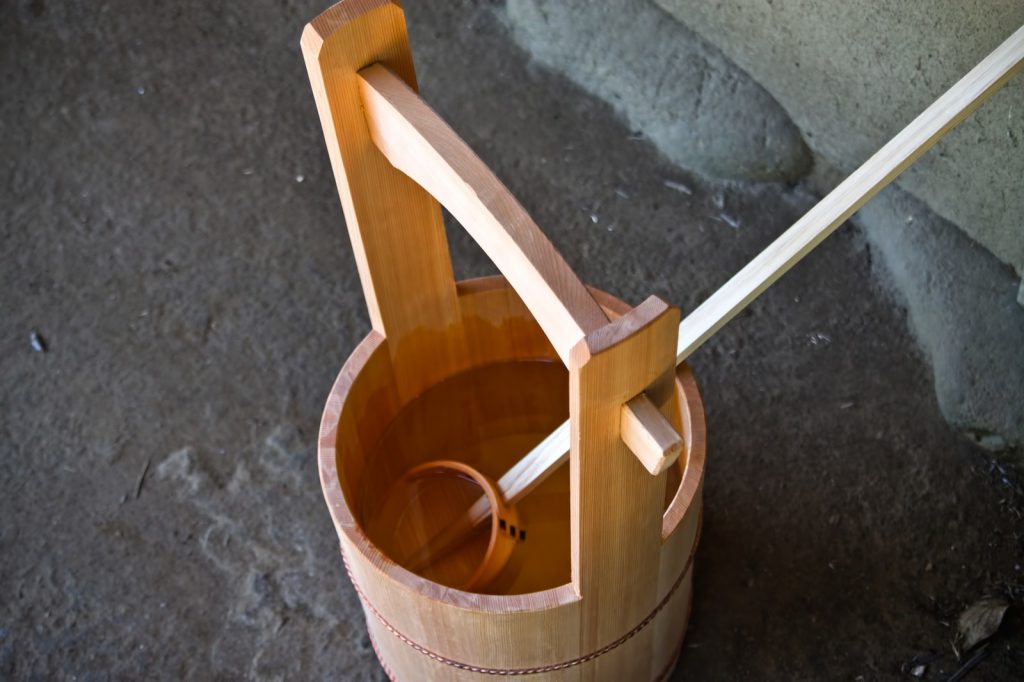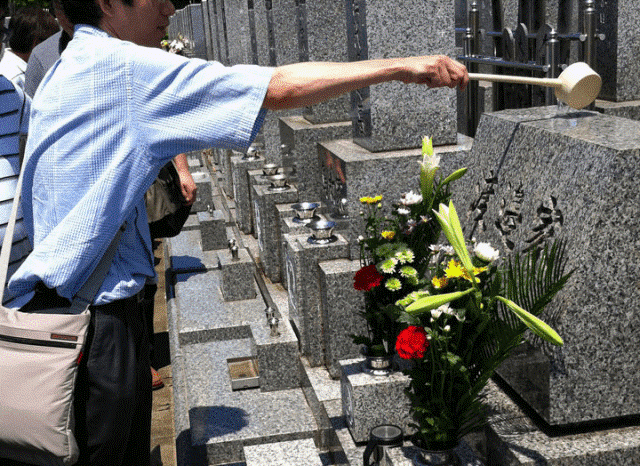 After cleaning the grave, family members offer foods and fruits that the deceased enjoyed when they were alive. Flowers are also always placed at the grave. Chrysanthemum flowers are very common, but any flower the deceased liked may also be placed.
After lighting a candle and offering incense, people quietly join their hands in prayer.
Aquico, who provided most of the pictures for this article, said,"I used to go to my parent's house and spend time with my grandparents and cousins. Ohakamairi, visiting the grave, is one of the customs that we do every year. I remember that when I was little I cleaned the graveyard and joined my hands to pray. Today, I sometimes go there now to see my grandparents and talk to them about my life."
You may want to check our article about Jizo, a Japanese bodhisattva often fund in cemeteries.
Additional Obon Rituals
・Welcome fires and send-off fires: When welcoming the spirits of ancestors, fires are lit in front of houses to ensure that the spirits are able to return without getting lost. After obon, people also light fires as signposts leading to the afterlife when seeing off their ancestors.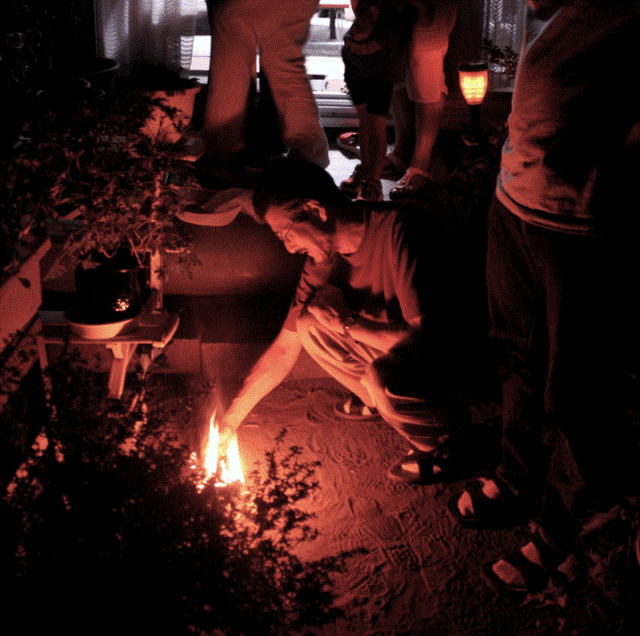 ・Spirit horses: There are some regions of Japan where decorations are made by attaching objects like disposable chopsticks as legs to a cucumber and an eggplant. When welcoming the spirits of ancestors, people put a cucumber on display. It symbolizes a horse so that the ancestors can come home quickly. When sending them off, an eggplant is put on display. It symbolizes a cow so that the ancestors may return at a leisurely pace, carrying plenty of offerings.
・Kyoto's ceremonial bonfires: A famous event in Kyoto that is held on August 16 each year, in which bonfires are lit on five mountains all at once.
Kanji Characters are drawn on mountains with fire and spirits that were welcomed during obon are sent off to the afterlife.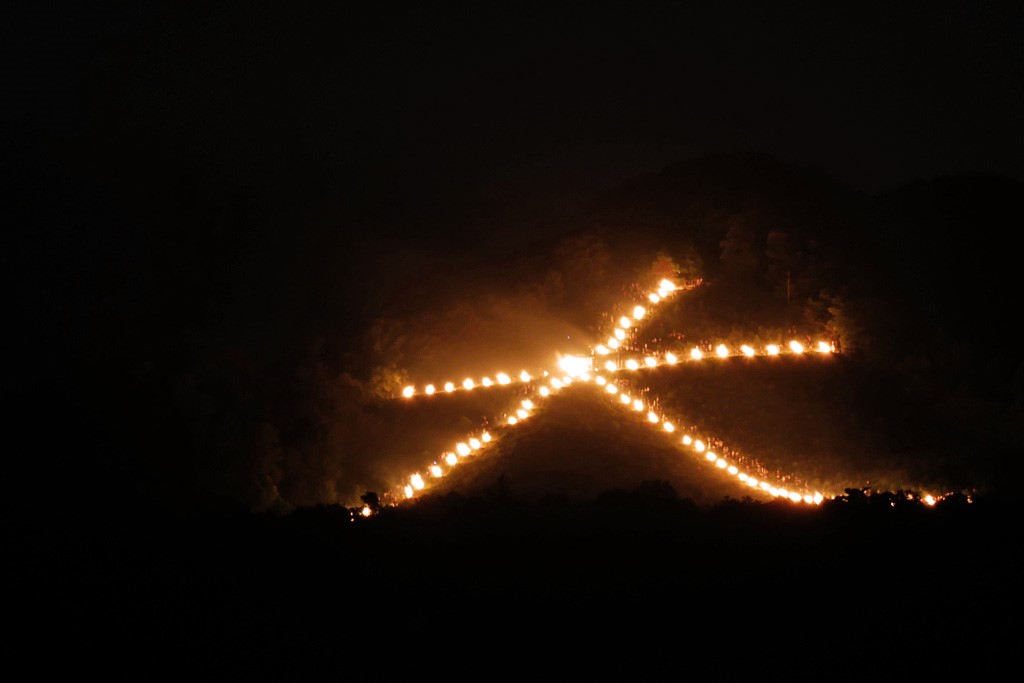 ・Nagasaki's spirit boat procession: This is a traditional event held on August 15th in Nagasaki. People make boats for sending off the spirits of the dead to the afterlife. They carry the boats and walk in procession through the town.The procession is marked by loud firecrackers.
The Japanese Traditional Dance of Bon Odori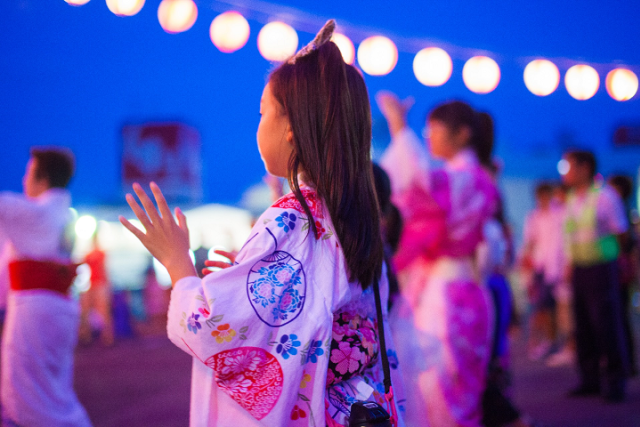 During the obon season, bon odori dance festivals can be seen everywhere in Japan when the night falls. Originally, it consisted of events to pray to the souls of people who passed away, but now it's more like a summer festival held by a city council or town community so that people can gather and communicate. People dance in a circle around an elevated scene where the musicians play.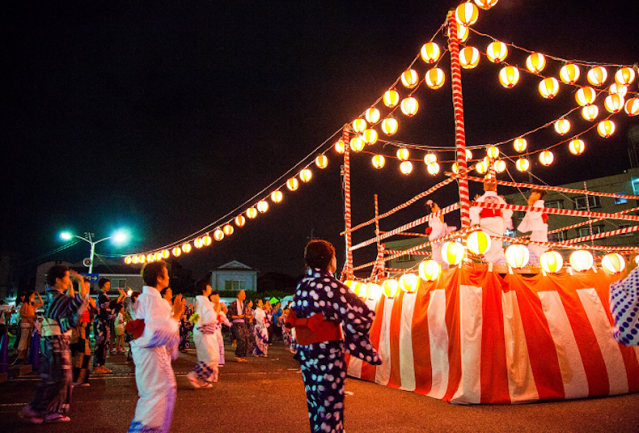 Aquico recalls: "I used to go there wearing my yukata [casual summer kimono]. I remember that my parents bought me some shaved ice and cotton candy. There's a wide variety of bon odori songs, from traditional songs to anime songs. The choreography of the dance is decided according to each song. If you come across this kind of small neighborhood festival during a trip to Japan, do not hesitate to jump in. Anyone can join the dance! Even if you don't know how to dance, just mimic the people dancing, and you can join in!"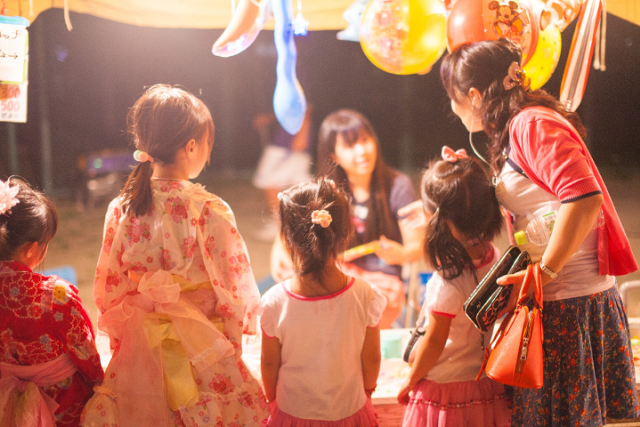 For the Japanese, obon is an important moment of the year to remember those who passed away, by welcoming them back into the living community for a few days when the limits between life and death are blurred. However, it is also an opportunity for the living to gather with their families and communities, and grow stronger bonds with them during this time for celebration.