Midori Okuyama is a Japanese theater producer who has always been involved with the Japanese performing arts. One of her main works is producing Sankai Juku, the most famous butoh dance company. In this interview, she talks about Japanese arts and how it is received by foreign audiences, explains to us what butoh is about, and how working with Sankai Juku changed her life.
From Primary School Shows to Theater Production
What was your first encounter with the theater?
In primary school! During my fifth year of primary school [in Japan, primary school lasts six years], I saw other kids do a play, and I immediately thought, "This is what I will do." I felt I belonged on the stage and not among other spectators. The next year, I wrote scripts and gave directions for the primary school graduation show!
But actually, maybe it started even before that. When I was a child, the Japanese school year was less busy, and the curriculum was not as strict as today. There were more school hours and classes on Saturday morning, so there was some extra time to encourage children to do artistic activities. I think there was about a school show a month, during which children would sing, dance, and act. When I was 9 or 10 years old, I was already creating plays for these small shows.
After school, my friends and I would gather at whoever had a place large enough to fit us all, and we would create dances, songs, and lines. We would share ideas all together, but we had our specialties. I was in charge of the acting part. A funny thing is that the kid who was in charge of the dance and the music went to study at a music university in Tokyo.
After that, I guess it was obvious for you to look for a job in the theater industry?
Actually, not at all! My parents wanted me to become a school teacher and expected me to study education. However, I went to university to study psychology. But after I finished my first year of university at 19 years old, I was lucky enough to enter the acting school of Bungakuza.
Bungakuza is one of the old Japanese theater companies from which many very famous Japanese actors come from, for example, Seiyo Uchino, Kaori Momoi, or Yusaku Matsuda. Somehow, I managed to enter their institute despite the harsh competition, and I studied there while pursuing my university studies.
In my fourth year at university, I was busy touring Japan for three months with the Bungakuza troupe. I didn't have enough time to complete my graduation thesis. I had to take an extra year to complete it, and at the same time, I failed to pass the fourth year of studies at Bungakuza. The competition was such that from the 1,200 people who took the entrance exam the same year as me, only one is an actor at Bungakuza now. I thought I was talented at acting, but I wasn't gifted enough to become a professional actor.
These experiences made me realize that I was more suited for producing jobs.
Touring with Bungakuza allowed me to see everything that was happening behind the scenes in a theater, at only 22 years old. I also had the honor to be the personal assistant of the great actress Kiwako Taichi. I'd prepare her lodge and her makeup. She was very kind to me, and thanks to her, I learned the basics of theater. But to tell the truth, these experiences made me realize that I was more suited for producing jobs.
After hesitating about my career and a few disappointments, I got a job at Ginza Saison Theatre, which was just about to open at the time. It was owned by Seibu Department Stores, which was famous for being very progressive regarding women's employment. Can you believe that until the law changed just before I started working, it was normal in Japan to deny women from applying to specific jobs? Anyway, Seibu Department Stores didn't care about my age or my being a woman: they gave me plenty of rewarding opportunities during my first year. But, at the same time, they expected a lot from me even though I was just beginning.
Also, Ginza Saison Theatre was built by the famous businessman and poet Seiji Tsutsumi, who was the owner of the Saison Group at the time. He was a great supporter for many artists, and it covered a wide range of genres. You could even see plays by the Comédie-Française or Peter Brook—things you could usually only see in national theaters.
At first, my boss wanted me to be a lighting technician. However, I would fall asleep during the light checks as soon as the room became dark [laughs]! In the end, he gave up and sent me to the production department. Thanks to that, I started the producing job at about 25 years old. I looked like a middle schooler at the time, and when I had to meet international stage directors, they would say, "Why is a child the producer?" [laughs]
What does the job of a theater producer consist of?
The job of producer includes everything from arranging visas to making sure the champagne is in the fridge on the first presentation night.
I will take my first job at Ginza Saison Theatre as an example. First, I proposed a play I wanted to produce during the planning meeting. From there, I did the casting and the staffing, made a budget, carried out the repetitions, chose the promotion guidelines, checked the ticket sales, and, finally, submitted letters of apology when I had gone over the budget [laughs]. But it was the economic bubble at the time, and the atmosphere allowed young people to make small mistakes.
I also cared about a lot of details, such as arranging visas for a troupe of 70 people of 35 different nationalities. The job of producer includes everything from arranging visas to making sure the champagne is in the fridge on the first presentation night. For me, it's tremendous fun! It's like a dream to have been doing this all my life.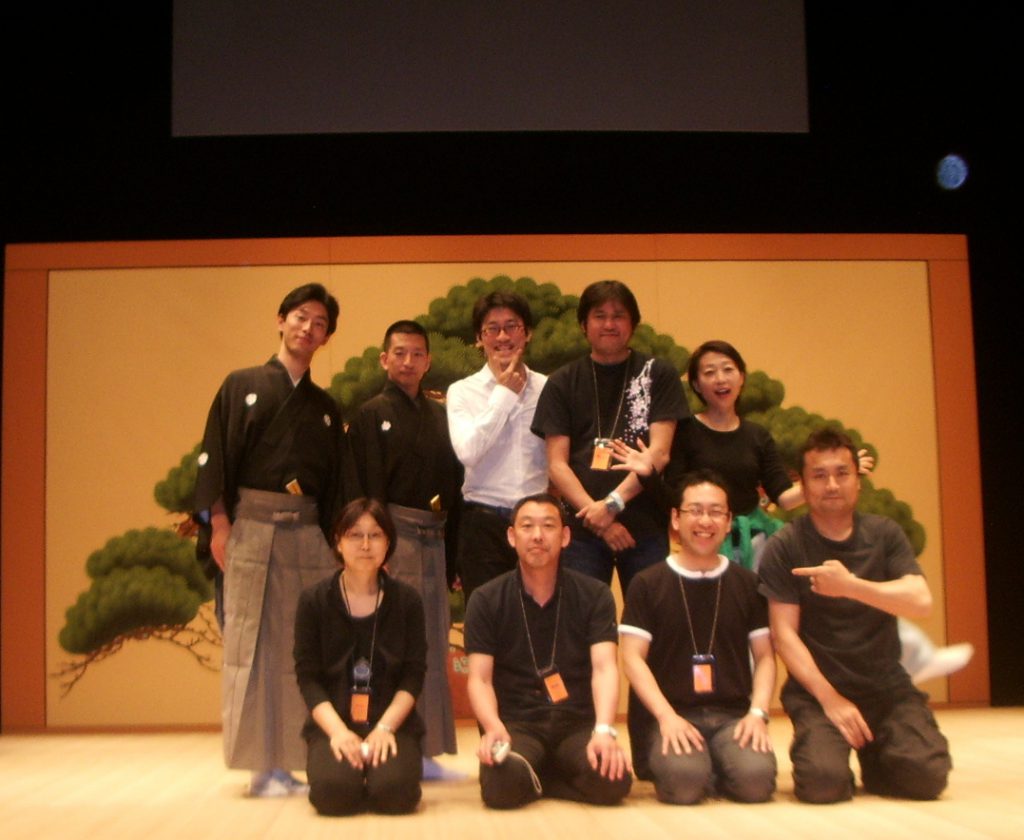 The Specificities of Japanese Performing Arts
You have experience in producing Japanese plays and foreign plays, too. For you, what are the specificities of the Japanese theater?
The Japanese theater in Japan benefits from a very peculiar situation. In other countries, new sorts of theater have kept replacing each other through time. For example, in France, the Italian commedia dell'arte was very popular until it was replaced by Molière's popularity. In Japan, noh and kyogen are still being played since the 15th century. Later, the bunraku puppet theater appeared and is still played today. Then, kabuki appeared around the year 1600 and is still popular today. And then there is modern theater, traditional dances… All of these developed side by side. In a certain way, Japan is like a living museum of theater art. This is extremely rare, there is no other country like this.
That's when I realized that traditional Japanese entertainments require endless studies. You study them all your life.
At one point in my career, I worked for Setagaya Public Theatre, and the artistic director was Mansai Nomura, a famous kyogen actor. There, I got involved in the production of many kyogen-related plays, taking them to foreign countries. That's when I realized that traditional Japanese entertainments require endless studies. You study them all your life. For other projects, I also had to study Bunraku and traditional Japanese dances, and it's a never-ending process.
I have an anecdote to illustrate this. I had the great honor of working with Mansai Nomura's father, Master Mansaku, who is a living national treasure. One night, I noticed he had changed the direction of the play at the last minute, even if he had been playing it for 50 years. When I asked him about it, he said, "Oh yes, last night, before sleeping, I realized the play would be better this way." He was 85 years old at the time, and he added, "You know, the path of theater arts is so deep. One life is not enough. You need two!" For me, hearing that was like being beaten by a hammer! [laughs]
Is it challenging to introduce the Japanese theater arts to a foreign audience?
It's not easy. But there always comes a moment when I think people understand what we want to express, despite the language barrier and the cultural differences. It's very fulfilling.
Midori has been working with the butoh dance company, Sankai Juku, since the '90s.
Butoh, a Modern Japanese Dance
You've been producing for the famous butoh dance company Sankai Juku for many years. What exactly is butoh?
Butoh was born in post-war Japan. It was a new type of contemporary dance. Like the rest of the world, during the '60s, there were subculture and counterculture movements in which the youth questioned what had been done by their predecessors. It became normal for young people to voice their opinions.
Butoh's main idea was to have a new take on the relationship of gravity with dancing.
When butoh was created, in Japan, there was only traditional Japanese dance or Western ballet. People who had studied modern dance in other countries came back to Japan and pondered about new ways to use the body to express emotions. They also wanted to create a dance style that would fit the Japanese body morphology. That's when Tatsumi Hijikata and Kazuo Ohno created a new form of dance.
In Western dance, the core principle is to resist the force of gravity, to be its rival. Butoh's main idea was to have a new take on the relationship of gravity with dancing. Hijikata, who was from Akita Prefecture [one of Japan's top agricultural prefectures], especially had a specific point of view. He thought the dancers' moves should reflect the legacy of the Japanese people as farming people, and that the dancers should face the ground more.
The first butoh performance is said to be Hijikata adaptation of Forbidden Colors by Yukio Mishima in 1959. It explored the taboo of homosexuality. Then, Hijikata created a group he named, "ankoku butoh," the "dance of darkness." Other groups were also born, and the artists decided to call the general genre, "butoh." In other countries, it is also known as "butoh," like other Japanese words like "judo," for example.
What is the place of Sankai Juku in the butoh perspective?
Sankai Juku was created by Ushio Amagatsu, who is from the second generation of butoh dancers. He defines his butoh as "a dialogue with gravity." The main difference between other butoh dance companies comes from his very peculiar and delicate sense of aesthetics, especially regarding the use of space and his vision of the human body. He manifests his personal philosophy on stage. He's an incredible artist. The performances he creates are beautiful, and I want as many people as possible to see them. I've been working with him for more than 30 years, and it's a great honor for me.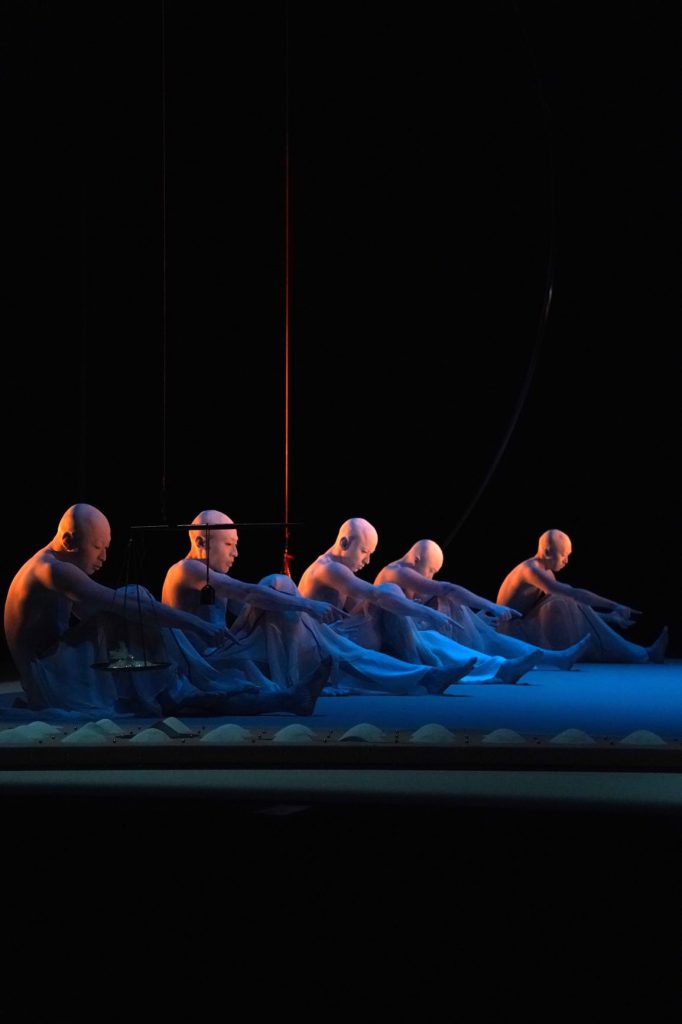 Why are the dancers painted in white?
The fact the dancers paint themselves in white has existed since the first generation of butoh dancers. It's a custom that exists in a lot of dance and theatrical genres all over the world, and each artist may interpret it differently. You can see even in many ancient cultures that people paint themselves in white in rituals. For Mr. Amagatsu, it is a means to erase the dancers' personal features and represent only the features of what makes a human being a Homo sapiens.
Reaching the Audience
Sankai Juku is probably the most famous butoh dance company all over the world. How does the foreign audience react to their performances?
Today, there are many butoh companies all over the world. Still, Sankai Juku played a significant part in popularizing it outside of Japan. They've played in 48 countries. They're the only Japanese artists to have received a Laurence Olivier Award for "Best New Dance Production." Approximately once in three years they show their creations at the Theatre de la Ville de Paris, and tickets are sold out every time.
Depending on the country, the audience behaves and expresses itself differently, even if they feel the same. There are countries where people will raise their voices in admiration, and others where they will be quiet and politely clap their hands. But despite these cultural differences, we know when the audience is happy. It's difficult to explain when you're not working in the entertainment world, but we just know by listening to the sound and strength of the applause. We say, "Today's applause was good."
Sometimes people want to ask the dancers questions after the show, so I'm waiting in the lobby to assist them. That's when I can see if the audience is really excited. Some people will wait two hours after the show so they can see Mr. Amagatsu. In India, we had planned to do a very short post-talk in the theater lobby. But almost all the spectators stayed, and we had to do it inside the theater. In the end, I spent one hour interpreting the questions and answers between Mr. Amagatsu and the public! [laughs] It was incredible. So, I can say what we do resonates with people from all over the world.
Being confronted with other countries' questions can be an excellent experience. Mr. Amagatsu told me that when he went to France for the first time when he was about 30 years old, the journalists asked him very philosophical and existential questions. "What is dance for you?", or "What is butoh for you?" He told me that it pushed him to reflect on this, and it helped him grow as a young artist.
It is wonderful that butoh got recognition from other countries early from the start.
It is! Although butoh was born in Japan, the first acceptance in Japan took a long time for a subculture of 1960. So, it seemed incredible when Mr. Amagatsu received official recognition by Japan.
Living Fully with Stage Arts
The people from Sankai Juku have shown me what it was like to live life fully as an artist.
How did working with Sankai Juku affect your life?
I've started helping Sankai Juku after producing for them at Ginza Saison Theatre back in 1989. They were great people, and we soon became friends. In 1993, I had some health problems which led me to quit Ginza Saison Theatre. And in 1995, Sankai Juku asked me to help them. Now, it's one of the greatest joys in my life.
Sankai Juku is a rather small company, so they can concentrate on creation only. They have shown me what it was like to live life fully as an artist. Thanks to them, I also realized I could only make the shows I really wanted if I became completely independent. So, at 38 years old, I decided to become an independent theater producer. From then on, I've alternated the production of my own shows, for which I take a lot of financial risks, with more secure jobs for many different theaters.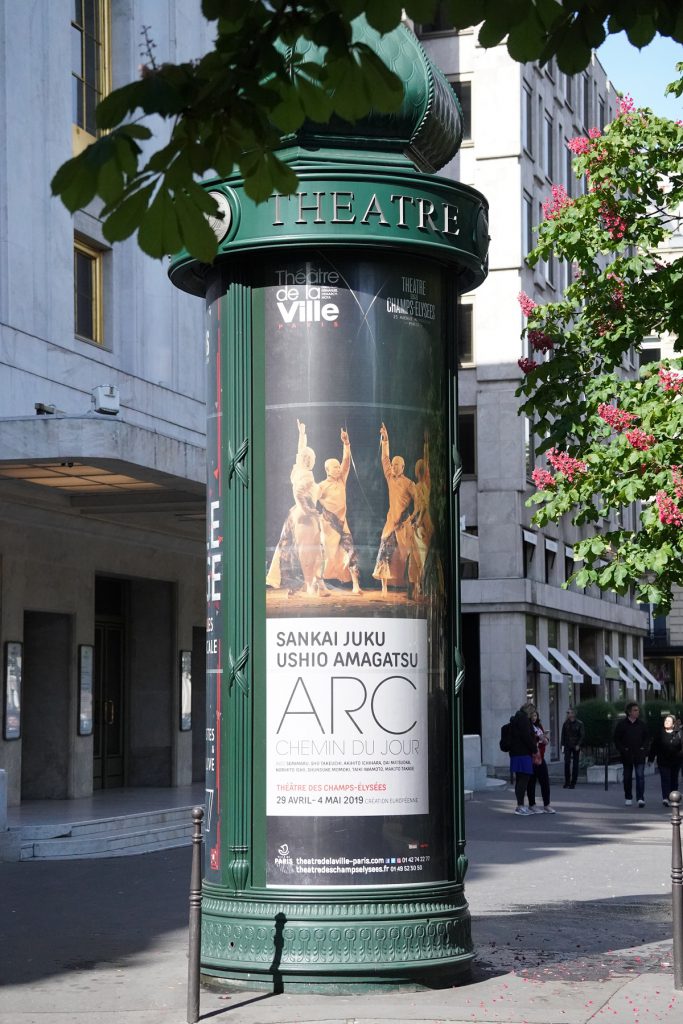 What are the difficult parts of your job?
The entertainment world is easily affected by the country's economic situation. So, when the economy is not doing well, we must downsize everything. I've been through several hard times: the burst of the Japanese economic bubble in the '90s, the bankruptcy of the Lehman Brothers in the '00s… And now the pandemic. In times like this, shows get canceled, and it's like a long winter for the artists. They have to rely on their side jobs to make a living. As a producer, I must make sure that the artists don't lose their desire to create. So now, I'm doing my best to schedule shows for next year and raise everybody's motivation.
Today, you also teach at Nihon University.
Yes. It's also a great joy for me. Mainly because, as I told you, my mother wanted me to become a school teacher, and I always felt a bit guilty about it. It's also inspiring to receive the energy of all these young people.
I'm teaching them theater production and performing arts management. In performing arts management, I explain how to manage a theater, and also how performing arts can play a role in building the local community.
What are the messages you want to convey to the young people you are teaching?
The students are often worried about whether or not they are talented for it,, if they will be able to eat from it. But I encourage them to fully enjoy what they like to do. So, I mainly want to transmit to them the beauty, the depth, and the richness of the performing arts, and also that they should not worry too much.
Do you have a final message for our readers?
When the situation allows it, please go and see a Japanese play! Any genre that interests you. By the way, now you can also see many of them online.
Midori's Love
When I talked to her, I could feel Midori's love of the stage in her excited voice and her bright eyes. The scene, the arts, the artists, the audience, the many aspects of her job… she loves them all. Sankai Juku has shown her the value of pursuing her own vision of things, and she managed to find a way to become independent to produce for the artists she believed in, even when what they did was not understood.
In a world where making money is everything, especially in entertainment, Midori's priorities go elsewhere. She genuinely cares about the beauties of the arts and showing them to the most massive audience possible. Even during hard times, her thoughts go to the artists and their feelings towards creation. In the path of stage arts, one life may not be enough to accomplish everything. Still, by doing what she loves and thanks to the stage, Midori sure is living a truly rich life.