Kizu Takami is the creator of Universal Movement. This Instagram account promotes a better understanding and acceptance of people with disabilities in Japanese society. To do so, she uses colorful illustrations and easy-to-read explanations. I have interviewed her to know more about her mission, her creative process, and her point of view about the place of people with disabilities in Japan.
Universal Movement's Mission
How did you get the idea to create "Universal Movement"?
When I was a university student, I wanted to become a schoolteacher. There was a class that consisted of giving help in a special needs school for two days. I helped in a school for children with intellectual disabilities and got really interested in this field. I then decided to study special needs education, and I am now working in a special needs school for children with visual disabilities.
Four years ago, I suddenly thought I wanted to change Japanese people's negative perceptions regarding disabilities. There is a kind of taboo atmosphere surrounding this topic. Even when it is brought up, it quickly ends up being talked of negatively, such as "It seems hard," "It'sso much suffering," or "It's not my problem." This makes it harder for people with disabilities to live in this society because they're not being understood. So, I wanted to create a space where it would be possible to speak about disabilities more directly. That's how I created the account for Universal Movement.
I'd like that we stop using the word 'disability' to put people in different boxes.
On your first Instagram post, you have written that "disabilities are just a personality trait." What does this mean for you?
I felt that there is a big gap between "people with disabilities" and "healthy people" in Japan. I'd like that we stop using the word "disability" to put people in different boxes. I would like the Japanese term "shogai" [disability] to be used only when applying for welfare services or medical treatments. But in everyday life, it should not be used to divide people into different categories.
I have several friends who are in different places on the autism spectrum. For example, it manifests by being very selective about their belongings, or the absolute need to follow a precise schedule. It's easy for me to see these traits not as features coming from a disability, but as a part of their personalities. That's how I view disabilities, and I'd like to share that point of view.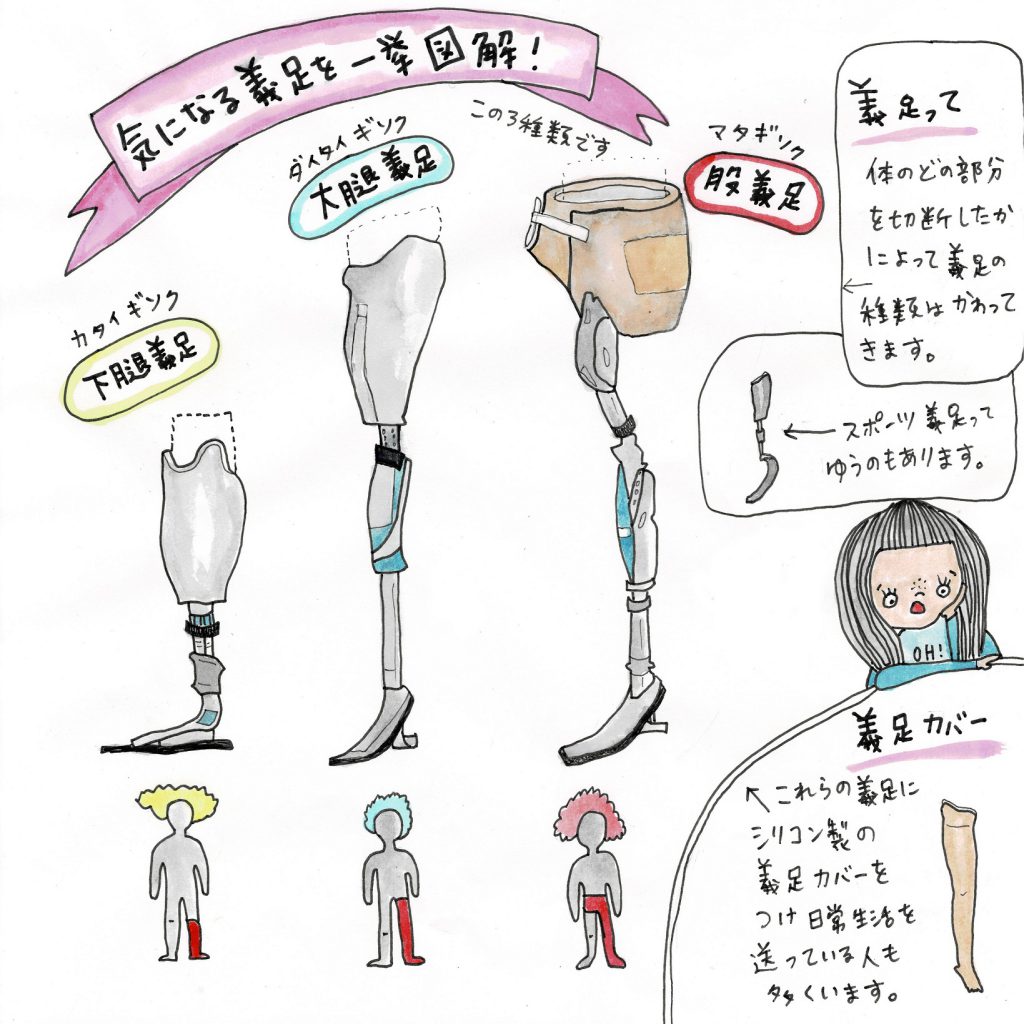 On your Instagram profile, you have written: "By learning about what we don't know, our negative image of disabilities disappears." For this mission, you provide people with information on a vast range of disabilities. How do you select the information you want to transmit?
I learned about a wide range of disabilities when I was a graduate student. This knowledge is helping me a lot. Also, on the official website of the Ministry of Health, Labour and Welfare of Japan, there is a lot of information, from the definition of diseases to legal information.
Communicating Through Instagram
Why did you choose Instagram as your primary means of communication?
The main reason is that I want to reach young people. Teenagers and people in their 20s are the ones who are going to create our future. Instagram seemed to be an ideal tool to reach these generations.
Another reason is that I love reading essays in comic illustrations form. There are a lot on Instagram. One I particularly like is a humorous depiction of the everyday life of a nurse. I am not particularly interested in the life of nurses in general, but it's so well done I can spend hours reading it. This is one of my inspirations for the tone of Universal Movement. I was aiming for something similar in the beginning.
"I wanted to do something completely opposite to the dark image that disabilities usually have."
What are your most popular contents?
I received a lot of positive reactions regarding posts about the help mark badge [a red badge that people who need assistance due to disability or other reasons]. Apparently, many people are interested in it, and I got many likes from people who usually don't follow me. On the opposite, topics that are not directly related to everyday life or do not seem familiar do not have a lot of success.
Your illustrations are really elegant and cute, using mainly gentle colors like pink. Why did you choose this specific style?
I was really aiming at something cute and elegant, and I adopted my current style after a long thought process. I wanted to do something completely opposite to the dark image that disabilities usually have.
Originally, drawing is a hobby of mine, I've never studied it. I've always liked doodling. Some time ago, my husband suggested that if I draw so much, I should participate in an exhibition. So I did one in 2013 and got more confident in my drawing skills, which led me to use illustrations to communicate.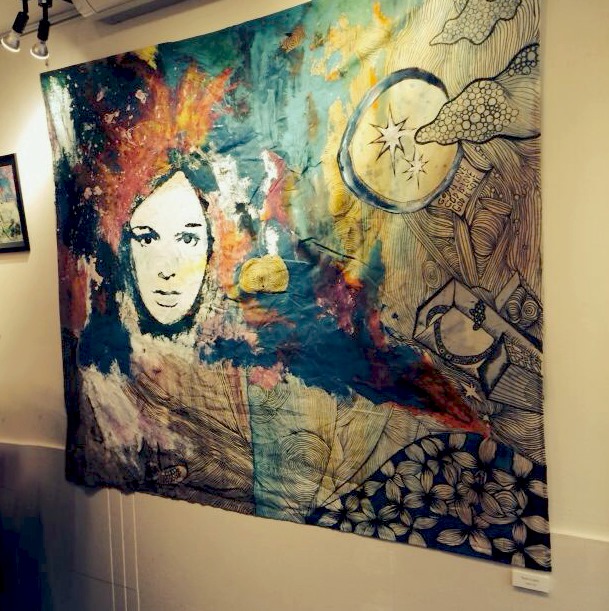 A Long Creative Process
Even if I am very busy because of my job, I feel it is a duty to create posts on Saturdays.
How do you select the topics you want to talk about? What is your creative process?
If possible, I choose a topic related to disabilities that is being talked about in the news. So, I always look at Yahoo! News and other media. This forms the base to which I add information and my own point of view to explain things. I also propose solutions and give advice on how to engage conversation or offer help to people with disabilities.
Since I am posting on Sundays, from Monday to Friday, I read as much news and information as possible, and I take notes. On Saturday, I use my notes to write the text and use Photoshop to draw a first draft of the illustration, and then I correct it until I am satisfied. I also fact-check my information one last time. I think the whole process must take me about six or sevenhours.
Where do you find the motivation to spend so much time running Universal Movement even though you are already very busy being a schoolteacher for children with visual disabilities?
By working there, I know what troubles or concerns the children have. For example, they don't understand why they have to come and play in specialized places instead of going to the park with other children. Every day I am confronted with the reality that they are not integrated into the society. And every day, I think we could become a community in which it would be more comfortable for them to live. This is a great source of motivation for me, and even if I am very busy because of my job, I feel it is a duty to create posts on Saturdays.
Dealing with the Readers' Reactions
I'm very happy when people who had no interest in welfare write to me saying they learned something.
You have closed the comments on the Universal Movement Instagram account. Could you explain why you decided to do that?
The comments used to be open, but when you talk about disabilities, some people write really mean comments. Things like, "These are just people living on our tax money." I used to reply to them, but it's hard to moderate everything on my own. I didn't want this lousy atmosphere to surround the account, soI decided to close the comments. I thought I would reply if they sent me a direct message. Apparently, these kinds of people never send direct messages. On the contrary, people who have sympathy for what I do write direct messages to me, and I reply to them.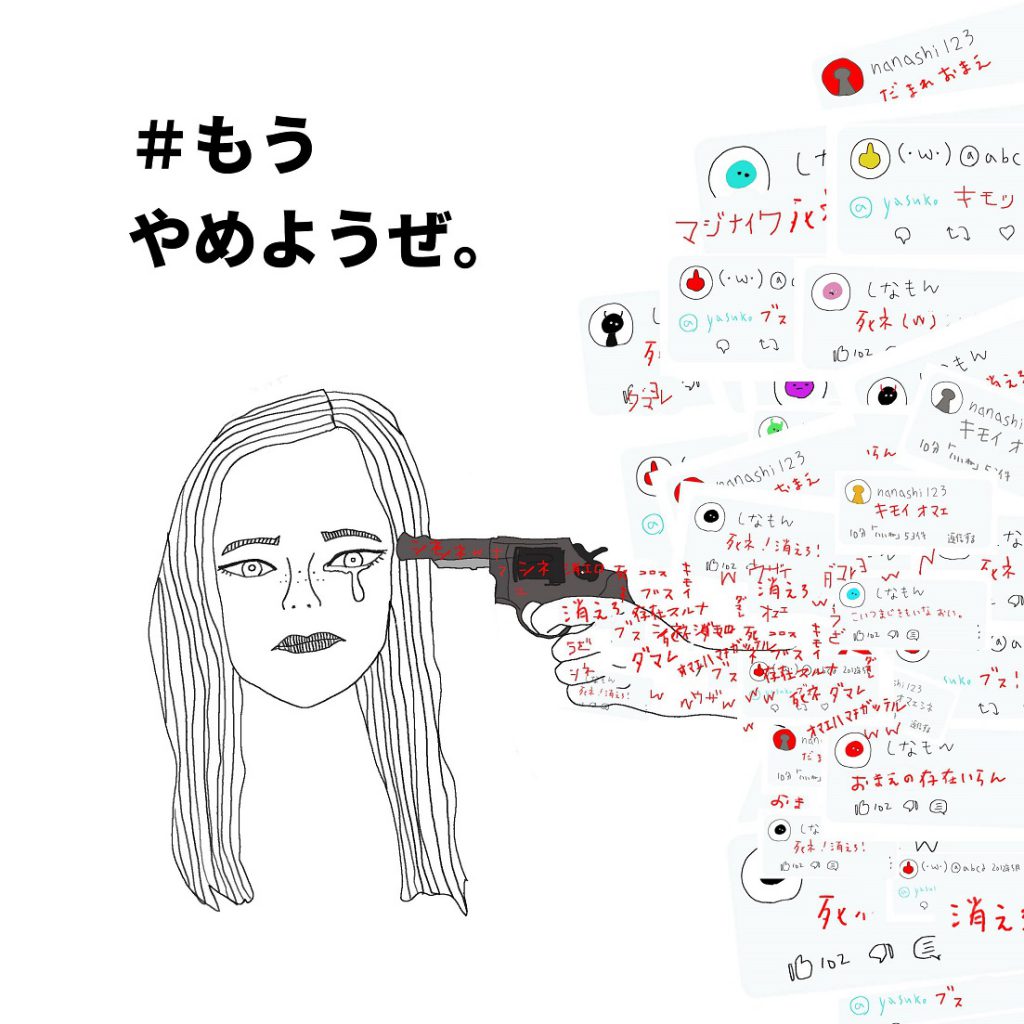 On the opposite, what is the most touching experience youhave had doing Universal Movement?
I have received thankful messages from people who were suffering because of their disabilities and who told me they felt better after reading my posts. When I receive such messages, it touches me a lot, and I'm very grateful. I'm very happy if what I do is useful to some people.
I'm also very happy when people who had no interest in welfare write to me saying they learned something. This kind of person is my main target, so it means a lot to me.
Aiming for a More Inclusive Society
Trying to know more about what we ignore is the door to creating a more inclusive society.
What can people do to aim at a more inclusive society?
That's a difficult question! [laughs] Actually, I think about it every day. In the end, I think it's all about learning to know each other, which is why I am doing Universal Movement. For example, I have made a post about people who talk by themselves. I think you may have encountered such people if you take public transportation. For me, it reminds me of kids that I know. But for people who don't know about this disability, it's just scary. I think that's how discrimination starts. So, I really believe that trying to know more about what we ignore is the door to creating a more inclusive society.
So, if you encounter someone who acts in a way that makes you feel uneasy, do not just stop there Try to talk to someone about it or research about it. However, in Japan, few people share accessible information about such topics. Even if people do some research, they may end up on websites that are hard to understand. I hope more people will create friendly, informative content in the future.
What are your projects for the future?
My objective is to reach more and more people. I would also like to make a book from my illustrations.
Believing in the Future Generations
Maybe it is explained by her being a schoolteacher. Still, I was really moved by Kizu Takami's faith in future generations. Through her Instagram account, she has found a way to satisfy the youngsters' needs for stylish design and curiosity while trying to meet her society's needs for a more inclusive environment.
Kizu Takami has reminded me of the value of not staying ignorant about the things that make us uncomfortable, and to always keep our curiosity. Like her, I believe a better world and a better future can only be built through education and accurate information (a topic that was previously brought up on Kokoro Media by writer Michiru Hasegawa). Her works are already having a positive impact on many people, and I hope she will reach an even wider audience. Most of all, I hope it will inspire others to follow her steps and share information and experiences for a better society. Each of us has a small role to play in making the world a better place for all.