Akira Yamaguchi is one of the founding members of TEAM Clapton. This construction group does design, renovation, and builds event spaces. Their specialization: their construction sites are open to everybody who wants to help, beginners included. Last year, TEAM Clapton was involved in renovating a small traditional village, transforming it into a small lodging complex with a co-working space. Read on to discover the roots of TEAM Clapton's "do-it- together" spirit, how it applies to their many projects, the challenges of managing groups of people, and the virtues of traditional Japanese housing.
The "Do-It-Together" Spirit
The construction site is open to all.
TEAM Clapton is a construction group that does design, renovation, and builds event spaces. How would you define TEAM Clapton, and how did you get started?
TEAM Clapton revolves around the concept of "do-it-together." People are familiar with the term "do-it-yourself," which is the spirit of trying to do things yourself when you want to build something or change the atmosphere of a place. "Do-it-together" is all about building things with other people: kids, adults, neighbors, friends—all come together to transform a space. When we are working on a project, we live directly on site. We eat and sleep there.
The construction site is open to all. The people working can be the people who asked for your services, their friends and family, local people, and people who like to build things. In the case of a shop, it can be their customers or future customers. Our job is to manage the projects and the people who partake in them.
We started our activities in 2014, and we now have two branches: one in Kyoto and one in Kobe. Today we count seven members, who are all from different backgrounds. Our members all joined one of our workshops at some point, had fun, came again, and finally asked if they could be permanent members.
I am the only one who has studied architecture. The others used to do very different jobs. One of our members even used to be a kindergarten teacher! We only became a company in January 2021. Before that, we were a group of independent workers.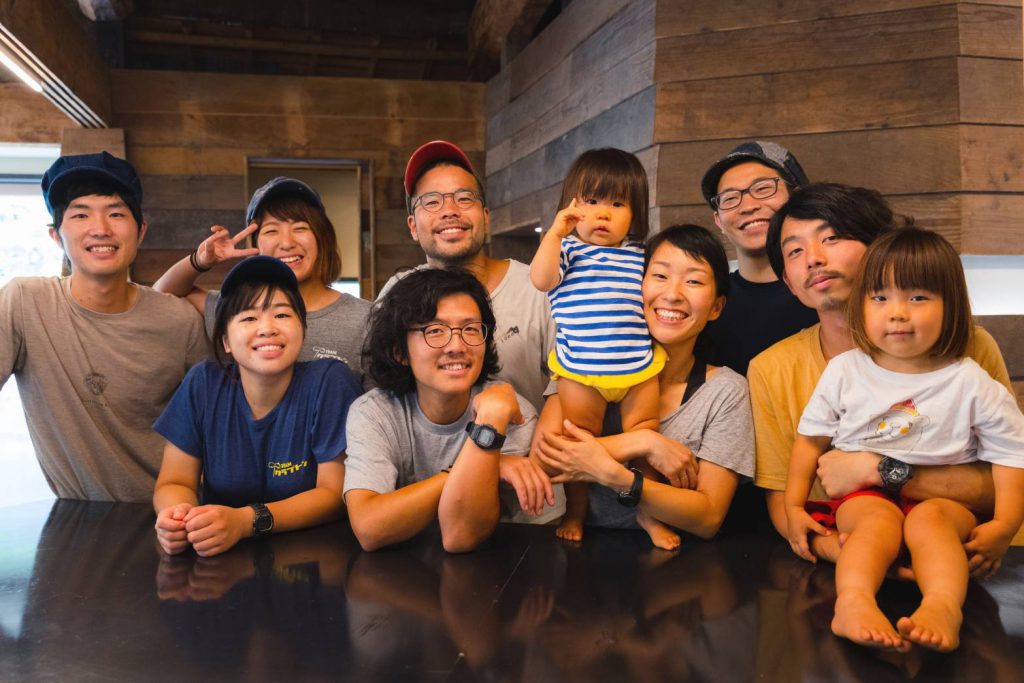 In the beginning, we had regular jobs on weekdays. One member worked in the media, another worked at the city hall, and another worked at an architectural firm. TEAM Clapton started as a hobby we did on weekends. We had become tired of the typical Japanese ways to have fun on our days off, such as bowling or karaoke. We got the idea to get together to do renovations. Our first project, the first six months, was a complete hobby.
In Japan, the house's price keeps going down, and after you finish paying your loan back, the house has no value anymore. (…) I started feeling uncomfortable with this whole system.
The idea also came from something I noticed about Japanese construction when working at an architectural firm. Let us say someone borrows three million yen from the bank to build a house. They give this three million yen to a constructor, who gives back a house in return. It takes about 35 years for the person who borrowed the money to pay the bank back. The main difference between Japan and Europe, for example, is that after 35 years, the value of the house is close to zero. In other countries, the house would become an asset. You can renovate it, live in it, or decide to sell it. In Japan, the house's price keeps going down, and after you finish paying your loan back, the house has no value anymore.
On top of this, it is hard to know if you will live in the same place for 35 years, and it gets more challenging for you to change your career or quit your job since you must pay your loan back. Also, the relationship between the client and the constructor may seem equal. However, it is not: the client has a lot of power over the constructor since the client is paying them a considerable sum of money. I started feeling uncomfortable with this whole system.
How did you get the idea for the "do-it-together" concept, and what does it mean for you?
To tell the truth, it is nothing new, and it has been part of Japanese culture for a long time. When countryside houses had thatched roofs, they did not ask for a team of pros to renovate the roof. They only paid for two professionals to give instructions, and the villagers would all come together to help. Every year, the village would renovate the roof of a different house, in a virtuous circle of helping each other. This concept is called yui in Japanese.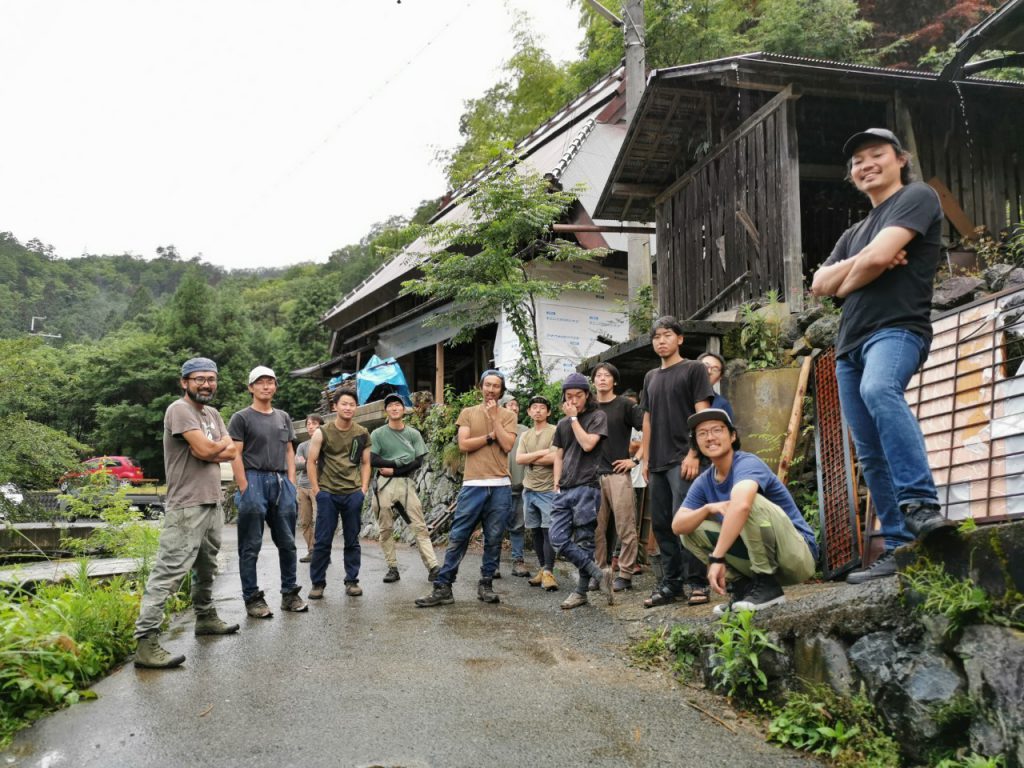 Nowadays, we live individually. As we are used to paying for services, it becomes more difficult for us to ask people for help or thank them. We become inhibited and frustrated.
TEAM Clapton is all about helping each other. And helping others is actually fun! Working hard, getting dirty, and having a good sweat together gives a sense of fulfillment that we have forgotten nowadays. We do not pretend to be doing something new. We are just trying to give life back to an ancient concept that is overlooked in our modern-day consumption-based capitalist society. This is one of the messages behind what we do.
What do you find the most fun when working as TEAM Clapton?
I love building. When I was working at an architectural firm, I enjoyed drawing. Still, it was because I imagined myself building what I was drawing. Of course, I love working with everybody, but building stuff is what I love most: moving my hands and seeing something come out of it. Also, I love adventure [laughs], having new experiences.
You have studied in England for many years. Earlier, you mentioned how the value decreased when one builds a house in Japan. Are there other significant differences between England and Japan regarding building or architecture?
I will talk about something very basic, but the laws regarding landscape in Japan are very loose. In cities like London or Paris, protecting the cityscape's harmony is very important; each building has its use. You must make sure new buildings do not stand out too much. The laws about this are very strong, so the cities are charming. In Japan, it is very loose, which is why the cityscape is so chaotic.
However, since Japan is a country with many earthquakes, the construction laws are very strict.
The common point between Japan and other countries is the problem of material waste and how it affects the environment. Like other countries, Japan is aiming at becoming carbon neutral and using more wood. Japan has huge stocks of wood, which could make it easier.
How the Concept Applies in Real Life
What was your first project?
It was for an English language school in Kobe called Olympian Language Center. Its director, Paul, a US national, owned a four-story multi-tenant building in Kobe. His dream was to run his language school on the first floor by daytime, and transform it into a bar where you could speak English at nighttime. On the second and third floors, he wanted to create a sharehouse for English teachers to live directly on site. And he also wanted to build another bar on the rooftop.
He was trying to do all that by himself, but after four years, he could only build his English language school, which took most of his time. His students enjoyed the school lessons, and he had a lot of fans. So, I proposed to him that we would do it. I would create the general design, and we would gather other people to build his dream. We did not ask him for any pay, only for money to feed everyone and to buy the construction materials. We started by making the bar on the first floor. Paul was very satisfied with the result, and we kept working on his building on the weekends.
When people have the same objective of making something and working on it together, they become a community.
We did not only work but also had fun from time to time. For example, after cleaning the rooftop, we cut some bamboo and had a nagashi somen party. People kept helping us because everybody was welcome, whatever their nationality, and were having fun. During the day, we worked on the construction. At night, we gathered around a drink, talked about what we would do the next day, and proposed new ideas. It was close to what we do now, which is living directly on site.
We cleaned the rooftop, started growing vegetables, and even built a living wall there. With time, our techniques kept getting better. We became open to getting new inspiration anytime to improve the atmosphere of the place.
All the participants felt the experience enriched their free time: instead of just spending money to have fun on weekends, they spent it meaningfully, building something, and having fun together. We also noticed that building something was a new way to communicate for people who did not speak each other's language. When people have the same objective of making something and working on it together, they become a community. Many people found that interesting, and from then, we started getting requests from clients.
What other major projects did you work on before renovating a whole village?
Another exciting project we worked on was building a bouldering wall for the international school Deutsche Schule Kobe International. About 130 kids from six to 12 years old study there, half of which are from other countries. Their physical education teacher contacted us to build this wall because the school's playground's surface was tiny. His idea was to use a vertical surface for the kids to have more space to play.
We involved the kids in the process. The older kids tried climbing during their physical education class. They designed several routes of various difficulties, for them and also the younger kids. They created a map, and we used it for reference when building the wall. The other kids designed and painted the decorations of the wall during their art class. Other teachers, too, participated by waterproofing the wall.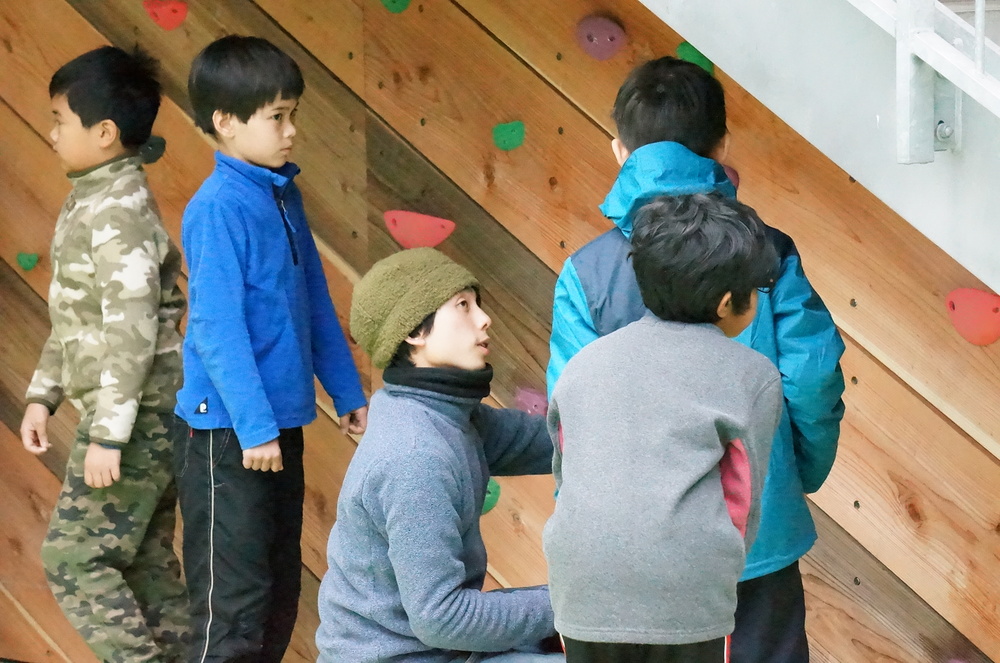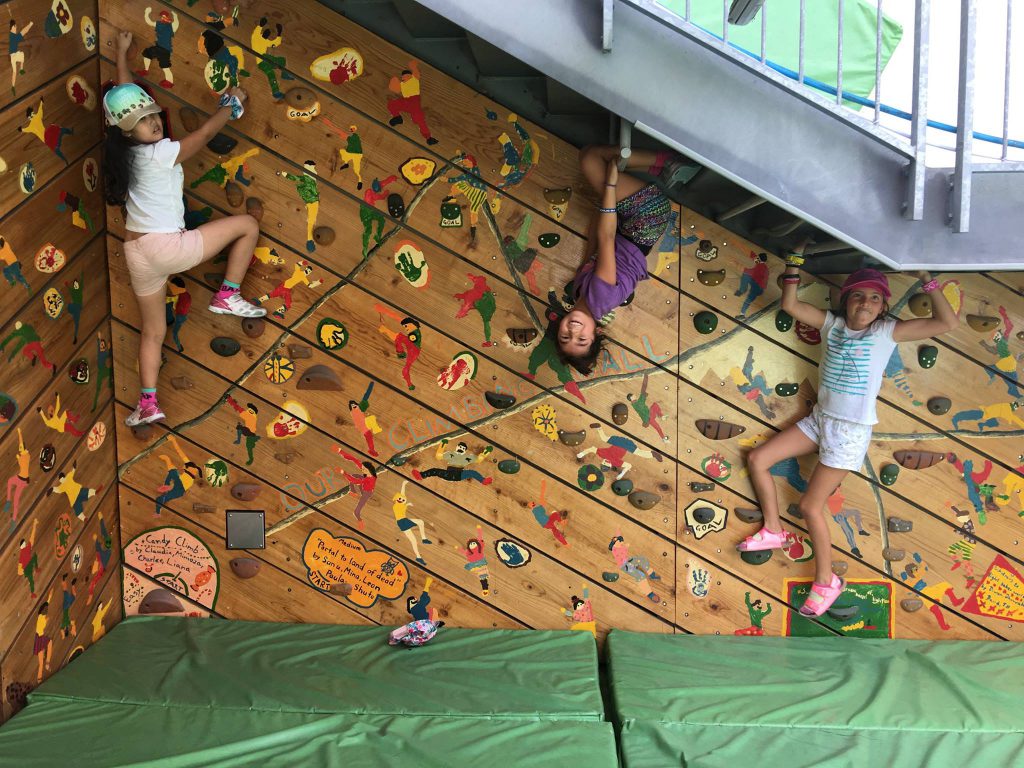 We learned a lot during this project because it is an excellent example of many different construction tasks. There is no need for everybody to do the same. The key is to share the tasks among everyone according to their talents and capacities so that many different people can participate.
Another exciting project was for J&F OSAKA, at a sharehouse that can house up to 100 people! It had been built 25 years before we worked on it, way before sharehouses became a thing in Japan. It was becoming harder for them to attract new residents because the cafeteria was looking old and unattractive in pictures. The owners asked us to renovate, and I proposed building a bench to transform the cafeteria into a living and dining space. I also offered to create a counter between the cafeteria and the kitchen to give it a dining kitchen look.
The problem was that they did not have money. They only had 400,000 yen! However, we were very motivated, so we decided to focus on the bench. It was 15 meters long, and the challenge was to find very cheap materials. After a lot of research, we came across wooden sticks used between planks when drying them. We managed to buy 900 of them for only 10,000 yen.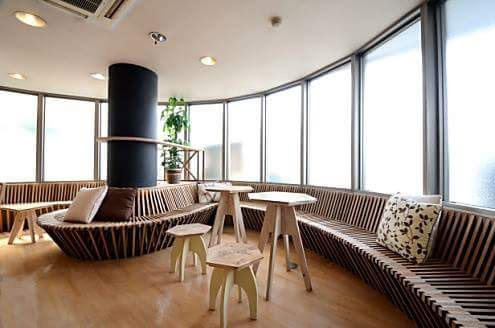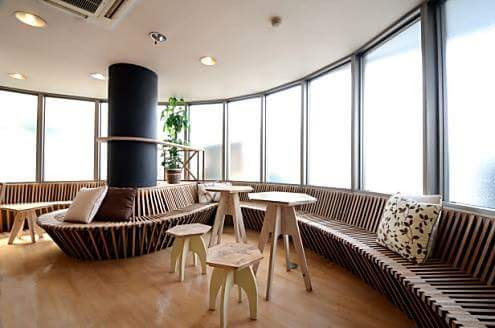 At the time, the sharehouse only had 40 residents, and we sent our member Midori to live there for a week and try to convince a few residents to help us build the bench. She managed to become friends with 10 people. In the end, 30 people came to help us for three days, cutting the pieces of wood and assembling them.
People found it so fun they wanted to do more. We got some extra money, and we built new furniture together. It changed the way people behaved in the cafeteria a lot, especially how they cared for the furniture. If someone was about to put their pan directly onto the table, other people would say, "What are you doing? Be careful; I built that table!"
If someone has nothing to do, they will start chatting or fooling around, and that is how accidents happen. It is our job to provide everybody something to work on.
What is the key to managing people on such projects?
As I mentioned earlier, we make sure that everyone has some work to do. Sometimes, we have 30 or 40 people working on the same site. If any of them has nothing to do, they will start chatting or fooling around, and that is how accidents happen. It is our job to provide everybody something to work on. For example, we can make eight people paint a counter, although only one person would work on it for half a day in the professional world.
The fact that many people are working simultaneously also influences the design. We can build objects that would be very expensive if made by professionals. They must take the number of employees and the time it takes into account.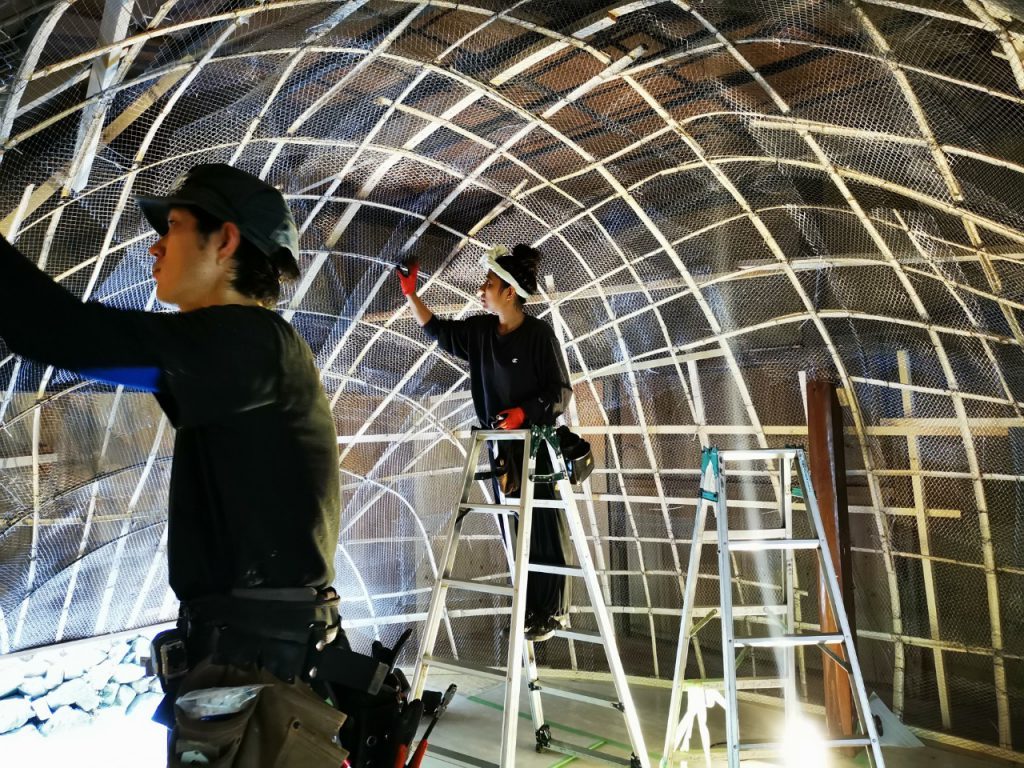 So, are you saying that even someone like me, who cannot do DIY at all, could join one of your construction sites?
Do not believe you cannot do it; there is no such person! Anybody can participate. And it is the people who had the least experience at first who are the happiest when they become able to do a lot of things.
The Challenges of Renovating a Small Village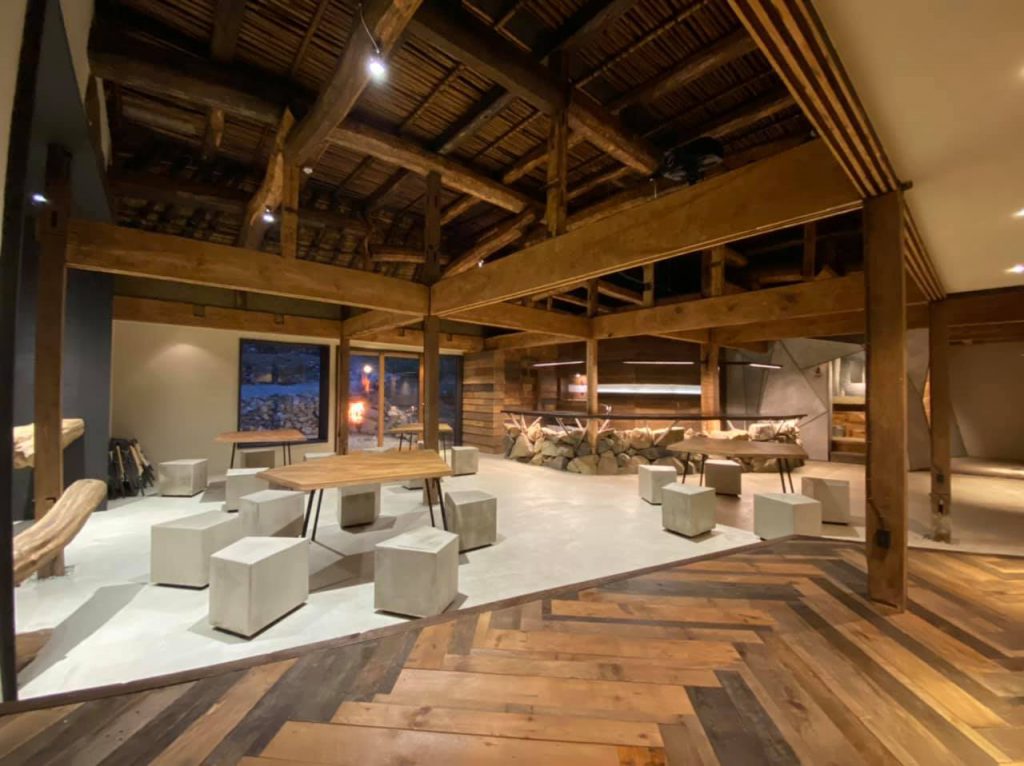 I have seen people renovate Japanese kominka [traditional folk houses] before. Still, it is the first time I see people renovating a whole small village! How did you get involved in building glaminka SAYO shuuraku?
We were approached by Mr. Ono, who piloted the first glaminka project. He had invited us at the time, but our schedules did not match. We asked him to contact us again for his next project. Two or three years later, we visited different places to find the ideal location for the second glaminka.
One of his acquaintances proposed to use this abandoned village. In Japan, there are more and more abandoned villages. That one had been empty for about two years. The village counts 13 houses, and the project consisted of renovating six of them.
This time, it was impossible to build a workshop or invite people on Facebook because of the pandemic. So, on top of the TEAM Clapton members, we recruited seven professionals to help us, and 10 people to work as part-timers. There were about 30 of us living and working in the village.
The Japanese ancient folk houses were super sustainable. Everything about these houses is part of a cycle.
What are the charms of kominka, the ancient Japanese folk houses?
They are more than charming buildings in which you can create a pleasant atmosphere. The more you know about them, the more complicated it gets. The kominka were super sustainable. I am not a specialist in how people lived in older times, but everything about these houses is part of a cycle. For example, there was a space near the homes to grow straw, which would be harvested every year and stocked under the roof. After 15 years, you got the ideal quantity of straw to renovate the roof. After the renovation, the old straw from the roof became fertilizer for the fields.
In the middle of the kominka, there was a place called the irori. It is a traditional sunken hearth where people used to cook, warm themselves, and get together. It also had the effect of repelling insects. When people stopped using them, insects came back, and the houses started deteriorating.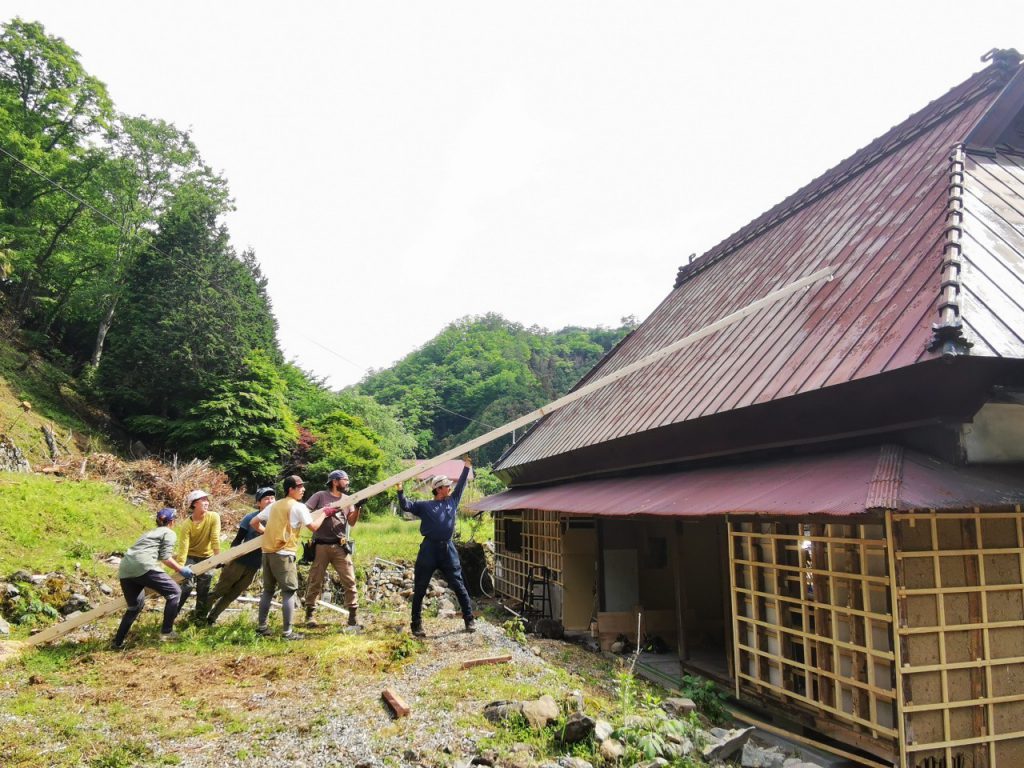 Also, people used local materials to build these houses. So, the kominka look very nice visually. Their real charm lies in this practical system linked to local countryside life, the surrounding fields, and such. It represents a whole lifestyle.
So, for this project, we tried to keep this spirit by tending fields, for example. We made sure to proceed slowly and test a lot before deciding what was best for the houses.
I would also like to add that when an earthquake occurs, the kominka move alongside the tremors, which was a way to prevent them from collapsing.
When renovating folk houses, are there any specific points you make sure to keep in mind?
We try to use local materials on all projects, for example, using stones from the nearby river. For glaminka, we used local straw on the walls. There was plenty of straw left under the roofs.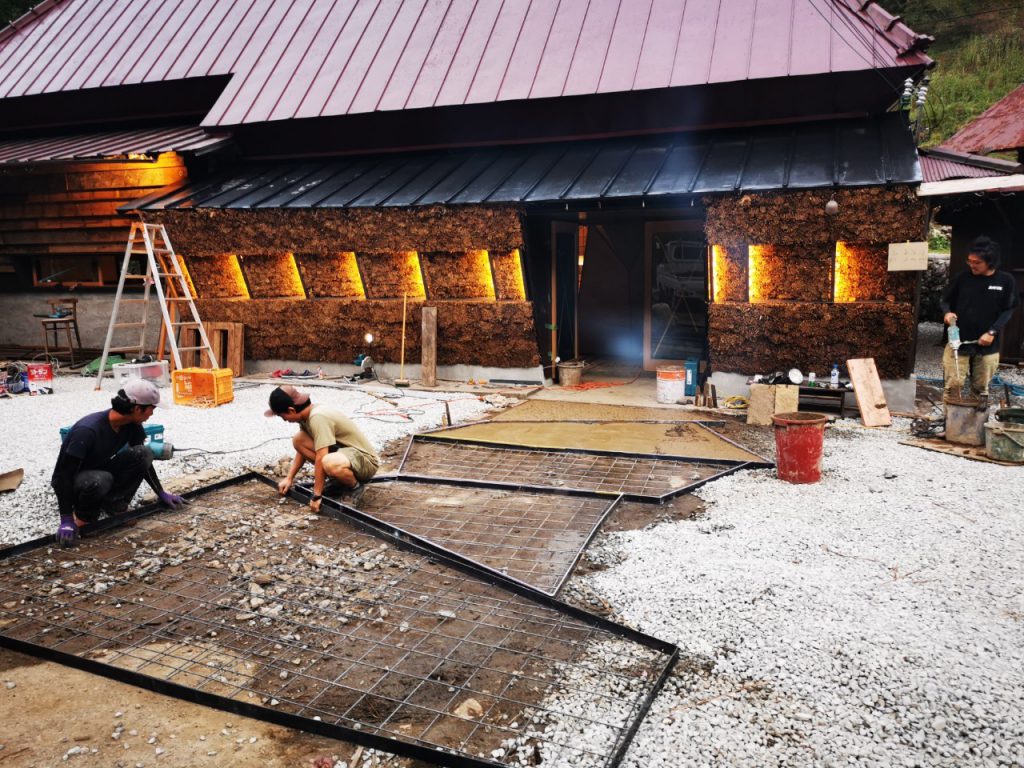 It was important for us to keep the original textures of the materials we were using, not stick things on the wall to pretend it was made from another material. To do that, we had to use real concrete, metal, wood, or stones, even if they were cheap.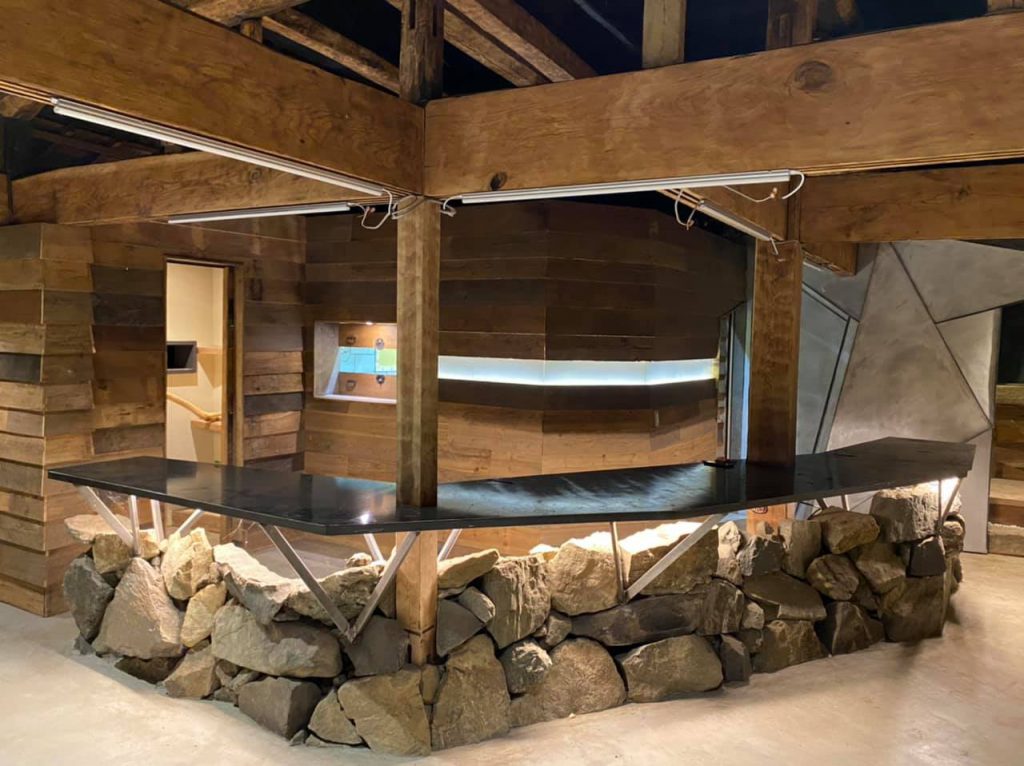 What were the joys and difficulties of this project?
This time, most people were not used to sharing the same lodgings, which was stressful for many. We had to make sure that the way of living was excellent for everybody, so we could all work smoothly. First, we had to make sure the food was satisfying and that people in charge of cooking would change regularly.
Once a week, people gathered in clubs to have fun inside the village, such as camping or building a pizza oven. We also organized a sports competition every month to have fun together and do something other than work.
Building the community was more challenging than building the architecture.
So, the most challenging part of the project was working with everybody. Especially with students because they tend to argue a lot [laughs]. It was tough being the mediator between them. They were there as interns, so I wanted them to have the most meaningful time possible. We must provide them with a good experience since we do not pay them. Building the community was more challenging than building the architecture.
But spending six months with them was also the most fun: being in nature, eating together, drinking tea, and watching the scenery during breaks, or jumping in the river when it was too hot, and getting in the sauna at night. It was a fantastic way of life, and sharing these moments with everybody has become a precious memory.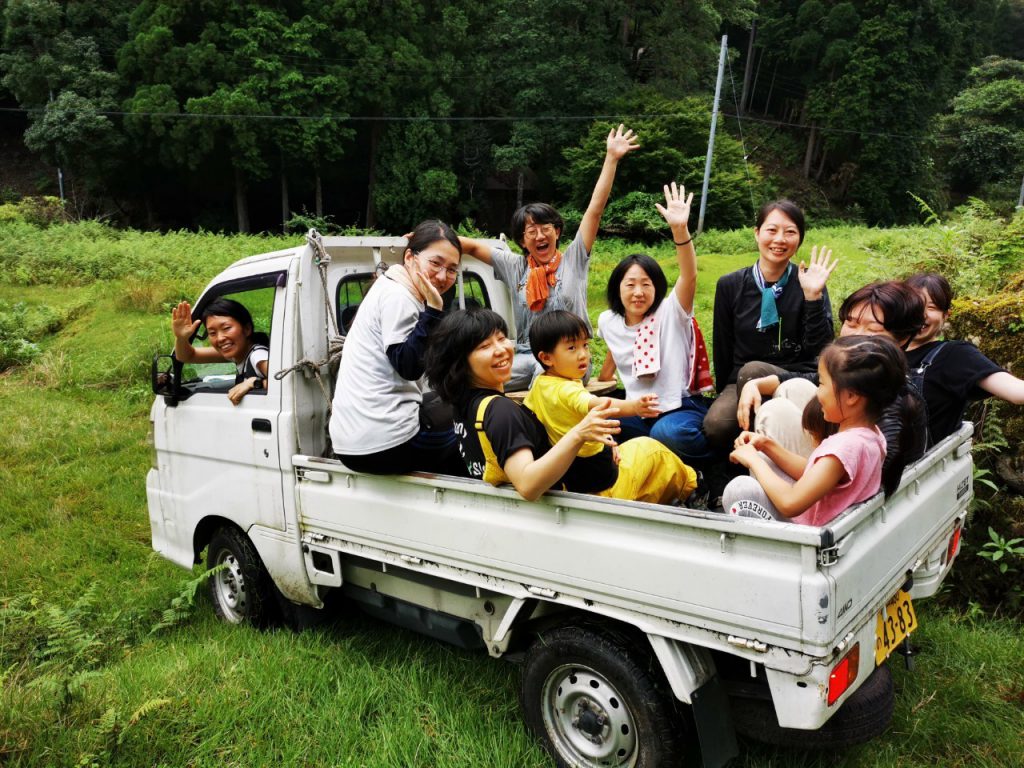 Was your family living with you on site too?
Yes! I have two daughters, and they lived with us. On weekdays, my wife looked after them. But on weekends, the team member who used to be a kindergarten teacher took care of the kids, and my wife worked on the construction site. They were everybody's mascots [laughs].
The kids were living their best lives. They were able to play near the river, with the earth, surrounded by many people. They came back covered with dirt every day [laughs].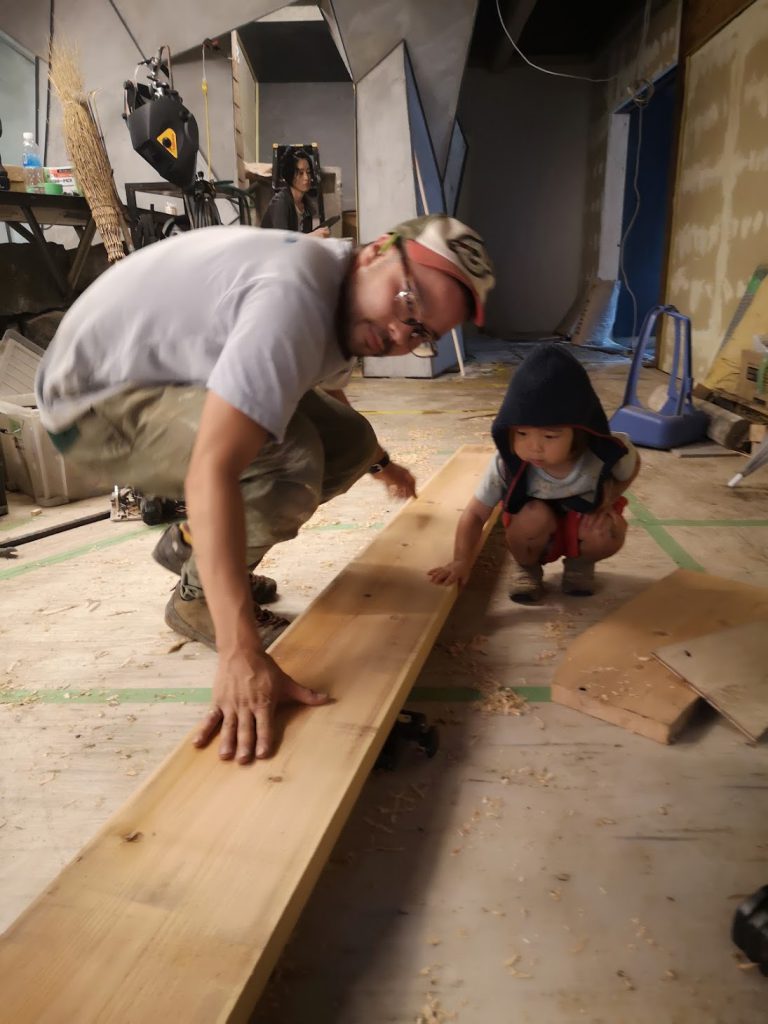 Still Only the Beginning
What are your dream projects for the future?
We would love to work on a city hall or a library, something that citizens use. Instead of using a lot of their tax money, people could come together to renovate their city's buildings. So, we would like to be able to manage up to 100 people.
Closer to us, what is your next project?
From next July, we will be going to Tama, in the West of the Tokyo area. There is a place with many housing complexes, but the population is aging and decreasing, so their supermarket has disappeared. We are going to use the space where this supermarket was to create a community center. There will be a support center, a café, and a table tennis center.
The whole project will probably take five or six months, but professionals will be building the foundations in the beginning. The do-it-together period will probably be about three months.
Maybe I will join you in autumn then!
You MUST join us! [laughs]
I Want to Join Too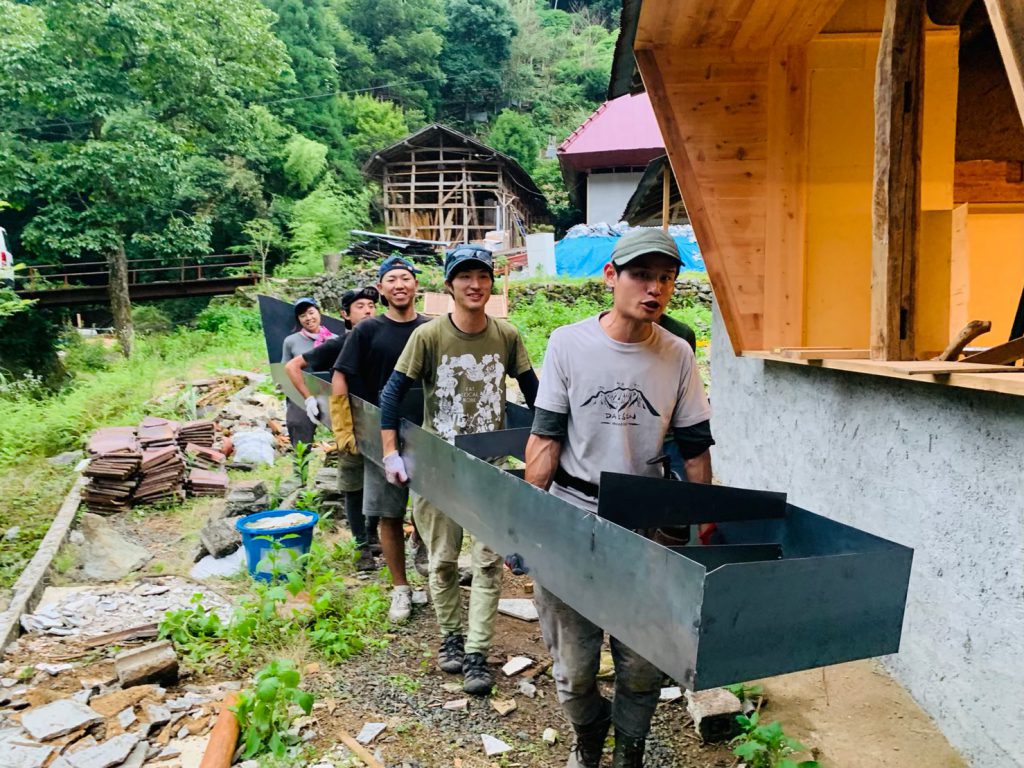 It was interesting to hear Mr. Yamaguchi talking about how he feels Japanese people are becoming more isolated and individualistic. From a foreign perspective, Japanese culture is regarded as valuing the group over the individual. His point of view is even more valuable as he lived in England for several years—where the culture is supposedly more individualistic.
As I have stated in a previous article, it is true that the tradition of trying to get on well with one's neighbors, especially in the cities, is becoming more the exception than the rule. In this context, TEAM Clapton's "do-it-together" appears as a novelty even though it takes root in ancient practices. But since the number of its members keeps increasing over the years, I hope that their "DIT" way of life will reach more and more people and inspire others to do the same.
I am personally very intrigued by the fact that anybody can join, even without any experience. I would like to put this fact (and myself) to the test next autumn and join the team in the Tokyo area for their next project. I will make sure to let you know what it is like from the inside!
---