Maybe you do not know his name, but if you like Japan or cute illustrations, then you probably have already seen some of his works online. Shinji Tsuchimochi is a Tokyo-born illustrator who started drawing scenes of the Tokyo traditional districts as a way to express himself beside his main job—painting backgrounds for Japanese animation series. His cute, nostalgic depictions of the backstreets of Tokyo have won him fans all over the world and thousands of followers on his Twitter account.
Now, he is working on a new project that aims to revive the old art of ukiyo-e [woodblock prints] in our modern world. Read on to discover the creative world of this discreet illustrator.
Drawing the "100 Views of Tokyo"
You have been drawing since you were a kid. Could you tell us more about the path that led you to become an illustrator?
At first, I drew a lot of manga because I liked them a lot. In middle school, I started liking art and looking at ukiyo-e and Hokusai's manga. I got really interested, and when the time to enter university came, I decided to study it at a deeper level. I studied traditional Japanese painting and its art materials at Tama Art University. After I graduated, I started working for a company that produces art backgrounds for Japanese animation. After painting backgrounds there for a few years, I started accepting requests for making illustrations as a side job.
Does that mean you created the "100 Views of Tokyo" in your free time?
Yes. When painting for a job, you must follow specific rules regarding the style, and you also have to adapt to what your colleagues are doing. One of the reasons I started drawing the "100 Views of Tokyo" is that I wanted to do something different. I realized that drawing what I liked the way I liked was important to me. Since I was living in a shitamachi [traditional area] of Tokyo at the time, I started documenting it like a diary to make my own creations.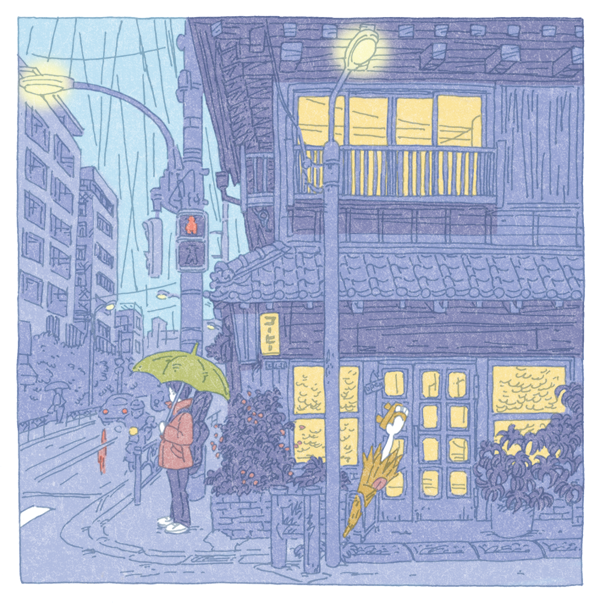 Ukiyo-e are printed by hand by a craftsman, and it makes it completely different from something printed by a machine.
What makes ukiyo-e and hanga [art prints] special for you?
At first, what I found interesting is that the drawings in hanga are different from those in animation, while having common points between them at the same time. There is no career path to become an ukiyo-e artist anymore, so I found it interesting to look for its differences and similarities with modern manga. I also liked the relaxing sceneries drawn by Hiroshige.
Recently, I have realized how different it is from printed art. Ukiyo-e are printed by hand by a craftsman, and it makes it completely different from something printed by a machine. I think it is their major quality.
Could you please explain your creative process for illustrations such as the "100 Views of Tokyo"?
Since I love walking in the city, first, I walk around and take pictures. I choose the scenery that appeals to me the most and draw it by hand using a pencil. After that, I trace it with a pen and scan it. Finally, I color the drawing using Photoshop.
Regarding the "100 Views of Tokyo," at first, I drew places that were close to where I lived. With time, I went further away and chose zones I felt like having a walk in, for example, Asakusa, Kanda, Shibamata… I went to major places like Sensoji Temple in Asakusa, but I also made sure to explore backstreets because I find small, slightly worn buildings very interesting. [laughs] I love to draw minor places that people have never heard about.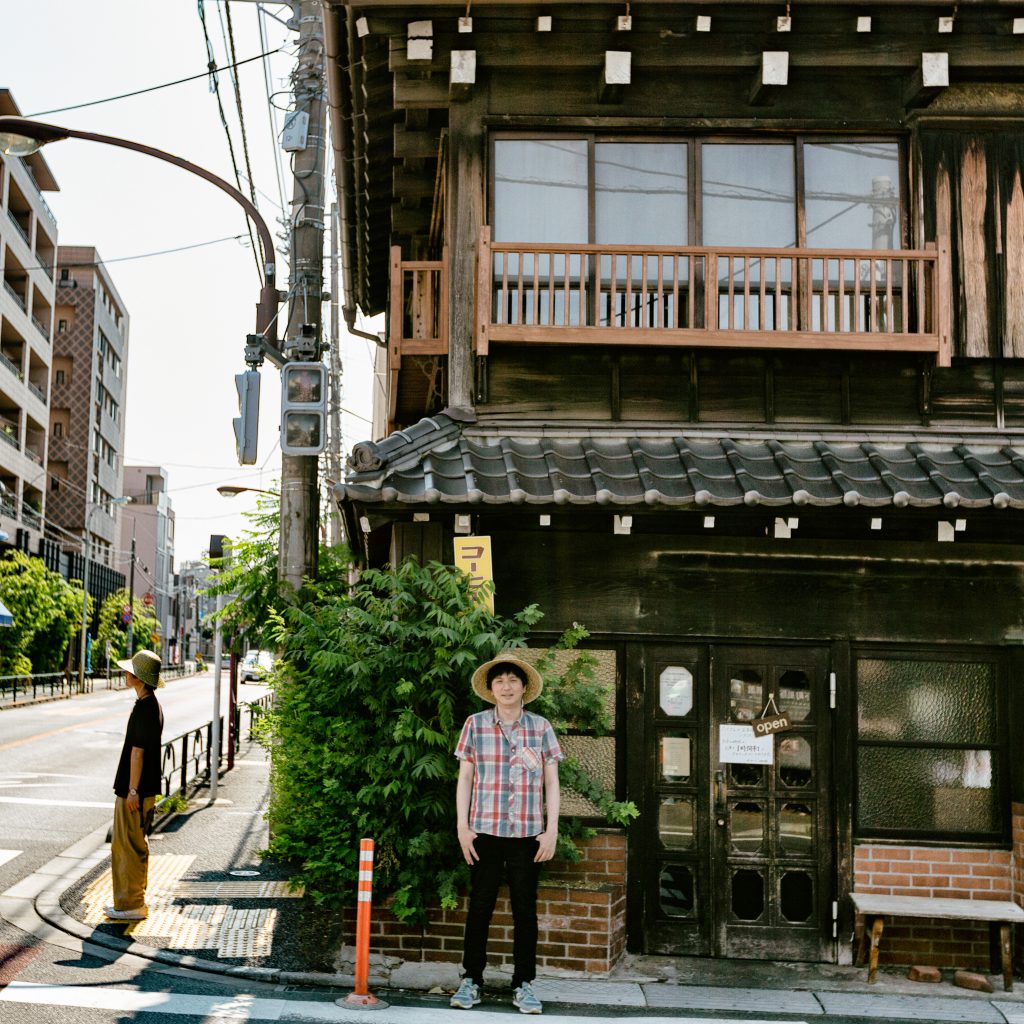 The Nostalgic Spirit of Japan's Past
In Japanese, the title of the "100 Views of Tokyo" is "100 Views of Tokyo's Shitamachi." What do these traditional areas represent to you as someone who was born in Tokyo?
Most of Tokyo's shitamachi are located in the East of Tokyo, and I was born and raised in the West. However, even for me, they have a specific kind of nostalgic atmosphere that is slowly disappearing. In corners, I find places that overlap with my childhood memories. Apparently, foreigners feel it too when they visit these areas, although they were in other countries. Mysteriously, shitamachi seem to reflect something that is not only peculiar to Japan.
I love to find and capture in a frame the places that make us feel like we have gone back in time.
What is your current favorite place in Tokyo?
The first place I lived in was Yanesen. It also has a very nostalgic atmosphere that resonated with me, and it is still the case today. Contrary to Asakusa, you can feel the way the local people live, and there are old shopping streets and cemeteries. I love that place.
A few years ago, I interviewed Allan West, who is a famous painter of traditional Japanese painting. He also lives in the Yanesen area and told me similar things.
I can understand why he would be attracted to that place as it has a lot of old, original landscapes.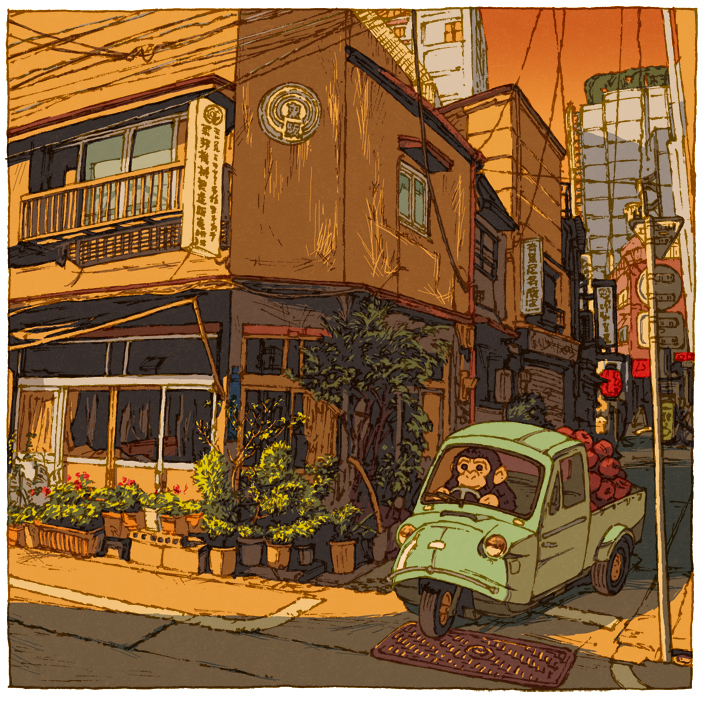 For me, it is like a game to imagine what kind of creature could be there.
In your drawings, you do not only draw landscapes, but also people, animals, friendly-looking yokai [Japanese ghosts and monsters], aliens… Why did you decide to integrate them in your drawings?
I have always liked to draw those kinds of characters, and I wanted to make the scenery look more playful. Putting such a character is like adding the last piece of a puzzle. Drawing a scenery seriously for many hours is not fun, so for me, it is like a game to imagine what kind of creature could be there. I hope the viewers will feel like the creatures naturally belong to the place. [laughs]
It also makes the composition more interesting. Hiroshige did something similar when he drew the "100 Famous Views of Edo": he integrated events and people's lifestyle in his compositions.
Recurring characters are lucky cats or daruma dolls. Do you like these traditional Japanese items?
Yes! As a child, I watched animation with a lot of old tales, and I remember such traditional objects fondly.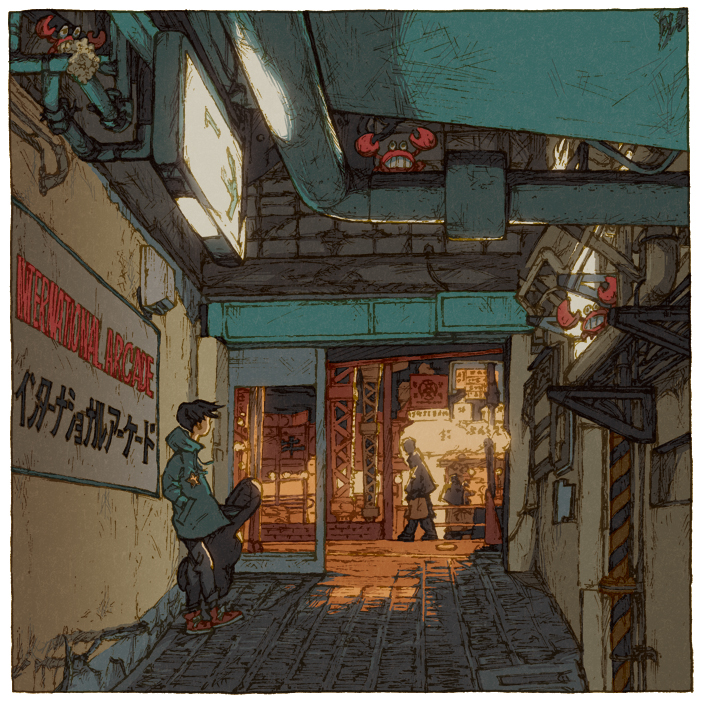 Even foreigners who have never set foot in Japan say they feel nostalgia when looking at your illustrations. What is your technique to convey this feeling in your drawings?
Maybe it is the influence from retro comics which I like very much. I like Popeye, Betty Boop, and Tintin. I prefer this classic, relaxed style, rather than modern manga that are very realistic and shiny. Like authors of old comics, I draw free-hand, without using a ruler, for example. I think it gives a gentle touch. That may be why it looks nostalgic.
Reviving Ukiyo-e in Our Modern World
People who lived during the Edo period consumed ukiyo-e as daily life items. We want to get closer to this concept.
You are now taking part in the Shin-hanga revival project. Could you please explain what this is about?
I have always had the dream to make a woodblock print someday. There is a hanmoto [woodblock print publisher] who studied hanga at Tama Art University and wanted to revive woodblock prints. He met a surishi [woodblock print printer], and they were looking for an illustrator. They contacted me and I accepted immediately.
Making ukiyo-e and woodblock prints as an art movement has disappeared. Of course, even today, there are ateliers where woodblock prints are printed, but they reproduce ukiyo-e from the Edo period, or print famous art pieces as woodblock prints. They make fine art.
On the contrary, the idea behind the Shin-hanga revival project is to create a movement, a culture that can be integrated in our era, something that is art but popular at the same time. I agreed with this vision.
For people who lived during the Edo period, they consumed ukiyo-e as daily life items. We want to get closer to this concept.
When looking at a real woodblock print, you can observe a lot of techniques that are hidden in it. We want to make more people know about it.
I believe your involvement with the movement now goes further than drawing the pictures.
Yes. I realized that if we wanted to create a movement, we needed more illustrators of many kinds, just like during the Edo period where you had illustrators specialized in drawing actors, in drawing geishas, or in drawing monsters. We are thinking of using social media to find such people. Our publisher is very busy, so I proposed being the director for other artists' woodblock prints. Now we are working with the French comics authors from Atelier Sento who are going to draw yokai, and hopefully, the prints will be ready this summer.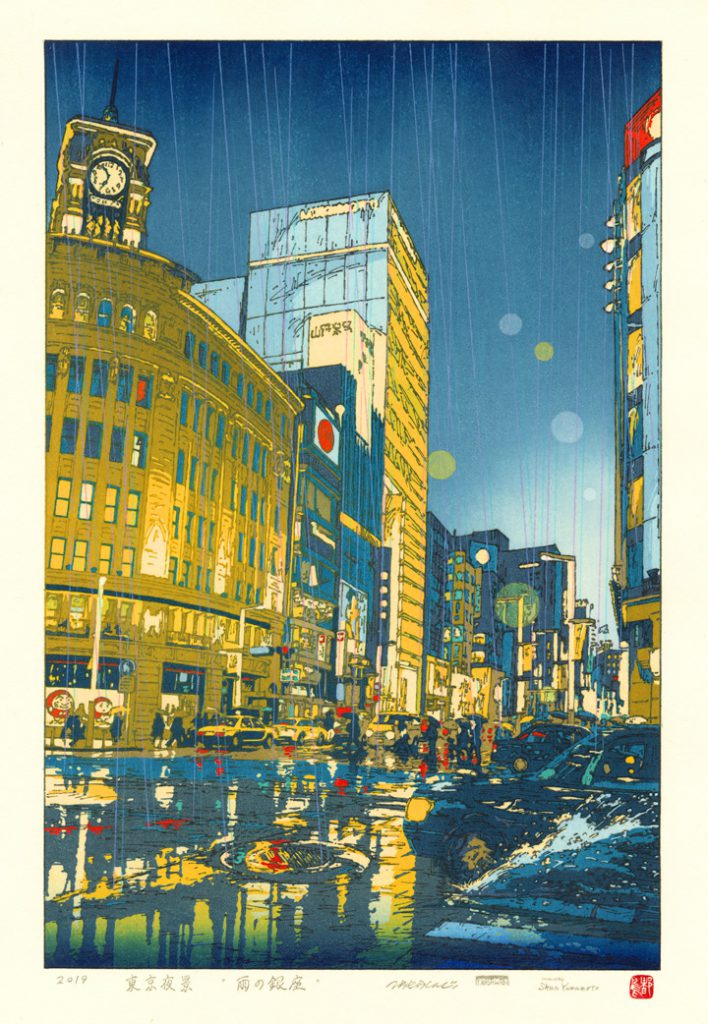 How did your creative process change when making a woodblock print?
In general, it did not change much. However, we use my digital art to carve the woodblocks with a laser cutter. It allows us to go faster. I give the data and they are separated into several layers to make the woodblocks. The publisher talks with the printer to decide how to separate the different layers. The printer makes various tries, especially regarding the color intensity. He is the one who has the longest experience, so we take what he says very seriously.
Since three people are involved, the product slowly diverges from the original vision, and we must be careful. Compared to when I draw alone, there is a lot of talking to find an end point that satisfies everybody, and that I would have never been able to reach alone. The whole experience is very much similar to playing music in a band.
During the Edo period, the illustrators did not give instructions to the printer regarding colors, but they did talk with the woodblock carver to ask them to carve some details carefully, hair for example.
Has your vision of more ancient ukiyo-e changed?
Yes, I have realized how difficult it was to make a single print. [laughs] I would like to make a lot of different prints for people to see, and test a lot of ideas or make a series just like Hiroshige did. The publisher and I both realized how exceptional Hiroshige was to have made so many prints of such high quality.
The video clip gives a glimpse at the different stages of making a woodblock print.
People like Hiroshige and Hokusai must have been drawing at tremendous speed, and it makes me wonder if they could remember everything that they had drawn. It is very similar to the way manga authors who are published every week work today. That is why some of them make a lot of progress along their manga series, and the quality of their drawings improve so much that the characters look completely different. Ukiyo-e artists must have had the same kind of experience, and the same desire to be seen by as many people as possible.
What are your upcoming projects and objectives?
I cannot give any details, but I would like to draw a very huge scenery illustration.
My main objective is to raise awareness about ukiyo-e, and I am thinking about a modern way to do that, for example, by drawing a manga.
Do you have a message for your fans and our readers?
I think most of you are used to seeing ukiyo-e online, and I worked doing that too. However, if ever you have the chance, please go and see real woodblock prints. That is the best way to understand how wonderful they are.
A Discreet Nostalgia
I must confess I was very happy to interview Shinji Tsuchimochi, as I have loved his works since one of his views of Tokyo appeared on my Twitter feed a few years ago. Although he is very active on that particular social media platform, his presence is discreet in the sense that he never puts himself or his personality forward, preferring to share his or others' works. During the interview, he showed the same quality, talking in a quiet, thoughtful way, and always going straight to the point. Artworks reflect the mind of their artist, and Shinji Tsuchimochi's illustrations are a reflection of his own nostalgia walking Tokyo's shitamachi backstreets; his talent is to make us feel it too.
When he mentioned the fact that Edo citizens bought ukiyo-e as part of their daily lives and his desire to do the same today, it reminded me of Atelier Gangu and their desire of putting folkcraft toys back in modern life. We tend to think of woodblock prints as precious, fine art, but I hope the Shin-Hanga revival team will make people understand that, just like folkcraft toys, they are items that can bring a little joy to their homes.
If, like me, you like Shinji Tsuchimochi's works, you can purchase his art book "UKIYO" from the Spoon&Tamago online store. The book includes many works, including the complete "100 Views of Tokyo."
You can also purchase his two woodblock prints, "Twilight at Nihonbashi" and "Ginza in the Rain," from the Mokuhankan Store.
---