Cyril Coppini is a French national who has been living in Japan for more than 20 years. His love for the Japanese language has led him to live in Japan, where he is working as a translator, now specializing in manga. However, his love for words has expanded into another form. Cyril is also a performer of rakugo, a genre of Japanese comedy in which a single storyteller interprets many characters.
Cyril is as warm and good-humored as he appears on stage, and he shares a lot about both of his careers in this interview. Read on to discover the wonderful world of rakugo, learn about the challenges of translating from the Japanese language, and gain some Japanese language study advice.
Discovering Rakugo and Becoming a Performer
In rakugo, the story is explained by the characters themselves, and the rakugoka is playing all of them.
You are a translator, interpreter, and rakugo performer. What originally sparked your interest in the Japanese language and culture?
It dates from when I was in high school, about 35 years ago. I was aiming for what was called bac A2 ["bac" is the French high school diploma] at the time, and my high school majors were languages and philosophy. We were supposed to study three languages to graduate. I was already studying English like everybody else, and I was also studying Italian like most people in Nice, in the South of France, where I am from. However, my high school provided Japanese language classes, which was very rare outside of Paris, especially at that time. So, I thought, "Why not?" I was attracted to doing something that people usually do not do.
Then, I had an aesthetic encounter with the language. I immediately felt attracted to hiragana and katakana, and it awakened something in me. At the end of high school, my Japanese teacher recommended that I specialize in the Japanese language and go study at Inalco in Paris. I went and studied there for five years, although as a typical Southern French, at first, I was reluctant to go to Paris [laughs].
During one of those five years, I got the opportunity to go study at Shinshu University in Nagano Prefecture. There, all the strict and theoretical teachings I received during the previous years at Inalco proved extremely useful and efficient: after only three months in Japan, I became able to speak Japanese fluently. Usually, it should take much more time, but I think the teaching there is of high quality. I also listened carefully to how people around me spoke and did my best to imitate them.
How would you define rakugo?
I often refer to it as "sit down comedy" [laughs]. In France, people usually explain it as telling tales, but it is very different from Western tales. In rakugo, the rakugoka or "storyteller" is not merely telling the story, he or she is acting it. The story is explained by the characters themselves, and the rakugoka is playing all of them. There is no stage set, and the rakugoka is alone on stage, with their folding fan and their tenugui [small traditional hand towel].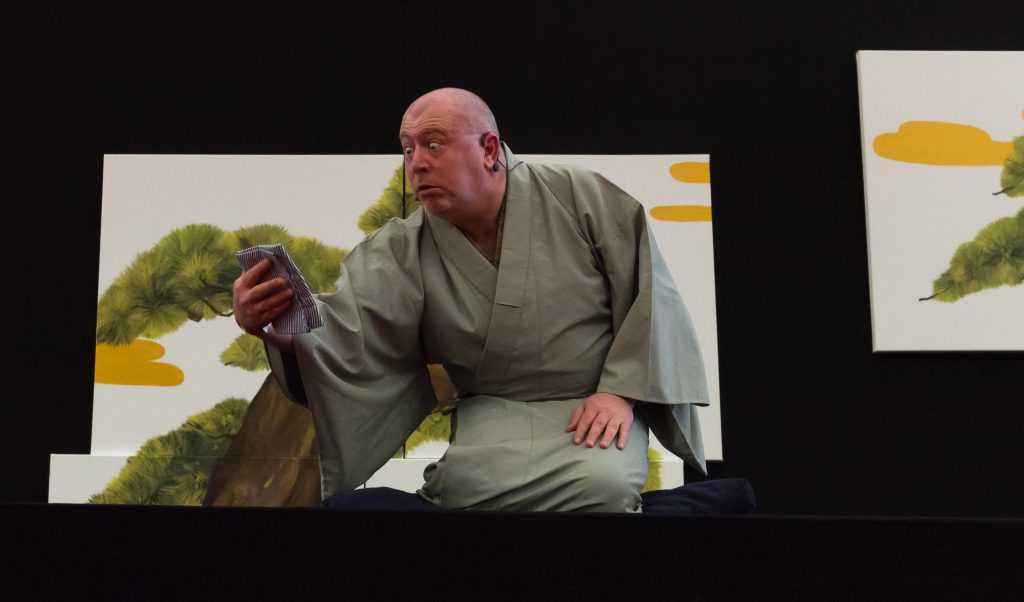 A short video in which Cyril shows how the folding fan can be used to represent chopsticks and other objects.
I understand that you did not follow a classic rakugoka training. How did your interest in rakugo come about and how did you end up performing today?
It started when I was studying in Matsumoto. The main reason I was in Japan was to access documentation to do research about Futabatei Shimei. He was an author and one of the first writers of modern novels in Japan. One of his objectives was to integrate the way people really spoke into his novels. So, I read his essays. He was often mentioning rakugo, and that is when I met that word for the first time.
During this author's time, there was a famous rakugo master called Sanyutei Encho, and his ghost story "Kaidan Botan Doro" was the first rakugo story to be put in written form, by two of the first stenographers of Japan. Futabatei Shimei mentioned it many times in his research. I had found texts and even a tape of that story, but it was very long, and I did not understand anything.
Then, one day, I was watching TV at a French friend's place, and here came these old Japanese men dressed in kimonos who started telling stories and making people laugh. I asked, "What's that?" And my friend told me, "Well, that's rakugo!" "What? That's rakugo?" We were watching the TV show Shoten, which still exists today.
To become a rakugoka, it is a long process in which you must first be the teacher's assistant and fold their kimonos and such.
In 1997, I came back to Japan again, but I was living in Fukuoka, where there are no rakugo theaters. I was watching Shoten on TV every week, but it was not until 2001, when I moved to Tokyo, that I saw rakugo on stage for the first time. I found it so great that it made me want to learn it. However, I soon realized that to do so, it is a long process in which you must first be the teacher's assistant and fold their kimonos and such. I felt that was not for me. I gave up on the idea and just kept enjoying rakugo as a spectator.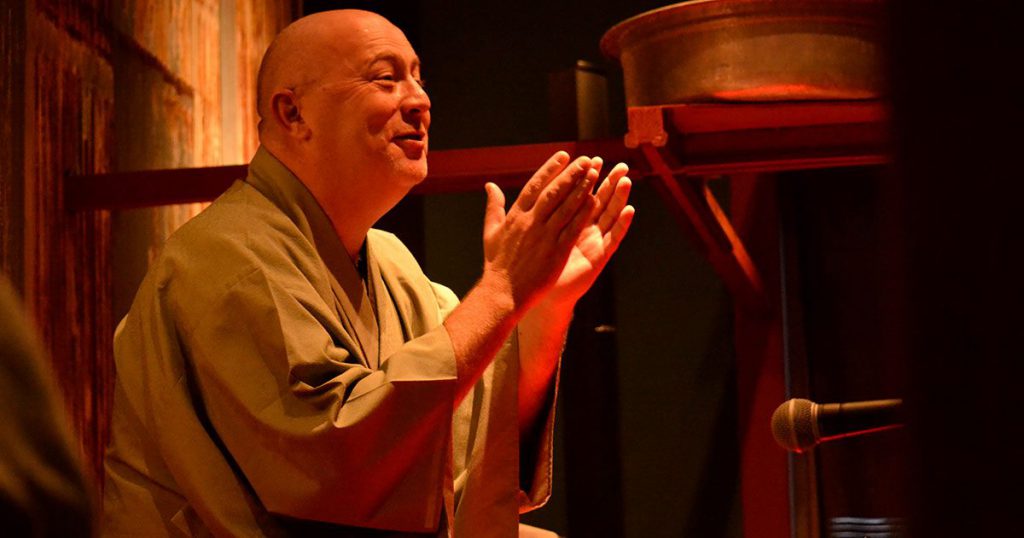 Then, in 2009, I got an email from Sandrine Garbuglia and Stéphane Ferrandez, the latter being a storyteller. They were residents at Kyoto's Villa Kujoyama and doing research about Henry Black, the first foreign rakugoka. Stéphane, the storyteller, and Sandrine, his wife and stage director, had managed to study rakugo with a few rakugo masters who could speak a little English. They had heard of my passion for rakugo and wanted to meet me. So, we met, and we immediately got along very well. We started working together: I looked for rakugo texts and roughly translated them, and Sandrine adapted them in French.
They introduced me to Hayashiya Someta, a rakugoka from the Kansai area. I told him I wanted to learn rakugo but that the strict teaching may not be for me. As a typical Kansai area person, he told me, "That is how they do things in Tokyo, but in Osaka, as long as you're funny, you can go on stage." I took him at his word and asked him to teach me a story and the basics of rakugo for a year. I went to Osaka every month, and he taught me a story that I played at Tokyo's Rakugo Café in October 2011. When I think about it now, my acting was terrible that night! [laughs]
Later, I also met a Tokyo master called Sanyutei Ryuraku, who can tell stories in eight different languages, although he does not speak any. I help him coordinate his shows in France.
Performing Rakugo for a Diverse Audience
In rakugo, personal experience plays a big role in the way you tell stories. How do you adapt the content of the stories to your own experience and background?
There are two cases: when I play in Japan for a Japanese audience, and when I play outside of Japan, which is in French most of the time. I played in English only once, in New Zealand in 2016.
When I play in Japan, I really play the French character and make good use of the clichés Japanese people may have regarding France. I also like to surprise them, for example, by saying that I dislike Paris and explaining why, and making a story out of it. [laughs] I also adapted a story that is called "Jugemu," in which there is a little boy whose name is extremely long and strange. So, I changed the name by using French words and names that even Japanese people who are not familiar with France may know.
The fact that we are free to adapt stories is also fascinating, that is why stories do not get old.
For a French audience, I use the fact that I live in Japan. People invite me to events, even if it is expensive because they want something that is authentic. I have been touring France since 2015, and I notice more and more people want to hear the Japanese language when they come to see rakugo, even if people do not speak Japanese. I do not just use some onomatopoeias, but say full sentences that give rhythm to the story. I also make jokes about the Japanese language.
Rakugo actors adapt stories depending on their bodies. For example, there is a story called "Okiku no Sara," in which a ghost comes out of a well. When I play her, I pretend that she is having a hard time climbing up. What is interesting in rakugo is that there is a lot expressed in the way we move our bodies, although we are sitting on our knees all the time.
The fact that we are free to adapt stories is also fascinating, that is why stories do not get old. You can use your folding fan to pretend it is a smartphone if you like. You can improvise using the current news in Japan too, which I can do when I am playing in Japan, but I cannot do it in France because I am not in the French environment anymore.
Cyril interpreting the English version of "Jugemu" in Auckland in 2016.
You also organize conferences and workshops in order to introduce rakugo to the French public. What is the reception of the foreign audience towards this facet of Japanese humor? According to you, do we laugh about the same things in France and in Japan?
The reactions are positive everywhere I go. However, for some reason, people have the cliché that Japanese people do not laugh, that they work all the time, and are very serious. So, I want to start from this idea to show them that there is a true culture of humor that has been alive for 400 years and that is not as vulgar as what can be seen on Japanese TV.
Rakugo is very different from the stand-up comedy people have gotten used to: the rhythm is slower, and there is no joke every 10 seconds. Some stories will not make you burst into laughter but will just keep you smiling. Some stories are even closer to fables, with an ending designed to make you think.
Personally, I feel like humor in France has become sadder since the boom of stand-up comedy there. It is often dark humor, and sometimes even mocking people. In rakugo, that does not exist. Even the recurring character of Yotaro, who is like the village idiot, is a fictional character and he is never mocked in an aggressive way. It is very Japanese to not hurt someone directly. For French people, that kind of humor feels refreshing.
There is an anime called "Showa Genroku Rakugo Shinju" that was available for several years on Anime Digital Network with French subtitles. Recently, many people told me they got to know rakugo thanks to that anime. More and more people come to see rakugo by knowing generally what it is about, which was not the case six or seven years ago.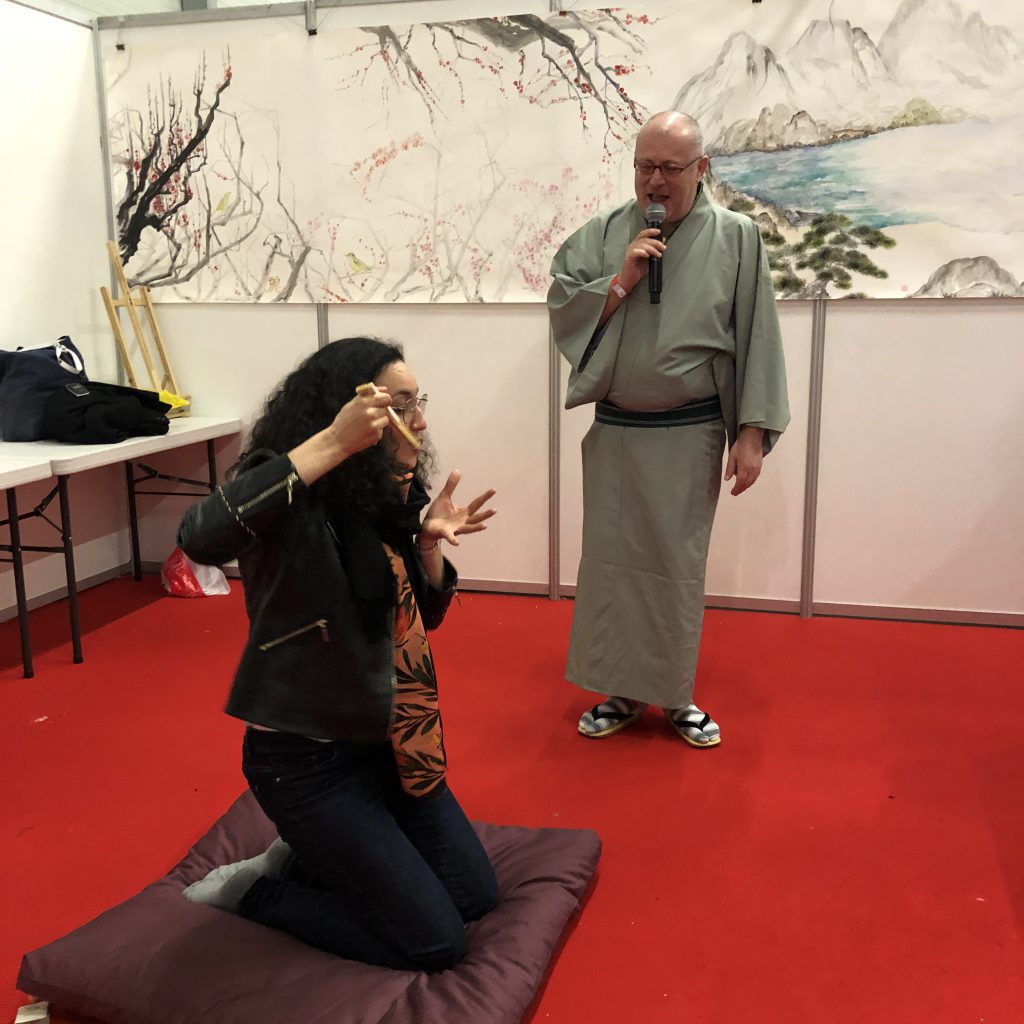 I have the impression that the great majority of rakugo storytellers are men. What is the place of women in this art?
Right now there are about 800 rakugo storytellers in Japan, and 50 of them are women. It is a small number, but it is growing. Since last year, I have been working with a female rakugoka, Kikuhime Hayashiya. When she started her career 30 years ago, there were almost no women rakugoka. She told me the number of women in the field is rapidly increasing. They are often motivated by manga and anime about rakugo.
Kikuhime explained to me that since women are rare, television and radio producers are often more interested in them. That is why she earns her living by doing a daily five-minute show on television, and she is not playing rakugo that much.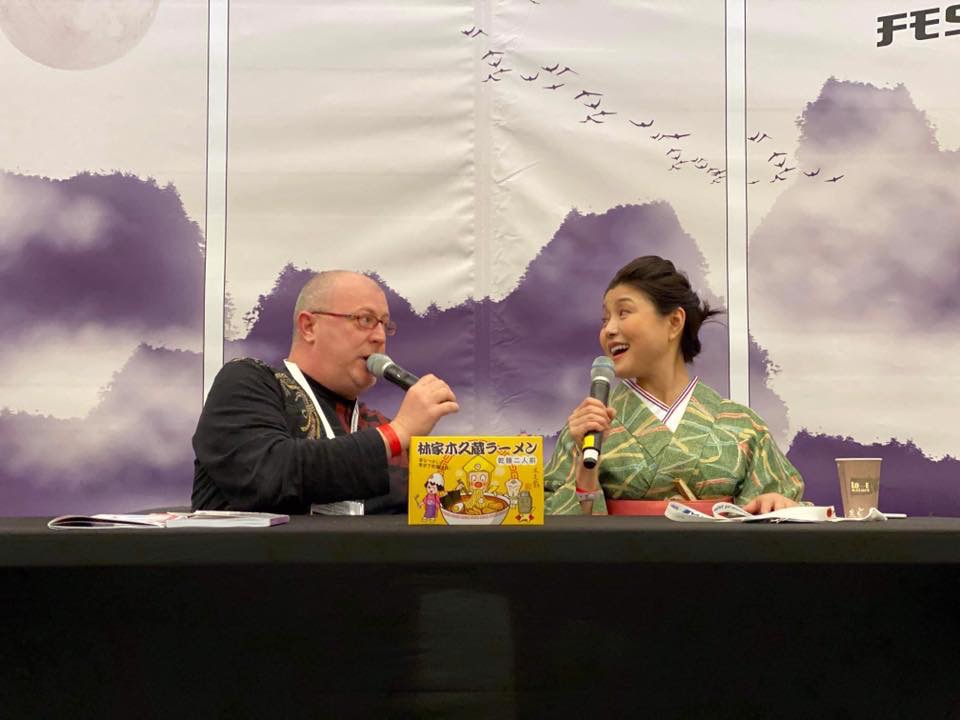 Translating Japanese Manga
In addition to your activity as a rakugo performer, you have also been a translator for over 20 years. Recently, you started specializing in manga and video game translation. Why this choice? Are you a consumer of these cultural products yourself?
Actually, I was never really interested in manga and video games. I started translating manga in 2013, and that is thanks to rakugo. About 10 years ago, I discovered a manga called "Doraku Musuko," which talks about rakugo and is very well documented. It is the story of a young guy who decides to become a master's pupil after seeing him on stage. So, you follow this guy's story, but there are also rakugo stories within the main story, so there are two layers of reading.
I wanted to translate it to make French people discover rakugo. I contacted the Japanese publishing company who told me I should find a publisher in France first. It took me two years to find someone willing to publish it. Meanwhile, I got to know the editor-in-chief of Kana [a major manga publisher in French]. They contacted me one day asking if I was interested in translating one of their manga. It was "Detective Conan" ["Case Closed" in English]. Even I, who did not know much about manga, knew about it. They gave me a translation test and it went well, and I started translating "Detective Conan" in 2013, from volume 75.
I thought that having my name printed on the last page of the manga as proof would help me in asking for translating jobs at other publishing companies. But that was not the case at all! It is a world in which people need to know you to work with you. So, I have been working mainly with Kana for a very long time, although I also have been working on "Doraku Musuko."
Having to translate 'yoroshiku' without any context is quite terrible!
Regarding video games, I started it by chance too. The proofreader for "Doraku Musuko," Dimitri, who only knew me through my translations, contacted me one day because he was setting up a translation team for a video game. A video game usually has about two million Japanese characters to be translated in three months. It is impossible to do it alone. Translating video games is not really fun: you get the text in Excel file form, and usually, you do not have access to the game so you cannot see anything. Having to translate "yoroshiku" [a Japanese expression that can have many meanings] without any context is quite terrible!
I love the Japanese language, so I do not mind translating administrative documents more than I translate manga. However, when you translate manga, you get a unique kind of recognition. When I am invited to Japanese culture conventions as a rakugo performer, the organizers often ask me to participate in conferences about my job as a translator as well.
Recently, there is even a French-language school in Kobe called Amitié that asked me to organize online workshops about translating manga from Japanese to French. I never thought that I would teach translation to other people someday.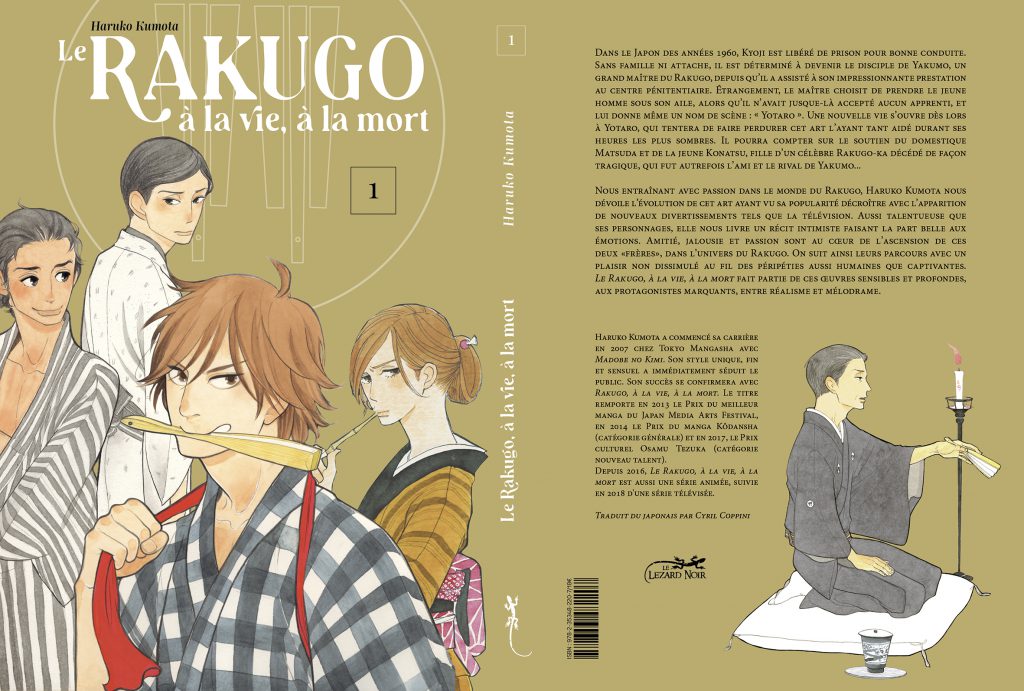 Do you have any other projects for the upcoming months?
I am very happy because I have found a publisher that has agreed to publish the manga version of "Showa Genroku Rakugo Shinju," which in French will be titled, "Le Rakugo à la vie à la mort" [Rakugo to Life and Death]. The first volume will be published on August 18th by Le Lézard Noir editions. They publish a lot of underground manga.
This summer, I will participate in the Japanese culture convention Otakuthon in Montreal, Canada. I went there for the first time three years ago, and this year, they are doing an event online, as they did last year. In Canada, the people have a huge culture of oral storytelling, so they usually are very interested in rakugo.
Then, next year, I have a tour planned from mid-February to mid-March. I will be at the Japan Tours Festival, in the French city of Tours. I have been invited to each edition of the festival since they started in 2016 because they created a "traditional Japanese culture" section from the start. From there, I always try to build some kind of a European tour. You can find all the details of my activities on my official website.
The Unique Aspects of the Japanese Language
A great part of the translating job consists of adapting the text.
For you, what are the specificities of the Japanese language that are the most difficult to translate?
There are a lot! First, there are the typical Japanese expressions such as, "o sewa ni narimasu," "yoroshiku onegaishimasu," etc. It depends a lot on context. If two characters meet for the first time, you can translate "yoroshiku" as "nice to meet you," but in other contexts, it can mean "thank you" or "please."
Then, what sadly gets lost in translation is the nuances expressed by the first-person pronouns. In Japanese, "I" can be said as "watashi," "atashi," "boku," "ore," "sessha," etc. In "Detective Conan," there is a character called Masumi Sera, who is a girl but uses "boku," a usually masculine pronoun. In French, we compensate by making her sort of a tomboy, but it is not quite the same. Some characters refer to her as "the girl who says 'boku'." That is not something you can exactly translate, and you cannot add footnotes explaining Japanese culture and language each time a similar case happens.
That is a common point with rakugo, because thanks to this diversity of pronouns, as a performer, you do not have to modify your voice to show what kind of character you are: am I a samurai, a woman, a kid, or an animal? The answer is already included in the pronoun. Thanks to this, an 80-year-old male rakugoka can play a young courtesan and sound cute! That is all in the kotodama, the spirit of words, something we do not really have in French.
Coming back to the theme of translation, in Japanese, there are a lot of repetitions of the same word in the text, which is something to be avoided in French. So, there is a great part of the job which consists of adapting the text.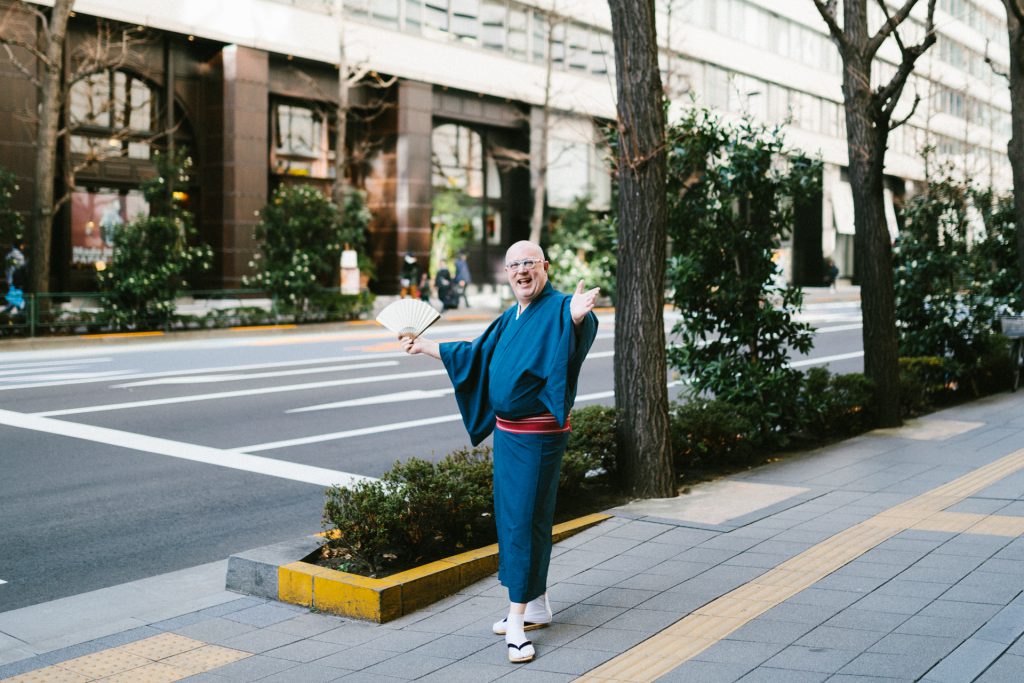 What do you think are the keys to mastering the Japanese language? Do you have any tips for learning Japanese?
Everyone has a different learning profile. However, I would advise people to carefully listen to how Japanese people speak to each other. In every language, I think you need to understand what the rhythms of the language are, when people mark pauses, etc. Then, the best way is to speak as much as you can and emulate the way the native speakers talk. If someday, you manage to use Japanese onomatopoeia in conversation, then you are on a higher level [laughs].
I believe that as foreigners, even if we have been living in Japan for 50 years, we will still make language mistakes sometimes, for example mixing up particles like ni and de, because we are not Japanese and did not get the same language education as them. But if you have the correct language rhythm, people will consider you to speak fluently.
I hear a lot of Japanese language learners say "eeto" when they hesitate to start a sentence, but actually, Japanese people do not use it so much. I would recommend avoiding it.
Another key is to not think in your mother language. It is a very common mistake. I am now teaching private lessons to a French university teacher, and he always keeps asking, "What does it mean in French?" It is better to look at the original Japanese language structure instead.
How would you define or translate "Kokoro" into French?
Well, like everything else, it depends on the context. However, I would avoid translating it directly as "heart" most of the time. I think it is more about something mental, moral even. It is especially visible when you look at component words that use the kanji for kokoro, such as shinpai [worry]. When Japanese people refer to "kokoro no byoki" [illness of the kokoro], it refers to mental illness. Contrary to "heart" that may also refer to the organ, "kokoro" is about something you cannot touch.
Fueled by Passion
I discovered rakugo comedy more than 10 years ago, thanks to the hilarious Japanese TV series "Tiger and Dragon." The show tells the story of a yakuza who wants to become a rakugo storyteller, and each episode follows the pattern of a famous rakugo story. Not only is it extremely funny, but it also does a great job at showing how storytellers can adapt the stories to their own life experiences and modern circumstances. At the time, I was watching it thinking how fun being a rakugo storyteller seemed to be. So, when I recently heard that a fellow Frenchman was performing rakugo in Japan, I was very curious, and a tiny part of me could not help but feel a little envious.
What got me thinking a lot is that Cyril mentioned several times that he has special care for listening and imitating the way Japanese people around him talk. I think that is what allows him to be able to act as many different characters in Japanese, a language that strongly reflects the identity of each speaker.
Talking with Cyril made me realize the passion that is required to become a foreign rakugo storyteller in Japan. Not only a passion for rakugo, acting, and good stories—but a passion for the Japanese language, or rather, the Japanese languages spoken by the diversity of its people.
---