Go Nakano is the CEO and a founder member of Happy Nuts Day, a company that produces peanut butter made with peanuts from Chiba Prefecture.
Go used to work for a big advertising company but decided to leave and create Happy Nuts Day with his skateboarding friends. His aim: to build a company and create products that would reflect his personal set of values regarding honesty and quality.
Now working with people he loves, in a place he loves, about products he loves, he hopes the company will become a success model that will encourage the birth of new regional ventures. He is also involved in an educational project inspiring new generations to follow their dreams.
Read about Go's attachment to honesty, what makes Happy Nuts Day's peanut butter special, the challenges met by Chiba Prefecture, how the company gives back to society, and Go's take on the power of dreams.
Honesty as a Core Value
Mr. Nakano, you used to work for an advertising agency. What inspired you to start your own peanut butter company?
To understand my story completely, you need to know that I went to the US to study after graduating high school in Japan. I went to a high school in the state of New York. At the time, I was already passionate about skateboarding, and I wanted to practice outside of Japan. I was only 17 years old at the time, and my older, more experienced friend told me, "You have not chosen your style yet, but once you are in a foreign country, you represent Japan in the eyes of the local people. Keep that in mind." I did not know what I wanted to do in the future, but from that moment, I got very attracted to this idea of "representing Japan."
When I was a student at an art university, I took a sabbatical year and went to New York again. That is when I saw the UNIQLO [a Japanese apparel brand] flag written in katakana in the middle of Manhattan. I felt very proud as a Japanese person: fashionable people from all over the world could see this shop in what is often called the center of the world, and people were walking with bags with katakana writing on them. I was already studying design then, and I thought it could be the best tool for me to represent Japan.
One day, a skateboarding friend from Chiba brought some local peanuts because their shape was bad, and they could not be sold. We wondered if we could make peanut butter out of it.
I started having the dream of becoming an art director that could proudly represent Japan in other countries. As the best first step towards this dream, I decided to work in an advertising agency, creating messages to be delivered on Japanese people's TVs. I entered quite a big advertising agency and kept skateboarding as a hobby.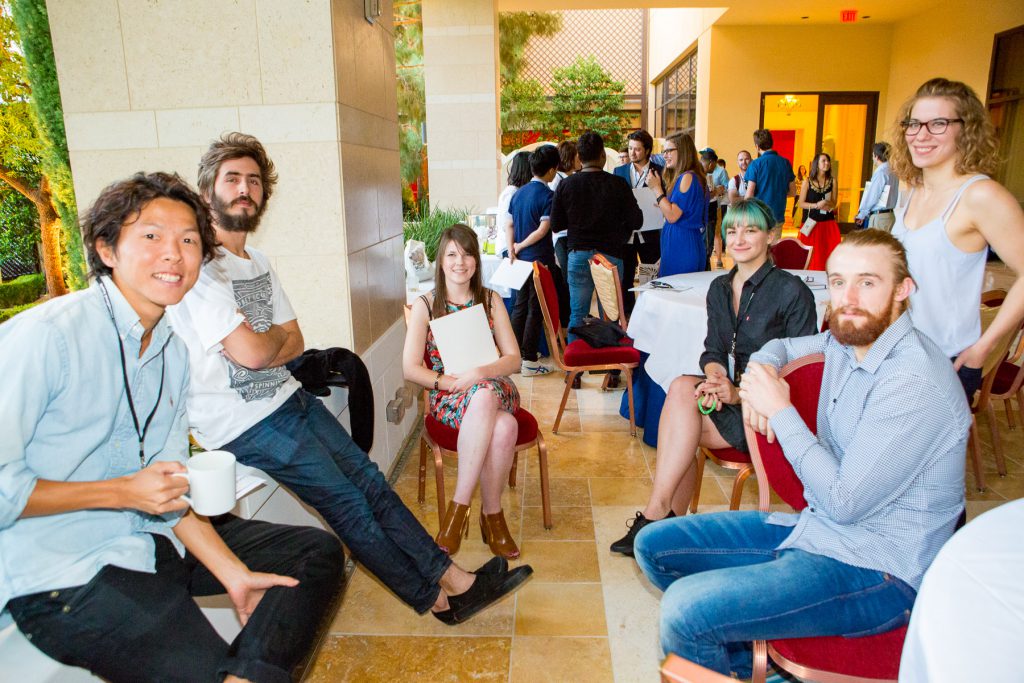 One day, a skateboarding friend from Chiba brought some local peanuts because their shape was bad, and they could not be sold. We wondered if we could make peanut butter out of it, just out of sheer curiosity. After a little research, we found out it was easier than we thought. We made some and it tasted good! From there, we asked ourselves more questions, such as, "Should we add sugar or honey?" The more we played with it, the more fun it became.
Then, we wondered if we could make a little money out of it. We put our peanut butter in small plastic boxes and started selling it at the local roadside station. We received a very positive response. That is when we thought, "Maybe we could make a business out of it! We would be so happy as friends working together." It was the start of Happy Nuts Day as a company.
When we were making commercials, I had to contribute to our clients' companies' philosophies, no matter if I agreed with it or not. That did not feel good.
I was having fun with Happy Nuts Day, and at the same time, my vision of my job at the advertising company started to change. We had to work for big clients, like VISA cards or huge car companies.
When we were making commercials, I had to contribute to our clients' companies' philosophies, no matter if I agreed with it or not. That did not feel good. Maybe I am too capricious, or too honest, but I did not want to call something "good" if I did not think it was good.
I could not help but think, "If this sells a lot, maybe people's health will get worse," "I am saying this food is tasty although it is not." I wanted to use my design skills for something better. Although I learned a lot at the advertising agency, I realized I could not keep working there for a long time. I also wanted to do something more challenging regarding representing Japan to other countries. After four years, I decided to quit.
Also, at the agency, we were often working on 10 projects at the same time, which prevented us from understanding in depth what the philosophies of all these companies were. I felt that was not responsible art direction. Creating my own brand and managing it seemed a good way to become a responsible art director, and could have an influence on the improvement of the art direction system in general.
This challenge is one of the reasons behind creating the Happy Nuts Day brand.
Sometimes, when you take a project too seriously from the start, it prevents you from taking the first step.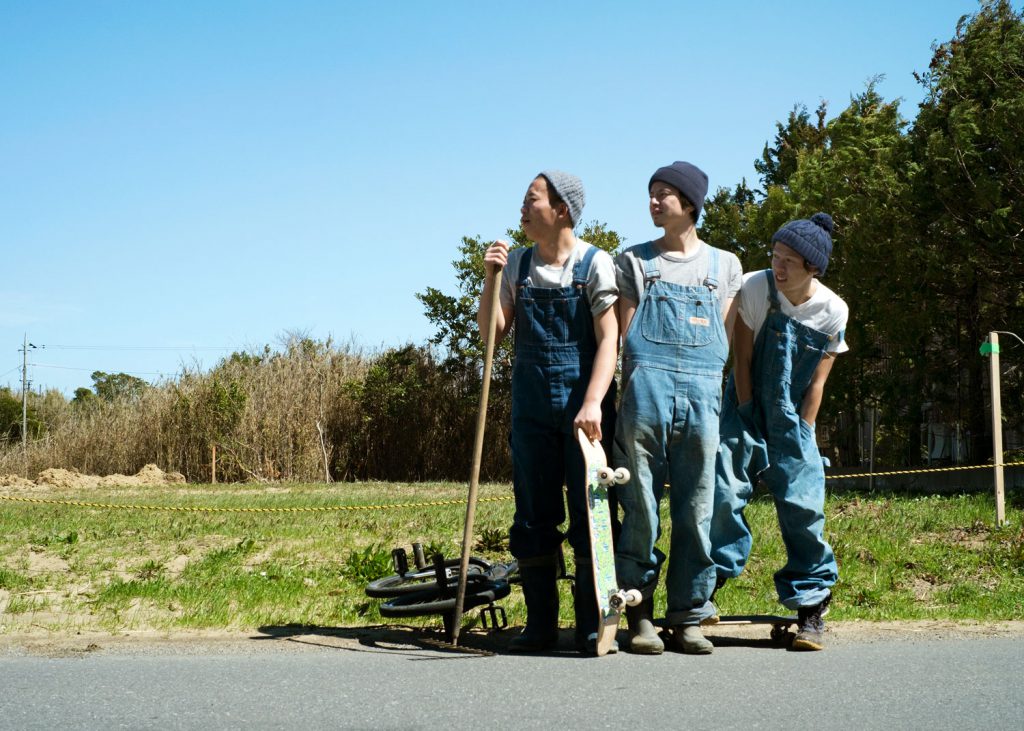 Hearing your story, I feel like curiosity itself led you there.
Yes, we were not too hard on ourselves. Sometimes, when you take a project too seriously from the start, it prevents you from taking the first step. I knew that by thinking too much it would become harder to try something new.
The fact that we underestimated things also came with some drawbacks though. Some aspects we did without worrying revealed themselves to be difficult. But when you meet such obstacles, you have no choice but to overcome them. It was a good way to push ourselves.
Many people come to me to ask for my advice about starting a new business. A lot of them only think about all the obstacles that will come up although they have not started anything yet. That is how you find a lot of reasons to not do something: "I do not have the skills to do that yet," and "It is not the right time." I believe it is best to start by doing things. For example, some aspects we thought would be huge obstacles could be cleared in one day.
I want other producers to think, 'If these skaters were able to build a business this size from peanuts, we can succeed too.'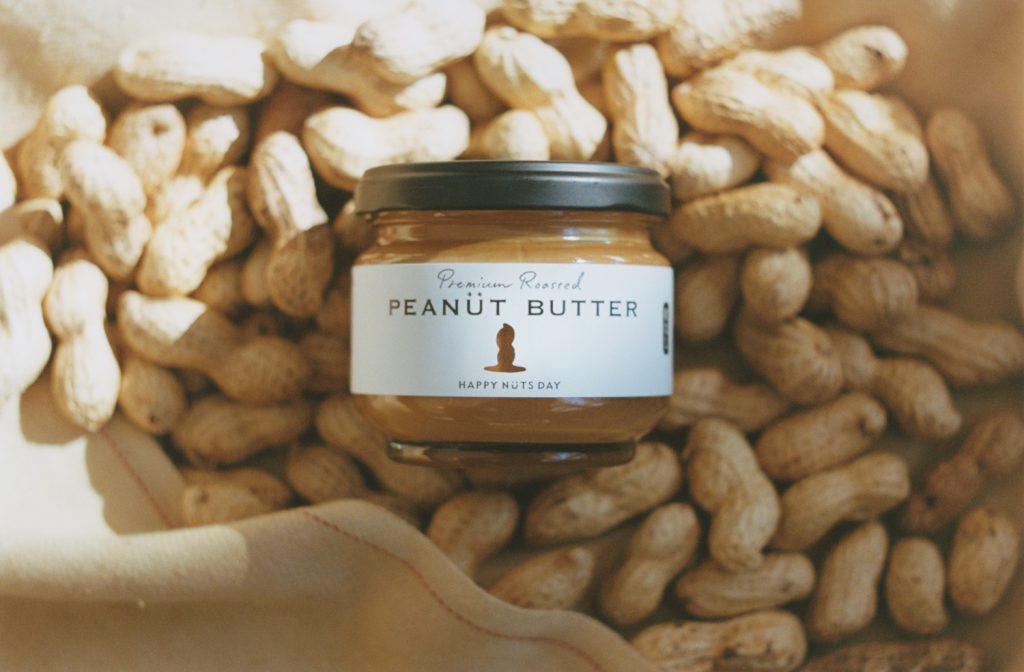 Compared to the peanut butter that are usually sold in stores, your company's packaging and logo are stylish, and its website has a strong identity. What message do you want to convey in your branding?
I would like Happy Nuts Day to become a success story for rural industries in Japan. I want other producers to think, "If these skaters were able to build a business this size from peanuts, we can succeed too." It would be great if we could encourage people to start something new.
Regarding the branding itself, I believe it is something that was built in the past: it reflects the wonderful path that Happy Nuts Day has taken so far. Happy Nuts Day has been existing for more than eight years, and the brand has matured with time, through our successes and our failures. That has shaped our unique identity. At first, we hesitated a lot, and went in different directions, but that allowed us to know who we are. From now on, I would like to make this identity stronger, and I am thinking of updating our design next year. Still, we always keep in mind to stay true to ourselves.
However, thank you for finding our current packaging stylish! When you think about it, we only use peanut butter for a very short time in a day. The rest of the time, it is just part of the home interior of the kitchen. So, I thought about a design that could enhance the interior. Also, Chiba peanuts are high grade. They cost eight times the price of peanuts produced in China. So, it is necessary to give the packaging an appearance that reflects that.
The role of a brand is to keep charming people.
I have remarked that it is the purest messages that penetrate minds more easily. So, we make a lot of efforts to make what we think, what we do, and what we aim for as clear as possible. Everybody notices lies, even if they look virtuous. Happy Nuts Day is still a small company, which is why we must make sure to convey the purest message.
For now, shops all around Japan have sympathized with us the most. They understand that our business is not only about a product, but also about our thoughts and feelings. From that point, this sympathy reaches our customers. I hope that in the future, this will go further than sympathy to expand into coexistence because the role of a brand is to keep charming people.
Innovating Recipes and Products
Since our name included 'Happy Nuts,' we wanted to make something good for the health.
Happy Nuts Day peanut butter is made with peanuts from Chiba Prefecture and sea salt. What are the characteristics of peanuts from Chiba Prefecture and why did you choose them?
They have a deep sweetness, and a high flavor once roasted. To tell the truth, peanuts can be grown anywhere. But Chiba's peanut farmers have a lot of knowledge, for example, in the way they dry the peanuts for three weeks after harvest. I think it is the reason for the great taste of Chiba peanuts.
This is the first peanut butter recipe in Japan that uses beet sugar and no additives. Please tell us more about your commitment to this.
The truth is we had no knowledge regarding additives. We did not understand the importance of having a long expiry date. However, we knew that beet sugar was gentle for the body. Since our name included "Happy Nuts," we wanted to make something good for the health.
We tried different kinds of sugar, such as maple syrup or honey. We wanted Chiba peanuts to keep the main role, so beet sugar, which is more discreet in taste, was the best.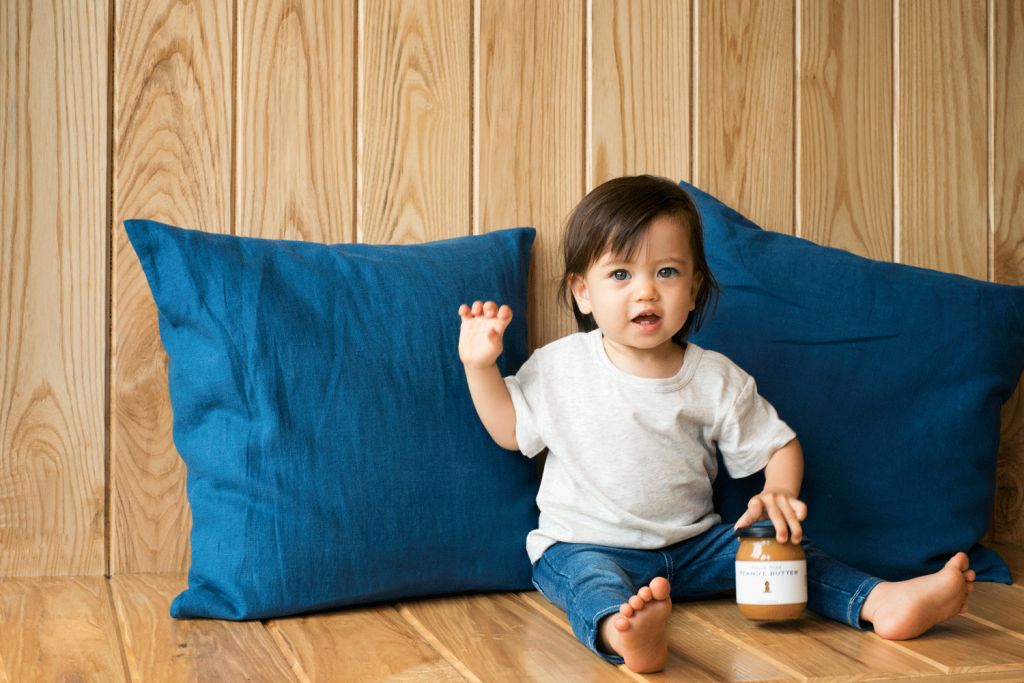 Love that is not backed by power is empty, and power that is not supported by love is sterile.
Recently, you started selling Happy Nuts Biscuits too.
We believe we are making good products, but as a business, we are still not that strong. Making good food is not enough to protect everybody: our staff, our part-timers, and our business partners too.
The cost price of peanuts depends on the quantity that is produced, and that price becomes increasingly expensive. Our peanut butter is made of almost only peanuts and is affected by the cost price of peanuts a lot. We needed to think of a new product that would make people happy while not using as many peanuts in its recipe.
In Japanese, there is an expression that I like a lot: "rikiaifuni" [力愛不二]. It means that love that is not backed by power is empty, and power that is not supported by love is sterile. We want to have power filled with love. We want to be able to offer jobs to more and more people, to be strong against adversities, and encourage the creation of new businesses.
Some people are already imitating what we are doing, but we want to make it more obvious through numbers. Then, people will think that going to rural areas of Japan is more fun, more comfortable than in Tokyo, and they can make money there too.
Also, the biscuits are cheaper than the peanut butter, so they will allow us to expand our market.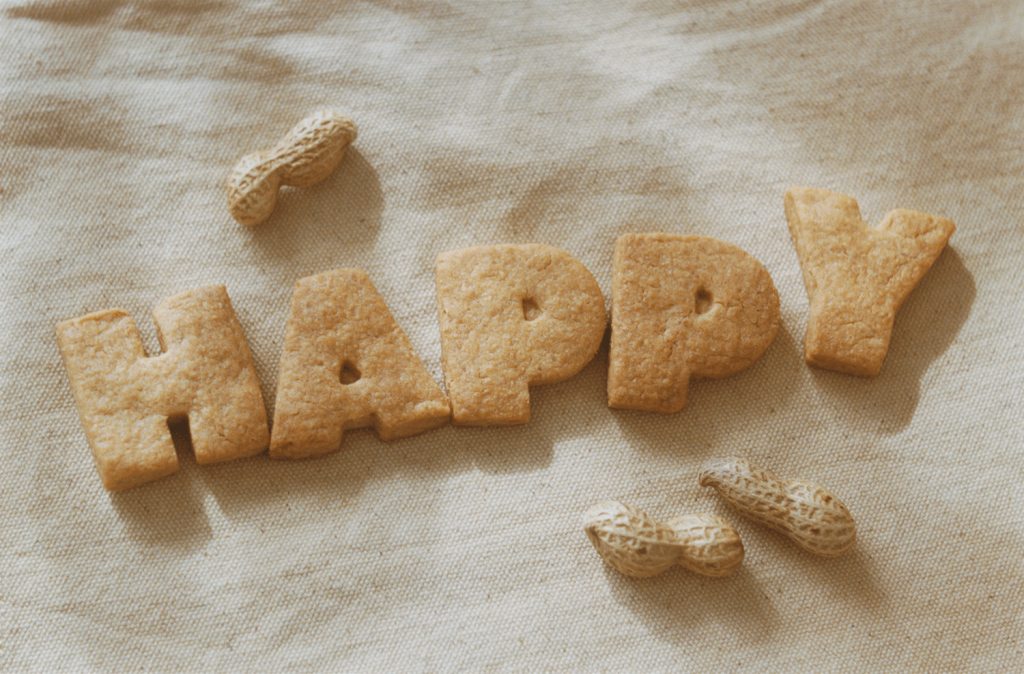 Witnessing Changes in Chiba
It is hard to tell how the future will be because of climate change, and the quantity of peanuts keeps decreasing with each harvest.
The Happy Nuts Biscuits are only available in Chiba Prefecture. What is the reason for this?
Because I want to play where I can win. [laughs]
If you go to Hokkaido, there is Shiroi Koibito, in Kamakura, there is Hato Sablé, but there is no such iconic biscuit in Chiba. I thought that was a good opportunity. On a personal level, when I go to Chiba Prefecture souvenir shops, I am always hoping for better food souvenirs, even if they are more expensive.
When I interviewed Ms. Michiru Hasegawa, a food writer, last year, she told me that farmers in Japan are having trouble finding successors. Do peanut farmers in Chiba Prefecture face similar problems?
Yes. Chiba peanut producers, too, have trouble finding successors. Some of the biggest problems are that it is hard to tell how the future will be because of climate change and that the quantity of peanuts keeps decreasing with each harvest.
I am going to make a lot of people angry, but I think it is not necessary to make impractical efforts to keep Chiba's peanut production alive. If people are happier producing something else or doing another job, then it is better to do so. And if some people want to keep making peanuts despite the hardships, then it is fine.
Maybe, one day, Happy Nuts Day will have its own peanut farm, or maybe we will have to use peanuts from other countries. Either solution seems correct to me. Some things are bound to disappear, and we can only bid them farewell.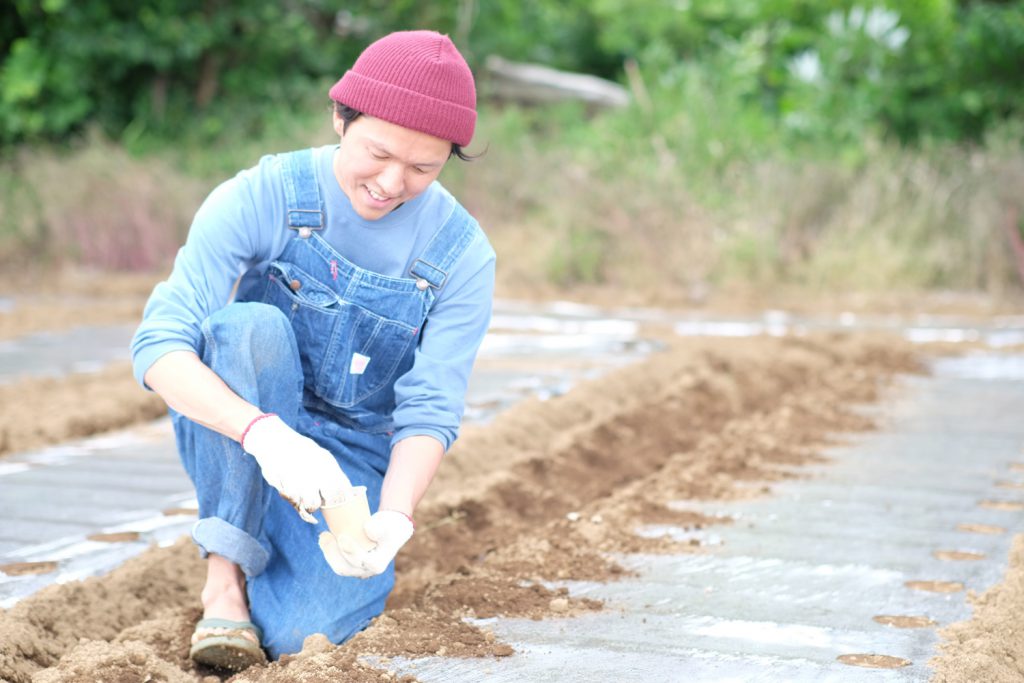 Your point of view is very different from most people I have interviewed so far!
Having said that, the fact that the number of peanuts is decreasing also means their preciousness increases. This means we need to get ready for when peanuts become like truffles. That is why it is very important to explain to local industries the merits of communicating through product design.
"I believe it is my generation's role to modernize the legacy we have received from previous generations.
How have your thoughts on Chiba Prefecture changed between 2013, when your company was established, and now?
I feel that since a few years ago, Chiba Prefecture's people and its administration have started presenting Happy Nuts Day as something they are proud of. We want to contribute in a way that gives the love we receive from the local people back to them.
On a personal level, I believe it is my generation's role to modernize the legacy we have received from previous generations. Now, I am involved with Chiba Prefecture and give it all my energy, but I am ready to do the same with any other prefecture anytime.
I strongly want to share the experience and insight of Happy Nuts Day with other people.
Giving Love Back to Society and Future Generations
Speaking of giving love back, you have been working on hiring people with disabilities. People with disabilities take care of your shipping. Please tell us why you started this initiative.
When I got this idea, I was living in the Kujukuri area of Chiba Prefecture and was doing the shipping myself. We only have an online shop, so to express my gratitude, I would write "Thanks" in English on the package. With time, it became impossible to do the shipping on my own.
I thought about outsourcing it, and there are a lot of services that would be able to do that for us. However, I did not want shipping to be done without feeling, just like any other task, because the product comes from peanuts grown with care by the farmers, and the peanut butter is made with love by us.
So, I was looking for someone to do this with a warm feeling, and I approached a facility for people with disabilities. At first, the people in charge told me, "They cannot write, but they can draw a smile." However, I insisted and said I would hire them if they could write.
A week later, the people with disabilities had become able to write "Thanks." I was invited to the facility and there was a table full of pieces of paper on which the facility members had trained to write. I was asked if it looked good enough. I was very moved, and we started working together.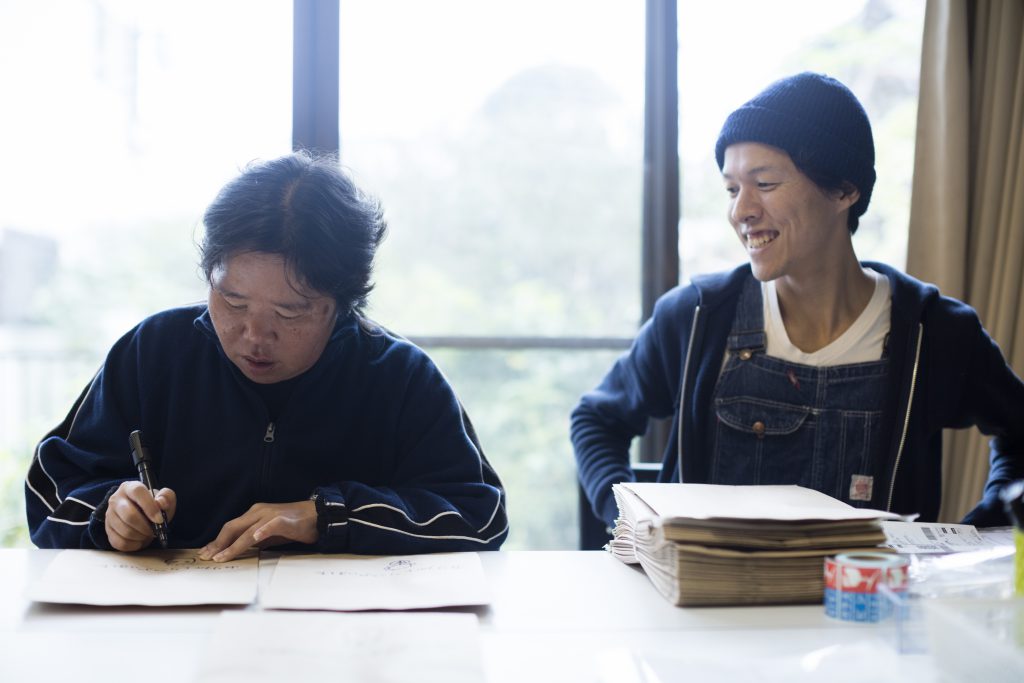 Since then, I have been told that writing "Thanks" is their favorite part of the job! I am very happy. It made me realize that people working in facilities do not fully grasp the potential of people with disabilities. In a lot of places, their skill growth is not considered, and they are given simple tasks such as tightening screws. It became an opportunity to show what people with disabilities could do, and the fact that they became able to write "Thanks" even became news in that field.
I do not pretend to solve societal problems by working with people with disabilities. We are working together because we are all motivated to do so.
This year, you are holding a monthly class at a high school to support students' dreams for the future. What is the content of the class and what do you want to convey most to the young people?
Since 2016, we have organized the "School of Peanuts" farming experience. It was a package in which you could plant seeds, meet farmers, harvest peanuts in autumn, and finally, get peanut butter at home. The idea was to learn from experience and make people understand why Chiba peanuts are expensive by experiencing how they are handled.
That project evolved into a high school class. I am now involved with a class of 25 kids for a period of two years. In that class, the idea is to use both your head and your body during workshops. The objective is to develop the kids' information-gathering skills. They pick a topic among the information they gathered and solve a problem in their own way.
The class is not only about giving ideas but also about acting, for example, creating a product and selling it. Through this class, the kids can realize the qualities they want to use in society, such as doing design or increasing the sales of a business. I hope I can help them find their dream by making them try a lot of different things.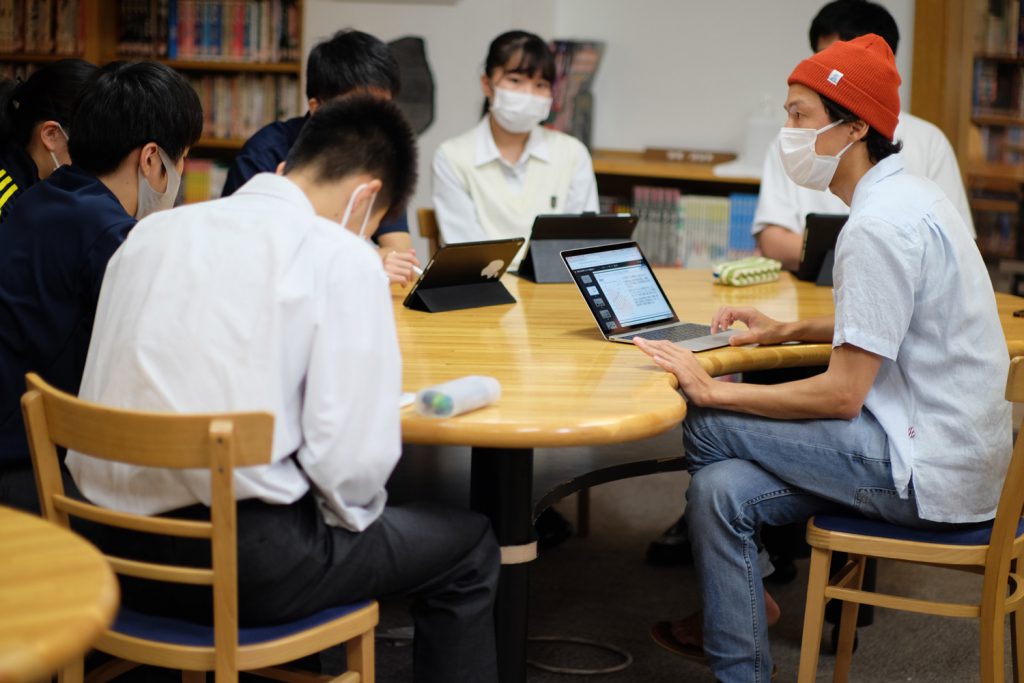 That class is called "Giving shape to our dreams," and I hope they will become people able to turn their dreams into something. Honestly, though, I do not believe that dreams have a distinct shape, because dreams keep changing. Also, I believe dreams have no size, but they do have purity.
That is why I want these kids to pursue these dreams purely and use those two years to make their dream as pure as possible. That will make them flourish as members of society.
After high school, I guess most of the kids will go to university. Still, when they choose their path in life, I want them to have a clear direction according to their character, to what they like, or to the skills they want to refine.
Please tell us about your plans and goals for the future.
As I mentioned earlier, we are doing our best to make Happy Nuts Day a success story that will inspire other Japanese companies to shine bright. That means tackling new projects. On top of this, we are preparing to do something about environmental protection.
Do you have a message for our readers?
There are so many things I would like to say!
It is a wonderful objective to want to produce your own light. However, if you do it by sort of bringing other people to light, even only a little, the entire world will become bright. You can do it by making the people you like shine, or bringing what you love to light, and showing other people what you do. If you are reading this, please consider it!
The Courage to Start Something New
A little while ago, I came across an interesting post on Twitter. I was not able to find it again for this article, but it said something like, "The reason why the average age of entrepreneurs is about 40 is that is when you get fed up with corporate life." When I read it, I found it made a lot of sense because since last year, many of my friends in Japan, who are mostly between 30 and 40, have been voicing their desire to quit their job. In some cases, it is because of their companies' working habits or to start something new. Some have already switched jobs, undertaken training, or have become freelancers.
For me, who has always been a regular employee in companies or institutes, starting a business looked deeply mysterious until I talked with Go. The questions I usually asked myself were, "How do you know you are ready?", "How do you know your business idea is viable?", and "Where do you even start?" In a way, I am probably very close to the people Happy Nuts Day is looking to inspire, and I must say their story is very inspiring indeed.
First, there is the fact that Go wanted to create a place that would reflect his lifestyle and values, which is something many people from my generation seem to be looking for. It is difficult not to empathize with the desire to make good products and remain true to yourself.
Secondly, Happy Nuts Day's birth, led by friendship, fun, and curiosity, makes building a business look a lot easier. Taking small steps before thinking too much, doing something that appeals to you, getting the required skills along the way: all these points do not only look attractive, they also look feasible.
After doing this interview, building a business does not look so difficult to me anymore, as long as you start small and stay curious. If Happy Nuts Day's story managed to convince me, who is very reluctant to get out of my comfort zone, I am sure it will reach many people around Japan as Go wishes, especially young generations.
I hope this interview will encourage you to start a venture that you have in mind but keep pushing back for later in life, or that it will encourage you to find out what you love and pursue it!
---