As I explained in my previous interview, in Japan, summer is the season for ghosts. That is why this interview also deals with this spooky topic, as I talk with a young artist who made a series of art pieces about Kyoto's ghosts.
Michael Hirschbichler is a German-Austrian-Swiss artist and professor at the Academy of Fine Arts Vienna. His art is situated at the crossroads of architecture, philosophy, and anthropology. Through an artistic investigation of spaces, he explores the relations of humans with their history, their stories, and their future.
In 2019, after visiting and living in numerous countries, he was an artist in residence at Villa Kamogawa for three months, a residency in Kyoto managed by the Goethe-Institut.
Read on to discover Michael's unusual profile and his art, his studies and art about Kyoto's ghosts, and what he retains from his stay in Kyoto.
Michael Hirschbichler's Multi-Faceted Art
Art, for me, is a field where there is freedom to make experiments, and to combine disciplines that would otherwise hardly be allowed to.
You have studied architecture, philosophy, and anthropology. What has led you to the world of art?
Since my childhood days, art has always been the main driving force for me. As a child, I used to paint and make drawings. It is this artistic curiosity that has led me to explore various disciplines. Guided by questions and topics, I never cared too much about the boundaries between them. For example, to me, architecture and art are very close to each other, architecture being just a more spatial form of dealing with similar things.
As a study topic, architecture is a very broad and interesting one. But when it comes to practice, it very often narrows down to buildings – which is understandable, but which I found sort of restrictive in my case. So in my work, I pursue a form of architecture that mostly unfolds beyond building. Philosophy on the other hand opens up a space to ask questions about what we are doing and why. I studied architecture and philosophy at the same time because there are so many overlaps between architectural theory and philosophy and aesthetics. Anthropology came in later when I moved to Papua New Guinea for a year and a half, and it expanded my field of thinking and working considerably. I see a continuum among all these subjects.
Art, for me, is a field where there is the freedom to make experiments and to combine disciplines that would otherwise hardly be allowed to, for the separations between them are quite strong. Art is where everything comes together for me.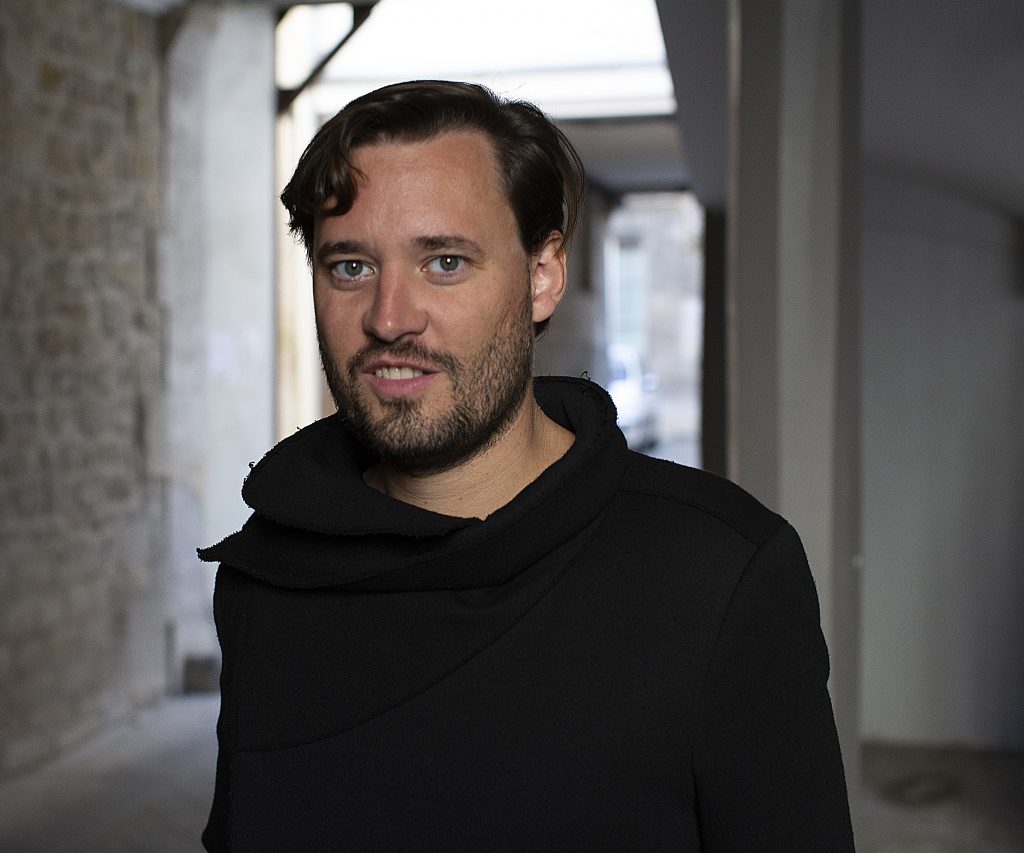 You describe your art as a form of "spatial anthropology." What does this mean to you?
When I talk about "spatial anthropology" I mean looking at the social and cultural relations of places in a very spatial and material way.
When I was teaching in Papua New Guinea 10 years ago, I directed the architecture program at the university there. During that time, I did a lot of fieldwork and research on the traditional cult and spirit houses. My Ph.D. which I wrote on the threshold of architectural history/theory and anthropology is based on that research. In the course of writing my PhD I tried to further spatial theories, and anthropology became very important in doing so.
I was interested in looking at spaces and spatial constructions in their larger cultural context. My Ph.D. dissertation is called "Mythical Constructions," and is about how buildings, landscapes, and other constructs are enveloped in stories and mythology, in systems of signs (art in a wider sense), in social groupings, and ritual transformations.
This has become a common practice for me. When I look at places – no matter if in Japan, in Azerbaijan, in Europe, or elsewhere – I try to investigate the stories that are ingrained in these places. These go beyond the present time, back into the past, and forward into anticipated futures. Intensely exploring the human and more-than-human (hi)stories, ideologies, hopes, dreams, and fears that places and landscapes are entangled in is what I call doing "spatial anthropology". Art for me is the prime medium for doing just that.
The sites I go to are not a clean slate but have a history, and are very often enmeshed in a complex set of relations and interpretations.
You investigate the places' stories, and you use a research-based approach to make art. Could you explain your artistic process?
In the beginning, there is usually a certain interest coming from readings, from going to places, or from talking to people. If possible, I go to the places that interest me and intensively interact with them using different artistic media. In the process, I go back and forth between these concrete places and archives and libraries that offer additional information on them. The sites I go to are not a clean slate but have a history, and are very often enmeshed in a complex set of relations and interpretations.
I don't make art being seated in a studio in front of a white canvas and expressing myself, or inventing something from nothing. For me, it's always important to deal with what is there. I consider art to be dirty work!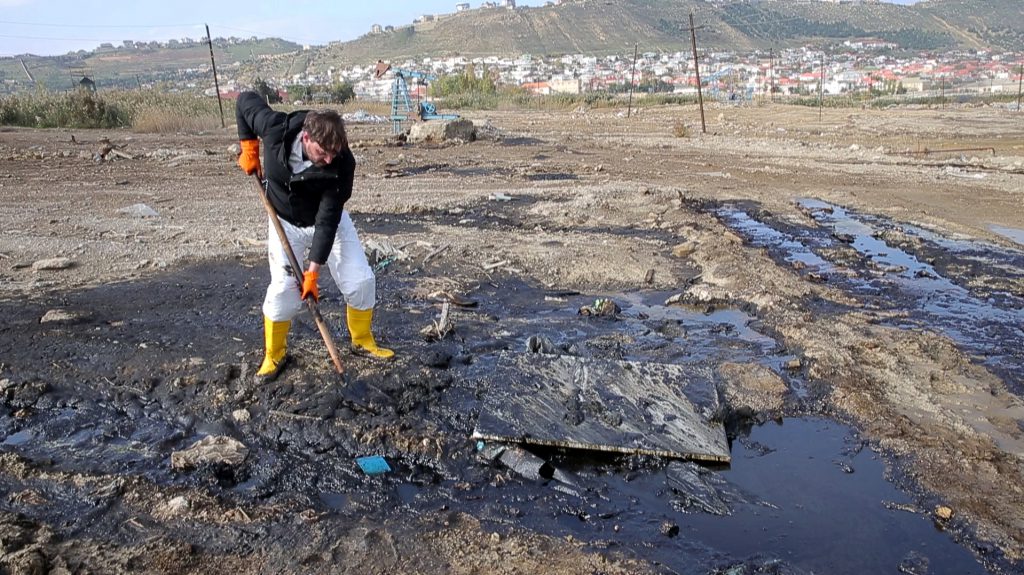 Usually, what kind of people do you interview?
That depends on where I am and whom I can meet. In Kyoto, I had help from the Goethe-Institut Villa Kamogawa to organize meetings with experts on ghosts and the local spatio-religious history. At Kyoto Seika University I met a professor of literature, whose research focus is ghost sites in Kyoto. I talked to him to get a basic understanding of the spiritual geography of the city. On my way to the meeting, I bumped into a janitor, who is also responsible for keeping the ghosts out of the building! At a conference, I had an exchange with an anthropologist of religion and we talked about sacred places. And I met a musician who thinks of himself as a reincarnation of a yokai [Japanese monster] – to name just a few such encounters.
Studying Ghosts in Japan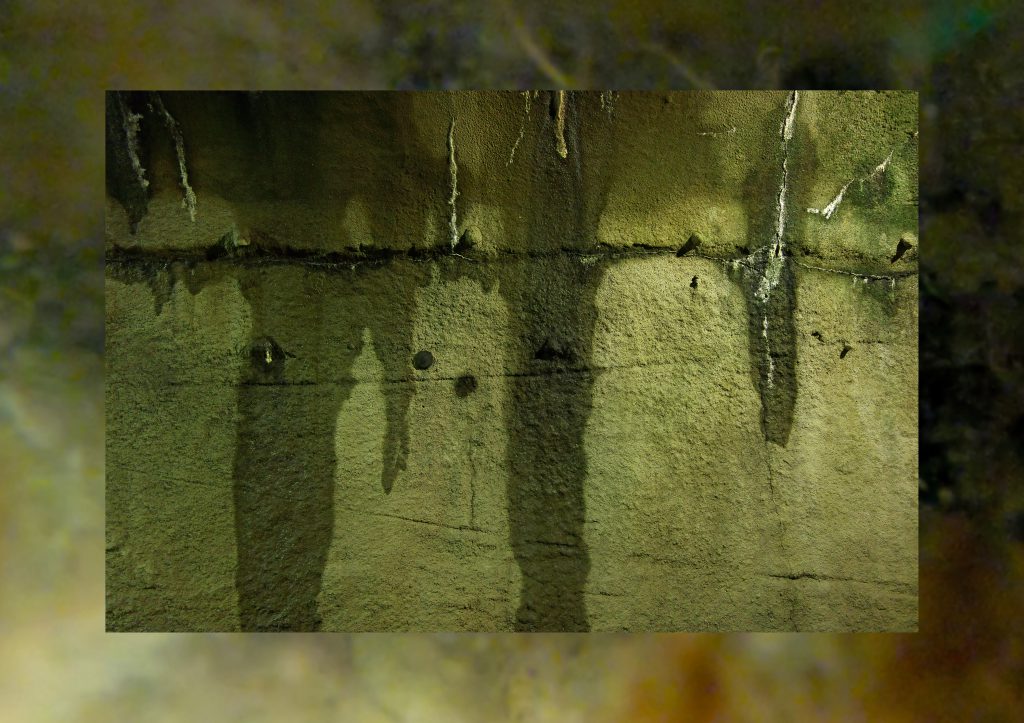 In Japan, the boundaries between what we would call the factual and the fictional, and between the living and the dead are much more fluid.
What made you want to go to Japan and be in residence at Villa Kamogawa in Kyoto?
One reason is that Villa Kamogawa is a well-known institution offering a very good residency for artists! It is often regarded as the most desirable residency by the Goethe-Institut. A lot of artists want to go there.
Another reason was that I have been to Japan only twice before. Once in Narita, and the second time in the city of Tokyo. Although my stays were very brief (in transit from Papua New Guinea), I was fascinated by what I saw. My gaze was certainly influenced by what I had experienced from afar – Japanese TV shows that I had seen as a child, and literature that I had read. In preparation for the residency I read a lot of historical literature; and in all that I was struck by the concept of reality in Japan, which seems quite different from the West.
In Japan, the boundaries between what we would call the factual and the fictional, and between the living and the dead are much more fluid. The idea of supernatural beings and the mythology that relates to them play such a key role. Many places and landscapes are deeply ingrained in past histories and in fiction – whereas the separation between them is not very strict. Such an understanding of the world highly interested me and was one of the main drivers for me to go to Japan. I wanted to dive deep into its mythological landscapes and investigate them further in an artistic project.
Your series of works created in Kyoto explores past and present, real places, and local ghost stories. Which places did you choose as your subject?
I wanted to find mythologically relevant ghost sites amidst the urban fabric of the contemporary city. It was especially this ambivalence between everyday banality and complex mythological entanglements that I was after. At first glance, the places that I worked with do not stand out significantly – although they are generally not very pleasant. Among them are bleak underpasses and tunnels (in which ghosts of the dead are said to gather at night), graveyards and former execution sites, informal dumping grounds behind temples, certain parts of rivers, and a pond in the north of Kyoto. This pond is supposed to contain a gate to the world of the dead and a giant snake on its ground.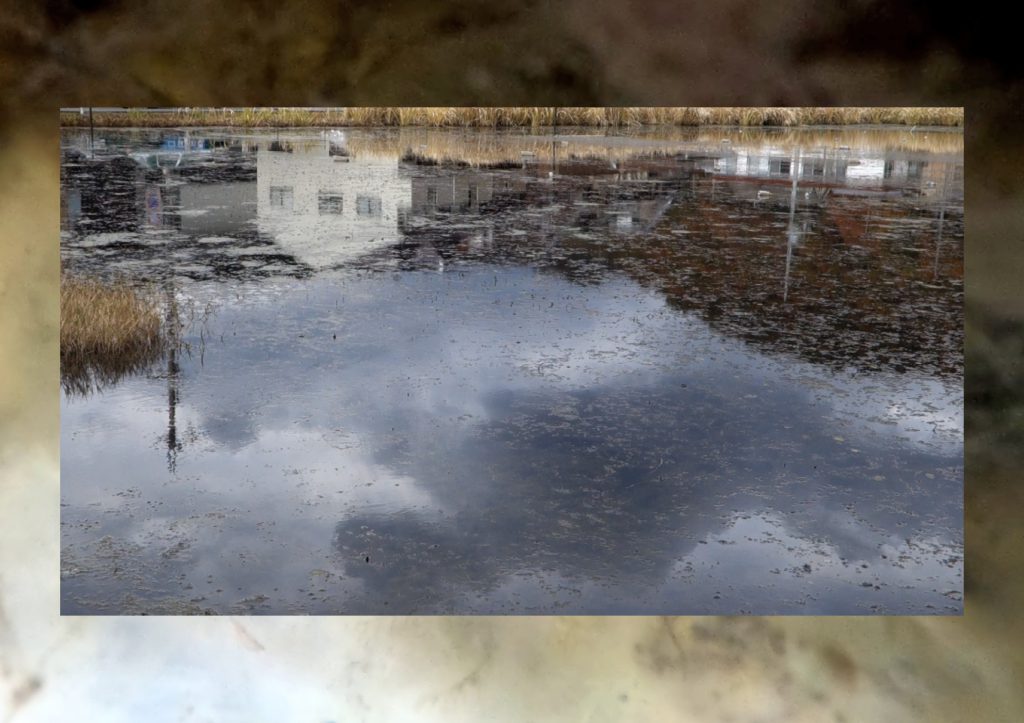 Imagination is abundant when it comes to ghosts, and there are specialists for specific types of ghosts!
During your research, what did you learn about ghosts in Japan and in Kyoto, specifically?
Maybe the most important thing is that ghosts play such an important role in everyday life. Pretty much everybody I met, even if they didn't really believe in ghosts, were somehow cautious of these places. They would all rather avoid these places that I spent so much time in. [laughs]
I also went to Nichibunken, the International Research Center for Japanese Studies in Kyoto. There I met Professor Manami Yasui, who is a specialist in ghosts of women that died during childbirth. She showed me yokai drawings from the Edo period. I was astonished that these creatures have so many different forms, that the imagination is abundant when it comes to ghosts, and that there are specialists for specific types of ghosts! Ghosts occupy such a central place in culture.
Art Made in Kyoto: About "Spirit Cloths" and "Spirit Grounds"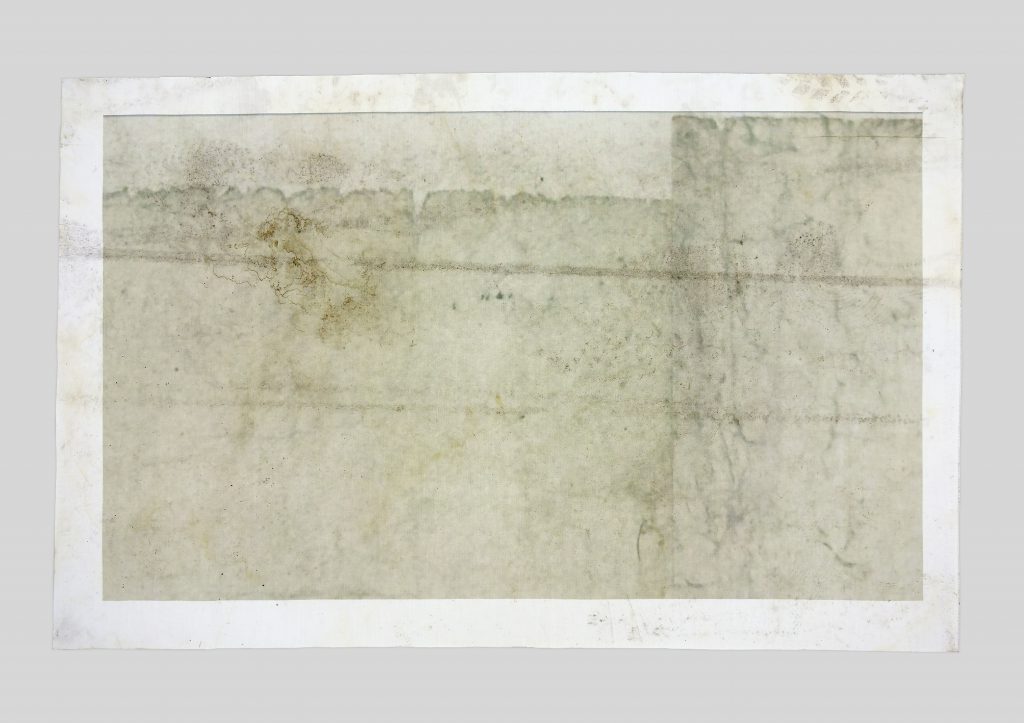 The imaginary and the real coincided on the same piece of canvas.
Could you pick one or two of your favorite pieces made in Japan and explain them?
I would like to introduce a cycle of paintings that are called "Spirit Cloths," which is directly related to what I just said. Basically, the origin lies in the archives of Nichibunken and these Edo period scrolls. I took photographs of the background of these drawings. I was not interested in monster appearances so much, but in the physical materiality of these drawings, in the traces that they collected over the course of the centuries. It was more about the background, upon which these imaginary beings were depicted, than about the graphic appearance of the beings themselves.
I printed the photographs I took of the scrolls on white cotton fabric, which, in mythology, is the dress of ghost women. Then I exposed these pieces to different spirit sites in Kyoto for the whole period of my stay. A couple of pieces of cloth were submerged in the mythological pond mentioned above. Another one was put in a hollow tree trunk, one was buried in a graveyard, one was placed in an unrooted tree. Three were in the Kazando Tunnel, one of the two main tunnels where the spirits of the dead gather at night.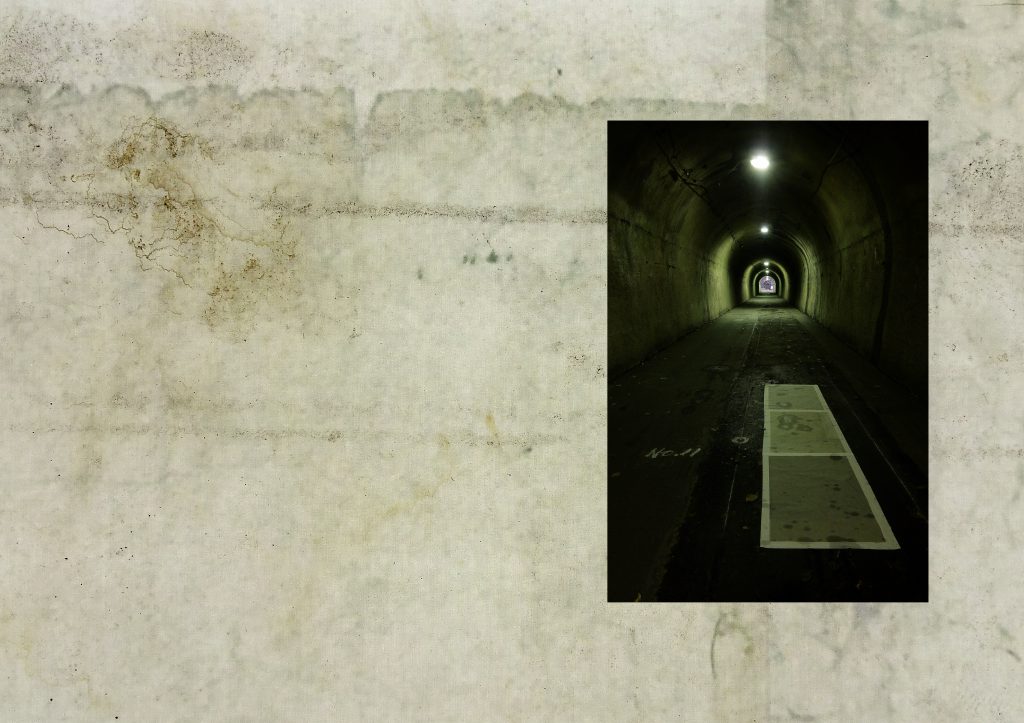 The pieces of fabric collected the material traces of these places. People walked over them or rode their bicycles over them. They got moldy and dirty. Depending on where they were, they collected very different traces.
What was important for me was that the Edo period and now, and the imaginary and the real coincided on the same piece of canvas. The "Spirit Cloths" cycle uses painting as a recording technique of different traces, materials, and narratives.
I always try to combine various media to gain different perspectives on a topic.
You just published a book, "Geistergrund /Spirit Grounds/ 霊地," on these Kyoto works, in which you explore the concept further.
Yes. In it, "Spirit Cloths" is the central piece, but it is framed by photographs and film stills. There is a film that I shot with an underwater camera in Midoro-ga Pond. It opens the gates to the world of fiction, and of the dead, and the spiritual. These film stills frame the whole book.
And the third layer is literature. I used Japanese texts that deal with these ghost places: Google comments, Facebook posts, scientific articles on the flora and the microbiology of the pond, and all kinds of boulevard material. I translated them into German with Google Translate, Microsoft, and Yandex – three different automatic translation machines. It resulted in a huge mess of words that maybe contains 5 to 10% of the actual meaning. [laughs] For me, that was a sort of a ghost-like transformation of the source material.
I distilled this material down – hundreds of pages – and transformed them into a rather short and very condensed poetic text. It deals with these places but from a shifted perspective. It opens up a lot of new meanings that did not initially exist in the source material. It is fictional and transcultural in a way, while still capturing a lot of the important cultural relations that these concrete places in Kyoto are embedded in.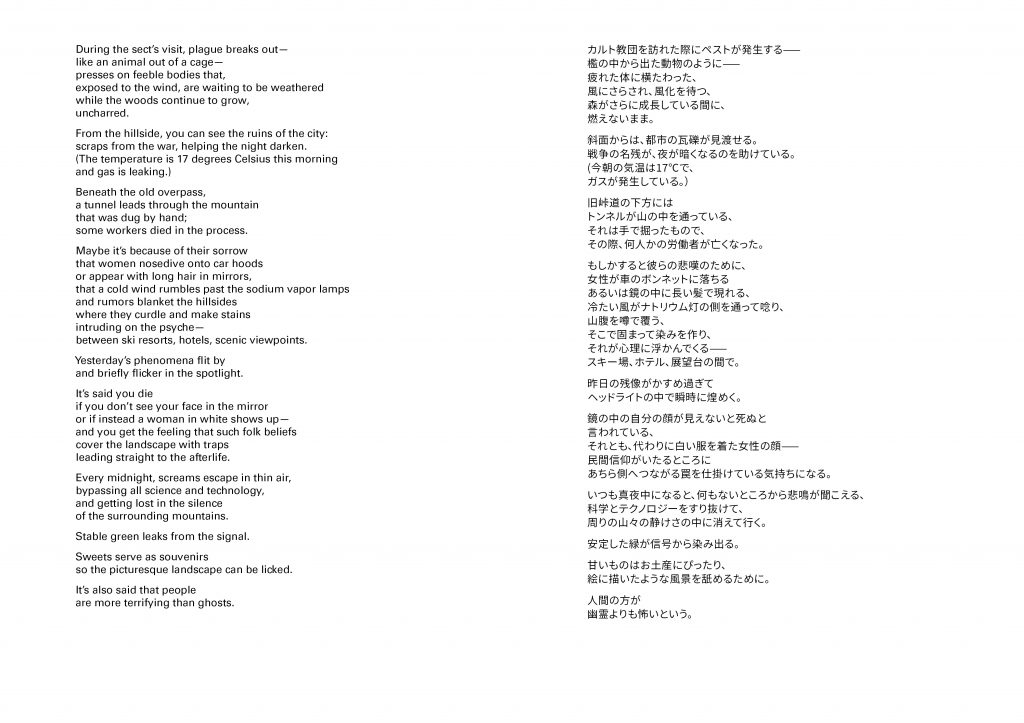 It is also characteristic of my work that I am not fixed on one medium. I always try to combine various media to gain different perspectives on a topic. That ties back to my research interest, which is also about multiple perspectives. A much more subtle picture emerges between these different media.
Exploring a Different Kyoto
I think I saw a very different Kyoto from the one that you would normally see if you came as a visitor.
Did you meet any unexpected joys or difficulties during your stay in Kyoto?
There were a lot of joys, like the food and the people I met at the institute.
However, in Kyoto, really getting in touch with people was the most difficult I have ever experienced in the world. In Azerbaijan, for example, I also could not speak the language, but it was much easier to get close to people. Even in remote villages in Papua New Guinea, I felt more related culturally.
And that is probably why I did the literature piece with automatic translations: to somehow create a bridge to that language and country, because in reality, it was very hard to find that bridge.
Despite the difficulties, some things immediately made sense to me, and I was very fascinated with certain habits, like taking or giving things with two hands. I did that for a very long time after coming back from Japan because that felt like the right way to do it. I have a huge fascination and respect for Japanese culture, and I feel like it is an endless topic to deal with. There is so much to discover and to investigate.
There were also very nice moments when my partner and our son joined me in Japan (he was only three months old at the time). We encountered difficulties like taxi drivers that would not take us, but on the other hand, other people had a very open-hearted attitude towards our child. I got the impression that the Japanese are very sympathetic with children.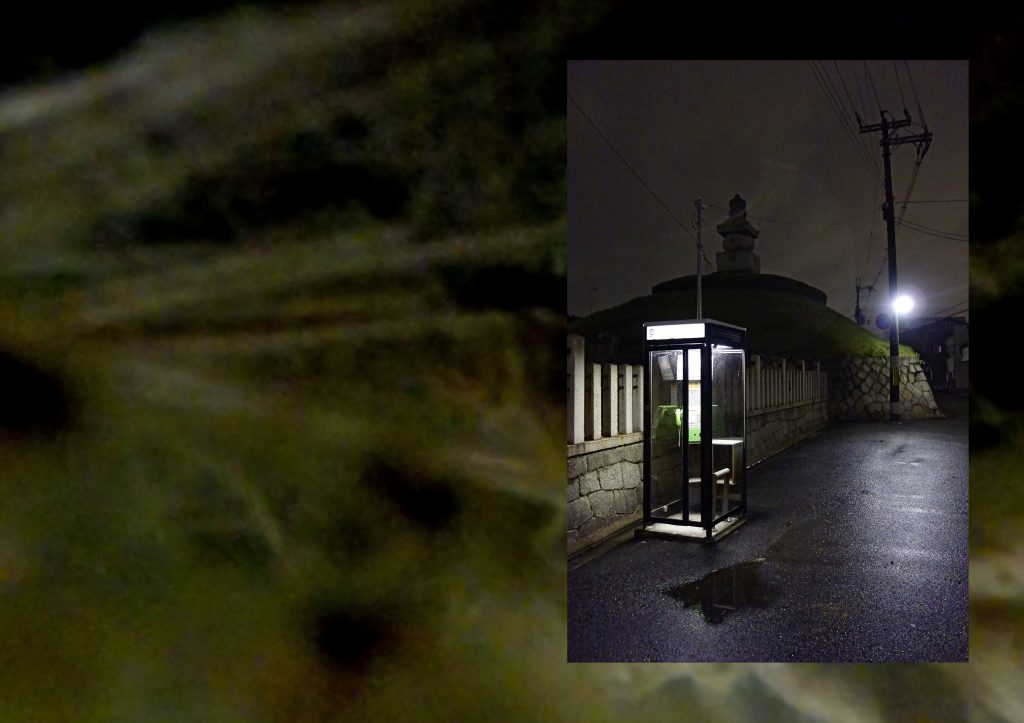 Even to Japanese people, Kyoto is often said to be an exotic place, not only because of its ancient architecture but also because its citizens have a typical lingo and different habits. What did you think about Kyoto and its culture after having lived, worked, or been an artist in residence in so many countries?
Of course, I noticed all the beautiful temples, and other architecturally and artistically interesting sights. But to be honest, I didn't have much time to visit them. I was always in dark tunnels, and on the shores of strange lakes. [laughs] I think I saw a very different Kyoto from the one that you would normally see if you came as a visitor. What I saw in Kyoto were these strange places that you wouldn't describe as very beautiful. Still, they had such strong atmospheres and were highly beautiful in this regard.
When I came back from Japan, I realized that I had a very different relationship with nature than before. In Kyoto, I met a landscape architect and she told me, "What you see, all these trees and their leaves, are curated." Every single leaf is taken care of, and many of the leaves are cut out to create an appearance that is not too dense. Nature reveals itself as a deeply cultural project.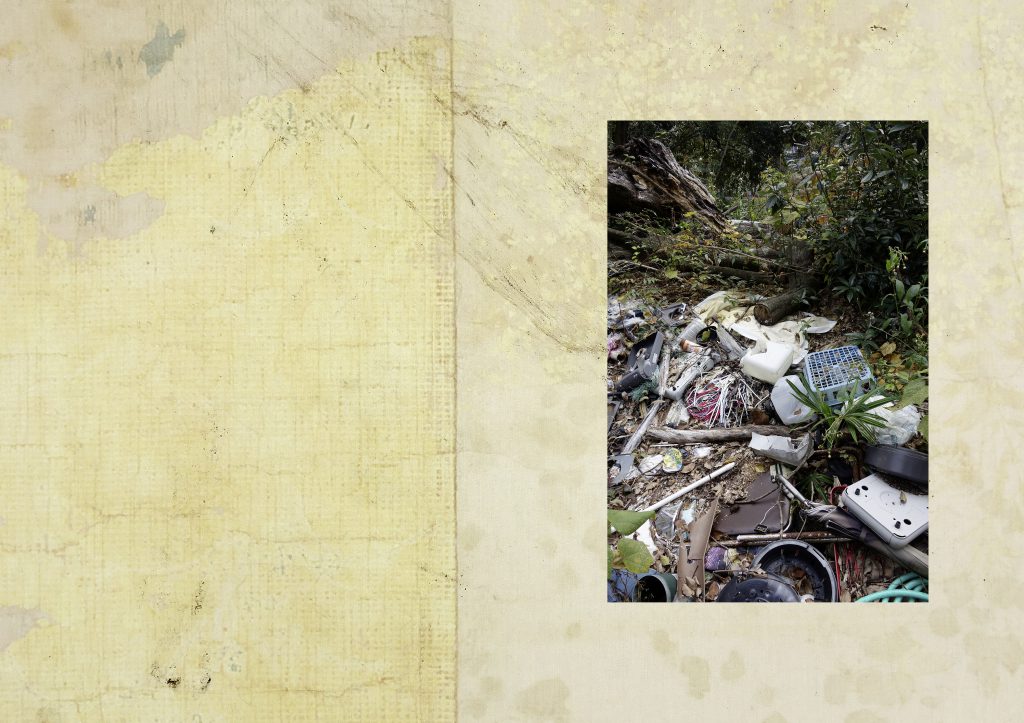 On the other hand, there are dumping grounds that nobody takes care of. The leaves, the colors, and the atmosphere of the whole thing gave me a very different perspective on plants, on different shades of greens and reds, and on colors. I found the informal sites much more interesting than the curated official parks and temples.
If I had to name the two main takeaways from my stay in Kyoto, I would say they are: a concept of the real meandering between fact and imagination; and a very rich aesthetics of nature as a cultural and mythological construct.
Do you think that you might go to Japan again to do another project someday?
If there is a chance, I will definitely come back. I am currently curating the anniversary exhibition "Ten years of Villa Kamogawa", which will first be shown in Kyoto, and we are also planning to make an exhibition of my artworks. So I hope to come back in the near future if the pandemic allows it.
A Gate between Two Worlds
Although I appreciate art and paint as a hobby, I must admit that my knowledge and understanding of contemporary art is quite limited. So, when I looked at Michael's website for the first time and browsed through pictures of his previous art pieces, I was not really sure what I was looking at. However, I was very intrigued to know more.
Talking with Michael, I realized we had much more common ground than I expected, such as an interest in cultures different from ours, and an interest in mythology and stories. The more I listened to him, the more I understood his intention behind what he did in Kyoto and found it truly fascinating.
I think people who go there as visitors must have an image of Kyoto that is common, with a few variations. In that regard, Michael has a completely different perception of the city, one that is very personal, and one that you can only access with a specific intent in mind.
That made me realize the value that artists bring into our society: the one to bring a fresh point of view on people, places, and things. Like the bottom of Midoro-ga Pond, which is a link between two worlds, artists can open the gates of our minds to another perception.
I would like to thank Dr. Oliver Schön of the German-Japanese Association in Munich for making this interview possible.
Michael Hirschbichler's book "Geistergrund /Spirit Grounds/ 霊地" will be available in Japan from autumn 2021.
Website: www.atelier-hirschbichler.com
Instagram: https://www.instagram.com/michaelhirschbichler/
---