Inami is a town of 8,000 inhabitants located in Toyama Prefecture. With more than a hundred sculptors' workshops, it is said to be the number one city for sculptors in Japan.
After moving there in 2016, architect Tomotsugu Yamakawa decided to turn part of his recently refurbished house into an accommodation for visitors to use as a base point to explore the town. That was the birth of "Bed and Craft," which now has six houses that can be rented for accommodation in town and organizes workshops with the local craftspeople.
Among them is Komei Tanaka, who moved to Inami to become a wood sculptor after finishing high school. Now friends with Yamakawa, he organizes spoon sculpting workshops for Bed and Craft, and his beautiful female wood sculptures decorate one of the accommodation houses.
Read on to discover what is so special about the little town of Inami, the motivation behind the "Bed and Craft" project, how it managed to attract foreigners for the first time, and how it changed the way of thinking of its townsfolks.
How Inami Became a Woodcarver's Town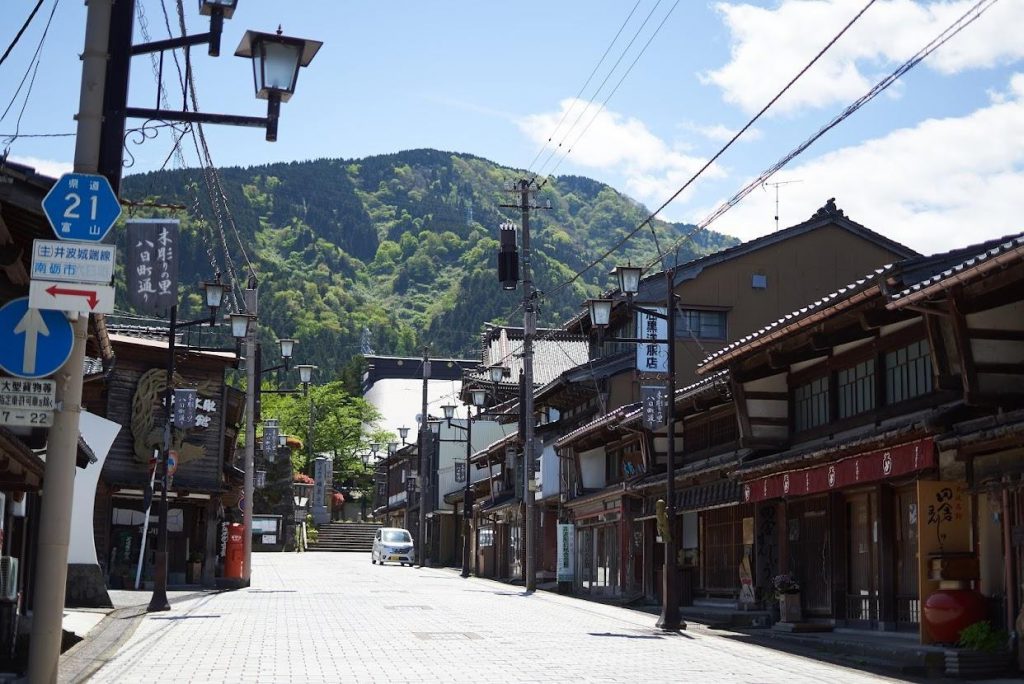 What kind of town is Inami, Nanto City, Toyama Prefecture?
Tomotsugu: It is a town located in the southwest of Toyama Prefecture. Originally, it was an independent town and was merged with the city of Nanto about 15 years ago.
About 8,000 people live in the Inami area, and around 200 of them are sculptors. It has more than a hundred sculptors' workshops, which is why it is said to be the number one city for sculptors in Japan. I think it is a rare feature even on a global scale. There are also many people who support the wood carving industry, such as wood furnishers and chisel makers.
Komei: Inami is a small "wood town," that was born around a Buddhist temple. That temple burned down three times. The second time, they asked a sculptor from Kyoto to come and participate in building it anew. That sculptor taught the locals his techniques. In turn, they became masters with their own pupils, who also became masters, and so on. This lineage still lives on today, and I am part of the 8th generation of sculptors whose skills originate from that single person from Kyoto.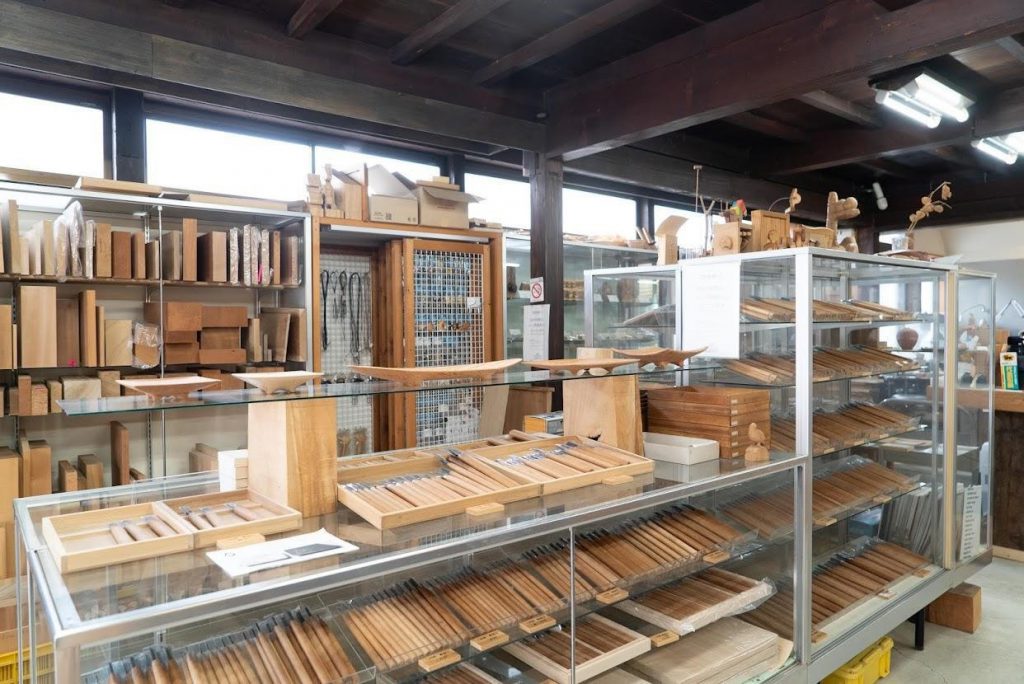 In many places, such traditions tend to disappear. How do you explain that in Inami, the wood carving tradition is still so alive?
Tomotsugu: My guess is that it is because Toyama is a region where it is easy to get wood, and there are also a lot of festivals and rites that involve lion dances. There are more than 800 lion dance troupes in Toyama. The lion's head and structure are made of wood, and most of them are made and repaired in Inami.
A specificity of wood carving is that sculptures can only be displayed, contrary to lacquerware or potteries that can be used every day. However, in Toyama, there were rich and big houses that displayed such items. Traditionally, it is an area of Japan where the way you decorate your house is an important social marker. People always have had the habit of buying nice furniture and sculptures to show their wealth. Toyama's lifestyle provided the local sculptors with sufficient work.
Komei: Local people say that when you build a house, it is finished only when it has ranma [transom panels]! It is a decoration but is really part of the local lifestyle. There is also a tradition to display a wood sculpture when the first son is born.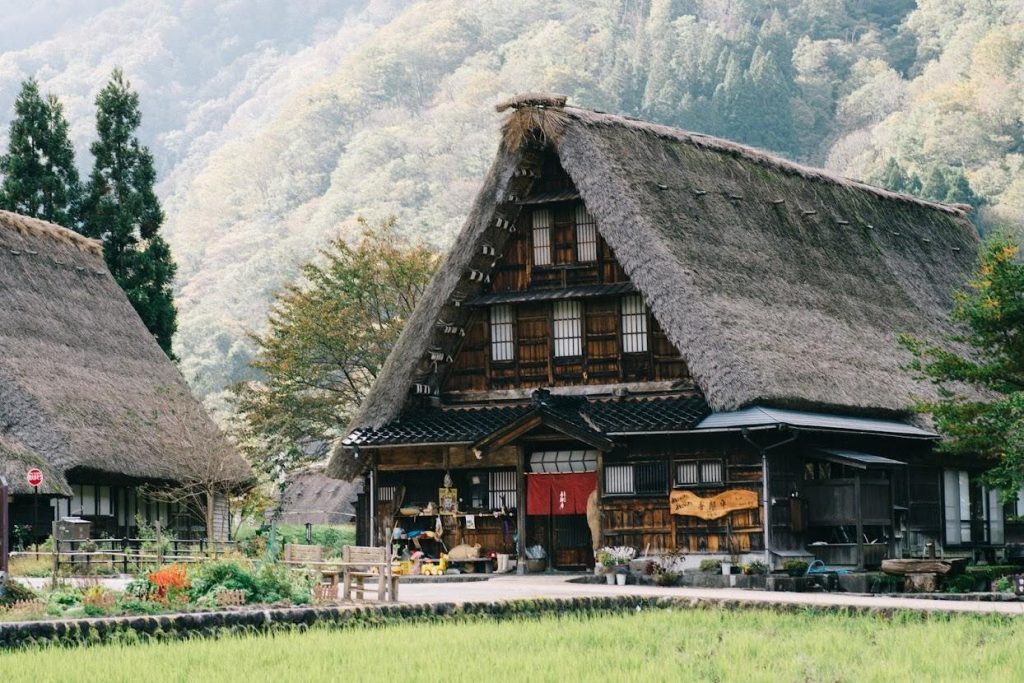 Discovering Inami through "Bed and Craft"
Many guests told me that Inami is a place where you can see the original sceneries of Japan and see local people's everyday life for real since the town is not a touristic place.
Your concept of "Bed and Craft" is popular among foreign tourists, and there are currently six accommodation houses. What is Inami's attraction that particularly resonates with foreign visitors?
Tomotsugu: I have no clear answer to this question, but I have noticed it attracts a lot of creative people: game creators, interior designers, photographers, etc. People who are looking for new experiences. They usually share their trip on social media, which has helped us in attracting new people.
Our guests especially value the fact that they can talk directly to the artisans. Once, we were visited by a carpenter from England who wanted to learn about real Japanese skills. He has visited us several times since then. Many people visit Inami once and then come back again.
Komei: During our workshops, many guests told me that Inami is a place where you can see the original sceneries of Japan and see local people's everyday life for real since the town is not a touristic place. The accommodations serve as a base point to explore and experience the city.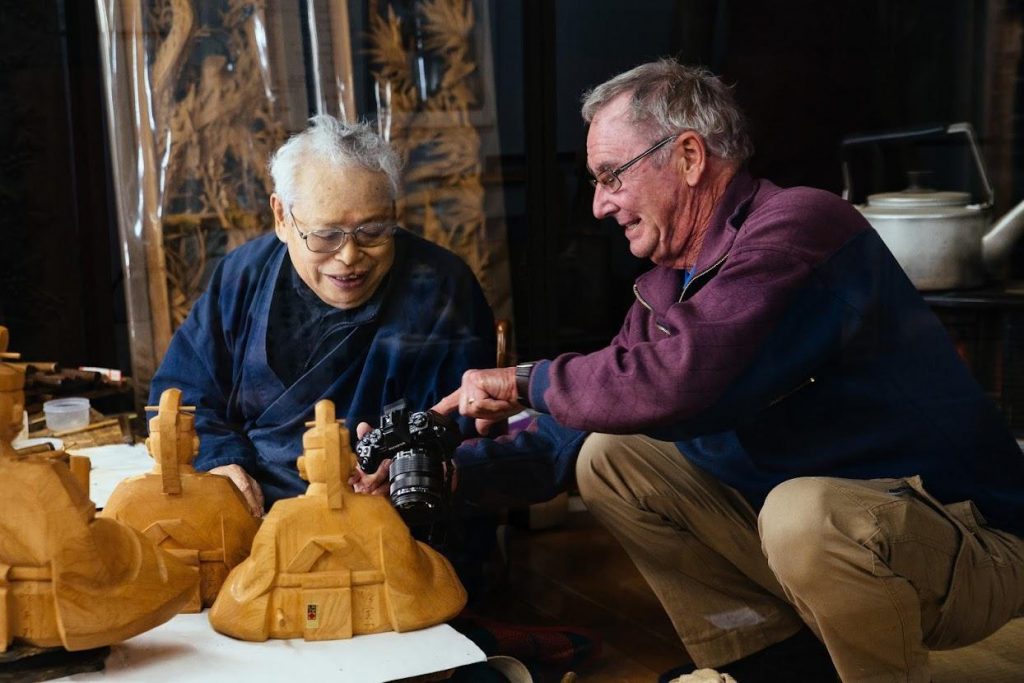 In Japan, there are more and more opportunities to experience making things. Can you tell us what is special about your wood carving experience?
Tomotsugu: In Inami, apart from wood carving workshops, there are diverse workshops, such as pottery workshops, and many different sorts of artisans. Among sculptors, there are two types of people. The ones that, in Japanese, are called "chokokushi" and the ones called "chokokuka." A "chokokushi" does not put their own name forward. They concentrate on refining their skills, and help in repairing temples and shrines for example. A "chokokuka" also works on their skills, but they are more art-oriented artisans. I first heard about that difference when I moved to Inami and found it very interesting.
A year ago, I interviewed Kaku, a calligrapher, and he told me the same difference exists in calligraphy between "shodoka" and "shoka." Maybe it is a Japanese thing to make a distinction between artisans who feel more like artists and the others.
Tomotsugu: That is very interesting! I have chosen "CORARE ARTISANS" as a company name. Originally, "artisan" is a French word and is often used in opposition to the word "artist," which is seen as a more noble profession. To me, that is not the correct way to view them. Yes, they have craftsmen's skills, but they also have their own artistic views that they are looking to express. I want to show that people can start as artisans and become artists.
However, you need to know that "chokokuka" and "chokokushi" are not in opposition, and there is a constant dialogue between them. In Inami, both live in harmony.
Our experiences are like having a date with an artisan for three hours!
Mr. Tanaka is a "chokokuka," an artist, and I wanted people to know more about what artisans like him do. However, at the time, there was no place to stay in town and only a few places to eat at. Also, when you walk around town, you can see many workshops and can go inside. Although, the artisans are very concentrated on the work, so you cannot ask them things like, "So why did you decide to become a sculptor?" out of the blue! [laughs]
That is why I decided to use the accommodation as a place to organize workshops where you can have the opportunity to be around an artisan for about three hours and talk to them. You can get to know their character and their art better.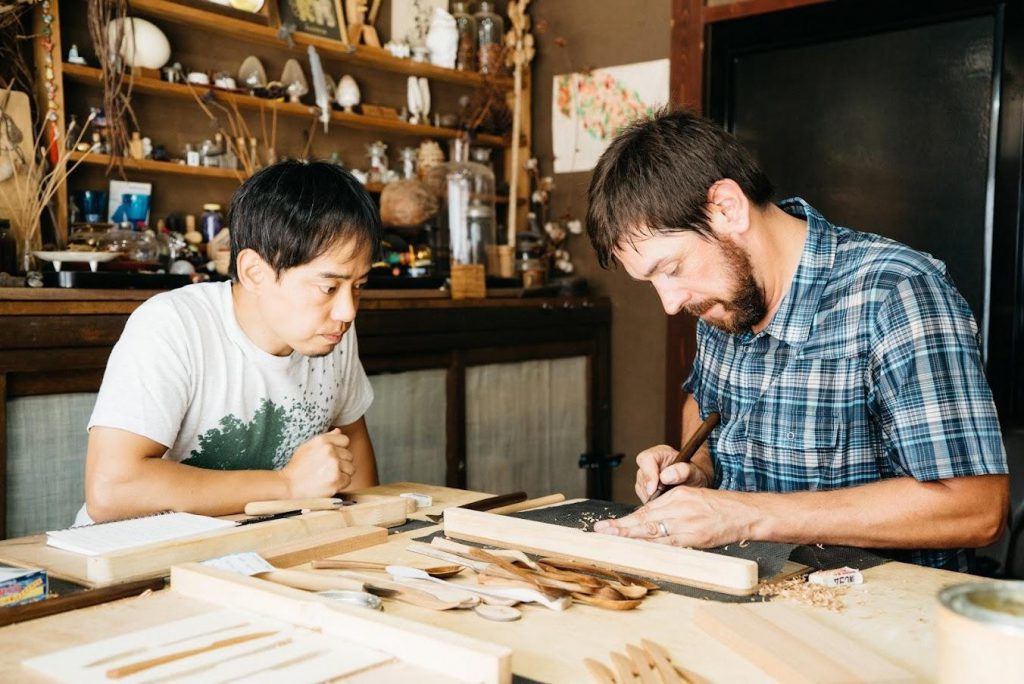 Komei: That idea unfolded naturally from the desire to get people to know the town better.
Tomotsugu: Exactly. The idea is not just to provide a fun activity as you could do anywhere else in Japan. Most of the time, in other experiences in Japan, groups are quite big for economic reasons but there is only one teacher. You cannot get a chance to talk to them, you cannot know about their way of living, or what feelings they put into their craft.
I wanted people to experience the artisan's way of life, and in a way, our experiences are like having a date with an artisan for three hours. [laughs] The sculpting experience is just a pretext to have a date.
Komei: So, it was a date all along? [laughs]
Tomotsugu: We want to create a real relationship with visitors. After the three-hour workshop, the guests really feel like they have become friends with the artisan, and they want to come to the city to meet them again.
Turning Inami's Vacant Houses into Elegant Accommodations
The 'Bed and Craft' concept came to life gradually from the desire to introduce people to the town and its artisans.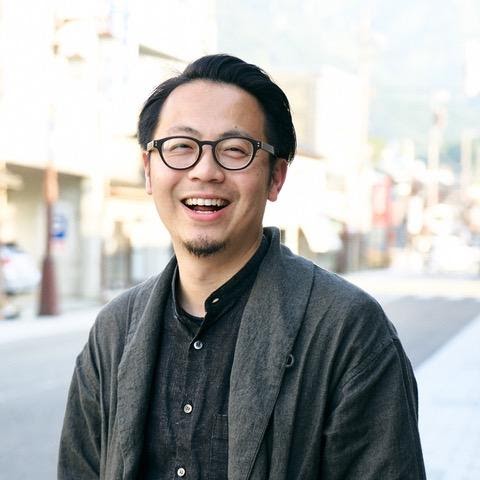 Tomotsugu, what is your origin story behind this project?
Tomotsugu: In 2016, I left Shanghai, China, to move to Inami. I bought an old akiya. It was 200 square meters because in Toyama, all houses are big. The first floor was more than enough for me, my wife, and our cat to live together. I had lived outside of Japan for quite some time, and my foreign friends came to visit me. That is how I had the idea to turn the unused space into accommodation, and the "Bed and Craft" concept came to life gradually from the desire to introduce people to the town and its artisans.
When you renovated your house into an accommodation, what were your concerns?
Tomotsugu: At first, I asked Komei [Mr. Tanaka] to make sculptures. Usually, in a building, decorative elements like sculptures come last but we did the opposite. Since I am an architect, I organized the space around his pieces of art, and it made them look even more alive. So, during your stay, you can fully experience the art of Komei Tanaka, as if you were staying at a gallery.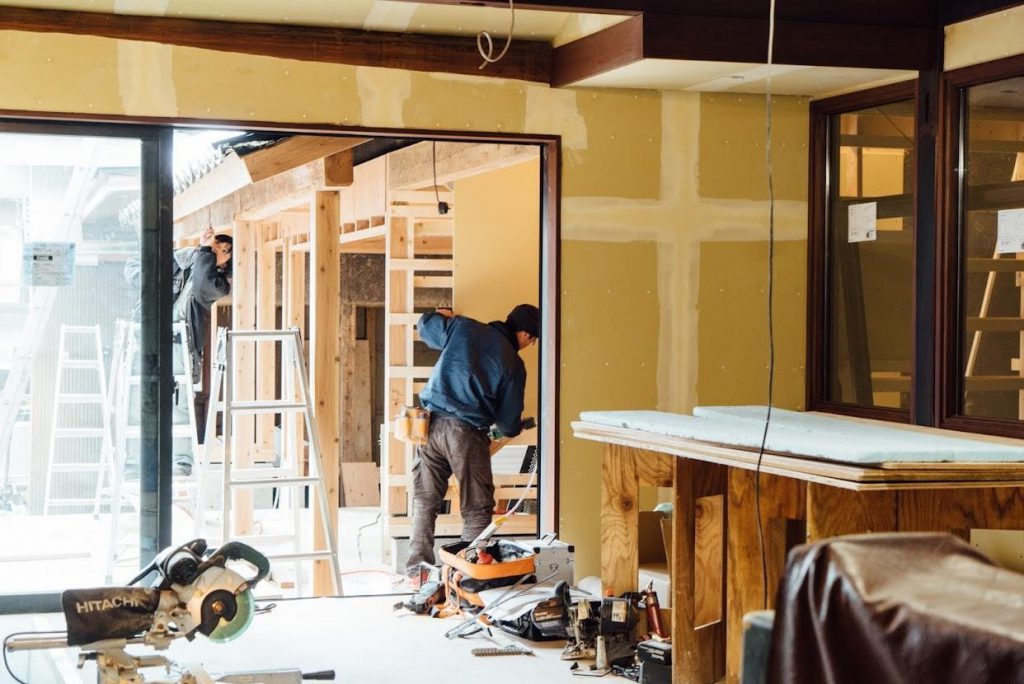 Recently, you have made a special program where people can come and stay here three times a year for a more long-term craft experience. How did you come up with this idea?
Tomotsugu: At Bed and Craft, we provide many experiences: wood carving, pottery, lacquerware, etc. For sculpture, you can make something in only a few hours, provided it is not too big. But for lacquerware, it takes a lot of time to make something from zero, especially because there is drying time. Until now, we had a chopstick lacquerware experience, but many guests found it was too small and told me they wanted to make bowls. So, I had the idea to make an experience for which you must come several times as if you were coming back to your hometown.
In Japan, April is like another start of the year, the school year starts in April, for example. People buy new agendas and new everyday items such as wallets. So, I thought it would be nice to have a lacquered bowl ready by April. To do that, people could come to Inami in summer, autumn, and winter. Nobody goes to the same place three times a year just for tourism [laughs], so it is more than tourism. Maybe after coming here three times, they will feel like family.
Komei: I do not even go to my parents' place three times a year [laughs].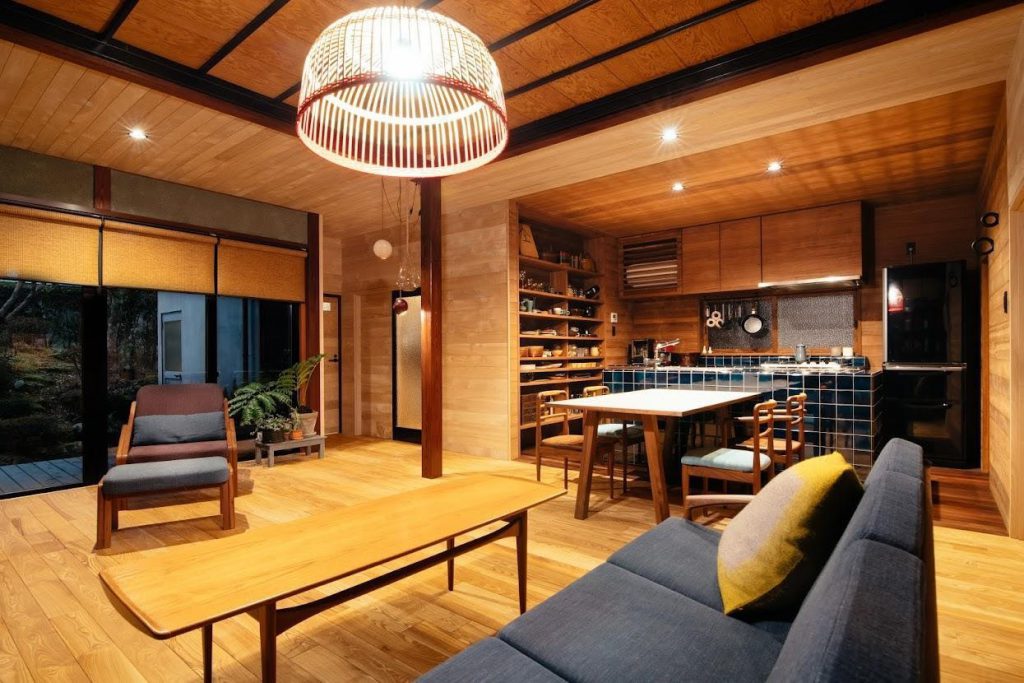 Foreigners never came here before.
What kind of ripple effect did the project have on the town?
Tomotsugu: We started it in September 2016, so in September 2021, we celebrated our five-year anniversary. We had planned a lot of events but we had to cancel them all because of COVID-19.
What I have observed so far is that Inami citizens have become proud of living here. Before, they were saying things like, "There is nothing here," or "There is no future here," which is something often heard in the Japanese countryside. Having Bed and Craft helped them see the attractiveness of the town and become proud of it.
Also, some people have started their own businesses. Restaurants and cafés are increasingly disappearing because the population is shrinking. However, someone has started their own eatery, and when I asked them why, they told me, "I thought I had to buy this building and start my business before you do." [laughs] I was very happy because it showed that they felt a potential for this town in the future.
Another person has moved to Inami and opened a bakery. I wish we could have even more new residents. For example, I would love for someone to open a beer brewery here!
Also, new types of people have started visiting the town. For example, foreigners never came here before.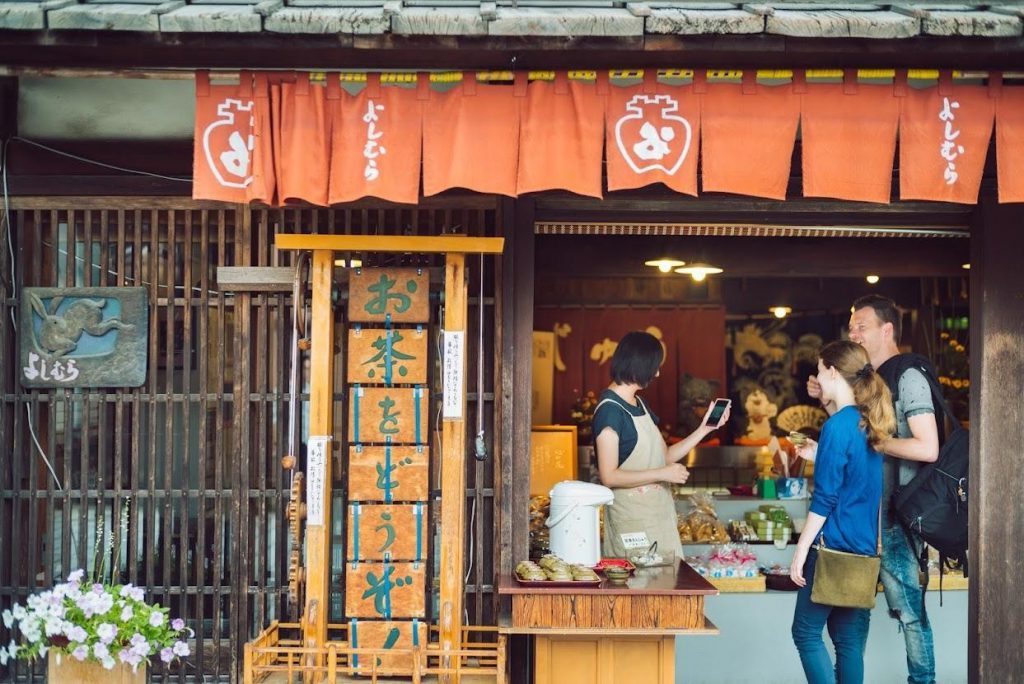 Komei: At first, people would observe them behind their windows, thinking, "Oh look, a foreigner!" [laughs]
Tomotsugu: People from other regions also come here because they would like to use Inami as a model. I am also asked to participate in talks or to be a consultant on projects. I am very happy that our little town is garnering attention from all over the country.
Komei: A lot of previously vacant houses are now occupied. Before, people did not sell or rent their akiya because they did not see them in a positive way. But after seeing what Mr. Yamakawa did with such houses, they have come to think it was all right to put their vacant houses on the market.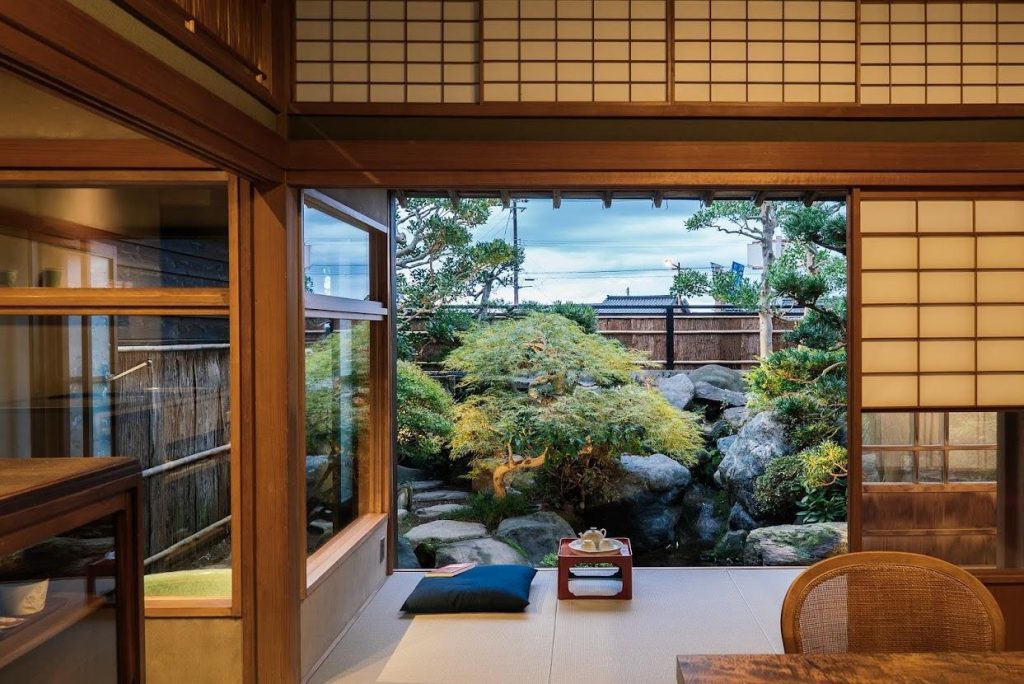 Becoming a Wood Sculptor in Inami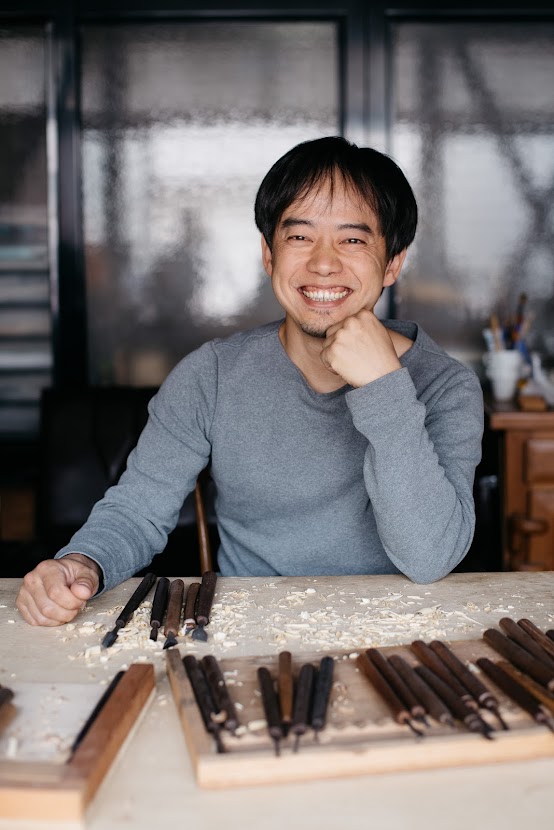 Komei, how did you become a wood sculptor?
Komei: As a child, I loved making objects with my hands. When I entered high school, I went to an unusual school where I learned wood sculpture, gold craft, and lacquerware. When I finished high school, I asked one of my teachers for advice because I wanted to make objects for a living. He is the one who told me about the relationship between Inami and wood sculpture. I had never heard of it before, although I had been living in Toyama Prefecture for more than six years.
I came to Inami to have a look, and soon after, I found a master who took me as his pupil. The master and my teacher knew each other. If the situation had been different, I may have learned another kind of craft.
Tomotsugu: The lineage for many crafts in Japan often is inside a single family. However, in Inami, more than 70% of the craftsmen originally come from other places and other prefectures. They learn with a master for five years and then start their own workshop.
Komei: The sculptors are very welcoming to people from the outside.
Tomotsugu: Amelie, if you would like to change careers and become a wood sculptor, you can come here!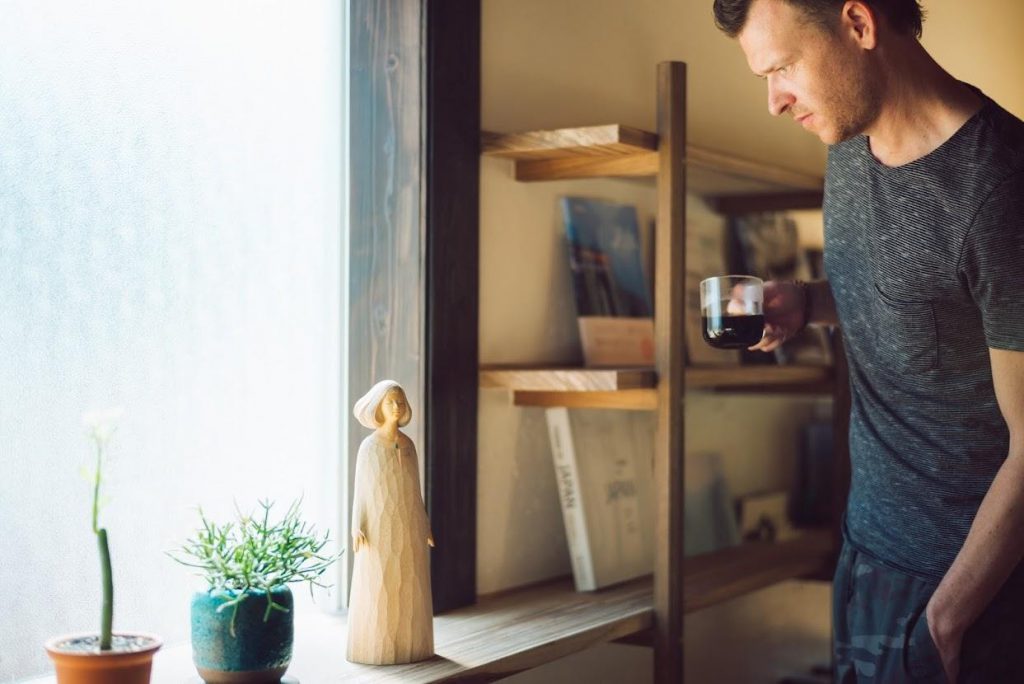 When I came back from an event in Thailand, everything changed.
How wonderful! By the way, Komei, the dolls you make express a unique and beautiful worldview. Where do you get your inspiration from?
Komei: I first started making dolls for Hina Matsuri, in a traditional way. However, I have a son and a daughter, and they do cute things every day. So, I thought I wanted to represent that in sculptures. I made sculptures of them doing pranks on their mother or cutting their hair in the garden.
Then, in 2009, I was invited to an event in Thailand, where I had to carve a three-meter-high candle. It was the first experience in many ways and it was very difficult. My tools did not prove useful and in the end, I had to carve the candle with an axe! Also, I went there as a simple sculptor but soon realized that I was representing Japan in the eyes of the local people. A lot of artists from other countries were participating, and I was considered an artist too. Until then, I only saw myself as a craftsman, and from then, I was able to see myself as an artist, too. I realized I could express myself too.
When I came back from that event, everything changed. Before, I would sculpt what my customers would ask me, or make something specific. After the event, I started sculpting what I wanted to express.
Usually, I find inspiration in what surrounds me: short grass or small flowers from my garden, the wind, the air, the sunlight. I express the joy and gentleness I feel from them in my sculptures. They have a female form because it is easy to express something with their hair. So, they look human, but actually, they are not dolls. I do not know what to call them!
Where can we buy your dolls?
Komei: Each doll is order-made depending on the thoughts and feelings of my customer, so the best would be to contact me.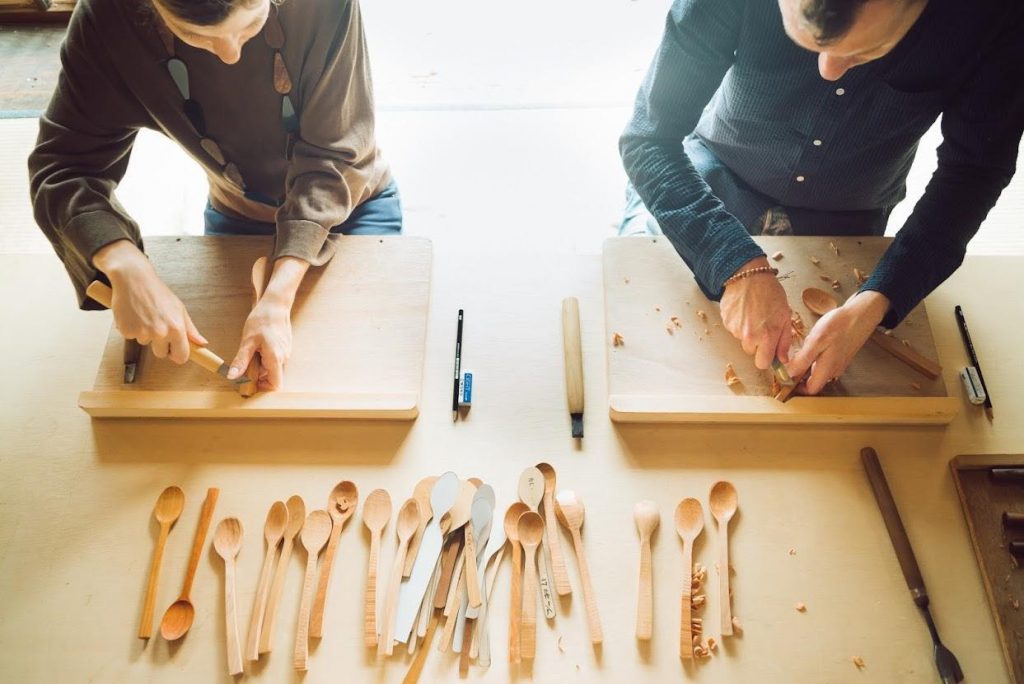 The best is not to try to do it well, but to make what you want to make.
What are the characteristics of the cherry wood used in the Bed and Craft experience?
Komei: For my sculptures or the ranma we talked of earlier, we usually use camphor trees because it has a nice wood grain and is easy to carve. Compared to it, cherry trees are very hard and difficult to carve because the wood grain is very compact.
For the experience where we make spoons, camphor tree would not be a good fit: the spoons would break easily, and it also has a very distinct aroma that you would taste in your mouth. Cherry trees, on the contrary, are hard to break, do not have much taste, and do not grow mold easily.
So, it requires a little strength. What are your tips for teaching even beginners to make good sculptures?
Komei: The best is to not try to make a "good sculpture" [laughs]. Most of the time, if you think that way, you are going to try to copy something else. It is especially true for Japanese people, but when I show a sample picture to get inspiration from, participants will try to make exactly the same. Of course, it is not possible.
The best is not to try to do it well, but to make what you want to make.
The Importance of Creating Bonds
Talking with Tomotsugu and Komei reminded me a lot of the interview I did with anthropologist Ko Hayakawa last year. We had talked a lot about the struggles of the Japanese countryside, and about solutions to support local communities.
Not only he had told me that outsiders are often catalysts for positive changes in local communities, as did Tomotsugu and Komei, but he also said that to support local communities, "It is the local people's responsibility to have confidence in their resources and provide access to authentic experiences that visitors will enjoy," and "If the readers of Kokoro Media are planning a trip to Japan, I would like them to not only think about how they will spend their money. Please also think of the relationship you want to build with Japan, or with people from a specific area."
To me, Bed and Craft seem to be an embodiment of the few hints Ko Hayakawa gave on how to support local communities through tourism.
First, it is very authentic: you stay in former vacant houses refurbished with crafts and art made by local artisans. For a few days, the house is yours and you are free to roam around and explore the town at your own pace, see daily life, observe workshops, and make your personal memories of the town.
Secondly, you can really build relationships with people, thanks to the craft experiences that allow you to "date" a craftsperson for a few hours. Also, since the town is not so touristy, you will be seen as an individual rather than part of a mass of tourists. You will be able to approach and exchange with people and bond with them.
In a time when we are looking for more meaningful moments and experiences, projects like Bed and Craft allow us to travel differently and not only make beautiful memories but also make us slightly different people.
---