In November 2021, I interviewed Aguyoshi, a dance duo formed by contemporary dancers Aisa Shirai and KEKE. They usually explore the streets of Japan and their shapes through funny improvised dances that keep getting more and more attention online.
As proof of their growing popularity overseas, the duo was invited to perform at the Triennale Milano in May 2022. Since we had mentioned going overseas someday in my previous interview, I could not help but ask for their impressions on their first performance outside of Japan. Read on to know what happens when two cultures, and when art and the city collide.
When I interviewed you in November 2021, you mentioned that you hoped to dance in a foreign city someday. A few months later you announced that you were invited to the Triennale Milano in Italy. How did you feel when you were contacted by the Triennale Milano?
In fact, we were contacted as early as August 2021. However, due to the pandemic, we were uncertain whether the trip would actually happen.
Even after the discussions progressed and it became almost certain that we would be going, it still felt unreal until we actually went.
When you actually walked around Milan and Brescia, did you notice any differences from Tokyo? Were there any particular things that impressed you?
Compared to Tokyo, people seemed to behave more freely. This was especially true in the parks in Milan's city center. Many people were sunbathing, exercising, or doing whatever they wanted to do without being afraid of being seen. Under such circumstances, We felt that a modest performance like ours might be underwhelming.
On the other hand, even those who seemed to be doing nothing at first glances, such as sunbathing or just spending family time seemed to have a clear purpose for being there. There were no people who were really "doing nothing," and many people seemed to be enjoying their leisure time with some kind of meaning.
So, as a result, we think that our way of "being really nothing" still looked like something peculiar.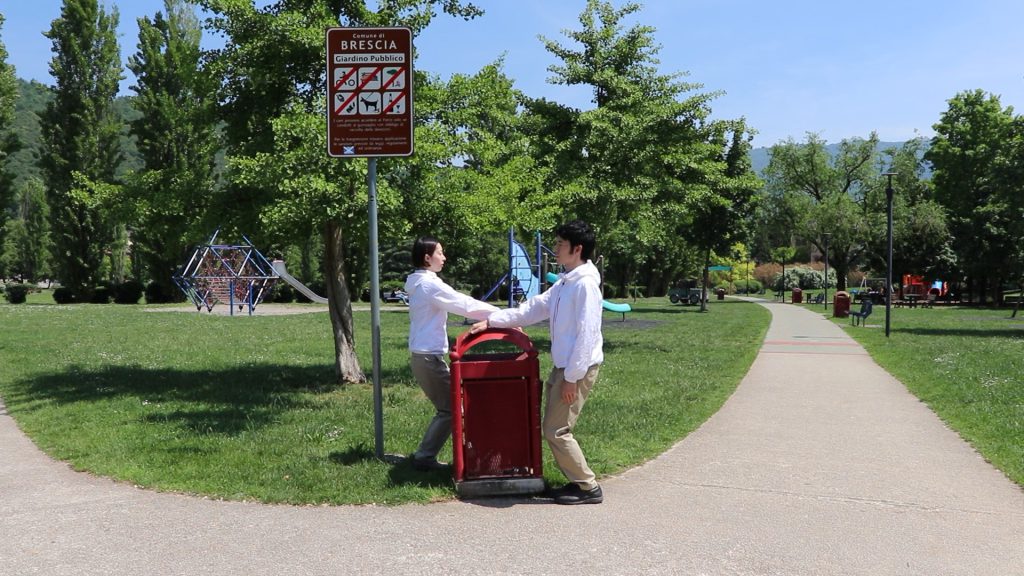 In the last performance in Milan, there was a curtain call. What did you think of how the audience reacted?
The reactions were totally different between Milan and Brescia. The Milanese audience was very urban and seemed accustomed to seeing art. Many of them were very forward and watched the exhibition from beginning to end, which surprised me. We think Japanese audiences often pretend not to see us or watch from a distance but we felt that Milanese audiences have a very clear attitude: if they are not interested, they ignore it, and if they are interested, they will watch it thoroughly up close.
Since the organizers felt that they wanted to bring art to a segment of the population that does not usually go to see art, they decided to hold the performance in parks a short distance from the center of each city. What was the reaction of the audience there?
The reaction of the audience in Brescia seemed more straightforward than in Milan. There were not so many hungry demands for art, and they seemed to be looking at it in a direct way as if they were looking at a rare animal.
Another common reaction of the audiences in Milan and Brescia was confusion about our "expressionless" faces. It seems that the expressionless faces of us Asians, in particular, looked really different and unusual. Although it is not particularly unusual for contemporary dancers to be expressionless during a performance, ours seemed to be perceived as something different from the expressionless faces that Westerners are accustomed to seeing.
In the video of the performance of Milano's show, we can see children coming up to you, sitting next to you, following you, and so on. In the previous interview, you talked about how the world was seen through children's eyes, and I wonder if your dance style is more likely to resonate with children in other countries as well.
The children's behavior resulted from their interest in and reaction to something new and peculiar. It was similar to their reactions to street performers and clowns. Many said of us, "They are robots!"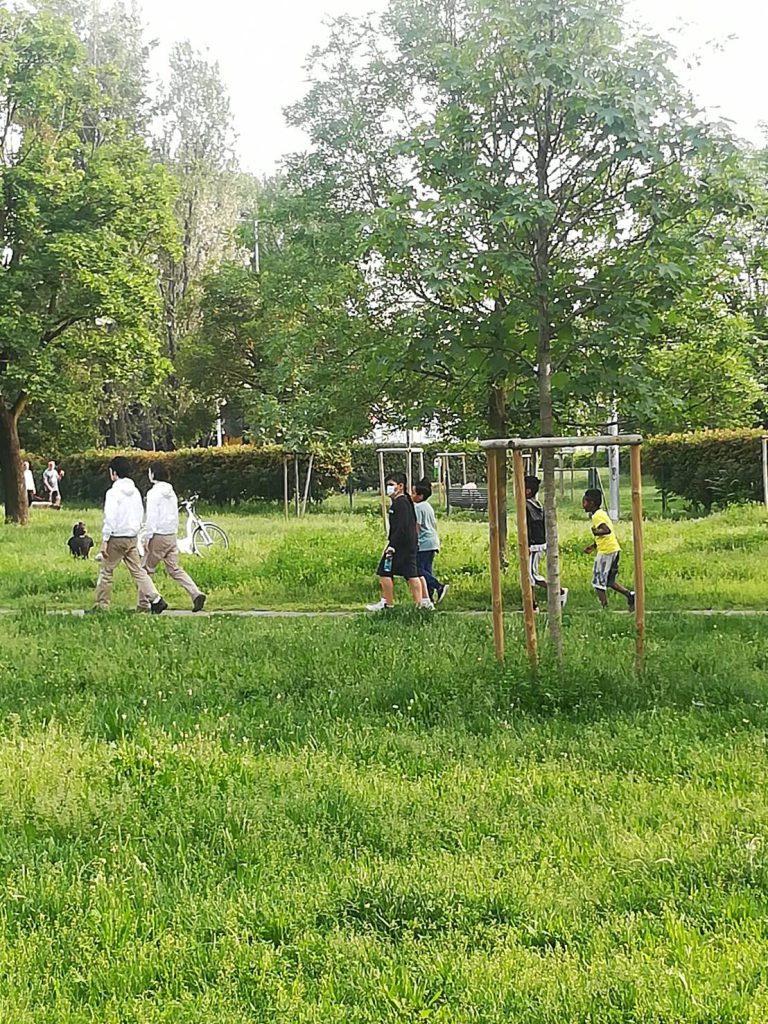 In May, you made a video appearance at a YiXi event [a sort of Chinese equivalent of TED talks] in China.
We were thrilled that the staff of YiXi had studied Japanese very well and were very attentive to our interactions with them. However, since we could not go to the site this time and had to perform via video, it was very difficult for us to speak and teach to the camera, which showed no reaction.
We were happy to hear that the audience laughed when they saw our video at the event in Guangzhou!
You have been more and more active overseas. Do you have any other goals or plans for this year?
Of course, We would like to go abroad again if the opportunity arises, but our main goal is to continue dancing moyayoshi as before.
As for future plans, our June moyayoshi session will be held in Fuji City, Shizuoka Prefecture, upon request.
---