Mar Expósito was born in Barcelona, Spain, and grew up watching plenty of animation and spending a lot of time drawing. She came to Japan in 2014 with the project to work in the animation industry. The first animated short film she directed received several awards, and earlier this year, she built her own animation company in Tokyo. In this interview, Mar tells us how this allows her to create stories that reflect her personal set of values.
Could you explain to our readers what your job consists of?
I've been doing animation for a few years, but I just created my own animation company, "Maru Exposito," in February 2020. I wear many hats: producer, animator, manager… When a client comes in and says, "I want an animation piece with these characteristics," I either do it myself, or I put together a team, manage them, and deliver. For example, the last client came with a song, and they wanted an animated music video. We decided on the style and the budget, and I realized I needed a background artist, so I hired a friend, and we made it.
Before I officially created the studio in February, I was already doing a comic with a few people. So, I'm used to working this way. So far, we've had two projects. The first one is the music video I just told you about, for which I hired one person. On the new one, we're already six.
I'm using half my time doing this job, and the other half working for a company where I do local marketing and other various things. At first, I was working full-time at this other job. I was a manager on different projects, and that's how I got my managing experience. It's the same for the people I'm working with. Either they also have another job, or they're unemployed and want to shift careers.
My ultimate goal is to start a project and have enough resources to make a movie and to distribute it in cinemas or online. But right now, to start things running and gather the team, we're doing the reversal: the money comes in directly from the demands of others. I also work on personal projects to create a portfolio.
What has led you to become a studio director in Japan?
I'm the kid who grew up watching animation on TV. You would find me at my grandma's house, eating cookies, drawing, and watching the television way too close. I've always drawn. But I soon realized there was no big industry in Spain in this field. I felt I had two choices: either the American-style of animation and Disney, or the Japanese animation style. I had always been more attracted to Japanese culture, so I didn't hesitate much to go to Japan.
I studied Japanese for two hours a week for three years. Then I came to Japan, and after a year and six months of studying Japanese, I was able to pass level 2 of the Japanese Language Proficiency Test. After that, I studied animation in a vocational school in Tokyo. There, I got a lot of help. Most of the tests were very practical, mostly drawing. If ever I didn't understand the instructions, I'd just ask the person next to me. As long as I showed interest, they were very accommodating and understanding. Thankfully, I didn't have to write long answers full of kanji, or I probably would have failed! I'm not saying that it was easy. But if you show interest and have conversational Japanese, you can survive.
At the same time, I learned more and more about entrepreneurship but also about my own values. I realized there were some things I wouldn't be able to choose if I entered Studio Ghibli or another big animation company. For example, maybe some things I would draw for these companies would be used to promote machine slots or pachinko. And gambling is one thing that doesn't fit my values. That's how I thought I had to start my own company!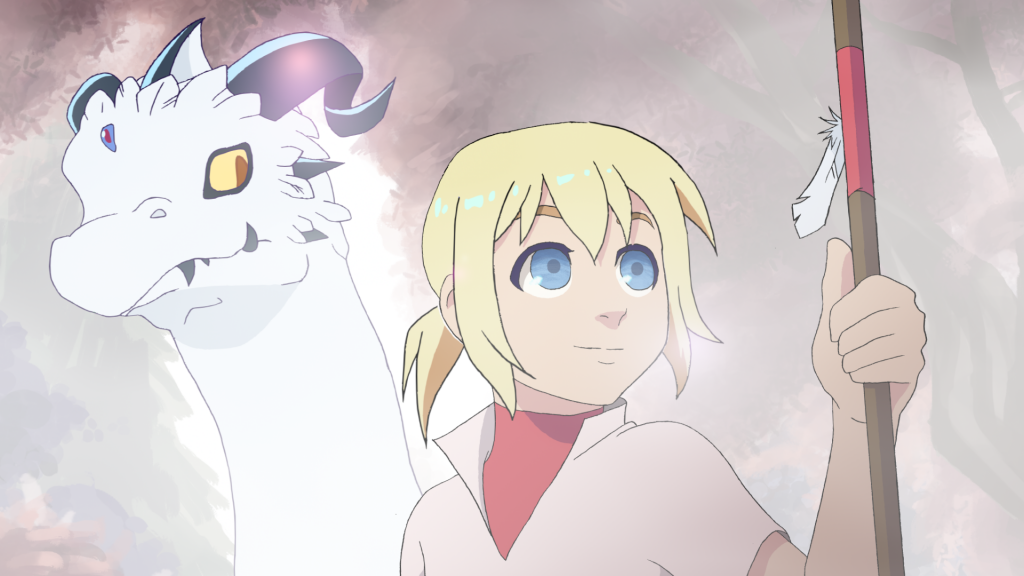 What ideas or messages do you wish to convey through your comics and animations? Is there anything specific you are committed to?
There are some internal values that I have. Things like "health comes first," or giving the same power to women and men. But there are five values that I show publicly, and all the work that I do has to go through it. Then it's fulfilling, and it will have a significant impact because we transmit information through stories, and what is visual is extremely powerful.
The first value is that the story must focus on some message. Of course, every story can be read in many ways, but we want to keep a focus. For example, the message can be trusting people for their actions rather than your assumptions. I actually have a full panel in my comic about someone thinking that! What we want to communicate doesn't need to be something new, but something that is helpful to remember. I want to make sure that the person watching will get a benefit from watching our stories. I want to encourage our viewers to think, grow, or get advice. Stories should try to make the world a better place.
The second value is that we don't make filler content to prolong the story. For some shows like The Simpsons or Crayon Shin-chan, the episode must end like it started because that's the joke. But there are many shows that you watch, and you end up thinking, "And now, what?" I'm thinking of shows like Lost, Dexter, or Dragon Ball. Do we really want their stories to get longer and longer because we want to keep the audience? After some time, some things start not making sense with the characters. This personally annoys me a lot, and I want to make sure that every scene we create is headed towards something. For example, in a love story, I'm not going to delay the confession scene by adding a rival at the last moment. And if we make an extra episode, it will be called an extra. I want to respect people's time and make sure we deliver something good. I want to know the end of the story in advance, or at least the direction. For example, in Naruto, Naruto is going to become a hokage. We don't know how, we don't know where, but we know he is.
The third value is that stories should not support things that I believe are negative for society, like gambling, smoking, drugs, homophobia, or war. For example, we can have war in a story, but I'm not going to show it in a way that glorifies the fight. I'm instead going to show how, because of it, people are lost, natural resources are depleted, and society gets broken.
The fourth value is that we're pushing environmentally friendly creative processes. Actually, this is still a work in progress. I chose digital over paper, but that doesn't mean that digital is going to save the world. But for example, if I have to decide about giving merchandise, and I have to choose between a plastic bag and an organic tote bag, I'll go for the sustainable thing. I am careful about how I act to set an example. I want to help the environment, and when we make a profit, I'd like to donate and give back to nature.
The last value is about communication. It's about building trust by doing what you say you will do or at least try your best. In my job, it means delivering by the deadline and things like that.
These are values that I believe make society and ourselves better. And if I follow these, I will feel good about my life and will be able to deliver amazing products.
What are your projects or objectives for the future?
As I mentioned, our goal would be to make proper movies and books. I'd also like to include other writers and make movies for comics I appreciate.
For now, I'm trying to find clients that fit our values. I'm trying to make more music videos because it's a product that already has demand. Bands need music videos, but because of the pandemic, they cannot film outside. If they have a song, I can make a video for them. But since they cannot do concerts and sell tickets, their resources are also smaller. You have to adapt.
I'm trying to spread the word online about what I'm doing, my style, and my values. And somehow clients are finding me! Our clients showing our work also brings new clients.
I'm also doing live streams. It's a way to make people become fans of the studio.
Is there anything specific to the Japanese soul/culture/mind that you admire or you have adopted in your work?
One of the things I admire the most is also the reason why I came here. In Spain, if you're doing the type of art I do, the general mindset is that you're not really working, you're just doing things for kids. Drawing is not considered proper work; you wouldn't be able to feed yourself. But in Japan, this is viewed as a job. If you do creative things, you'll be considered seriously. People will not expect you to have a lot of cash, considering how the industry works. But it's regarded as a professional path, which is something I really value. Also, here animation is for everyone and not just for kids. That's what I was looking for when I came here.
In your home culture, do you have a concept close to the Japanese "kokoro"?
I would not translate "kokoro" by the Spanish word meaning heart, "corazón," because it's mostly about emotions. I would instead use the word "alma," which means soul. For example, "con toda tu alma" is when you put your soul into a project. Like on the concept of your website, when you get the "alma" of someone is when you completely understand that person. You see their motives, you see how they feel. It's like the core. With "alma," there is no layer around it.
During our interview, Mar evoked how building trust with other people is crucial to her. Still, I'm personally more impressed by how she's been trusting herself from a young age. Although her home country's culture was not supportive of her life project, she trusted that this was the path she wanted to follow. Even if it meant leaving for a faraway country, learning a new language, and overcoming challenges that would not have existed back home.
She also keeps the trust in being herself. Mar could have put her personal values aside and work for a big animation company. Instead, she chose the hard way of spending more time and energy, building her studio for more creative freedom. Now, she's free to respect her personal set of values.
Furthermore, Mar followed her dream to live in Japan. Still, she's idealizing neither the country nor the industry she's working in. Isn't this kind of clarity and healthy mindset the secret behind creating powerful stories?
Maru Exposito Anime & Comic Studio Official Website
---