Have you ever heard of yosakoi? It is a Japanese dance performed in festivals all around Japan and in many other countries too.
How did this dance originating from Kochi Prefecture (Shikoku island) manage to spread so far? The answer lies in its welcoming spirit and easy principles.
On July 4, I was invited to a unique yosakoi event called "Premium Yosakoi in Tokyo." Not only was it the first time for me to see yosakoi live, but it was also an occasion to learn about its history and philosophy.
This is an affiliate article produced in cooperation with Kochi Prefecture.
What Is Yosakoi?
The Origins of Yosakoi
For a country like Japan in which arts live for hundreds of years, yosakoi is a rather recent dance, as it was born during the first Yosakoi Festival in Kochi in 1954. The original purpose of the dance was to brighten up the mood and create new opportunities for the locals. They had suffered a lot during the war and were building themselves new lives.
Nowadays, the festival is still held every year and lasts for four days during which teams from all over Japan compete to win the top prize.
The Yosakoi Song
At the very origin of the yosakoi song is "Yosakoi-bushi," a traditional folk song from Kochi that was said to remind its citizens of their land when they were far from home. The author of the yosakoi song, Takemasa Eisaku, mixed it with two other songs: "Yocchore," which is a children's song, and another folk song from Kochi called "Jinma-mo."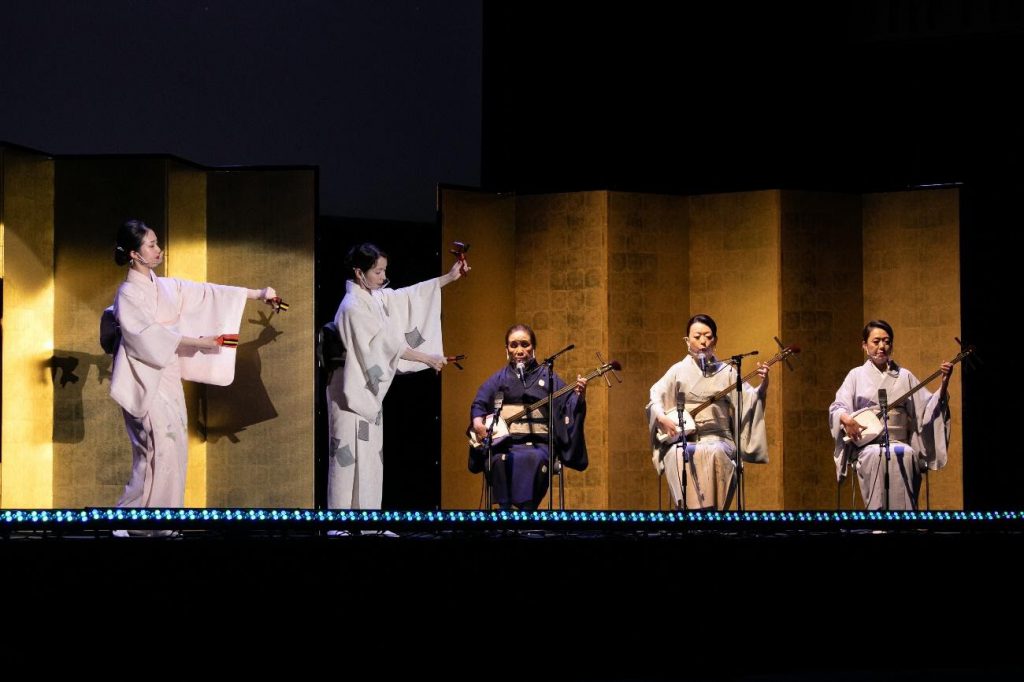 The first variation of the original yosakoi song came about in 1972, when Kochi dancers were invited outside of Japan for the first time to perform in France during the Nice Carnival. For this occasion, the rhythm of the song was changed to a samba rhythm which fit the carnival's atmosphere.
Takemasa Eisaku was very open to the idea of having people modify the music and even declared that it should change to fit the times. As a matter of fact, the yosakoi song is copyright free, and there are now versions of the song in many genres.
Nowadays, participants are free to compose their own song for the yosakoi dance, as long as it includes some parts and phrases from the original song.
The Principles of Yosakoi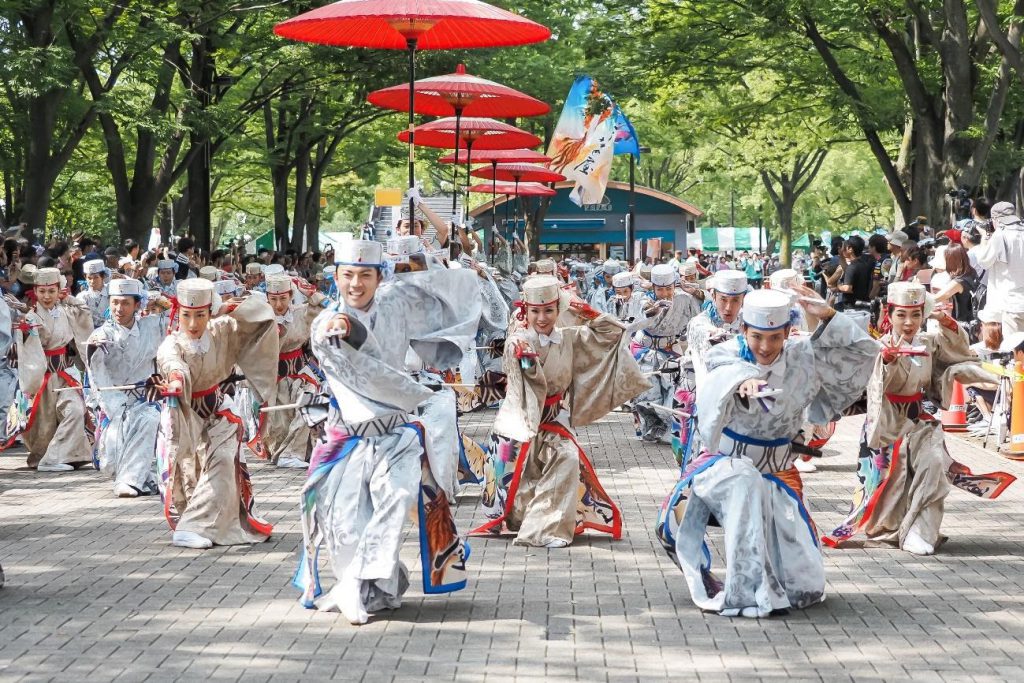 Usually, traditional Japanese dances, such as Awa Odori, for example, have strict rules regarding the steps and moves the dancer must follow. On the contrary, yosakoi choreographies are completely free, as long as they respect the following three rules:
Dancers must move forward as they dance
They must hold naruko clappers
They must include a part of the "Yosakoi Naruko Odori" song
This, as well as the freedom regarding the music, allows each team of dancers to express their personality and style freely. Some teams build their choreographies so that the click-clack of the naruko enhances the music.
The naruko is the typical yosakoi instrument. Originally, it was a tool used to scare birds so that they do not come into the fields. They usually are painted in vermillon, yellow, and black, although dance teams are allowed to paint it the color they want to match their costumes. Using the naruko to make the exact sound you want is not as easy as it seems, and making it fit the rhythm requires good wrist techniques!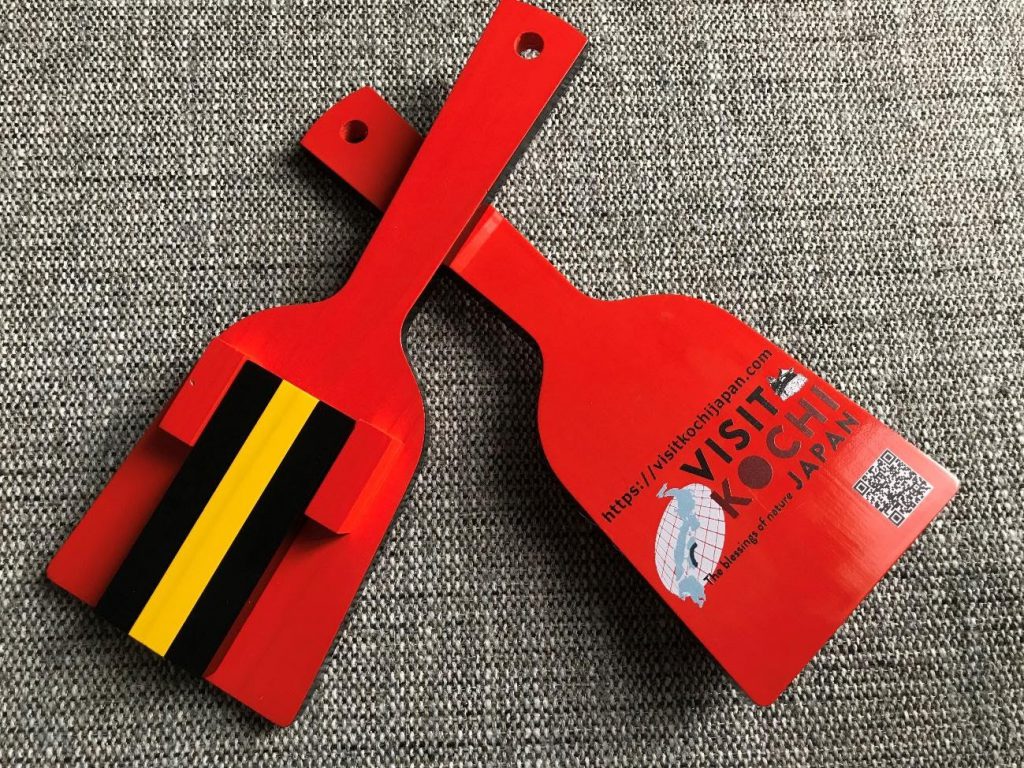 The dancers also have complete freedom regarding their costumes, which allows for a lot of creativity regarding the colors, patterns, and even using the costumes as props.
For example, the team Truck Yosakoi from Kochi Prefecture (shown on the hero picture of this article) uses its costumes to depict the story of their song, which is about the clash between tigers and dragons.
A Dance Open to a Diversity of Dancers
Thanks to the freedom offered by the basic principles of yosakoi, anybody can participate regardless of age, origin, gender, or ability.
It is interesting to note that although the original form of the dance was made of "male dancers" and "female dancers" having distinct dance parts, it is not rare today to see females perform the role of the male dancers.
Some teams, like Ren from Hyogo Prefecture, have members of four generations, from elementary school students to seniors.
Others, like Tentekomai from Kochi Prefecture, bring people with and without disabilities together to dance and promote the normalization of a barrier-free environment. Similarly, the Kosumosu team from Saitama Prefecture is made up of members of the Kosumosu Workshop, a daycare facility for people with disabilities where they produce food and run a cafeteria.
Yosakoi Expanding All over the World
Kochi Prefecture residents are not protective of the yosakoi dance. After encouraging it to expand inside Japan, they now positively support people from all around the world to discover yosakoi and learn to dance it!
It is maybe not so surprising from a prefecture that is part of the Shikoku Pilgrimage, which surely has influenced the welcoming attitude of its inhabitants.
"The creators of yosakoi took care to be involved and be supportive of the changes in yosakoi over time. I feel that the reason why yosakoi has continued even with the changes to it is because of everyone's open-mindedness, like we see in the big blue sky of Kochi." —Tamura Toyoyuki from the Yosakoi Cultural Association
As I mentioned earlier, in 1972, yosakoi dancers performed outside of Japan for the first time during the carnival of Nice, France. Since then, Japanese yosakoi dancers have performed in many countries, helping it expand all over the world.
Now, yosakoi is danced outside of Japan in 33 countries on five continents!
"I started dancing yosakoi about 10 years ago, and took part in the Raiden Yosakoi Team of my home country, the Netherlands. Yosakoi is special to me as it allows me to express myself and connect with other people through dancing." —Nadine, yosakoi dancer from the Netherlands
Short Interview with the Dream Yosacoy Official Team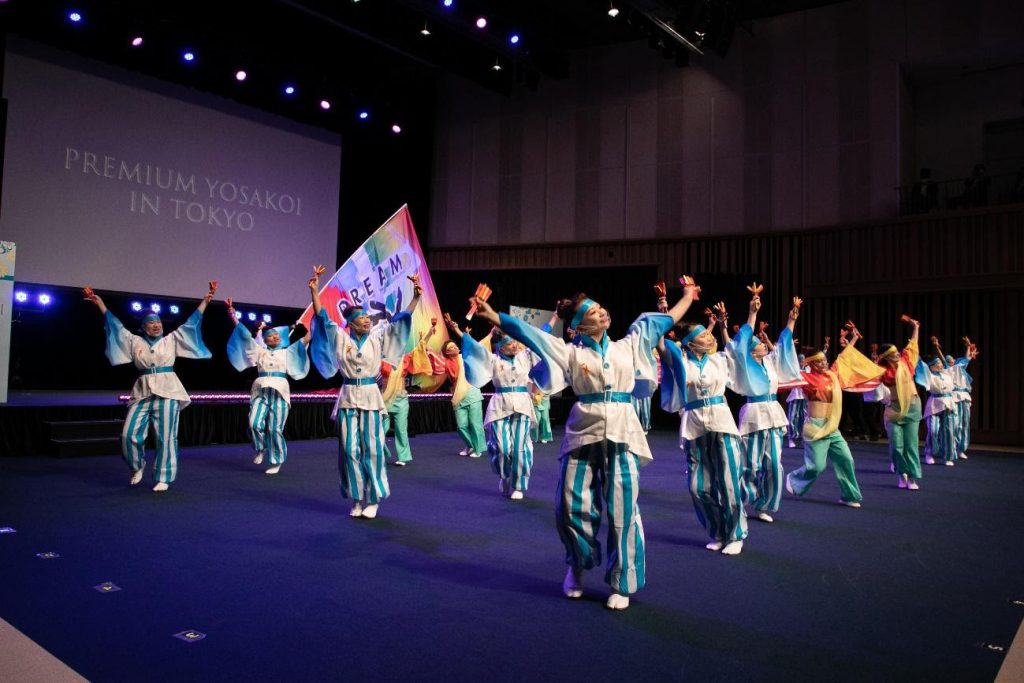 Among the teams that help yosakoi spread all over the world is the Dream Yosacoy Official Team from Tokyo. They have performed in New York, Singapore, and Malaysia. This team is motivated in giving back to society through festivals and takes part in child abuse campaigns. They want to spread their message and bring joy and hope to children all over the world, which has brought them overseas.
After the event, I reached out to Mr. Itokawa from the Dream Yosacoy Festival Global Promotion Foundation, who agreed to answer a few questions.
Your team is involved in giving back to society, cares about Sustainable Development Goals, and takes part in child abuse campaigns. What is the main message you want to convey through yosakoi?
We at the Dream Yosacoy Festival hope to expand the circle of the yosakoi naruko dance, and hope that many people around the world will become familiar with it as a sustainable festival with "universal participation" that transcends gender, age, disability, nationality, field, and culture.

You have danced outside of Japan too. How did everyone feel while performing overseas?

Regarding the New York event, we will never forget the unique tension created by the city and the uplifting atmosphere at the "Crossroads of the World" in Times Square. And we will always treasure the letter of encouragement we received directly from the then mayor of New York City (Mayor Bloomberg) at the first event in 2013.
In Singapore, we held the event around Orchard Road, the main street of the city. Even though it was hot, it felt really good to perform in the refreshing atmosphere of the city.
We are also promoting the dance in Malaysia, and we were very impressed by the hard work of the local students.
Are there other countries you would like to visit in the future?

One of our future goals is to hold new Dream Yosacoy Festivals in the sister cities of Tokyo where our festival is based, such as Paris, France, and London, England.

What was it like performing at Premium Yosakoi in Tokyo?

Despite the limitations due to the COVID-19 pandemic, we were able to organize the event in the best way we could at the moment, which was through online live streaming without an audience.
We are grateful and happy to have been involved in this event to show the history and appeal of the yosakoi dance to people all over the world, as well as show that anyone can participate and have fun.
We hope that this event will be the start of a global dance festival that will spread throughout the world!
The Premium Yosakoi in Tokyo Event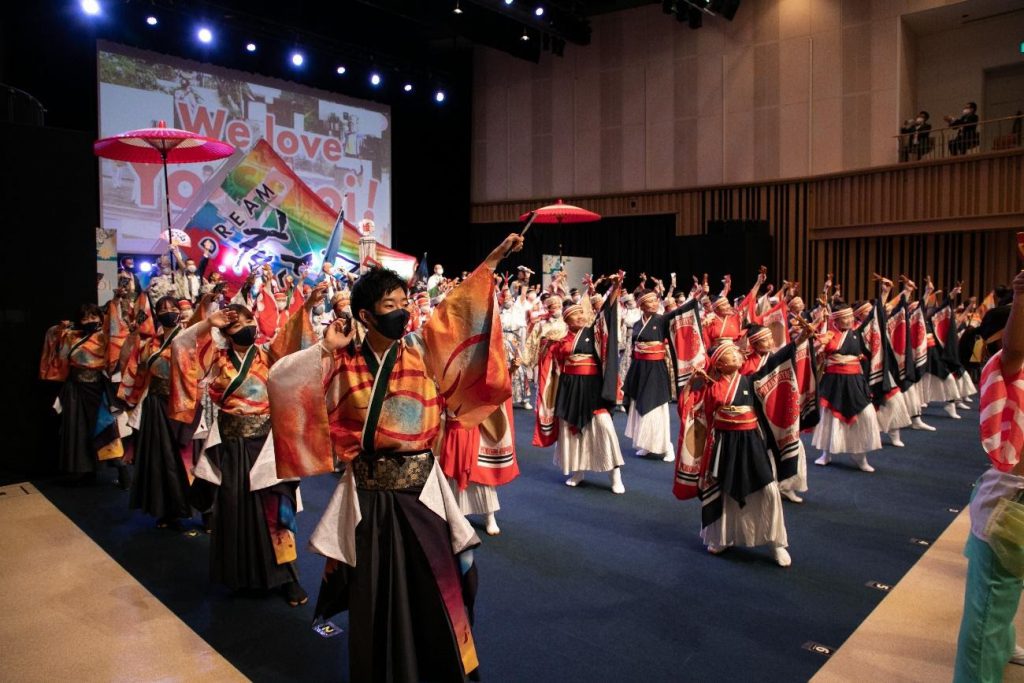 The Event's Purpose
The special event "Premium Yosakoi in Tokyo" was held on July 4th, 2021 on YouTube. According to its organizers, the event had two main objectives: "making the Olympics and Paralympics period more exciting with yosakoi," and "bringing a little cheer to people in spite of the current COVID-19 pandemic." (Words by Aoki Akihiro, Chairman of the Yosakoi Festival Promotion Association)
The governor of Kochi Prefecture himself was present in Tokyo.
"I hope that through our cheer, the many people who are watching 'Premium Yosakoi in Tokyo' will be filled with energy and happiness, and that yosakoi will develop even further in Japan and around the world." —Hamada Seiji, Governor of Kochi Prefecture
Only press and staff were allowed at the Tokyo location from where several yosakoi teams were performing.
It is just a guess of mine, but I wonder if originally the organizers of the event were planning something different, maybe a huge yosakoi festival to be held to energize Tokyo during the Olympics.
However, I think they adapted well to the conditions imposed by the pandemic. Organizing a free live event on YouTube to be watched all over the world and to cheer and educate people about yosakoi was a great idea.
Premium Yosakoi Content and Highlights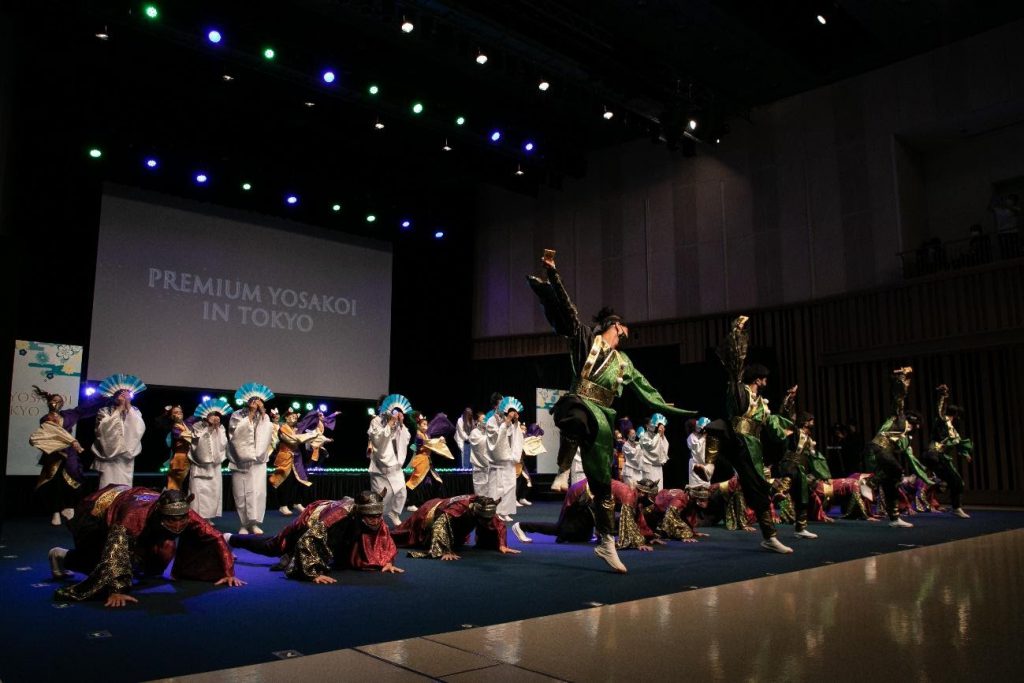 After a very impressive opening evoking the upcoming Olympics, we meet a girl who finds a pair of naruko clappers. She is the common thread that links all the performances together. Throughout the show, she meets yosakoi dancers and learns the fun of yosakoi.
The show lasts for about two hours, and alternates impressive dances from teams performing in Tokyo, as well as teams performing live from other parts of Japan: Kochi, of course, but also Hokkaido and Nagasaki. All the participating teams have received prizes in festivals all over Japan.
Between the dance performances, we are shown videos that show different aspects of yosakoi: its history, how it expanded in Japan and in the world, its diversity, etc. This allows the viewers to never feel bored, and to fully understand the meaning and depth of what they are watching. The fact that the event is not only recreational but also educational is a great quality and I hope it will inspire future similar events.
The different yosakoi dancing teams reflected the diversity of music, dancing styles, and costumes that can be used in yosakoi, offering the viewers a nice panorama of what is possible with this dance.
One of my personal favorite teams of the day was Zokkon Machida '98, whose daruma dolls-themed costumes were very impressive.
Short Interview with the Zokkon Machida '98 Team
Among all the teams performing at Premium Yosakoi in Tokyo, the Zokkon Machida '98 team had a huge impact on me, with their powerful performance and wonderful costumes. I reached out to their representative Mr. Mitamura, who warmly agreed to answer a few questions.
How did everyone feel dancing at Premium Yosakoi in Tokyo?
Because of the COVID-19 pandemic, we had not been able to dance at a festival since January 2020. All the members felt very grateful because Premium Yosakoi in Tokyo gave us the chance to dance after a year and a half without activities. We felt extremely happy!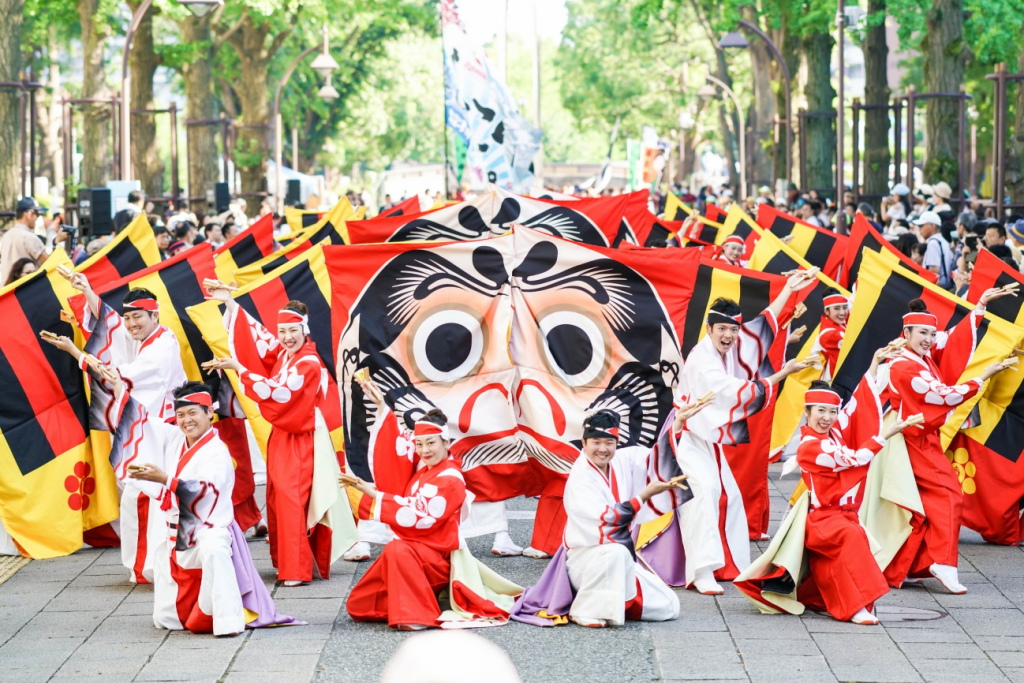 Your costumes are great, especially the ones that transform into banners to form pictures. Where did you get this idea?
I got a stage producer to work with us, and it was his idea. He was inspired by kabuki [Japanese theater] stage sets, in which there are a lot of props that move and change. It adds about one kilogram to the weight of the costume, and it takes a lot of training to dance with it and master it!
In 2018, our team celebrated its 20-year anniversary. We looked back at our history during which a lot happened, but we always kept going. That is when we made these daruma doll costumes. As you may know, a daruma doll can be tipped but will always stand back up.
We wear them to not forget to always do our best whatever the circumstances may be, and to live life fully. Since so much has happened all over the world in the last year, we also wanted to convey this encouraging message to the viewers.
What is the beauty of yosakoi for you?
Without hesitation, it is about meeting people. I have been part of the team since its creation in 1998. Members change with time and yosakoi has allowed me to meet a lot of different people, including people from other teams.
Yosakoi welcomes people from diverse profiles, and it has given me the opportunity to meet people I could never have met otherwise.
Do you have a message for our readers?
Our team has had the chance to travel and dance outside of Japan, in Thailand and in Vietnam, for example, where local yosakoi teams exist. Yosakoi is a unique way to meet and communicate directly with people, something I feel we are losing little by little because of the internet.
So, please do not hesitate to start dancing yosakoi! How about making a team where you live?
Joining Yosakoi
Yosakoi rhythms and energy remained in my head for a few hours after the event ended, and once home, I even played with the naruko clappers for a bit. Now that I know more about yosakoi and have seen it live for the first time in my life, the idea of joining a team someday has crossed my mind.
It is too bad that my current activities do not allow me to do so for the time being, but I do not feel rushed: I know that I can dance yosakoi at any age, anywhere in the world!
Are you tempted to join the dance, too?
---