With more than 2 million subscribers on his YouTube channel and a total of 4 million followers on his various social media, Fumiya is living the dream of many young people these days.
While he was studying in the Philippines, one of his videos suddenly became viral, and a few months later, he joined as one of the participants in the local version of Big Brother, which made him known in the whole country. Suddenly thrown into Philippine stardom, Fumiya participated in events, TV shows, TV series, and movies. Now back in Japan, he continues his career as an influencer trying to bring Japan and the Philippines together, has recently launched his own clothing brand, and even released his first song.
Soon after our conversation started, I noticed that despite his sudden rise to fame, Fumiya is very humble. Often laughing and joking as he does in his videos, he speaks in both a very friendly and honest manner, leaving no space for fakeness, explaining his experience in the Philippines exactly as he lived and felt it.
Read on to discover what had led Fumiya to making videos in the Philippines, what were the conditions for his success, the challenges of being a celebrity, what he learned from the Philippines' way of life, and much more.
Discovering the Philippines Alone
When people told me not to go because it was too dangerous, I said that I would experience it myself, take videos, and show them the reality of the country.
Originally, what has brought you to the Philippines?
It is a long story! I used to work in a hotel in Japan, and we had a lot of foreign customers. Many of them were wearing clothes with Japanese text written on it, such as "Japan First," as well as strange phrases and kanji that did not make sense to Japanese people. It made me wonder so much that I asked all the customers why they were wearing these clothes. Most of the time, the answer I got was, "I don't know what is written, but the Japanese text looks cool." I started to have this idea that as a Japanese person, I could make even cooler clothes with correct Japanese written on it, and sell it to other countries.
That is how I started to want to build my own brand of clothing outside of Japan. But I realized that it would not be possible if I was not able to speak English. So, first of all, I decided to go and study English. I was considering the US or Canada at the time, but when I went to see an agent, I was told it would cost 3 million yen a year, which was out of my budget. They told me that the Philippines was another option to study English. I got interested and started to do some online research about the country.
I soon learned that there were a lot of Japanese who were going to Cebu Island. There was very little information about Manila in Japanese at the time, aside from that it was dangerous. That made me want to go there! I thought going to Cebu, where there were already a lot of Japanese people, would not help me, and it would be much more interesting to go to Manila. I did not know anything about the Philippines at the time. I thought that going to a place with a completely different environment from the one I was used to would be more enriching, and would also make me notice what is specific and nice about Japan.
In the end, I did not go through an agent. I just took my luggage, my passport, and went to Manila.
That must have needed a lot of courage!
To tell the truth, I was crying the night before my departure. [laughs] My family and my superiors kept telling me not to go, to give up my trip because it was too dangerous.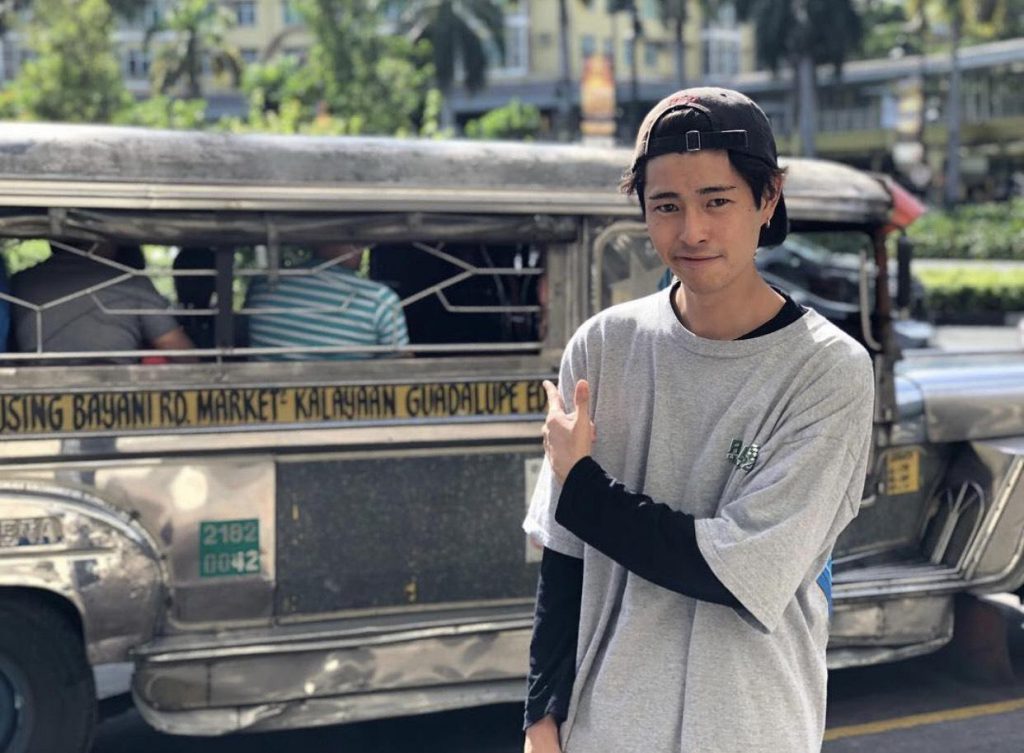 Did you have any culture shocks after arriving in the Philippines?
I was surprised to see so many people everywhere, and to see that there were so many young people. And so many kids! As Japan is an aging country, I was more used to seeing a lot of grandpas and grandmas. In comparison, the Philippines felt very energetic.
As I mentioned, at the time, many Japanese people around me had a negative image of the Philippines. They got me worried about the poor public security. However, it only took me two hours to realize that it was fun to be there, more than anything else.
What is your opinion on local security?
You do need to be a little careful, but it is not as dangerous as people wanted me to believe. When people told me not to go because it was too dangerous, I asked them, "Well, have you ever been to the Philippines?" All of them said no. So I said that I would experience it myself, take videos, and show them the reality of the country. That is how I got the idea for my YouTube channel. At first, I did it for my family and friends.
Becoming a Famous YouTuber and Local Celebrity
I discovered what it was like to live as a performer. I only slept for about three hours a day!
Then, one day, one of your videos created buzz and it was a turning point for your YouTube account. Can you tell me how you felt at the time?
The minute I arrived in the Philippines, from the airport, I started taking videos and narrating in Japanese what I was seeing. I took scenes of my everyday life to reassure my family and friends. For example, in the beginning, I stayed with a local man that I did not really know. There, I took a video of the local bathroom, where there is a basin filled with water, and you scoop and pour it on you to wash yourself.
About two months after I started studying there, one of my videos created buzz among Filipinos. It was the one in which I was eating balut, a fertilized egg with a developing embryo inside. It got a lot of views.
The video of Fumiya eating balut that made him gain popularity in the Philippines
From then, I changed my way of thinking. I was there studying English because I wanted to create my apparel brand. I started thinking about who I wanted to be six months later, when I was supposed to end my study trip. I could go back to Japan after seriously studying English for six months, or I could go back to Japan after putting all my energy in my YouTube channel and becoming famous in the Philippines. The next day, I went to school and said I wanted to quit. The teachers made fun of me because I was not able to speak English yet, and I told them I would become famous.
From that day, I took videos every day. At the time, there was no other Japanese YouTuber targeting the Filipino audience. I believed I could become the Philippines' Hikakin [a famous Japanese YouTuber]. [laughs]
After that, you participated in the local version of Big Brother, Pinoy Big Brother. How did that happen?
Originally, I went to the audition for Big Brother just to make good content for my YouTube channel. I did not really know what Big Brother was about, because it is not very well known in Japan. For this edition of Big Brother, about 100,000 people performed and auditioned all over the world. I went to an arena where there were about 30,000 people, and filmed all throughout the audition.
After spending five months in the Philippines, I came back to Japan for a while. I wanted to do a meet-and-greet with my fans in Cebu Island, but I did not have money. I was actively looking for someone to fund my trip. I also went to a lot of Philippine cultural events in Japan. There, someone from the airline company Cebu Pacific noticed me and told me they found what I was doing fun. I was very lucky: they offered to sponsor my event, providing me with plane transportation, hotel, and a space in a local shopping mall. I went alone because I had no one to assist me. About 150 people came to the meet-and-greet.
After the event was over, I realized that another audition for Pinoy Big Brother was taking place in Cebu the exact same day! I decided to go to that audition too, and I think they remembered me from that point, because they told me I was funny. That coincidence in timing was like a miracle.
About six months later, I received a call telling me to go back to the Philippines to do the show.
Life on Pinoy Big Brother was like living in confinement, but I only learned the rules when the show started [laughs]. I had taken my computer with me and they took it away. Cameras were following us all the time. It was a peculiar way of living.
An official video from Pinoy Big Brother in which Fumiya is having a few Philippine culture shocks
You have been on a reality show, variety shows, and local dramas. You are also a singer. As a Japanese person, what was your experience with the local media?
Now, in Japan, I am on TV from time to time, but I am mostly active on social media. In the Philippines though, after Pinoy Big Brother, I worked for an entertainment agency. I discovered what it was like to live as a performer. I thought I was going to die! [laughs]
At the time, I was on four regular shows. My schedule was really tight. I was filming the shows from 6 a.m. to 5 p.m. After that, I made my way to the filming location of a TV series where we filmed until 1 a.m. Then I took a flight at 3 a.m. to go to another island for an event, came back the same day, and started filming again. It was like this every day, and I only slept for about three hours a day. I took the plane four or five times per week to go from island to island.
Philippine TV series are of higher quality than I had imagined. For the series I played in, we even went filming in Croatia. The pictures were beautiful like in a Hollywood movie. However, Filipinos have a sense of punctuality that is more relaxed than the Japanese. TV series are usually broadcasted from Monday to Friday. In Japan, in such a case, you would stock the episodes, and film what you intend to broadcast a month later today. But in the Philippines, what you are filming now can be on air 20 minutes later! It was incredible. Sometimes, the scenarist was late, and the staff would run to me with the scenario, asking me to memorize long dialogues in Tagalog in a very short time. When it was not manageable, the director would tell me the lines and I repeated them as we filmed. Such situations happened on a daily basis and it stressed me a lot.
However, I am grateful to have been able to experience things that I could have never experienced as a "regular person." For example, doing live shows was a long-time dream of mine, and it came true.
Acting as a Bridge between Japan and the Philippines
The more I thought, the less I found answers, and it became harder to come up with ideas. But nowadays, I get inspiration from everything I see.
Now you are back in Japan and reaching your audience mainly via social media. What are the messages you would like to convey?
Actually, until about March this year, I had lost my motivation regarding social media. This loss of motivation came very suddenly and I tried to analyze why it happened.
As I explained earlier, at first, I started my YouTube channel because I wanted to create my own clothing brand, but now, this dream has come true. I probably felt it was the end because I had reached my goal.
I had to think again about why I was doing my YouTube channel. If it was for a reason such as money, I would never be motivated enough to keep doing it. If I do not have a clear goal in sight, I cannot go forward.
I came to the conclusion that I want to enrich Filipinos' lives, in the sense that I want to give them good vibes. For example, because of the pandemic, we are all having a hard time. But if after watching my videos people could feel happy for a while, or if people thought, "Fumiya did a charity project so I will make one too," then my influence would mean something.
This has given me a new reason to do YouTube videos and I am having fun like never before!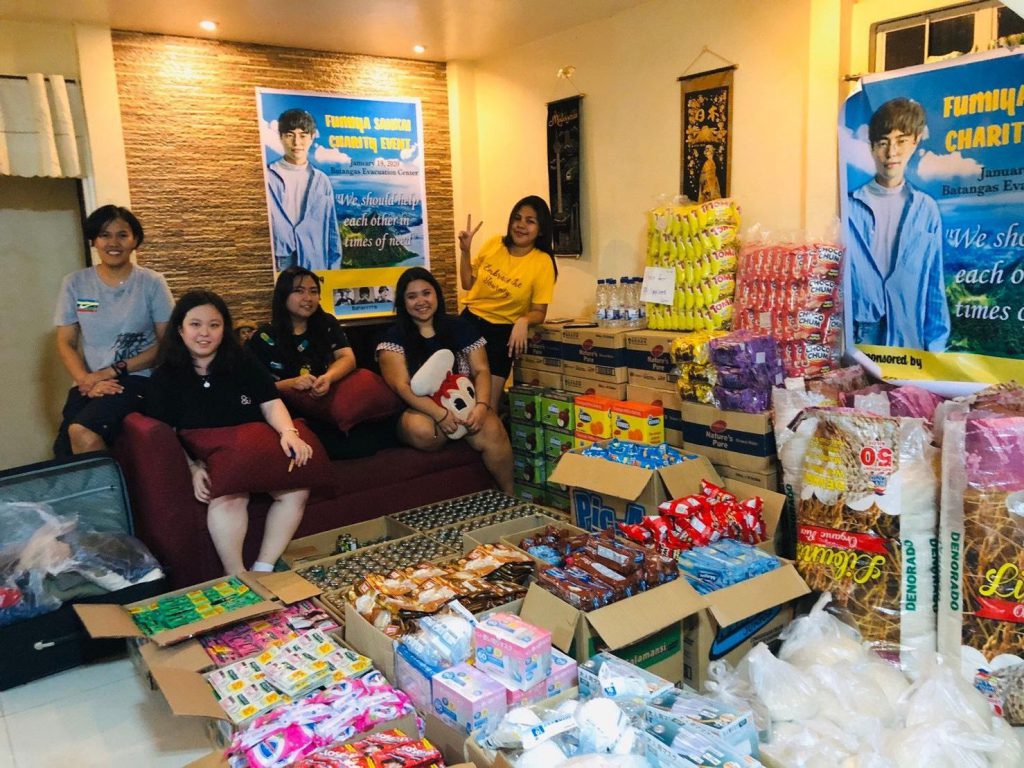 You upload new videos on your account at a very fast pace. How do you find the inspiration?
About four years ago, when I started my channel, I just did what I was interested in or found fun and used it as a topic. But last year, I started thinking too much about what is fun and what is not. The more I thought, the less I found the answer, and it became harder to come up with ideas. Nowadays, I get inspiration from everything I see—from movies to TikTok. I have realized that there is an infinity of fun topics in the world.
Earlier, you mentioned that your dream of having a clothing brand came true. Can you tell us more?
I started it in December 2020. The brand is called "BRIGE." Many people have been making fun of me, thinking I misspelled the word "bridge," but it is spelled like this on purpose!
I have always wanted to become a bridge between Japan and the Philippines, and I want this brand to be the same. There is a lot of racism nowadays, and I want to get people closer.
There is a reason why there is no "d" in my brand name. As I told you, when I quit my job to go to Manila, when I started my YouTube channel, and when I quit the English school, most people disagreed with me. I think it is a very Japanese trait to discourage people to try new things. People would tell me, "It's too dangerous, you should give up," "You'll never make a living from this," and "What will you do in the future?" They tried to discourage me, and I felt discriminated because of what I wanted to do. So, I removed the "d" from these "dis-" words, and came up with the brand name "BRIGE."
Cultural Differences between the Philippines and Japan
Living in the Philippines helped me realize that there are times to forget about my problems and live in the moment.
What are Filipinos most interested in regarding Japan?
Young people mention Japanese anime a lot. However, a lot of Filipinos do not know much about Japan. Actually, K-pop is extremely popular over there, and Korean culture gathers much more interest. The first time I went to the Philippines, when I was walking in the street, people would call me "oppa" a lot. ["Oppa" is a Korean word used by women when they talk to an older male.] People thought I was Korean. And I realized that although Filipino people knew words like "oppa" or "annyeonghaseyo" ["hello" in Korean], they did not know that "konnichiwa" means "hello" in Japanese.
That is one of the reasons I wanted to make them know Japanese culture better through videos and social media. This is still one of my objectives. There are a lot of everyday life things in Japan that could surprise Filipinos: what the streets look like, the vending machines, the high-tech toilets… What Japanese people consider as "normal" is not for other cultures.
Your videos can also be enjoyed by a Japanese audience. What would you like Japanese people to know about the Philippines?
The Philippines has a lot of beautiful places and a lot of good food, but for me, the best thing about the Philippines is its people. They may not be very punctual [laughs], but they have a positive mindset, and they do not give too much importance to unnecessary details. They live their emotions fully: when they are happy, they are happy, and when they are sad, they are sad. I wish Japanese people knew more about that, because Japanese people think too much.
For example, if a Japanese person does not like their job, even on days off, they are going to think, "I don't want to go back to work tomorrow," and it ruins their day. For Filipinos, when your job is over, it is over. On your day off, just have fun as much as you can. You can get back to worrying tomorrow.
Has your character changed after living in the Philippines?
I have become able to use that Filipino mindset! I used to have a very Japanese way of thinking. When I was living a stressful life, I would complain about the job all the time during lunch or dinner. Filipinos told me, "Why are you saying that now? This is not the time for that." It helped me realize that there are times to forget about my problems and live in the moment.
What are your objectives for the future?
I cannot go to the Philippines now, but I would like to strengthen my social media game, increase my influence, so that one day I can pay Filipinos back by organizing charities. If I become more popular in the Philippines, then Japanese TV may introduce me to a Japanese audience, and I will get the chance to make Japanese people know the Philippines better.
Learning with Fumiya
I usually end my interview articles with a few reflections on my part. This time, I would like to share the moving words that Mr. Fujita, Fumiya's manager, told me after the interview was over.
"I have discovered the Philippines thanks to my encounter with Fumiya. I have been making J-pop for many years, and if I had not met Fumiya, my world would have been limited to Japan. Thanks to him, my view of the world has widened and I have understood that there are many more emotional people in this world. There are people who have different cultures, and their own kind of energy that propels them forward. Even during this pandemic, there are cultures in which people do not just do what they are told but try to do things on their own. I feel the same kind of energy from Fumiya."
"I am older than Fumiya's father, so he could be my son. Though, I learn a lot from him. When you are older, you rely on your experience which tells you that you should not do this or that. But Fumiya has a passion for trying new things. Although I am his manager, I let him free to do what he wants [laughs]. I, too, hope he will make people discover new sensitivities, new feelings."
"If people from the Philippines had not been there, Fumiya as he is today would not exist. So, we must thank them for that."
I found Mr. Fujita's words very touching. Not only do they remind us of the value of intercultural and intergenerational dialogue, but they also sum up the change Fumiya can provoke in people.
---