If you are looking to travel in Japan, you have many options for finding the best deals. This of course applies to flying to Japan from another country and flying between cities in Japan. Google Flights, Skyscanner, and Kayak are three of the most popular search engines for flights, and I have used all of them. They all have strong and weak points. In fact, my favorite among the three has recently changed.
So which one is best? Well, it depends on what your needs are. Stay with me: I'll go through the pros and cons of all three so you can decide for yourself.
Using Google Flights, Skyscanner, and Kayak to Find Flights
These three websites are search engines that help you find the best flight deals among multiple platforms. Certain useful features are shared among all of them. For example, you can search for one-way, round-trip, or multi-city tickets to specific airports, or search for the best deals to or within an entire country. They all make suggestions for the cheapest, overall "best," and fastest flight options.
However, you don't buy your ticket directly through them: They will find the best flight deal for you given your search and will direct you to another website to buy them. These might be the airline directly (ex. Japan Airlines), a major travel agency (ex. Expedia), or a smaller travel agency (ex. GoToGate). Therefore, they might all do the same thing, but there are key features that differentiate them.
Google Flights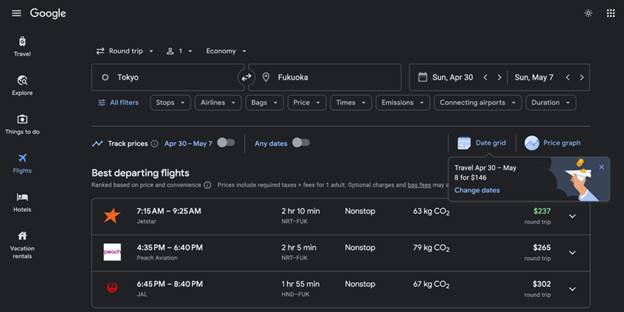 There are many benefits to using Google Flights. For round-trip and multi-city flights, you choose each leg individually, which offers a lot of transparency in the search results it recommends. You select your departing flight first and then your return (for round-trip flights). Google Flights tells you the total price and how to buy them. Therefore, you have significant control. For example, you might find a return flight that is at a more convenient time or with a different airline for a price still within your budget in comparison to Google's recommendation.
Another great feature is that you can also filter flights based on how much luggage you have, which is important if you are looking for (or excluding) low-cost airlines with restrictions on carry-on luggage. However, I have found that this is not always accurate, so always read the conditions when you buy your tickets.
If your flight date is somewhat flexible, Google Flights also analyzes the cheapest flights within 3 days of your initial date selection. I explain more about this when talking about Kayak. (I may be wrong, but I believe Kayak has had this option for longer.)
On the other hand, the biggest challenge I face with Google Flights is the inability to filter airports within an urban area. You can choose a specific airport or any airport within a city, but no "some but not all" option. If you are going between a city with only one or two airports, this is not a problem. However, this is a bigger problem if you are going to or from a city like London, which has five airports, but perhaps not all of them are viable options for you.
Skyscanner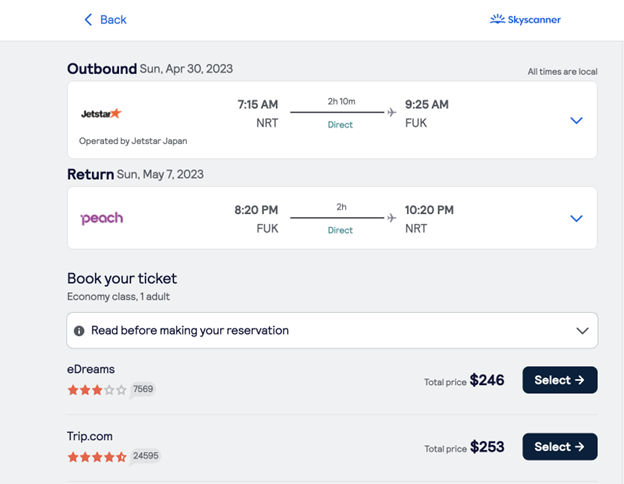 In contrast, my favorite feature about Skyscanner is the ability to filter airports within a city. This solves the problem with Google Flights above. Another benefit is that once you select your tickets, Skyscanner usually gives several providers (each with customer ratings) to buy them from and shows the price differences. This is helpful because sometimes lesser-known travel agencies have better prices but might not be as highly rated–it's your decision. If you've had great experiences with a certain travel agency in the past, you can see how their fares compare to others. In contrast Google Flights and Kayak usually only give one or two options.
The main downside about Skyscanner is my favorite feature of Google Flights and Kayak. If you are booking a round-trip ticket, you cannot select each leg individually. Skyscanner offers you multiple combinations and the total price. Instead of individually selecting each leg, you would need to filter other options (times, airlines, etc.) and look through your possible combinations. Sometimes I have found a significantly better time for one leg of the flight on Google Flights that was only marginally more expensive than the "best" combinations Skyscanner promoted.
Kayak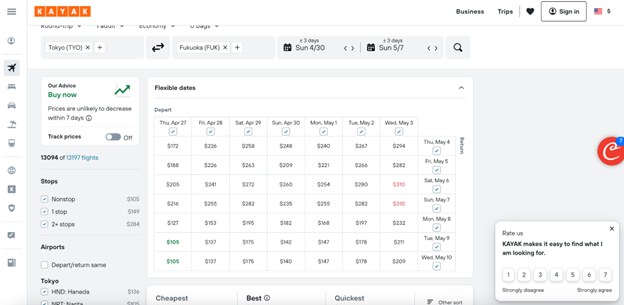 Kayak is very similar to Google Flights and Skyscanner. It's great at finding cheap flights, but I have noticed that it promotes multistop flights with separate airlines more often than the other two. This can reduce the price but make transits more complicated. This is especially if you have check-in luggage, because you will probably need to pick up and re-check your luggage. However, if you are traveling light and value low prices above all, this could be a plus.
My favorite feature about Kayak (and another positive of Google Flights) is the ability to search for the cheapest flights within three days of your desired flight dates. Skyscanner does something similar, giving you estimates of which days would be more expensive in a calendar month, but I have found these to be far less accurate. For example, if I want to fly April 30, I can let Kayak search for flight options plus or minus three days. Therefore, it will notify me if it finds better deals from April 27 to May 3. This works for both one-way and round-trip tickets. On the other hand, with Skyscanner, you need to manually search each date individually.
There are other benefits as well. Like the perks of Google Flights, you can choose how many pieces of cabin baggage or checked bags you want to bring. You can also individually select legs in multi-flight journeys. In addition, Like the perk of Skyscanner, you can filter any relevant airport within an urban area. However, unlike Skyscanner, as mentioned above and from my experience, it does not give you multiple agencies to buy your tickets from.
Final Thoughts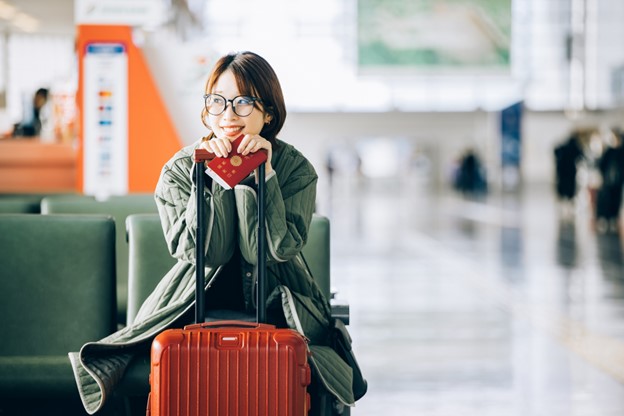 So which is the best? That's up to what you value and which interface suits you. I recommend trying two or all three of them to see which you prefer. Sometimes they even come up with slightly different results. Keep in mind that the features I mentioned are always subject to change.
Also keep in mind that if you are aiming to fly with a low-cost carrier (LCC), it is often worth looking on the carrier's website directly. Sometimes sites like Google Flights, Skyscanner, and Kayak do not have all of the LCC flight information or prices (especially campaign discounts) in their databases.
So it does take some work to find the best deals, but these sites all reduce your workload significantly. Happy travels!
---