Disclaimer: This article was produced in cooperation with byFood and contains affiliate links. Kokoro Media may earn a commission from purchases made via the byFood links featured throughout this article.
I'm notorious for my perception of food and eating. In my youth, meals were often something that pulled me away from whatever activity or creative endeavor I was deeply engaged in. Of course, I had my favorite meals that I couldn't get enough of (hats off to my mom's spaghetti). However, I also had the tendency to view food objectively. Food was a bodily necessity, and I had to begrudgingly snap out of my flow state to deal with it.
Thankfully, as I grew older, this perspective evolved—but not in the way most foodies would appreciate. As I got more and more into fitness and cars (bear with me), I started to view food as fuel for the body. Consuming quality, nutritious food to support fitness goals was like putting extra-high octane gas in my car before taking it out for some spirited track driving. This mindset made it easy to eject things like table salt and sodas from my diet without hesitation.
Viewing food in such a matter-of-fact way has a downside, though. On a busy day, darting around town to meet clients, I'll often devote little thought to what I eat, simply picking up a quick meal wherever I can get one, just to keep my energy levels up. What I eat depends on what part of town I'm in, and that determines how healthy my meals are.
Although I'm mindful of what I eat, I'm rarely mindful while I eat. So, it's only natural that when byFood introduced Kokoro Media to their mindful eating experience, Editor in Chief Amélie Geeraert suggested that I join her in trying it out. Perhaps I had the most to gain from learning to appreciate food in a whole new way.
Learning to Eat Mindfully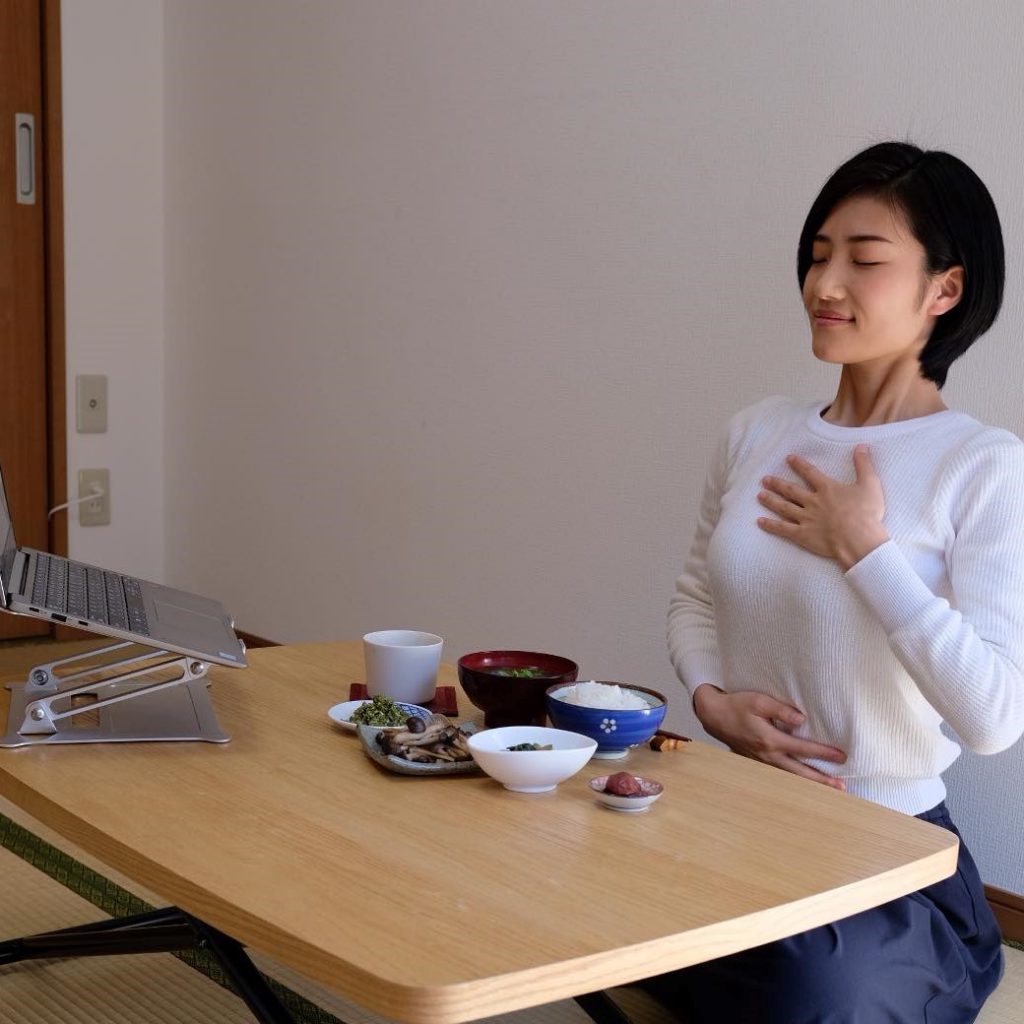 Our online session was hosted by Momoe Nishimura, and right away she impressed us with her credentials. With roots in the mountainous countryside of Yamagata Prefecture, her family has a close relationship with nature and natural food sources. During her introduction, she explained how her grandparents harvest sansai (mountain vegetables) instead of relying on the large grocery store chains like so many of us Tokyoites do.
Career-wise, Momoe led a wellness team at Hoshinoya Tokyo, a ryokan under the prestigious Hoshino Resorts brand. She has also worked for Cookpad, Japan's largest and most popular recipe-sharing platform. Now, as a mindful Zen eating coach, she shares her craft with the world via her YouTube channel and her byFood experience. Knowing that someone of her caliber was running this session motivated me to take it seriously.
After introductions and explanations were out of the way, we proceeded to the main event: mindful eating. Here we would spend twenty minutes consuming a light meal or snack, appreciating and savoring every morsel. Amélie and I sat at attention at our respective computer screens ready to eat mikan, a tangerine-like fruit that is traditionally enjoyed during the winter months.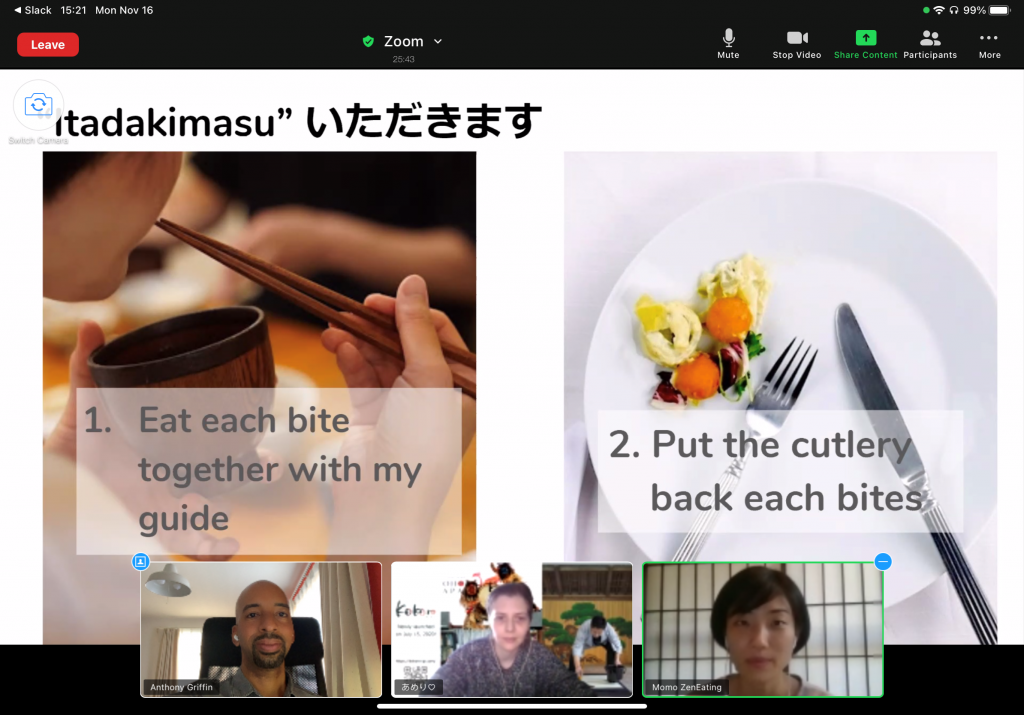 After a quick overview, Momoe, proceeded to guide us through our mindful eating session. We began the experience with free-form stretching, paying special attention to our jaws and throats–key body parts that would be involved in the experience ahead. Next, we put our hands together and uttered a gratitude-filled "itadakimasu." Now it was time to begin the most deliberate eating experience in my life.
At first, it was daunting to eat in this way. My mind was darting everywhere—from Momoe's soft-spoken instructions to chasing the sensations on my tongue, cheeks, and teeth. Additionally, as someone with a restless mind, my thoughts couldn't help but occasionally wander off into other aspects of my life. However, as time passed, I adjusted to the experience. With every bite my mind sharpened its focus on the sum of sensations I was experiencing as I slowly consumed my mikan.
I appreciated the crisp citrus aroma of each mikan slice before delicately placing it in my mouth. I noted, for the first time, the fleshy texture of the pith as it rolled across my tongue. I appreciated the rush of natural sugar and citric acid as I slowly bit into the slice. And, I observed a subtle sense of disappointment as the sweet flavor faded away while I slowly continued to chew. These are just some of the sensations I experienced while eating mindfully.
Thanks to Momoe's clear and constant guidance, the twenty-minute session went by faster than I could have imagined. After opening my eyes and looking down at my plate, I realized I had only consumed half of my mikan. Now, it was time to wrap up the session by sharing our experiences and asking questions.
A Lasting Lesson
The benefits of mindfulness are well documented, and eating mindfully can be a stepping stone to incorporating mindfulness into all aspects of your life. As for me, I appreciate anything that helps me live in the moment, especially in 2020, where it's all too easy for our minds to become wrapped up in the comfort of the untouchable past or the worries of an unpredictable future.
I came away from this experience with a greater appreciation for the food I consume and how I consume it. I learned another way to focus on the present and slow down time. Although mindful eating hasn't shattered my belief that food is essentially fuel, it has expanded my way of thinking. Perhaps food isn't just fuel for our bodies. Perhaps it can also be fuel for our minds. There is value in learning how to appreciate the things in life that we take for granted, and that makes spending an hour learning how to eat mindfully a worthwhile pursuit.
---