As a follow-up to our fun futomakizushi experience, my colleagues Aree, Ayane, and I decided to go further in exploring Chiba food and culture by enjoying one of its most popular seasonal products: strawberries! In spring, a typical activity for young people and families in Japan is to go directly to the farms to do some strawberry picking, which sounded like a fun experience.
Chiba Berry, the Exclusive Strawberry Made in Chiba
As I stated in a previous column article, Japanese people are fond of seasonal products. In spring, strawberry-based products pop up everywhere. Of course, strawberries themselves are very popular too. After living 10 years in Japan, I have become familiar with a few famous Japanese strawberries, such as "Tochiotome" from Tochigi Prefecture, or "Amaou" from Fukuoka Prefecture, each prefecture claiming their local strawberries are the best. You will be happy to know that strawberries are usually rather affordable in Japan, and that the ones selling for a few hundred dollars are an exception.
Chiba Prefecture is a great area for growing all sorts of fruits and vegetables and is home to diverse delicious orchards and a lot of strawberry farms. Thus, it was only logical that the prefecture decided to develop their own variety of the red-colored fruit and enter the battle for deliciousness.
I was surprised to read that the Chiba Prefectural Agriculture and Forestry Research Center spent as much as 20 years researching and developing a new strawberry through breeding. The objective was to create big, delicious strawberries that would be strong against diseases. In 2013, Chiba Berry, as we know it today, was created, and in 2015, was officially registered as a variety.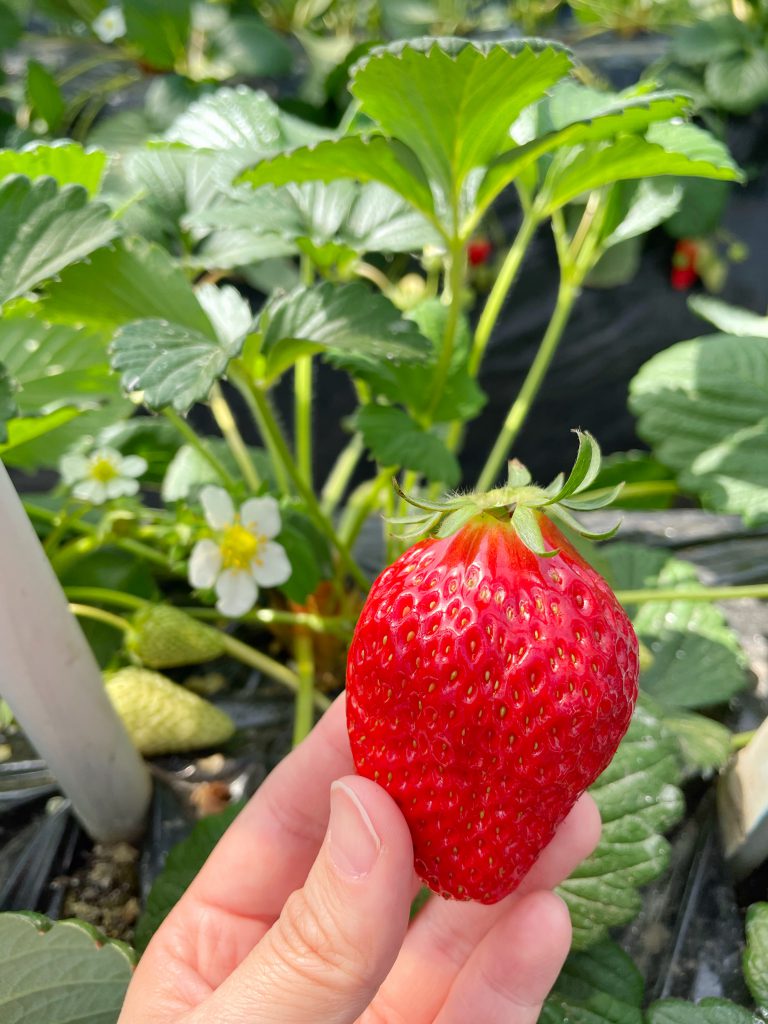 At first, the strawberry just had a code name, so people were invited to submit their name ideas by mail and internet. 10 names made it to the final selection, such as "Drop Berry" or "Ruby Drop." After that, people were invited to vote again in related places and events such as strawberry farms or famous places in Chiba like Narita Airport. The name "Chiba Berry" won with a large advance.
Chiba Berry is said to be:
Round with a nice red color
Big and very juicy
Delicious because its sweetness and acidity are well balanced
Strong against powdery mildew
Being a strawberry lover myself (I buy a pack or more per week in spring), I was really looking forward to judging directly on site the qualities of the Chiba berry, and comparing it with other varieties if possible.
Visiting Junko's Strawberry Farm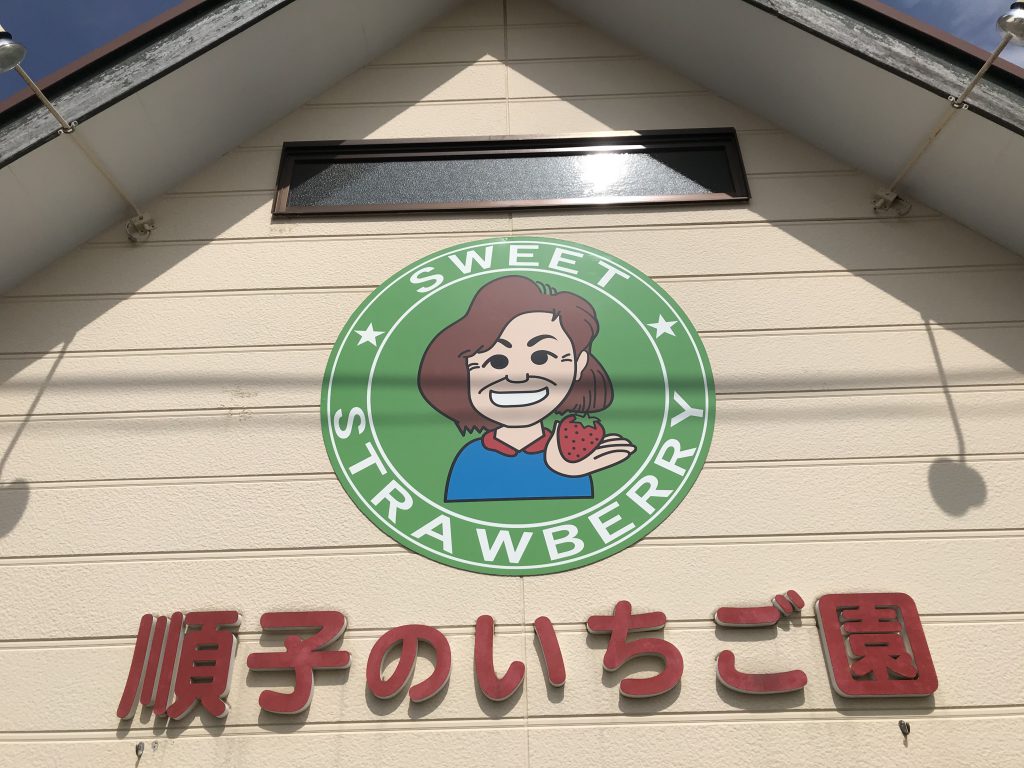 There are a lot of strawberry farms in Chiba that allow picking different kinds of strawberries with all-you-can-eat options.
This time, we headed to Junko no Ichigoen, or "Junko's Strawberry Farm." To us, the main appeal of the farm is that they are using very few pesticides. Like Masayoshi and Sara from Higa Farm who I interviewed some time ago, the Nakamura family working on Junko's Strawberry Farm tends the soil very carefully by feeding its microorganisms. They also rely on the help of insects as allies to repel the ones that would eat the strawberries. Thus, visitors do not have to worry about not washing the fruits before eating them.
Getting There
The farm is located at a place nicknamed "Strawberry Road" in Sammu City. The nickname comes from the fact that there are about 20 farms open to visit in this area. To get there, we took the train from Tokyo to Naruto Station, using JR lines. The trip took about two hours. I would recommend getting there not too late in the morning, as the strawberry picking ends when there are no fruits left.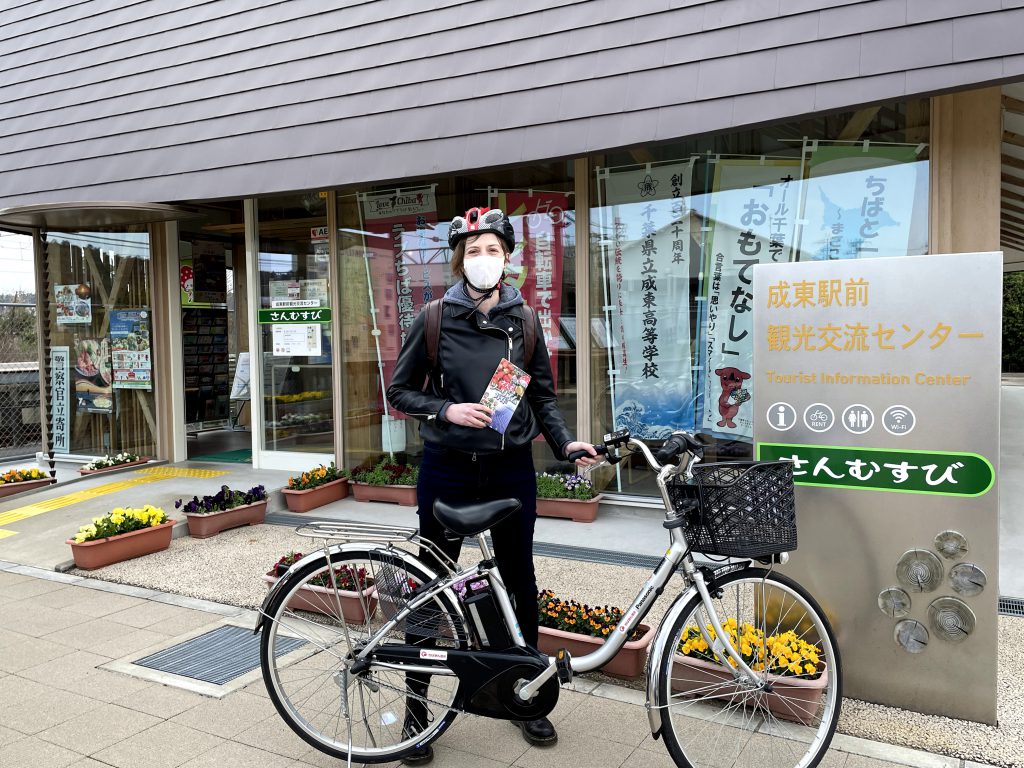 There, we stopped at the local tourist center run by the Sammu Tourist Association. The staff was extremely welcoming and provided us with information on the strawberry farms open that day. This is also where we were able to rent electric bikes (only 500 yen for four hours) to go to our final destination.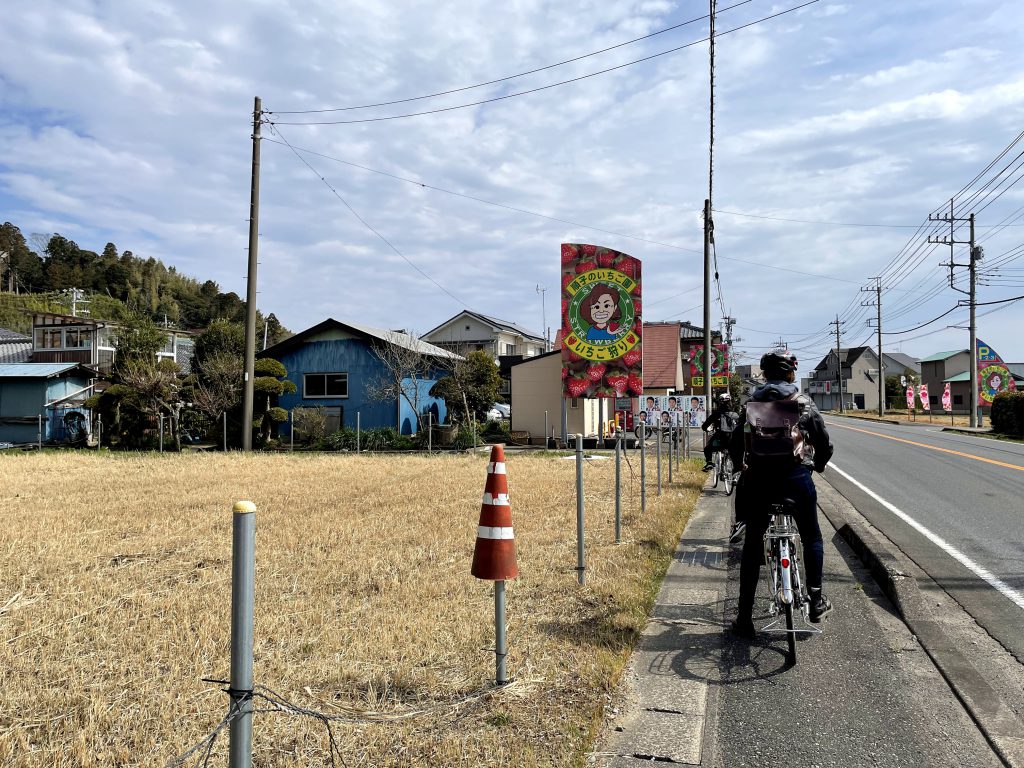 Following New Sanitary Rules
After a short 10-minute trip by bike, we arrived at Junko's Strawberry Farm. The place is open for strawberry picking from January to May, and prices for a 40-minute all-you-can-eat picking vary between 1,200 yen and 2,000 yen per adult depending on the season. After paying the picking fee, we were invited to go to a designated greenhouse on the other side of the road.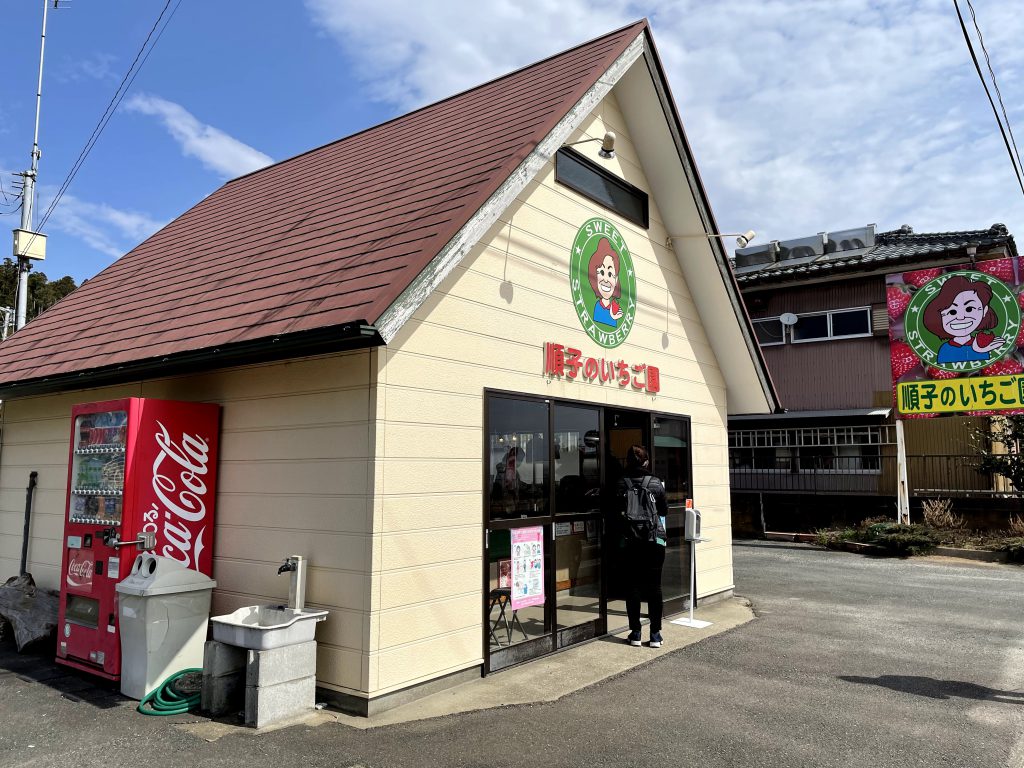 There, the staff introduced us to the new sanitary rules put in place because of the coronavirus pandemic. Before entering the greenhouse, we were asked to wash our hands and sanitize them with alcohol.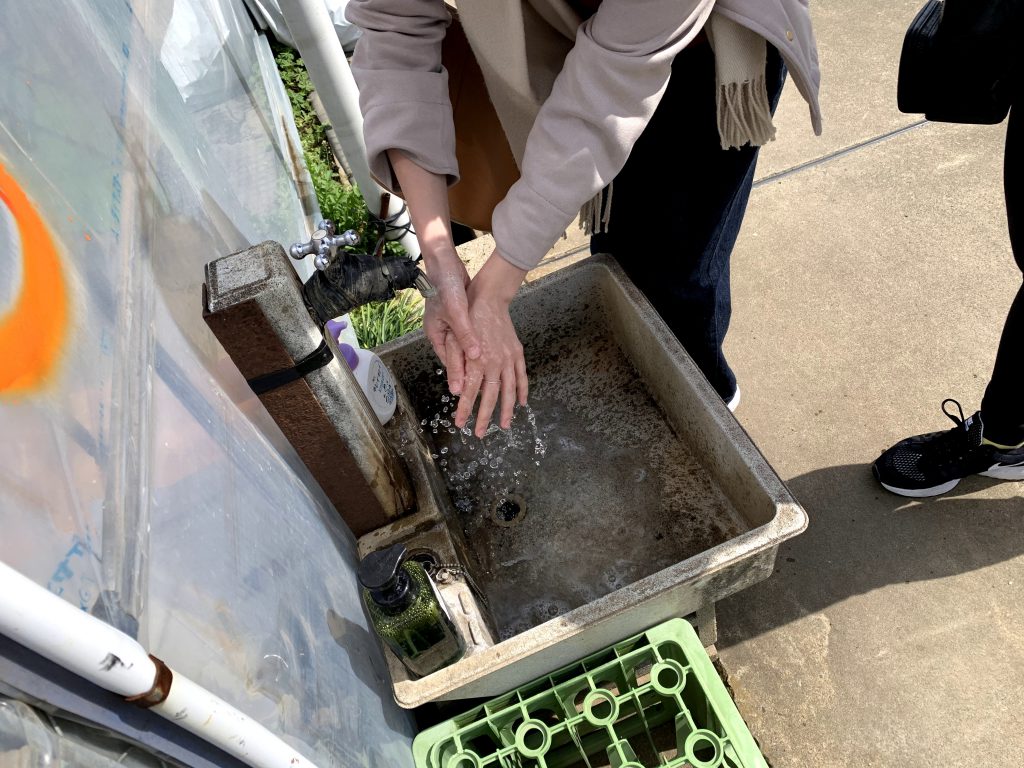 Before the pandemic, it was customary to pick the strawberries and eat them while walking around in the greenhouse. Now the process has changed a bit: we were asked to pick as many strawberries as we liked and put them on a plate. Then, we had to go to a designated eating space to savor them. Of course, after eating, we were allowed to go pick some more if we wanted to. We were also asked not to touch strawberries that we were not intending to pick, and to keep our masks during the picking.
These new measures were very reassuring and, having experienced strawberry picking before, I found it quite nice to have a space to sit down to eat the strawberries.
Picking Strawberries
Then, the staff explained to us how to correctly pick the strawberries in a three-step manner: hold it, turn it, and pull it. We were also told that the best way to eat strawberries is to start from the wider part where the stem is, and to finish by the pointy part. The reason for this is that the bottom part of the strawberry is sweeter.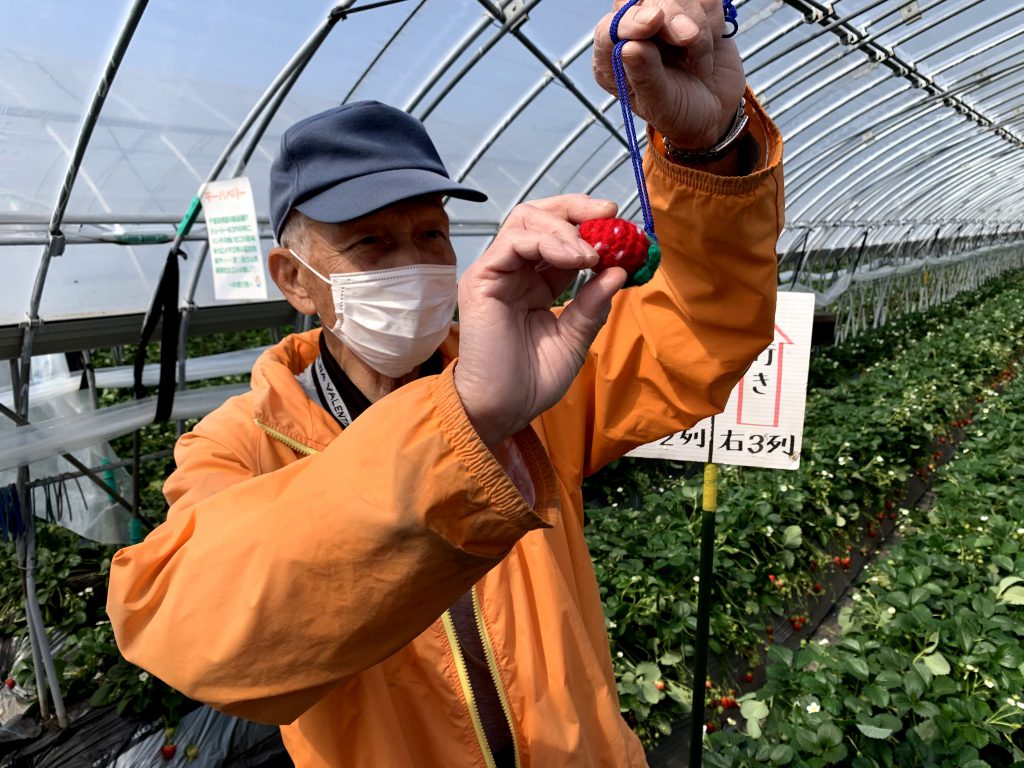 We were then allowed to walk around the aisles to stuff our plates with no less than seven different sorts of strawberries! Of course, the Chiba Berry we were so curious about was among them. It seemed especially popular and there were less Chiba Berry left on the plants compared to other sorts.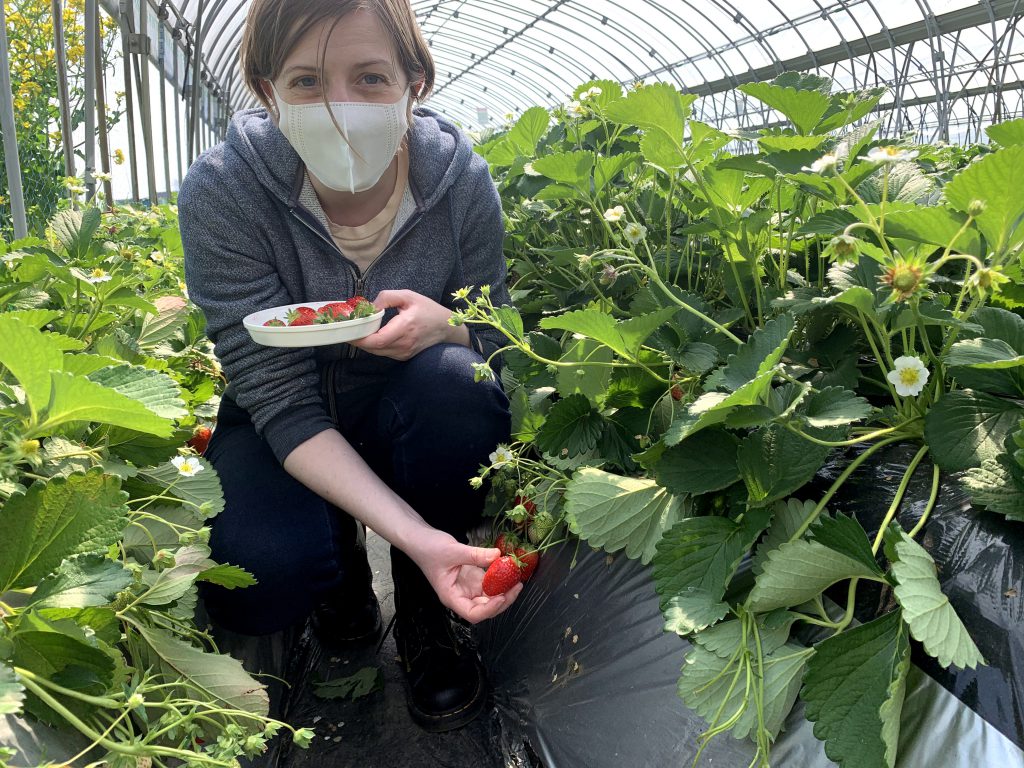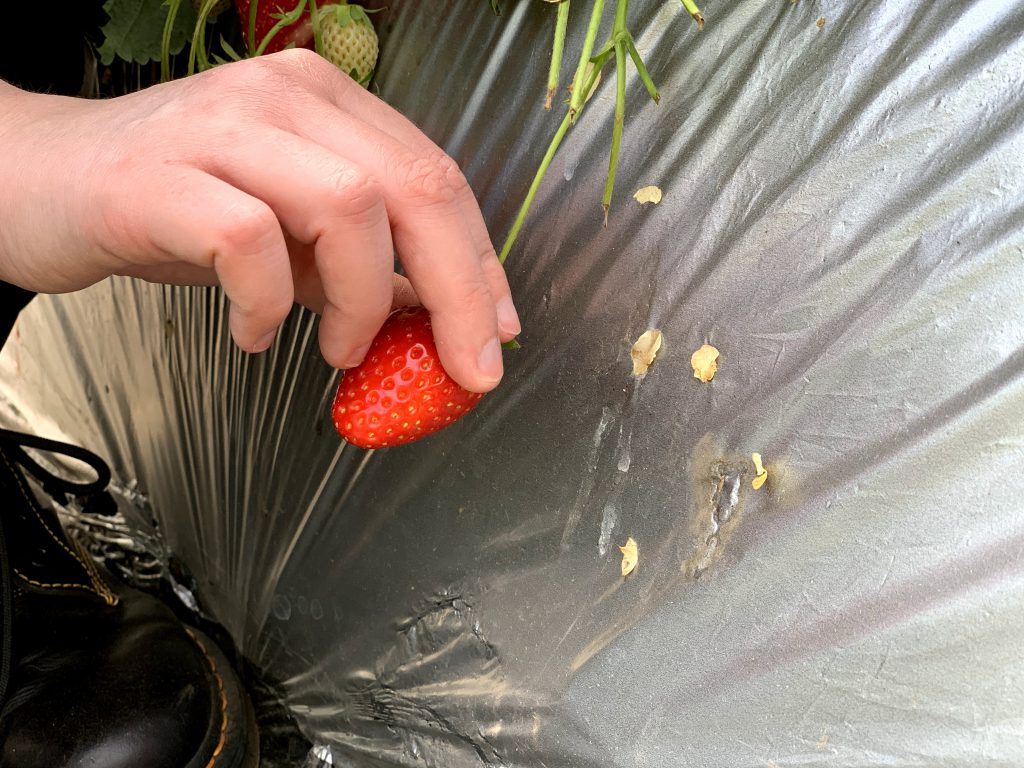 Comparing Tastes
Once at the eating space, we compared the different strawberries and had fun talking about the differences in tastes and our personal preferences. Visually, Chiba Berry did not disappoint. It does not show well on pictures, but it did look redder than most of the other sorts. The plants seemed to provide a lot of big fruits. After eating it, we all agreed that Chiba Berry was soft and juicy, and the balance between its sweetness and acidity was ideal.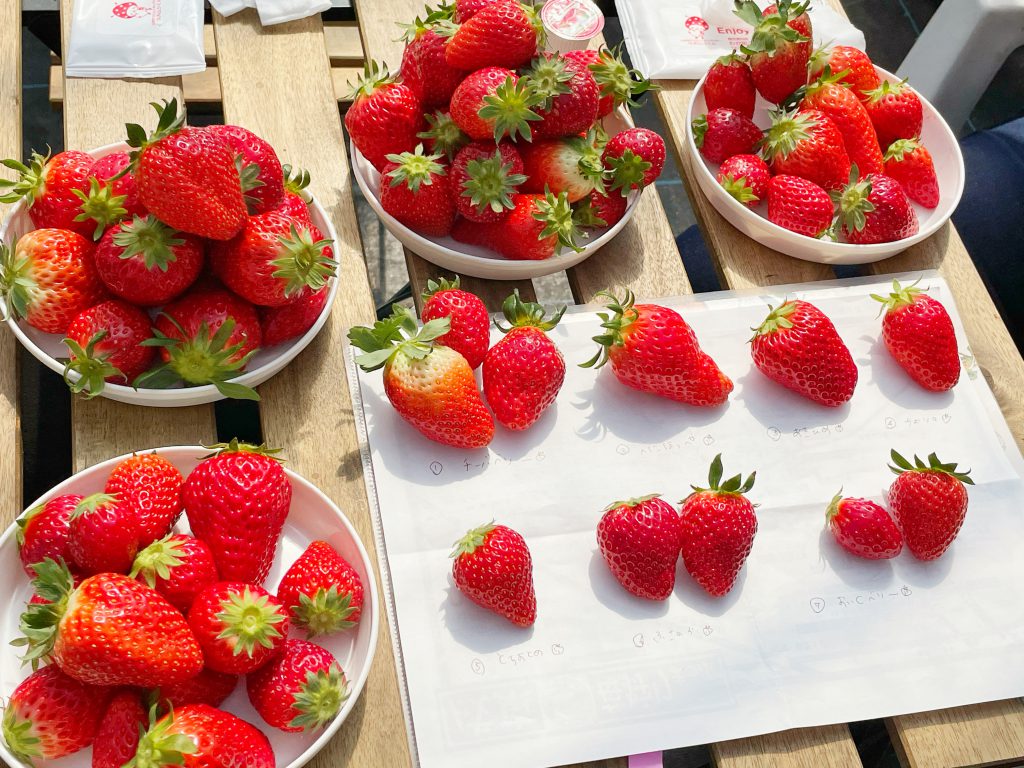 Our second favorite after Chiba Berry was Beni Hoppe for its sweetness and juiciness. Eating strawberries fresh on the farm was a completely different experience than eating the ones you usually get in packs at the supermarket. I do not know if it is due to transportation, but even strawberries I am familiar with, such as Tochiotome, tasted completely different: of course, they felt juicier, but there were also much less acid.
A Talk with the Owner
After stuffing ourselves with delicious strawberries, we were invited to pick some poppies for free as a souvenir. We headed back to the shop where we were able to ask a few questions to Mr. Nakamura, the current owner of the farm and who is in charge of the production.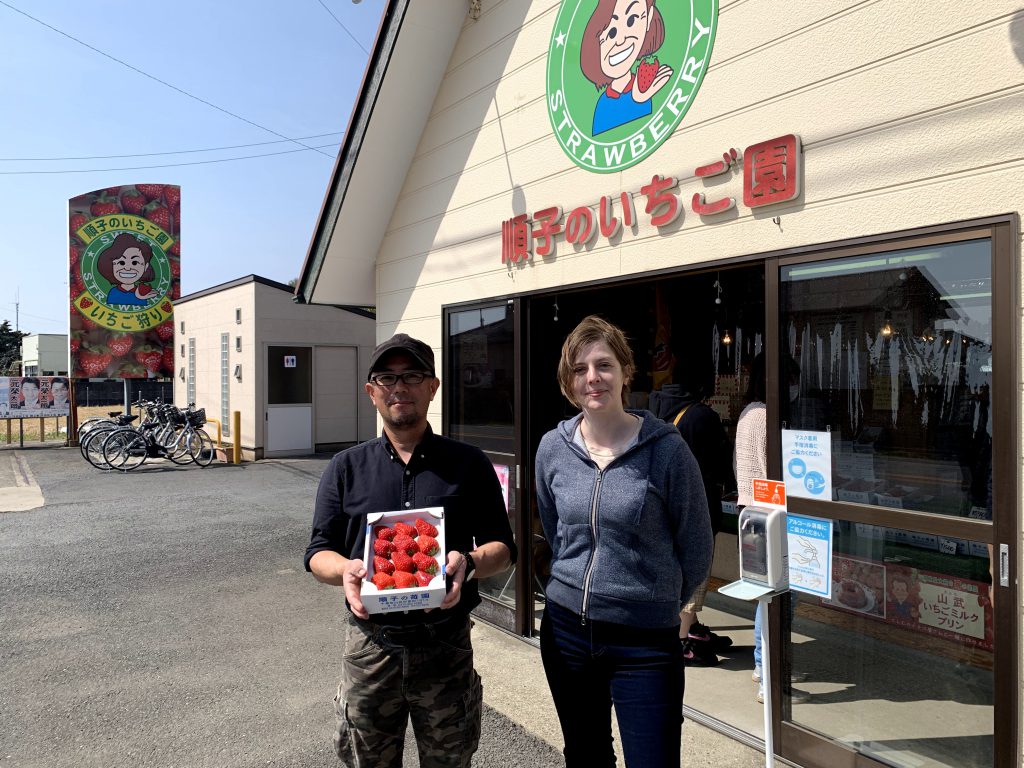 Mr. Nakamura is a very warm person and his love for his strawberries can be felt in how he talks about them. He explained to us that the farm was started by his father, and that Junko is his mother's name! In Japanese, the kanji for strawberry 苺 and mother 母 are almost similar. And since Junko took loving care of the farm's fruits, it felt natural to give her name to the place. We were able to quickly greet her as she was packing strawberries into boxes, and she did look like the drawings representing her!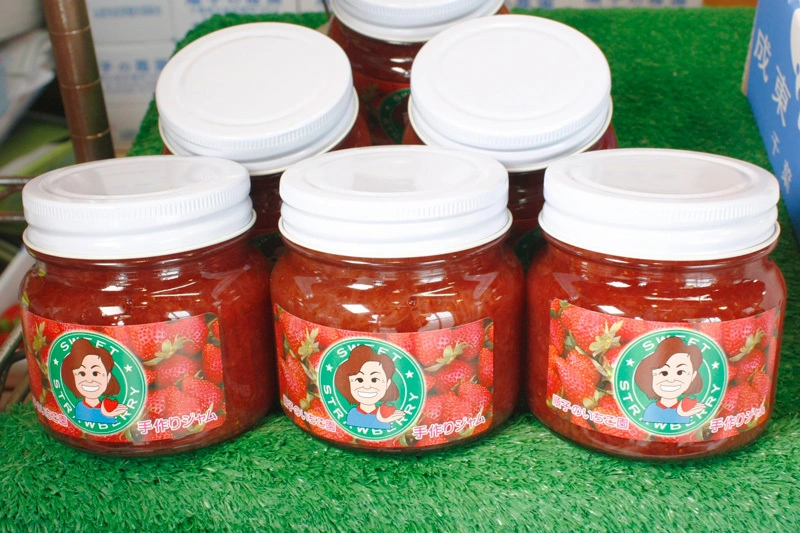 Junko also makes handmade strawberry jam. We were told that four kilos of strawberries are required to make 10 jam bottles. Since Junko makes the jam herself, only 10 to 20 bottles are available each day, and they sell very quickly. Luckily, we were able to get some, and their homemade taste reminded me of my childhood.
While we were talking, the farm's shop got filled with locals wanting to buy strawberries, and we soon had to let Mr. Nakamura go back to work.
Strawberry Products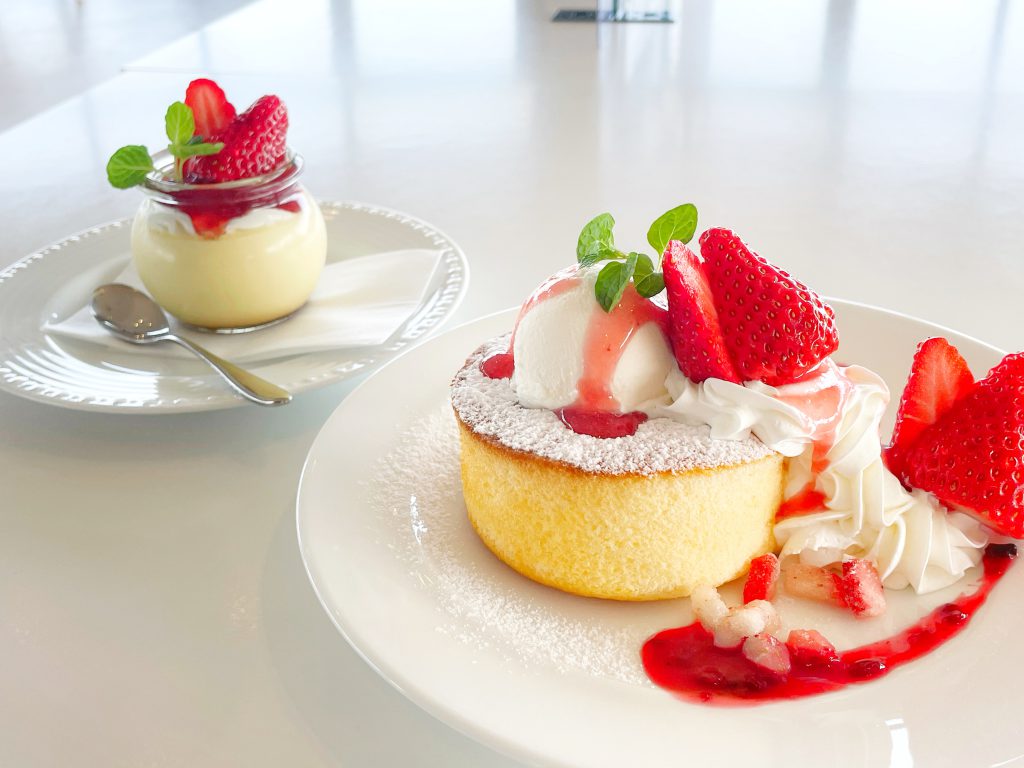 Chiba Prefecture is home to many places like Junko's Strawberry Farm where you can eat and compare different sorts of strawberries. However, if fruit picking is not your thing, you can still enjoy the strawberries at local cafes and restaurants. Most of them provide their own strawberry versions of popular desserts such as egg pudding, pancakes, or ice cream parfaits. You can also give a try to local cookies, jams, sauces, and much more!
Chiba Has Much More to Offer
Apart from strawberries, Chiba offers picking experiences for many other fruits and vegetables: peanuts, sweet potatoes, pears, mandarins, oranges, and biwa are among the most popular. Since I love peanuts too, I indulged and bought several Chiba peanut products found at a local store. Some of them, such as miso peanuts, would make good Japanese gifts.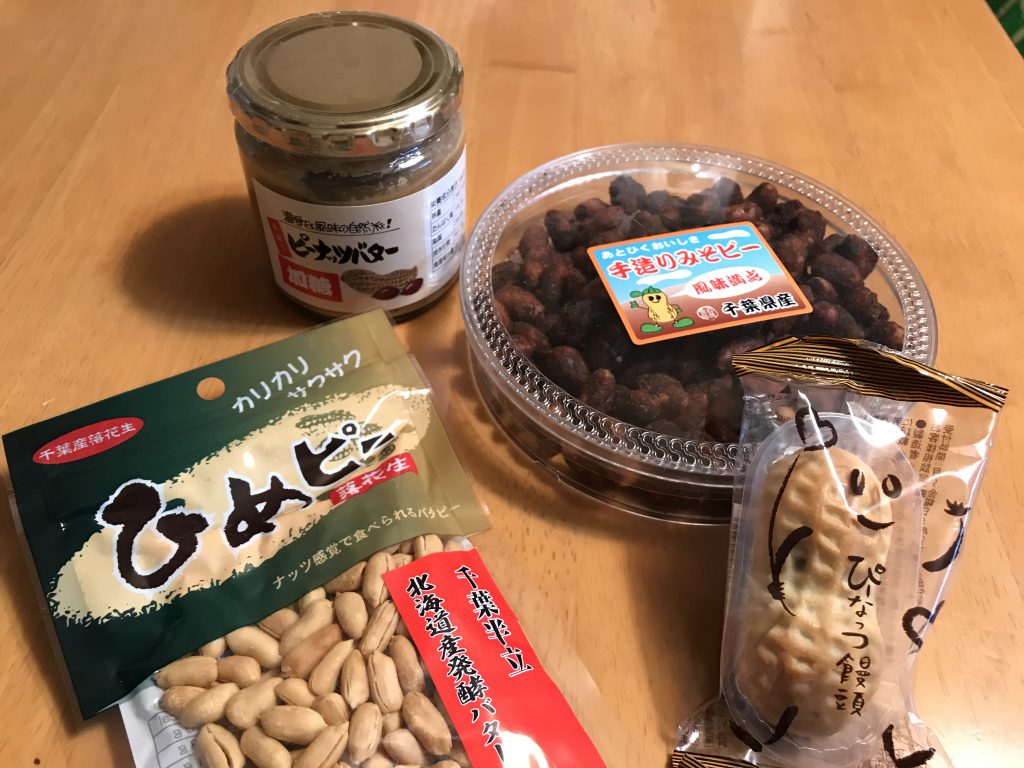 The area is also famous for the quality of its fresh sea products, its soy sauce, and its dairies. So, if you are a foodie and like to eat local products on the go, a one-day trip to Chiba may satisfy your gourmet desires.
For more information regarding Chiba food and products, I recommend reading the CHOMP CHIBA pamphlet.
---