What is the number one ranked ramen restaurant in the Shinjuku area? There are several ranking sites for ramen but recently the "ramen database" (in Japanese only) has started appearing frequently in my search results. Their number 1 ramen restaurant in the Shinjuku area is Soba House Konjiki Hototogisu (Konjiki for short), a one-star restaurant in the 2019 edition of the MICHELIN Guide Tokyo. It offers gourmet food at a reasonable price, so I decided to check it out.
Finding Soba House Konjiki Hototogisu
A little research showed that Soba House Konjiki Hototogisu used to be located near Hatagaya station station in neighbouring Shibuya city (they are still mistakenly listed there on the gurunavi bib Michelin page). However, in May of this year 2018, they closed the Hatagaya store and moved to their current location opposite Shinjuku Gyoen park, between Shinjuku-gyoenmae and Shinjuku-sanchome stations, to the joy off all Shinjuku ramen lovers. Since it was the middle of Obon holiday, I decided to make my way there, hoping that the line would be somewhat reduced.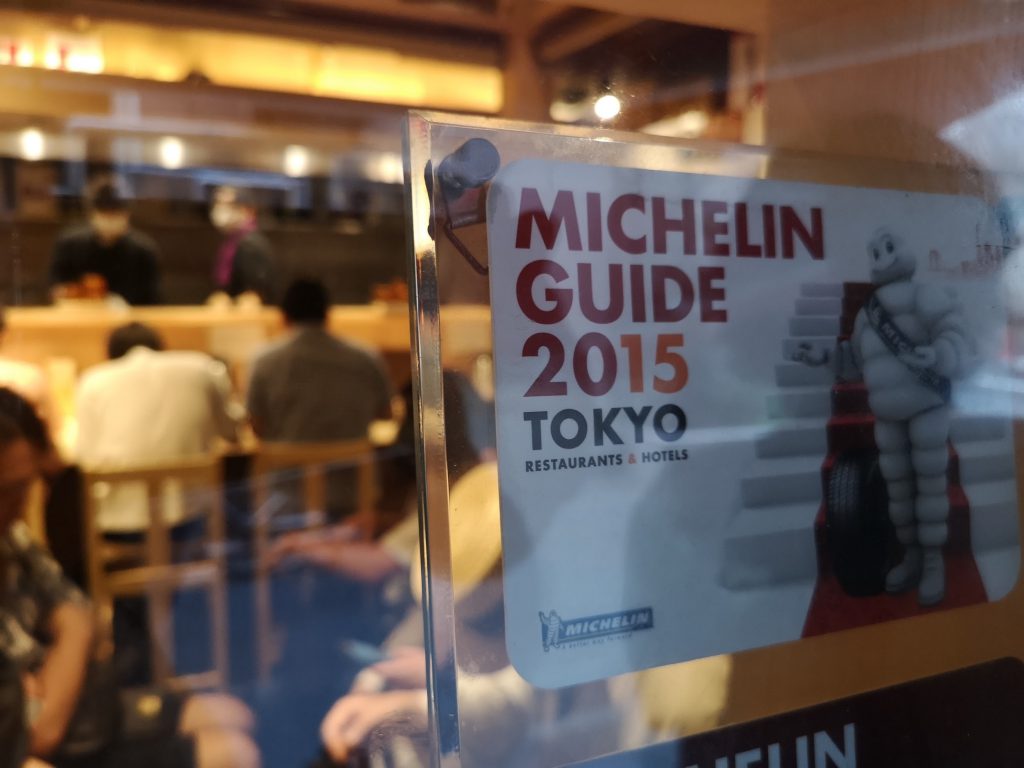 The first challenge was finding the restaurant. It's hidden in a small side street, running parallel to the park. There are no signs helping customers find their way, so I had to rely on Google Maps. I was starting to falter when I saw another person confidently heading towards the general direction of the restaurant. So I marched on, and sure enough, soon I saw a short line on the left side – only five people! However, once in line, I was able to glance inside through a small window, covered with Michelin Guide stickers from the four past years, and I saw another six people sitting and waiting inside. Would I be able to order and eat my food before the end of my lunch break?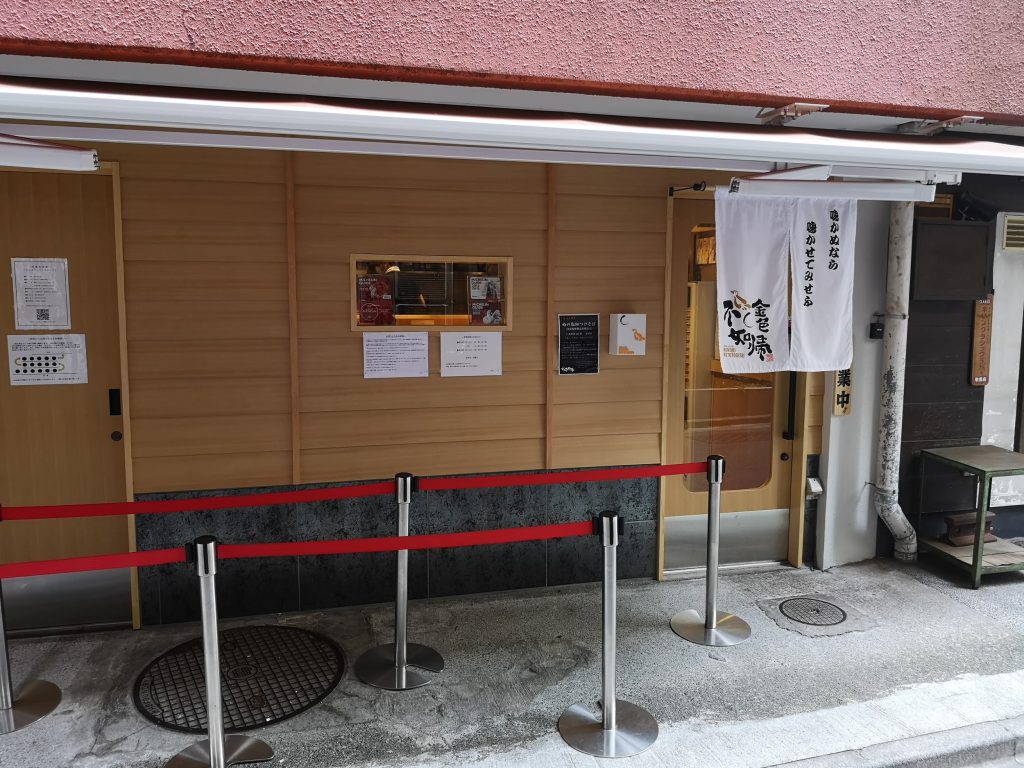 Everything Is in English!
The line moved at a brisk pace, as they tend to do at ramen restaurants. Before I had time to fully appreciate Konjiki's beautiful wooden exterior, more reminiscent of a summer cottage than a ramen restaurant, I was inside and standing in front of the ticket vending machine. Fortunately, there were English descriptions of the dishes, as well as a handy guide to all the buttons, on laminated sheets hanging next to the machine.
I chose their recommended bowl of shio soba (salt-based ramen) with an ajitama (marinated egg) for 1000 yen (ajitama shio soba). You can also just get the shio soba by itself for 900 yen. The provided English description is well-written, detailed, and mouth-watering. I don't think I ever have eaten a bowl of ramen while knowing so much about its contents. The broth is based on the red sea bream fish and the hamaguri clam, a species of clam found in Tokyo bay (also used for sushi). It also contains truffle oil, which is surprising, considering its very reasonable price.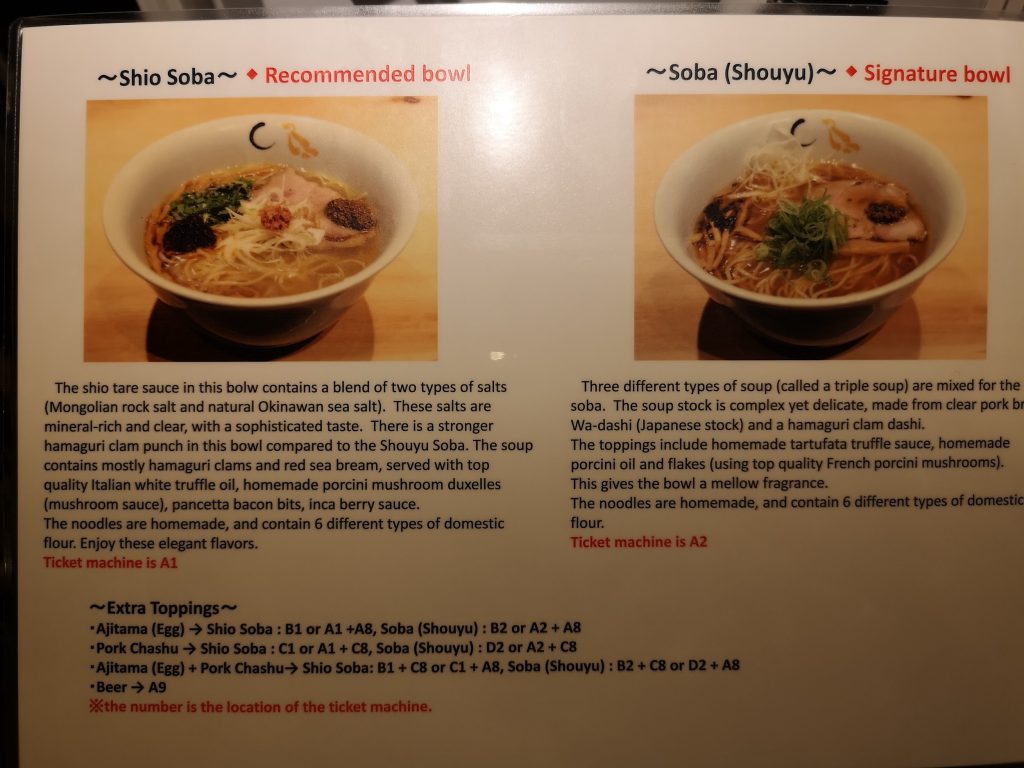 In addition to the recommended dish, they have a shoyu soba (soy sauce-based ramen) which is their signature dish, a dish that is supposed to be unique to the restaurant. According to the description, it's a blend of three different kinds of soup, based on pork and hamaguri clam dashi. I had it on my second visit (950 yen with a marinated egg, 850 yen without). When tasting the soup, you can immediately tell that it's pork-based. As that fades, you can also taste the clam. Both my neighbours finished the soup to the last drop, a sure sign of its tastiness. Finally, they offer a shoyu tsuke soba (soy-sauce-based dipping noodles) with a soup also based on hamaguri clams, and porcini mushrooms.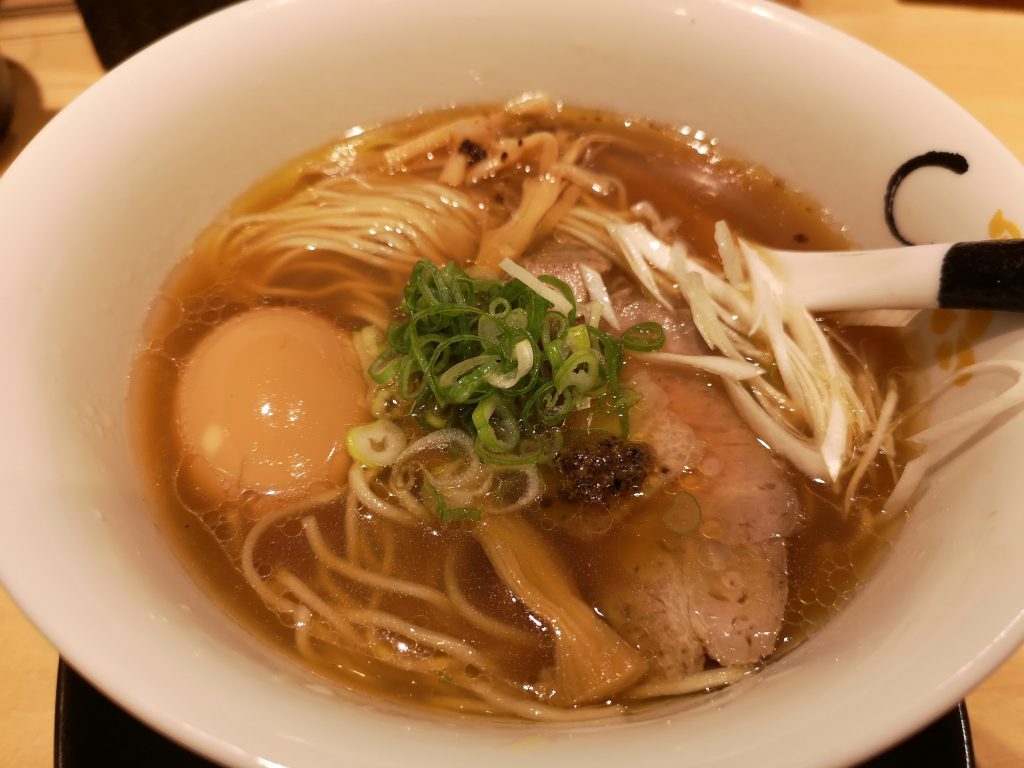 Not Your Typical Ramen Restaurant
After buying my ticket I was able to sit down for more waiting. I appreciated being able to wait inside, especially during the hot and humid weather of the Japanese summer. Opposite was an English sign telling customers that although it was OK to take photos of the food, it was not allowed to take pictures of the shop interior and other customers. I initially thought that the presence of so much information in English was because they were featured in the Michelin guide. However they have a second restaurant in Vancouver called Konjiki ramen, and according to this website they are #29 of the 32 Seriously Important Toronto Restaurants You Need To Visit This Summer.
Very soon one of the restaurant staff came by to collect my ticket and those of my neighbours. While waiting I was able to observe the shop interior. Numerous "shugi-bukuro" (special envelopes used in celebrations) lined the upper reaches of the walls, giving the place the feel of a newly opened restaurant. There were six counter seats and two tables with a couple of seats each, so sitting a total of ten people at a time. The new and wooden interior was really giving off that fancy Michelin restaurant vibe, which is very different from what I expected from a ramen restaurant. The longish wait only increased my feeling of anticipation of a culinary treat.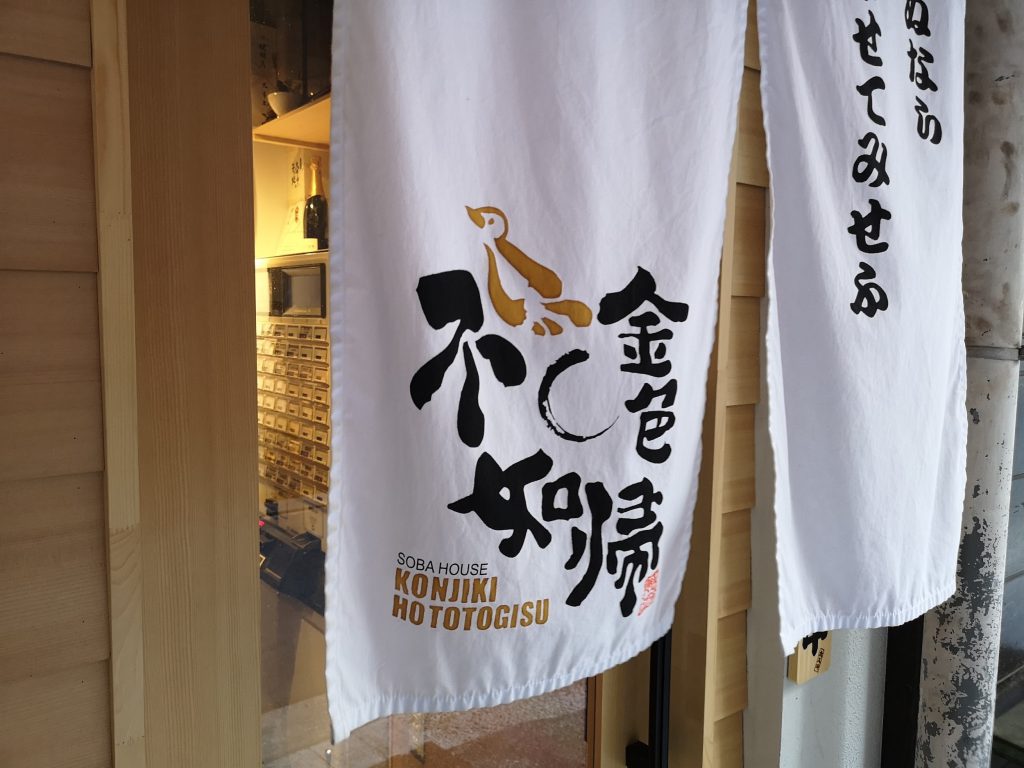 A Well-Deserved Top Spot
Eventually my turn came and I was seated in the middle of the counter. Despite having 3 chefs working behind the counter, I still had to wait another 10 minutes for my ramen to be served, the proof that they prioritise care in preparation of the dish over speed. The counter comprises an elevated partition, so that you can't see what the chefs are doing with their hands, which is a shame, but it's probably more hygienic. When, finally, my bowl of steaming hot ramen was placed on top of the counter, I carefully lifted it down and placed it in front of myself.
The first thing I did was to give it a good, long sniff, and indeed, the smell of truffle is quite evident. Next, I used the provided spoon to taste the soup, and again, because of the truffle oil, the taste is quite distinctive – sharp but not too rich. Then, at last, I was ready to start slurping the noodles, which, according to the description, are homemade and contain six different kinds of flour. They were thinner than average making it easy to pick up and devour many at the same time – I was stunned by the speed at which my neighbours managed to polish off their bowls!
Since my lunch break was coming to an end, I couldn't linger much longer after finishing all the noodles and most of the soup, so I quietly placed my bowl back on top of the counter, said gochisosama deshita (meaning thank you for the treat) and exited Konjiki, allowing another expectant and hungry customer to enjoy their lunch. I would recommend this place for serious ramen lovers, who want to take their noodle experience to the next level. Although I had to wait for about 45 minutes on my first visit, the second time I was in and out in less than 30 minutes, so if you avoid the peak lunch and dinner times, you should be able to thoroughly enjoy a gourmet ramen Michelin experience in Tokyo.