Chanmina is a Korean-Japanese rapper and musician bending, blending, and breaking culture and borders. You may have already heard of her–since her debut in Japan in 2016, much of her music has peaked on the Billboard Japan Hot 100 charts and sometimes even international charts.
Born in South Korea to a Korean ballerina mother and Japanese father, Chanmina has been influenced by international music and rhythms from a young age. It was at her dance studio as a child where she discovered hip-hop and fell in love with the style, and she discovered K-Pop at a formative point in her life.
Growing up in Japan, she was often harassed for being too foreign and for her looks. Now, Chanmina channels all of these experiences and influences into her J-Pop and hip-hop music and lyrics, hoping to empower her listeners, especially those who also feel pressure to not appear "different" in Japan. She has become a massive success, one of only a number of rappers to go mainstream in Japan and one of the most-watched women in Japanese hip-hop. Not only does she seamlessly blend musical genres and languages in her songs, but she also tackles difficult social issues facing Japan and the world, including conformity, misogyny, and racism. (You just need to see that "Fxxker" was her first major debut single to get a feel for her edginess.)
A few years ago, I stumbled upon Chanmina's music video for her song "Doctor" and was instantly hooked by the poppy rhythm and poignant lyrics about her frustration with social media. Since then, Chanmina has become one of my favorite Japanese musicians. The following songs are my top favorites, quintessential for understanding her brand and messaging.
"Doctor"
Sample lyrics (taken from the official English version):
Lies all over Twitter
Self-appointed heroes
Everybody's mission: "Find the villain of the day"
Who shall we prey on tonight? Your turn
Who's the target tomorrow? Who is it?
…
Everybody's slowly losing their momentum
Afraid of people judging, afraid of being lonely
Everyone's the same but everybody's different
Guess we're all "unique" now
"I'm a Pop"
Sample lyrics (Japanese lyrics translated by the author; Korean lyrics translation found at Lyrics Translate and YouTube and edited by the author):
Where are you from? Ay
どこでもよくね
どこにいたって
別に関係なくね
どいつもこいつもジャンル分け
ああでもこうでもないってなんで
내가 한국어로 말하면 뭐 어때
이 재능도 다 우리 엄마 때문에
부럽지 부럽지 나 그거 다 알면서 해
미치지 Jealousy 내가 좀 욕을 많이 먹네
//
Where are you from? Ay
Wherever
It doesn't matter
Where I'm at
They all try to split me into a certain genre
And ask why when I say I'm neither
What do you think if I speak Korean?
All of this talent is because of my mom
Do you envy me? I know all about that
Crazy jealousy, I'm getting called all kinds of names
"美人" ("Bijin" / "Beautiful Woman")
Sample lyrics (taken by the official music video subtitles):
Oh I wanna look like you
Tell me tell me, you must be happy, right?
If I disappear this way and they end up loving me for it
I would gladly die right now, beautifully
…
Back then I was only seventeen
Remember what you said to me
You can't be beautiful, you can't be famous
An ugly bitch like you shouldn't be a singer
As my mind grew insane back then, my talent blossomed
Celebrating Differences and Empowering the World Through Music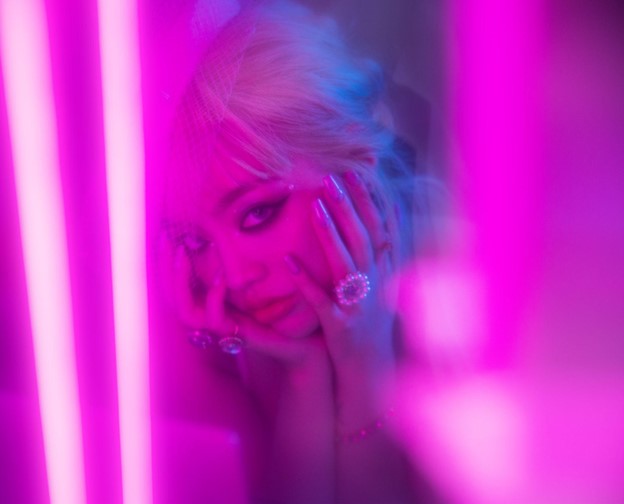 Chanmina has taken her life's challenges and turned them into activist art. Even if her feminist, borderless, genre-bending music is not to your tastes, her messages are still worth listening to. Either way, it will be hard to miss her, especially as she expands. This trilingual artistic powerhouse is taking on the Japanese market–and soon also South Korea.
---