When traveling in Japan, you may see statues dressed in red cloth. They are representations of Jizo, the Buddhist divinity loved by most Japanese people! I, too, love them and would like to give you a brief introduction to their role and symbolism.
The Roles of Jizo
The Jizo Bodhisattva, "O-Jizo-san" in the Japanese honorific language, is a deity fondly loved by Japanese people. You will find Jizo statues in many places: in Buddhist temples, graveyards, at the side of the road in the countryside, and, less commonly, at the corner of some streets in the cities.
The primary role of Jizo is to protect children. This explains why, in Studio Ghibli's animation movie "My Neighbor Totoro," when little Mei gets lost, she finds refuge next to Jizo statues.
Jizo also protects the souls of children who passed away and unborn babies. In Japanese beliefs, it is thought that the soul of children who died before their parents, consequently making their parents suffer, cannot cross the river to the afterlife. They remain on the side of the river, having to pile stones as an act of penance. Devils come to try to destroy these stone towers, and this is when O-Jizo-san appears to save them and hide them in his clothing from the evil spirits. He then looks after them as a guardian in replacement of their parents.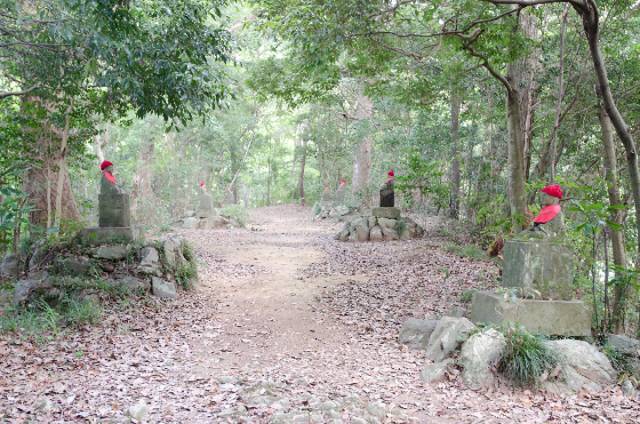 The other central role of Jizo is to protect travelers, which is why you will often find Jizo statues on the side of the roads like in the picture above. This tradition is derived from the ancient belief of Dosojin. Dosojin is a deity who protects travelers. The deity statue was placed on mountain pathways, crossroads, and at the borders of villages. The sculptures were generally in the shape of a couple. With time, Jizo has taken their role.
Jizo also protects firefighters and saves the souls of those suffering in the afterlife.
Why Are Jizo Statues Dressed in Red Clothing?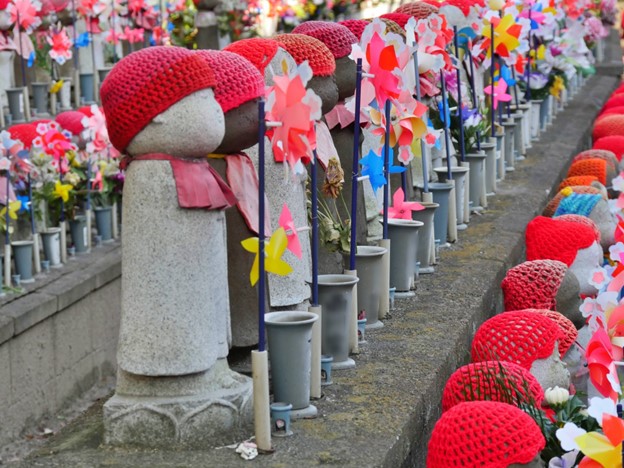 Japanese people believe that red is the color to defend against evil since ancient times. Babies are vulnerable, so their parents dress them in red to protect them from illness and danger. Jizo statues also wear red bibs, because the worshippers offer baby bibs and hoods. Some wish for protection, and others who have lost their baby pray for the spirits to go to heaven without suffering.
Grieving parents also give them toys as an offering. People sometimes also build stone or pebble towers next to them, wishing to help the deceased children in their penance.

Local Traditions
Jizo statues can be subject to local traditions. One example is the Okakae-Jizo that can be found in Takehara City (Hiroshima Prefecture).
This Jizo is believed to fulfill one's wishes if the Jizo feels lighter than expected while holding it and reciting the Jizo's mantra, "On-kakaka-bisamaei-sowaka," three times.
In some temples, it is customary to pour water on the Jizo statue as a gesture of worship.
A Familiar Deity Giving a Strong Mystical Atmosphere
Their peaceful features and the many places you can meet them make Jizo statues one of my favorite sights as a foreigner in Japan! Some figures, very ancient, give a truly mystical atmosphere to the Japanese countryside.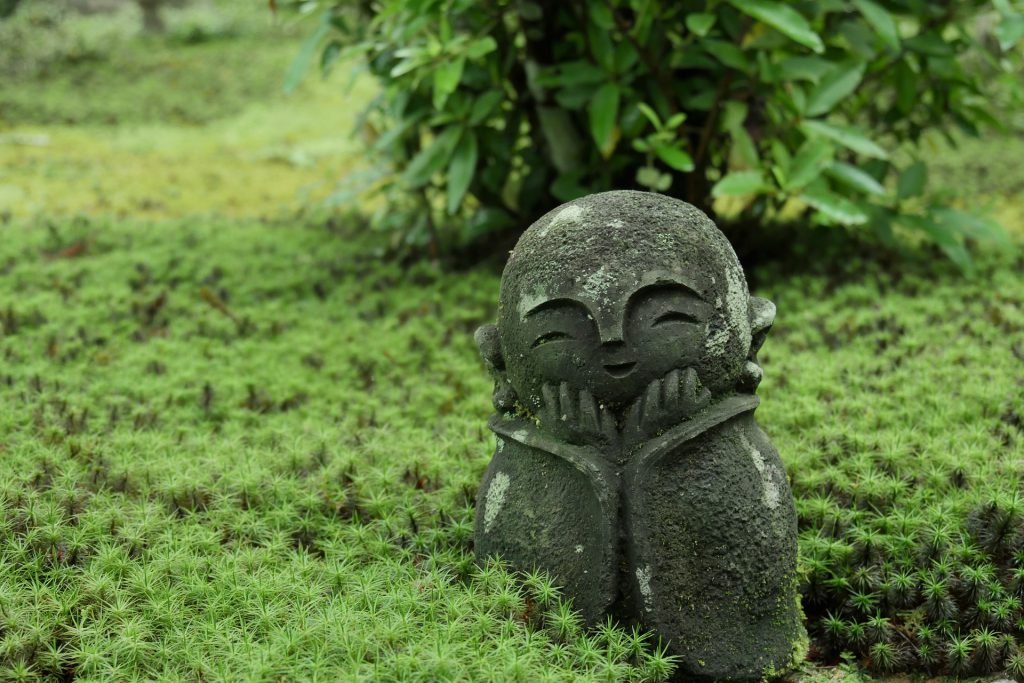 Jizo statues are highly likable, as it is said that Jizo becomes close to everyone, especially those in trouble. Some shops sell adorable versions of them as lucky charms and souvenirs.
I love to find them in the most peculiar places, and they fill me with a calm feeling. What about you?
---