Michihiko Sasaki is the CEO of Minami Sanriku Winery, in the town of Minami Sanriku in Miyagi Prefecture. 10 years after the Great East Japan Earthquake and the tsunami that left the town in ruins, the team at Minami Sanriku Winery are using wine as a way to give life back to the place and bring people together. In this interview, Mr. Sasaki tells us about aging wine bottles under the sea, what is so special about Minami Sanriku, and wine's power of connecting people.
Joining the Minami Sanriku Project
You used to work for a musical instrument maker in Hamamatsu and moved to Miyagi Prefecture after the Great East Japan Earthquake 10 years ago. What was the turning point that led you to build a winery in Minami Sanriku?
In Hamamatsu, I used to work for the musical instrument company Yamaha, where I was taking care of new product development. However, I am originally from the Tohoku [East Japan] area, more precisely from Yamagata Prefecture. Seeing that Tohoku was in trouble after the 2011 disaster, I decided to help with the reconstruction. I wondered what I could do for the area that was missing a lot of people and homes.
The area was already facing depopulation, but after being hit by the tsunami, depopulation got even faster. It was clear that even after reconstructing, it would be hard for the businesses to be the same as before. Since I had the experience to imagine new products and new projects at Yamaha, I decided to put this experience into good use to help the area.
I started participating in wine gatherings, and that is when I realized that wine had the power to connect people.
First, I moved to Sendai in 2014. I kept being involved in making objects, such as tables, chairs, mugs, etc. By chance, I ended up having to make a wine glass. I must say that I have always liked wine, but I did not have deep knowledge about it at the time. However, I worked with the authors of the manga "The Drops of God" to make a wine glass that would please Japanese consumers.
From then, I received a lot of work related to wine. I started participating in wine gatherings, and that is when I realized that wine had the power to connect people together. I made many objects and glasses, and noticed that wine glasses are always sold in pairs, because drinking wine is an experience to be shared with someone while eating some good food.
Wine also connects people with the land. I participated in wine gatherings in Tokyo, and of course, people had fun talking together. I soon realized that they were talking a lot about the relationship between the wines and their land of production. People who truly like wine think about where it comes from when they talk about it. From there, they also get an interest in the other local ingredients. I also noticed that all the people working in the field looked very happy when they talked. That is how I started thinking about building a winery.
I asked many people for advice, and the conclusion was that it was impossible to start a winery immediately. At least two years of training was necessary. In 2015, the Akiu Winery opened in Sendai, and in 2018, I went to help them. That is when I heard about a project related to wine that was taking place in Minami Sanriku. There was already a vineyard in the town, but it was unclear how the project would progress to build a winery. The people involved were looking for someone to help push the project forward.
It was obvious for me that I had to participate. I had always wanted to help the coastal area and I had been thinking about the potential of a winery. I was able to join the project immediately, and we ended up creating our company.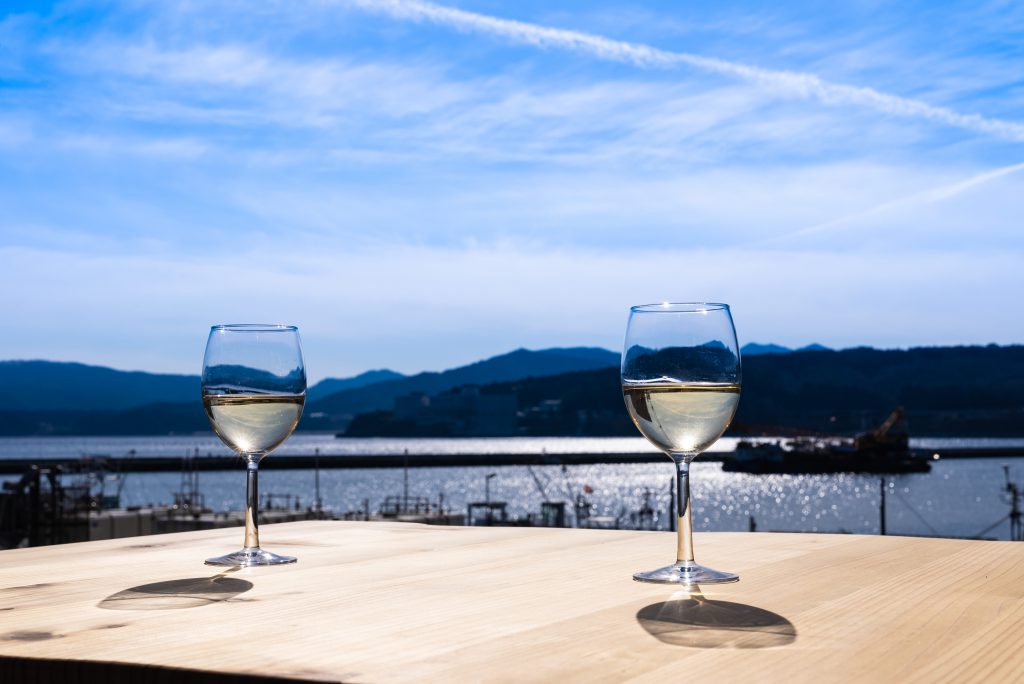 Your winery is known for being very attached to sustainability and connecting people together. Can you give me examples on how you apply this philosophy?
Since the disaster, only 12,000 inhabitants live in Minami Sanriku, but it is a town that is already doing a lot regarding these topics. The town is between the mountains and the sea, and is surrounded by watersheds. All the water that rains on Minami Sanriku goes straight to the sea. For the aquaculture to thrive in this environment, it is necessary to take good care of the mountains.
As a matter of fact, the aquaculture is thriving, and is producing delicious oysters, scallops, ascidians, etc. This is because the local people make sure to do periodic thinning of the local forests. When the forest is healthy and is well nourished, the sea water becomes a good environment for aquaculture. And this water becomes rain that will flow on the mountain again. Minami Sanriku's town development revolves around this virtuous circle. Thanks to this, the town was even able to receive the FSC [Forest Stewardship Council] certification, which is internationally recognized. The local oyster culture received the ASC [Aquaculture Stewardship Council] certification, too. It is extremely rare for a town this small to be able to get both certifications.
At Minami Sanriku Winery, we can make full course menus made only with local products, vegetables and rice included!
Minami Sanriku has plenty of producers who are very committed to the quality of their products and who cherish the blessings of the local environment. Since wine has the power to connect people, we want to use wine as a means to connect the local people, the producers working on the sea, and the producers working in the mountains. At our wine gatherings, we ask local producers to participate so people can eat and get more familiar with the products of the sea as well as the products of the forest. At Minami Sanriku Winery, we can make full course menus made only with local products, vegetables and rice included!
We have started organizing such events since 2019, using different places in town: our winery, of course, but also in vineyards, next to the aquaculture farms, etc. By organizing such events on a regular basis, we will be able to connect more and more people. I hope that in 10 years, this will have added to the attractiveness of the town, and it will make new people want to move and create new businesses here.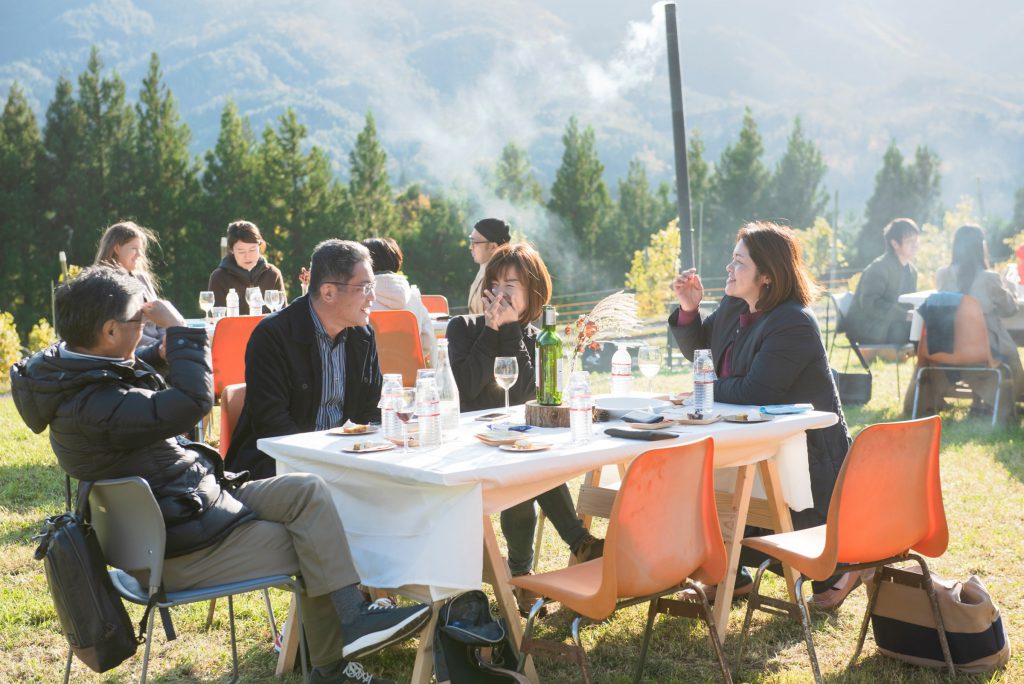 Aging Wine under the Sea
Since we are talking about wine's power of connecting people, how did you meet Mr. Shoji, who is co-director of the winery and its cultivation and brewing manager?
Mr. Shoji was already involved with the project when I joined. He joined in 2017, taking care mainly of brewing and cultivation. He also trained at Akiu Winery. In spring of 2018, after I first heard about the project, I came to visit Minami Sanriku for the first time. Mr. Shoji showed me the vineyard and explained to me what their initiative was about.
How did you get the idea to plunge the wine bottles into the sea in order to age wine?
Actually, there are people in Europe and in America who are already doing this. Apparently, the idea was born when people realized that wine taken from sunken ships tasted better than the same wine from the same year that aged on the ground. In Japan too, some people were already aging sake or awamori by plunging bottles in the sea.
Akiu Winery, where we did our training, tested this method as a way to bring excitement to Miyagi Prefecture, with the help of Minami Sanriku aquaculture producers. After Minami Sanriku Winery was born as a company in February 2019, we started using this method for the long term. There are currently 200 bottles aging under the sea.
At Minami Sanriku, we partner with aquaculture professionals and put the bottles in the same nets they use. As a result, the bottles are gently rocked by the sea. I think this movement may be good for wine too.
How does the wine's taste change by using this method of aging?
The aging is three times faster. Resulting from this, faster is the pace at which the wine becomes more mellow and balanced.
The scientific reason why this happens is still unconfirmed, but according to a few researchers, it seems it is because of how sound is transmitted under water. Under the sea, sound travels much faster than in the air: in air, it travels at 340 meters per second, against 1,500 meters per second under water. That is why when you dive under the sea, you can hear a lot of sounds, even some coming from very far. It seems that the various sounds from the sea that reach the wine bottles is what influences the wine's aging process.
Similarly, I have heard that playing classical music next to whiskey casks is good for its aging. More than pop or rock, it is music with softer vibrations, such as the sound of violin, that is said to be good for aging alcohol. I believe aging bottles under the sea follows the same principle.
Another advantage of aging bottles under water is that even during summer, the water temperature does not exceed 20 degrees Celsius. It is a perfect place to store wine.
There is a company in Izu that imports wine and ages it under the sea. They place wine bottles on big racks and plunge them under the sea. At Minami Sanriku, we partner with aquaculture professionals, and put the bottles in the same nets they use. As a result, the bottles are gently rocked by the sea. I think this movement may be good for wine too.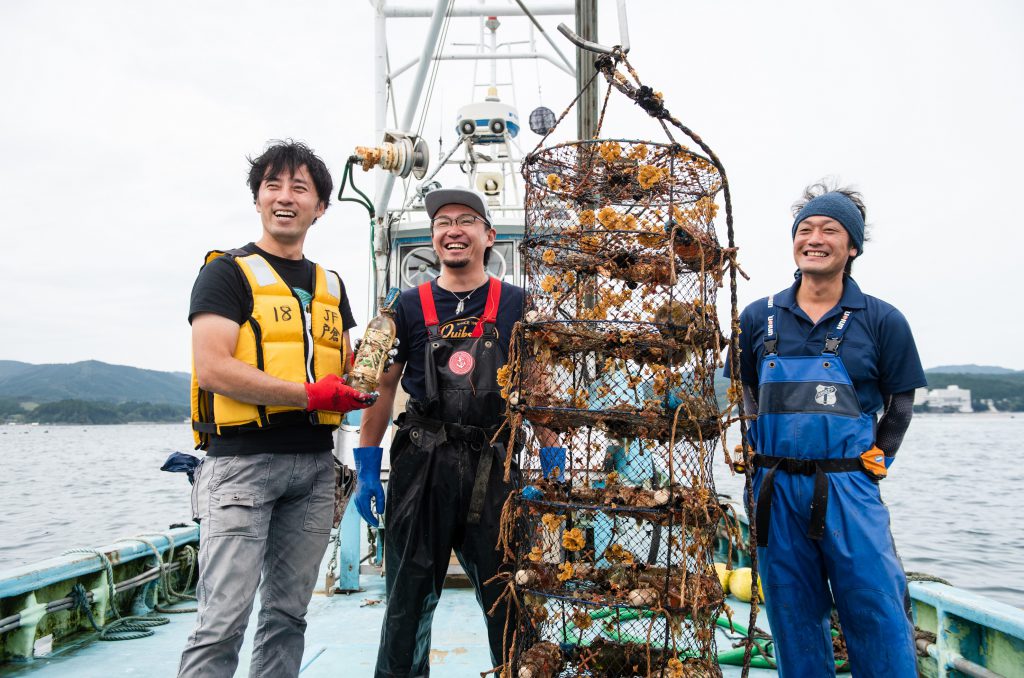 The bottles' nets are right next to the ones in which oysters grow. In the future, it would be great to get our customers in a boat, have them eat oysters just taken out of the water, and drink the wine stored just next to them.
Among all the types of wine you produce, is there one you would like to recommend?
I recommend all of them! [laughs]
However, we have a Delaware sparkling one that has just won the gold prize at the Sakura Awards. It is a wine contest in which all the judges are women. Delaware is a sort of grapes often used in Japan. Our wine mixes unripe Delaware grapes with ripe ones. It mixes the unripe grapes' clean and refreshing taste with the ripe grapes' umami and sweet fragrance.
Minami Sanriku also produces apples, and since last year, we have started making cider made from local apples only. We use two sorts of apples: the Fuji apple, which is very sweet, and a sort unique to Miyagi Prefecture that is called "sour rouge." It is a bit acidic and is often used for baking cakes and apple pies. Similar to our Delaware wine, our cider is dry, but keeps the sweetness of the Fuji apple. It is one of our popular products and people in Minami Sanriku like to drink it.
You sell wines on your website. Do you send them overseas too?
It would be a bit difficult for us to directly send our products overseas. However, we are in the process of finding a way to export our wines to other countries.
The Life in Minami Sanriku
For us, a winery, the fact that there are so many good foods in Minami Sanriku is a blessing.
You talked about how the town is environment-conscious, but what are the other unique charms of Minami Sanriku?
Minami Sanriku is rather small compared to neighboring cities such as Ishinomaki. Thanks to this, it is easy to build relationships with people. When you are in trouble, there is always someone to help you. At Minami Sanriku Winery, we had to face many challenges in the beginning, but seeing how determined we were, many local people started supporting and helping us.
The local producers put a lot of care in their work. To tell the truth, before the 2011 disaster, the local oysters were considered not so good. At the time, they were trying to grow large quantities of oysters. All their installations were wiped away by the tsunami, and when they decided to start growing oysters again, they reduced the quantity by a third. Thanks to this, in one year, they were able to grow oysters that were well nourished and tasted better than before. Of course, the oysters could be sold at a higher price.
There are also people who are raising Ibarikobuta pigs by grazing, so their fat meat taste sweet. There are also sheep that eat the stem of wakame seaweed, which is usually thrown away. Since it is full of minerals, the meat does not smell as much as the typical mutton meat. For this project, people who have been living in town for a long time have teamed up with people who moved here after the disaster.
For us, a winery, the fact that there are so many good foods in Minami Sanriku is a blessing. I hope that we can create a new appeal point for the town through pairing good food and wine.
What were the challenging moments and the rewarding moments for this project?
When I joined the project in the beginning, it was not clear where it was heading, and we did not have a good viticulture system yet. A lot of local people were doubting whether we would be able to really build a winery. I wanted to show how determined we were, and we participated in local events and festivals, and got people to taste our dry white wine paired with good sea products.
Getting people to know wine better was a challenge. Originally, most Japanese wines were rather sweet, and people in rural areas have kept this image and think they do not like wine. But I made them taste our dry wine, and after about half a year, we started to receive good feedback. Also, the first year we started to produce wine, we won a prize at the Japan Wine Competition, which legitimized the taste of our wine in the eyes of local people. Before we knew it, the inhabitants, and especially the mayor, were supporting us.
During our wine gatherings, it was very rewarding to see farmers and fishermen sharing time at the same place. This is a rare occasion since these people do not have opportunities to work together. People from outside the town compliment us when they hear how we were able to connect people together that way. They say they want to join our events again. I am very happy about it.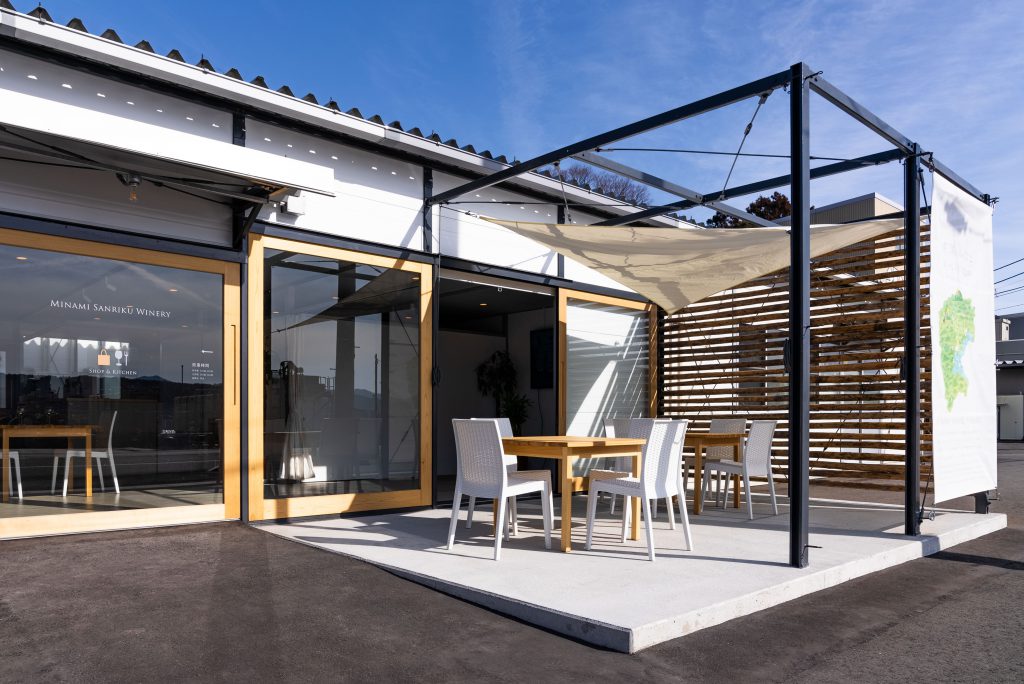 What are your next objectives?
Our primary objective is to make better wine, and to keep making it better.
Also, we want to keep connecting people. It has been 10 years since the disaster, but the town is still sort of a lonely place. A shopping street has been built, but it is mostly for tourists. Except on the weekends, there are few people walking along the street, especially in the late afternoon. Bars have also disappeared.
Because of the disaster, people are not allowed to reside in the central part of town anymore. They live farther, on the high ground. It is the same for accommodations. So, places like bars where the locals and travelers could mingle together do not exist anymore. That is why it is important for us to keep organizing events on a regular basis. I am thinking of opening a pop-up wine bar in town. I also would like to organize a cruise for tourists to see the fishermen at work, and after their tour, they could eat and drink at our winery, while looking at the sea. Then, maybe after 10 or 20 years, we will be proud to have been at the start of a new bustle in town.
Good Wine and Love
I must admit that originally, when I first heard about it, what intrigued me the most about this winery was the peculiar fact of aging bottles under the sea. After some research, I soon realized there was a lot more to this story.
Talking with Mr. Sasaki gave life to it. During our conversation, I could feel his genuine love and enthusiasm for Minami Sanriku, its food, and its people—so much that I decided to pay a visit when the situation allows. It reminded me of the motivation of the people in Kamiyama, which is a model in Japan regarding rural revitalization. There, it took 10 years of effort for the project to bear visible and tangible fruits. Getting people together towards the same objective was a major key to their success.
I wish the same happens in Minami Sanriku: people of all generations and backgrounds coming together, creating a new spirit, so much that newcomers of many kinds come to live in town. I have little doubt about their success. They have two powerful weapons: good wine, and love.
---