---
In 2021, I did my first interview with Go Nakano, CEO and founding member of the peanut butter company Happy Nuts Day. He talked about creating products that reflected his values and hoped to encourage the birth of new regional ventures in Japan.
In Spring 2022, Happy Nuts Day announced that they were about to turn an abandoned school in Chiba Prefecture into a sustainable peanut butter factory. That project turned into a reality, and the Happy Nuts Day factory opened in the city of Sammu, in November 2022. I was invited for a visit it and had the pleasure to interview Go again. Read on to discover the positive impact of having one's own factory, how it led to the birth of new products, and how living in a more sustainable environment impacts both business and private life.
A Factory that Allows for Experimentation
"Happy Nuts Day has been around for ten years, and one thing has not changed. I am still a firm believer that good things are produced by people who like what they do," says Go Nakano as a conversation starter, while sipping his cup of tea.
We are sitting in the main hall of the newly opened Happy Nuts Day factory, a building in a city that happens to be the cradle of peanut farming in Chiba Prefecture. Happy Nuts Day found the building on a website introducing abandoned public facilities and gained the right to use it for ten years after participating in a competition. "To win, environmental considerations and being good for Sammu's branding were crucial," says Go.
I am sitting on a wooden bench as I look at the clean concrete walls and wooden ceiling. The room is very bright, as one of its sides is a long series of windows, set up peculiarly low ― the building was a nursery school, so everything was designed for small children. On the other side of the room, inner windows protect the production chain of the factory, and I catch a glimpse of shiny brand-new machines. Near the entrance of the room, a huge concrete table sits under a brown monochrome piece of art made only with peanut material.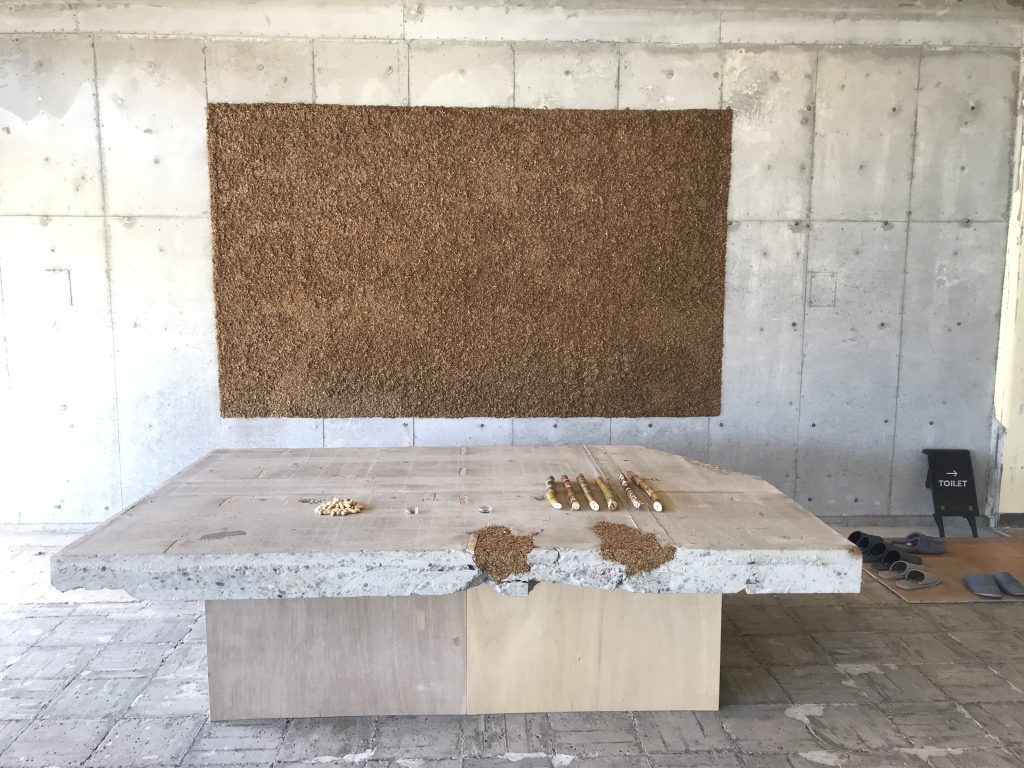 Winning the competition not only allowed the company to use the building but also to renovate it as they liked, which took them about 6 months, doing a lot of D.I.Y. The result, made with raw and elegant materials, creates a welcoming atmosphere. "There are similar abandoned schools in all regions of Japan. It would be great if we could become a model to show that you can turn such buildings into something interesting without using a lot of money," hopes Go.
The production chain allows the company to make 400 peanut butter bins in 7 hours on average. "However, it is important to understand that the whole process actually takes several days, as we do one step per day," remarks Go. "One day for roasting, one day for mixing, and one day for the bottling process. The reason we process that way is because we use machines that need to be handled and cleaned in a specific way. For example, the mixing machine's cleaning can take up to 4 hours. It's not something we could do every day!"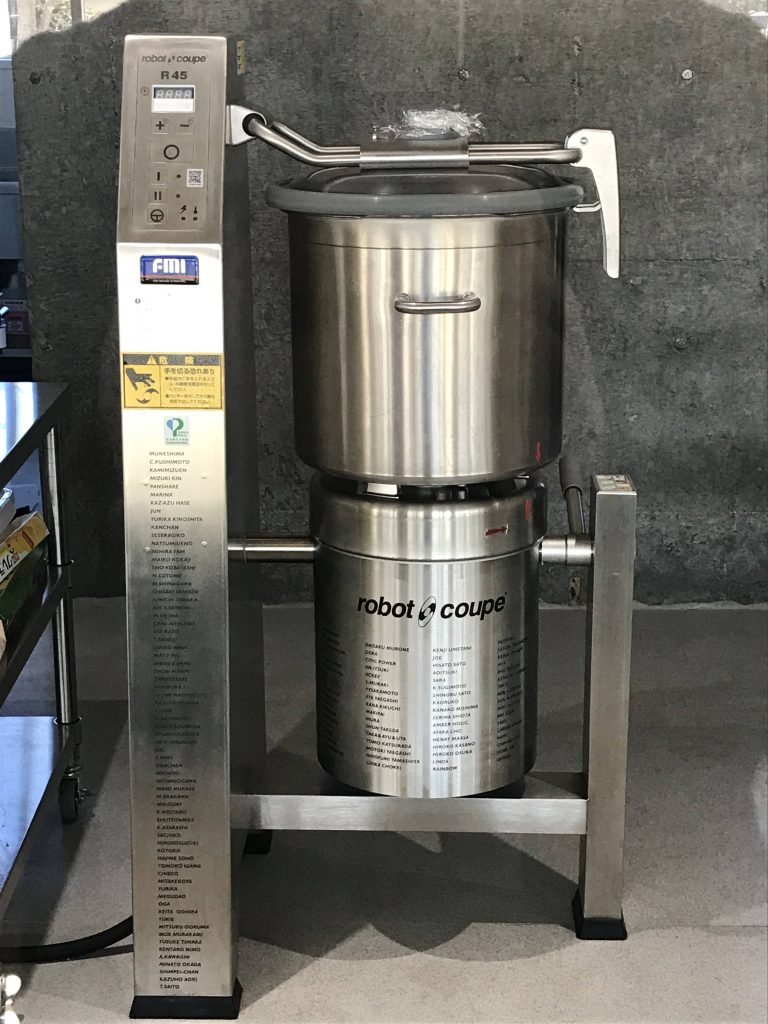 Chiba peanuts are good, but most young people don't know about them. So, Happy Nuts Day originally wanted to spread awareness about the quality of Chiba peanuts, and that's how they became a business.
Now, they want to do the same with other Japanese regional products such as Okinawa kokuto. By collaborating with one of the last artisanswho still make kokuto by hand with traditional techniques, they created a new snack. They also collaborated with a famous Vietnamese restaurant chef to create a peanut sauce that can be used in many different ways.
"Having our own factory, instead of outsourcing, allows us to experiment and do anything we want because we do not need to order large quantities," says Go.
In the future, they would like to expand their line of products with cookies and more.
Building a Community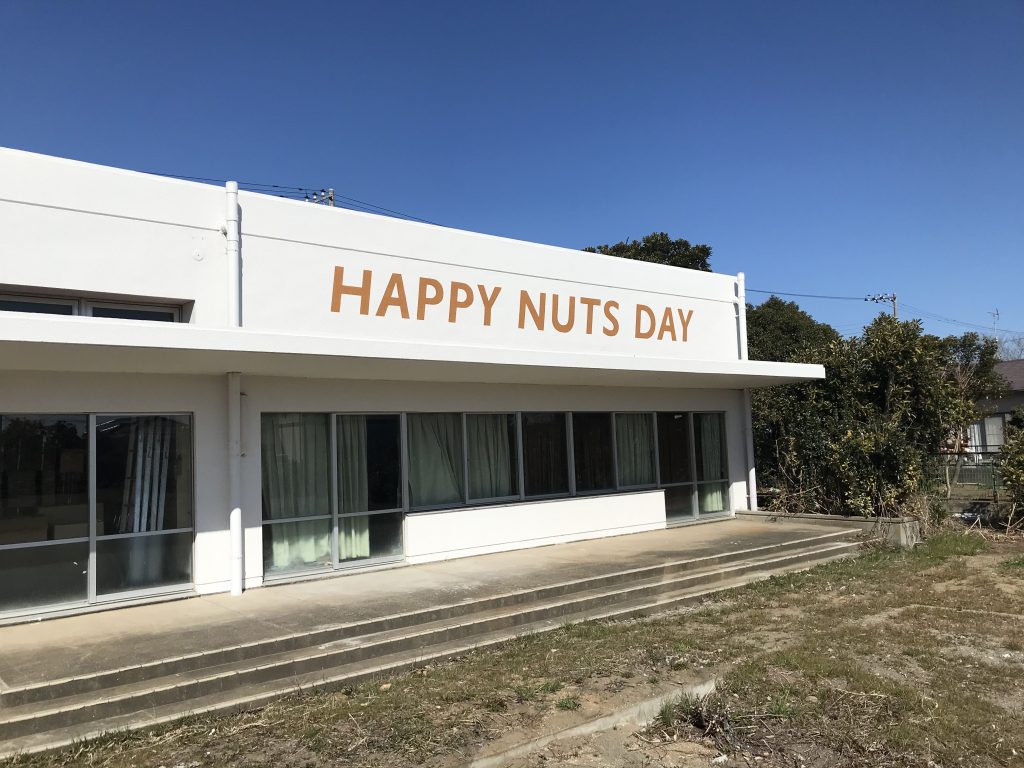 Collaborating with the Vietnamese restaurant's chef was an occasion to organize a special event around the new product, bringing Chiba area locals and fans of the chef from Tokyo together. They used famous local products and produce, like green onions and hamaguri (Asian hard clam), and matched them with the new special sauce.
Apart from similar culinary workshops, Happy Nuts Day also plans to organize vegetable dying workshops, using peanut skin, which gives off a lovely, light brown color. The company also plans to sell aprons dyed with that same technique.
"Although our focus for the factory is to make products, we're also thinking about how we can gather more people, and we may create an event space or a café. We'll adapt to what our customers seem to appreciate the most," explains Go.
The factory also includes a small patch of land where Go plans to grow peanuts. "We're not farmers so we will have a lot to study. Eventually, we would like to organize hand-on experiences during which customers can harvest peanuts, eat them, and make something more out of them. We are thinking of how we can use other materials such as the leaves and roots."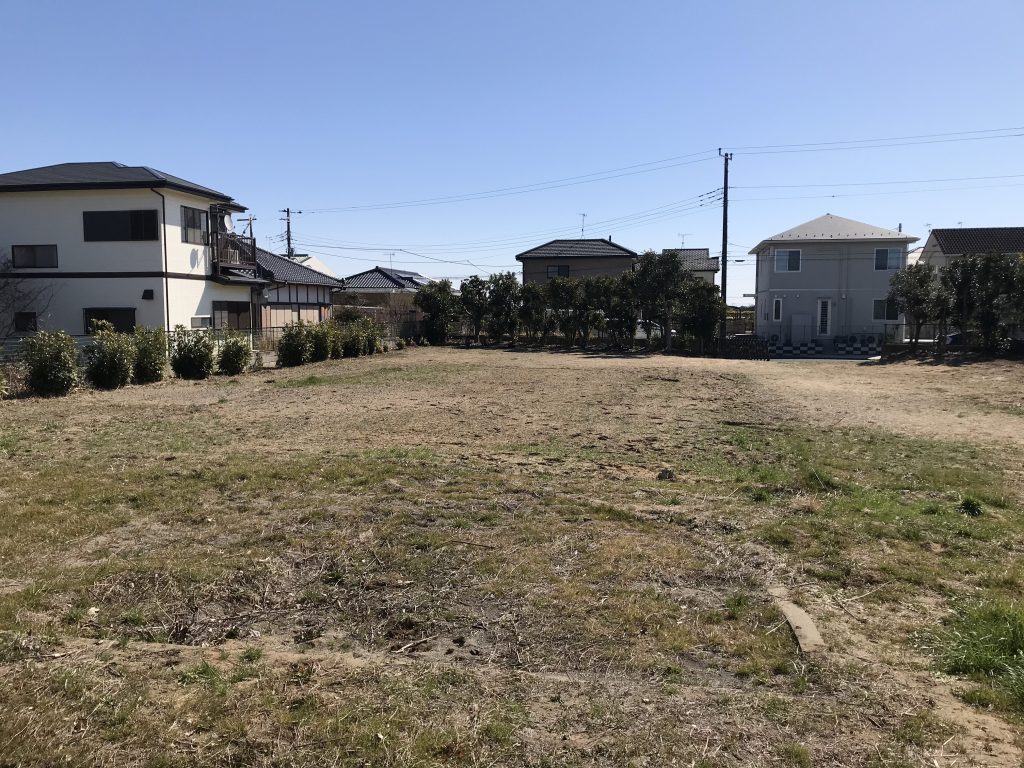 Indeed, Go's vision is all about learning and sustainability. The facility's roof is covered with 300 square meters of solar panels. "From May, we will be powered by 100% green energy," exclaims Go.
The Sammu locals gave the new factory a warm welcome. "Our arrival was considered good news by the citizens," Go recalls. "Sammu was ranked as 1000th out of 1000 cities in Japan. Although I dislike such rankings and do not give them much credit, I understand that it can be depressing to hear that when you actually live there. So, people reacted very positively at something new happening in town, especially because we employ locals – some of them live within five minutes of the factory."
The Many Benefits of a New Environment
Although renovating the building and learning how to welcome people on the premises has taken time and some trial and error, Go explains that moving to Sammu has impacted Happy Nuts Day positively in all aspects.
"Compared to Tokyo, where we used to have our office, the rent is a lot cheaper, so we feel less financial pressure, which allows us to really concentrate on making products. Consequently, our productivity and our product quality have increased. We can create a lot of new things. We've also had a lot of wonderful encounters and met many new like-minded friends and business partners. A lot of people are supporting us—the 360 people who participated in our crowdfunding too—and it reminds us of why we are here."
Go says he also gained a lot on a personal level. His work-life balance and life quality have increased: not only does he live about 20 minutes from the factory but he also often enjoys eating oysters and drinking wine on the beach at sunset―something unthinkable in his previous life.
"In Tokyo, we can easily be influenced by people around us and end up doing things that do not match our vision. Since I am in Sammu, my head has become clearer: I know why I do what I do, and I put my efforts at the right place."
If you would like to visit the factory or participate in future events that take place there, follow Happy Nuts Day's Instagram account for announcements of days open to the public.
---