Whether you're curious about culture, eager to start a business, or fascinated by the arts, podcasts are an excellent way to immerse yourself in the contemporary zeitgeist of Japan. One of the rising stars in the ever-growing Japan podcast scene is Now and Zen Japan, produced by Andrew Hankinson, senior managing director at Zwilling J.A. Henckels Japan. As both a guest on the show and an avid listener since its January 2020 debut, I've witnessed Andrew's commitment to consistent quality from multiple perspectives. With Now and Zen Japan and Kokoro Media covering overlapping aspects of life in Japan, it was only natural to reach out to Andrew to learn more about his creative process. Thankfully, he obliged, and in this interview, we discuss the origins of Now and Zen Japan, podcasting during the pandemic, and the traits that make Now and Zen Japan a unique listening experience. Whether you're launching a new creative endeavor or seeking to improve an existing one, you'll find plenty of inspiration in this interview.
From Business and Beers to Now and Zen
Someone once said that my podcast is very "Anthony Bourdain-ish." That was the ultimate compliment.
What inspired you to launch your podcast, Now and Zen Japan?
It was a combination of things. First of all, I've always enjoyed listening to podcasts over the years. Secondly, I was a radio DJ when I was in university, and when I came to Japan, I was a part-time voice actor. So, I'm very comfortable with mics, recording, and hearing my own voice.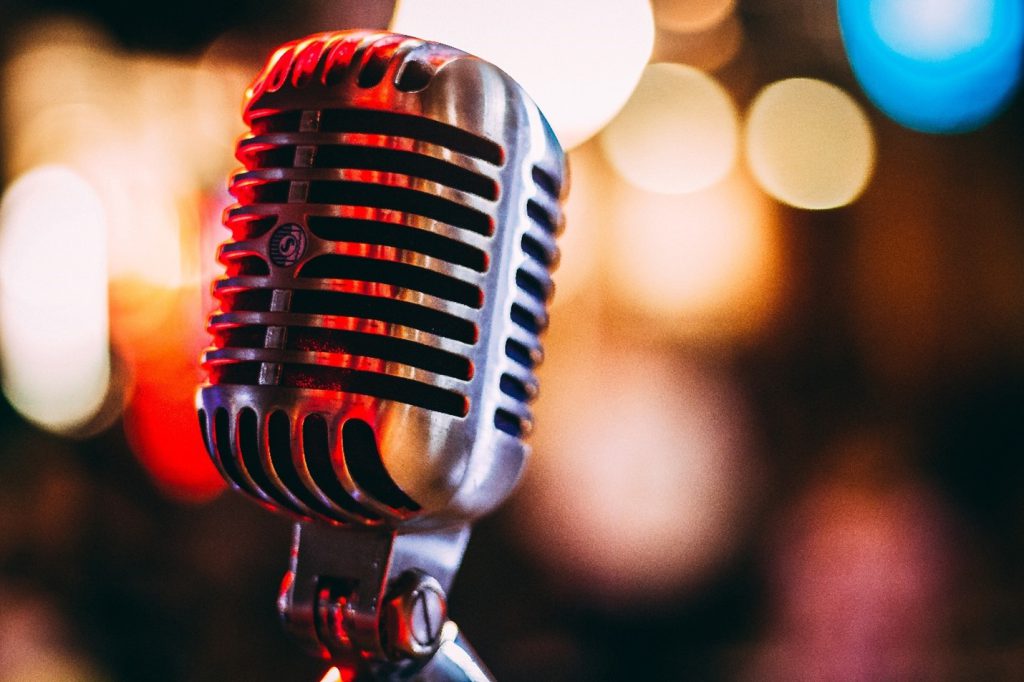 In the summer of 2019, I was having drinks with a friend, and we got into a deep conversation about life in Japan. It was fascinating, and I told him, "We should be recording this." A couple of days later, I was looking at my LinkedIn connections, and I realized that I knew most of them personally. These contacts had been in Japan for 10, 20, or even 40 years. At that moment, I decided I was going to start my own podcast about speaking with people who have fascinating life experiences here in Japan.
Why did you decide to focus on business, culture, and art?
That's because I wanted to talk about things that I'm interested in. Life is so broad here in Japan. When I first started, I wanted to talk about sales in Japan because I'm a sales guy. If you listen to my first episode, there are a lot of discussions about sales. My second episode was about marketing. Then, the podcast started to grow. People had different takes on life. I was fascinated by it all, so I decided not to focus on just one category. We've all had challenges here in Japan. Talking about those challenges—and how to overcome them—is what I think listeners want to hear instead of people going on and on about their successes.
The COVID-19 pandemic motivated a lot of people to start podcasts. We were all stuck at home, trying to connect with the world through technology. However, one way your podcast stands out is that you conduct most of your interviews in person—something that you managed to do through the height of the pandemic. Why did you decide on this format in an age of online interviews?
For the record, Now and Zen Japan wasn't a "pandemic podcast." I'm self-taught, so it took me about four months to learn all the technical aspects of making a podcast: how to edit, what mics to use, how to upload episodes, and so on. As mentioned, this process started in the summer of 2019. I started recording my first episodes in November 2019, and I released those episodes in January 2020. It just so happens that this debut coincided with the pandemic.
My podcast was originally called Business and Beers Japan. I named it that because I wanted to replicate that first experience of having an in-depth conversation over drinks. Obviously, this can only be done in person. Even though the name of the podcast has changed, I still stick to the in-person format because it creates a better connection between me and the guest. I'm a social guy, so I enjoy going out and meeting people.
If I had to do everything online, I would never have started the podcast. About 70% of my guests are people I'm meeting for the first time, and it's fun to meet new people. In a way, it's networking. If I had to do that through a video screen, there's going to be some stiffness—it's a boundary. That takes away the fun. I've had to do a few online episodes, but they didn't feel the same.
I also like doing the recordings in a bar. The ambient background sounds make the audience feel like they're eavesdropping on a conversation. Someone once said that my podcast is very "Anthony Bourdain-ish." That was the ultimate compliment.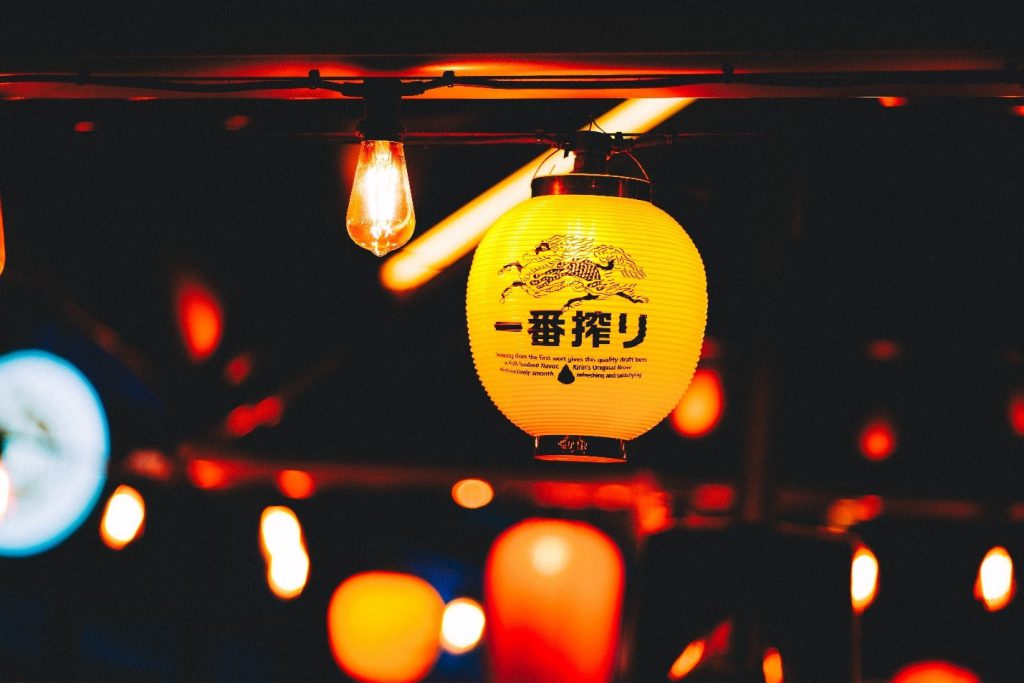 Recording episodes during the pandemic wasn't that hard because there were a couple places that remained open. Even during the height of the pandemic, when bars were closing, I had about two months' worth of episodes already in my production pipeline, which was more than enough. Additionally, in Tokyo, there was never a time when I couldn't go out and meet in person. Some people didn't mind. Some people declined. Overall, there were enough people that were willing to meet.
Selecting and Researching Guests to Create Compelling Content
Another thing I appreciate about your podcast is how well you research your guests before interviewing them. Can you share your research process with us?
Typically, when a guest agrees to be on my podcast, I'll research their LinkedIn profile and look for blog posts that they've written. As I'm researching, questions pop into my mind. I write down tons of questions while I research. Then I group them into categories like questions about coming to Japan or business-related questions. From these groupings, I'll usually come up with follow-up questions as well. That covers the guest-specific questions. However, I also have a set of generic ones. I have my standard question that I ask every guest: "What is your favorite Japanese word or phrase that doesn't have an exact English translation?" I ask this because it's a common thread among people who live in Japan and speak Japanese.
I believe that when most people listen to my podcast, they realize it's a conversation. Ultimately, it's not a list of questions such as "Why did you come to Japan?" I don't like the question-and-answer format. You need to have a set of questions to get you going, but I often go off on tangents with my guests.
I'm trying to become a better interviewer, and active listening is a super important part of being a successful podcaster. I'm not there yet. Every time I edit my podcast, I think, "Why didn't I follow up with this?" or "Why didn't I ask that?" I always have those moments, but I've studied and learned a lot. I've read some great books on interviewing people, such as Stop Asking Questions.
When I finish a podcast episode, it feels like a little achievement. It feels like I've created something that's going to last forever.
From celebrities to ordinary people like myself, you host a variety of guests on your show. How do you decide who to interview?
I started off with people that I knew. Now, I have to ask strangers if they would be a guest on my podcast. That's sales, and I'm a sales guy [laughs]. Basically, I reach out to people that I'm interested in—people with an interesting story.
Which interviews have impacted you the most?
There are two specific episodes that I would like to highlight. The first one is Episode 46, which features Kaki Okumura. She talked about Japanese principles to live a longer and happier life. This conversation just blew me away. When anyone asks which episode they should start with, I always reference this one.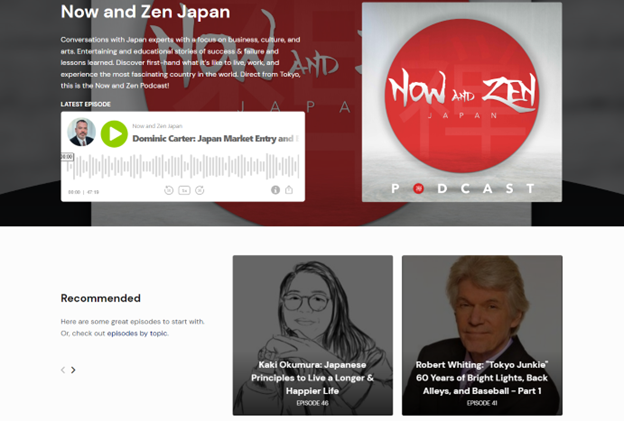 The other episode that impacted me is the Robert Whiting episode. It was so great to sit down and have a conversation with somebody who's work I had been reading over the years. This is a guy that had his life threatened multiple times by the Yakuza. I like baseball and this is someone who knows all the major Japanese and foreign baseball players on a first-name basis. He's a great guy.
You've been consistently producing, editing, and publishing podcast episodes since January 2020. How do you manage your time and do this alongside your role as a senior managing director?
As mentioned, I'm a social guy. I go out after work to have drinks with my friends and colleagues anyway. The recording and researching parts of the process don't take that long. Then there's editing, which I enjoy because it's creating content. I like that creative process. When I finish a podcast episode, it feels like a little achievement. It feels like I've created something that's going to last forever.
Everybody has a hobby. If your hobby is tinkering with old sports cars, you spend a couple hours doing that on the weekend. If your hobby is drinking fine wine and smoking cigars, you go out after work with your friends and you spend a couple hours doing that.
Japan Means Everything
Over the years, I've worked my way up to where I am now by keeping an open mind, having a positive attitude, and learning Japanese.
As an American who has spent most of your life in Japan, what does Japan mean to you?
Japan means everything to me. I have spent over half of my life here. My life, my career, my friends, and my network are all here. Like you, I really appreciate living in Japan. The people are great. The food is wonderful. The beauty of Japan—the countryside and nature—is unbelievable. I could go on about safety, efficiency, and so on, but that's just an aside. Most importantly, it's all about the opportunities that are here. You can go beyond being an English teacher or a recruiter. Over the years, I've worked my way up to where I am now by keeping an open mind, having a positive attitude, and learning Japanese. This is really the greatest place in the world for me to live.
What does the future hold for Now and Zen Japan?
I don't have any plans to expand what I'm doing, but I enjoy making the podcast, and for the immediate future, I'm planning to continue producing episodes. After all, it's a hobby. I look forward to more conversations with fascinating people. And, if you are reading this interview and would like to be on the show, please reach out to me. I'd be happy to consider you as a guest, and if we end up recording an episode, drinks are on me.
---